As I'm writing this in September, I'm manifesting cold crisp mornings, hearty warm soups, and of course, I need a cozy outfit to match the vibes I'm putting out to the universe (ignoring the fact that it is still pretty damn hot outside). What better way to do this than by representing one of my favorite games and snuggling up in a Genshin Impact hoodie?
I've scoured the internet for the best Genshin Impact hoodies I can find, which, trust me, was one hell of a task considering the amount of mass-produced cheaply made hoodies on the Genshin Impact market.
I'm talking about those hoodies that have a horrible factory smell, no matter how much you wash them. Despite my intense search, I believe I've found for you the best hoodies you can buy, so without further delay, let's get into this Genshin Impact hoodie guide with the best hoodies.
The Best Of the Best
I think my favorite hoodie on this list is the Mondstadt themed activewear hoodie from the Genshin Impact flagship store. I love how the design is subtle enough not to be jarringly Genshin Impact-themed but still gets the message across, and the option to buy matching sweatpants just makes it all the better.
It's one thing to be cozy in a hoodie, but when you can have matching sweatpants (all with pockets, might I add), nothing can stop you from dissolving into a blob of Genshin Impact snuggliness.
Selection Criteria
By now, you've probably noticed that I hate merch designs that stick out like a sore thumb. No one wants to walk around with "Genshin Impact" plastered all over their body in bright colors with generic character art all slapped onto a cheaply produced hoodie. This is why the best Genshin Impact hoodies will be a little more nuanced, with high-quality, pleasant designs that you can wear anywhere and not be given funny looks.
This one may seem like a no-brainer, but the hoodies need to have a hood. It doesn't matter if they have zippers or are just pullovers, but the hood is a must-have. I see so many sweaters advertised as hoodies but have no hood to be found, so you won't be finding any hoodless hoodies here.
I also want to try to avoid the mass-produced factory smell that so many hoodies from any fandom have. Whilst the $15 dollar price tag may look nice, we all know that that hoodie is going to fall to shreds after one wash, so I'll do my best to include high-quality hoodies, even if it bumps the price tag up (though there will still be some cheaper options for those on a budget!)
Finally, size does matter. Being size inclusive is important for any item of clothing, and when a game is as popular as Genshin Impact, people of all shapes and sizes will want to wear some awesome Genshin merch. This is why all the hoodies on this list will range from an extra small to a double XL at least, so no matter what you look like, you know you will look good in these hoodies.
Interesting Read: Comprehensive Guide to Genshin Cosplay Ideas: How to Portray as your Favorite Genshin Impact Character.
Top Pick At a Glance
This hoodie looks amazing. I love the color, and the almost band shirt design representing Mondstadt is a really nice yet subtle way to show your love for Genshin Impact in comfort. Although by no means necessary, the option to buy the matching sweatpants for a complete Mondstadt set is a really nice touch, but both can be bought separately if a matching set isn't really your thing. Don't be fooled by the "activewear" label. I can assure you I will be anything but active in this hoodie – it just looks too cozy to run in!
Pros
The option to buy a complete hoodie and sweatpants set is a really nice option that very few hoodies have!

The sage green color is one I rarely see, especially on merch items.
Cons
At $89.99, this is one of the most expensive items on the list, and it will cost you even more for the hoodie and sweatpants combo.
A lot of hoodies that are themed around characters tend to be poorly designed at best. If they haven't just had the official character art slapped on the front, then there are always horrifically bright colors and game logos everywhere you don't want them to be.
This Kazuha hoodie, however, has taken all the elements we love about Kazuha and translated them into a zip-up hoodie. The iconic leaf design and red, black, and cream color scheme really stand out to those who are in the know, but you can still play this off as a really cool hoodie design.
Pros
A very cool design that isn't too obviously Genshin.

Zip up hoodies can be good in both cold and warmer weather.
Cons
The pockets will most likely be smaller to make room for the zipper
If you hadn't already guessed, I'm a sucker for a subtle design. Some of my favorite designs in Genshin Impact are all of the different constellations that the characters have.
The fact that every single one is unique to a character makes them a fantastic way to show your love for them whilst still having an amazing looking hoodie.
These hoodies from Sleepmipi look comfy, and you can customize them to have any character you want on them, all the way up to Tighnari, Collei, and Dori!
Pros
Fully customizable to have whatever character constellation you want

size goes all the way up to a 5XL, so anyone can wear this hoodie

The vision on the sleeve is a nice addition
Cons
As the hoodies are made to order, it may take a few weeks for your hoodie to be ready

It would be nice to be able to have more than one vision on the hoodie
If you've been following Genshin Chronicles for a while, you'll probably have already seen our spotlight on Paimons Boutique, so you'll know that I hold their products in high regard. The fabric is soft and warm, and the embroidery is beautifully designed and durable.
While both Crewneck and Hoodie options are available, today, only the hoodies matter. There is a lot of variety available. However, the only downside is that some products may not be available all of the time.
Right now, there are only a few hoodies available, like this Childe embroidered hoodie, but because of the quality of both the products and service, I just had to put Paimons Boutique on this list. Though you may have to wait for a hoodie sometimes, this is definitely one to keep your eye on!
Pros
High quality products with amazing designs

A very good range of sizes
Cons
Some products aren't available all of the time, so you may have to wait to get a hoodie for your favorite character

Shipping prices can be expensive
This hoodie is a lot cheaper than many of the other options on this list, so it's great if you want to save some money so you can buy more primogems (no judgment here). Hu Tao's ghost is center stage with her signature butterflies, and the sleeves have white bands around the wrists, which, while not really Genshin-related, add a really nice touch that completes the look.
This hoodie is available in many different colors, though it is recommended to size up as this design comes up a little tighter than usual.
Pros
A nice range of colors to choose from

It's a cute design featuring Hu Tao's ghost and butterflies
Cons
Sizes come up a little smaller but go up to a 4XL, so you should be able to size up where needed

This hoodie doesn't feature any pockets, and though it isn't necessary, pockets are always nice to have.
This hoodie's design reminds me of the loading screen when you log into Genshin, but unlike the loading screens, this hoodie won't get stuck midway through the Geo symbol. I love the color gradient of the elements, as sometimes I think the different colors of the elements can look quite jarring when side by side.
But the pleasant blue to pink gradient has solved this problem. This hoodie goes up to a 2XL and comes in a range of different colors, so there's something for everyone, making this hoodie a nice but affordable gift for any Genshin Impact fan.
Pros
Comes in a nice range of colors

Solves the problem of the element colors looking strange next to each other by using a gradient

You can choose to have the print on the front or the back
Cons
This design may be too simple for some people's tastes

The design is printed on, so it will likely begin to fade after a few washes
This design is probably the most blatant one on this list, but it's simply too cool to pass up. The sunset colors work surprisingly well with the Genshin Impact roster, and I think Ningguang is one of the coolest designs.
Though if Ningguang isn't your favorite, then characters like Zhongli, Bennett, Chongyun, and Keqing are all available, as well as more like Xiao, but these I could only find in a crewneck style, so they didn't make this list.
There's a fairly limited range of colors available for this design, though I think it looks best on black anyway (though the royal heather is nice for a brighter option), and the sizes go up to a 3XL, so if you're looking to add a splash of color to your Genshin Impact wardrobe, this is the hoodie for you.
Pros
Even though it is a bright design, it's still one that I would actually wear

There is a huge variety of characters available 

you can choose to have this design on either the front or the back of the hoodie
Cons
The color choices are fairly limited, though I think this design looks better on darker hoodies.

The other characters aren't necessarily available on hoodies, so it can be confusing to find a hoodie with your favorite character on
FAQS
Question: Are the embroidered hoodies better than the printed ones?
Answer: In general, the embroidered hoodies will be much more durable than the printed ones, as often, when you wash printed hoodies a few times, the design will start to fade. However, embroidered hoodies tend to be more expensive and can require more specific care than printed ones, so it's a tradeoff that might not work for everyone. 
Question: Why are there so many poor quality Genshin Impact Hoodies?
Answer: The simple answer is that Genshin Impact is a very popular franchise right now, and with that, a lot of companies are going to try and make a quick buck by selling lower quality merch for cheap. A lot of these hoodies also feature lazy designs and poor quality materials, so while they may be cheap in price, they'll also feel and look cheap. I'd recommend spending a little more for a higher quality product than having to buy and replace a hoodie every three months because it was cheaply made. 
Question: Are there any official Genshin Impact Hoodies?
Answer: The Mondstadt Themed Activewear is as close as we in the west will get to official merch for Genshin Impact. The store that sells this hoodie is a flagship store, so whilst it's technically not run by HoYoverse, it still sells official HoYoverse products. 
Genshin Impact Hoodie Guide: Final Thoughts
Hoodies are a fall and winter necessity, and if you can represent a franchise you love whilst staying warm, then it's a win-win situation. There are a lot of Genshin Hoodies out there, but in my opinion, a lot of them are poorly made, poorly designed, and overall just aren't worth your time.
Hopefully, the picks on this list will, at the very least, point you in the right direction of what you should be looking for in a Genshin Impact hoodie, so you can avoid disappointment and have a warm, snuggly hoodie to wear whilst you do you daily commissions. 
Continue reading related Genshin Impact merch guides: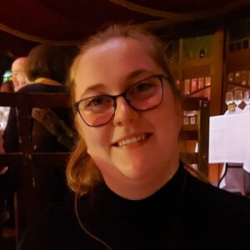 Latest posts by Bethany Gerrish
(see all)