Genshin Impact always amazes me with the unique items we get throughout our journey with a plethora of in-game items. Not only are we traveling across vibrant nations but collecting things on our journey in the World of Teyvat.
At first, I thought I could only collect items from the overworld and put them to use, like cooking or forging. But soon, I discovered that there are items that can be used in certain Genshin Impact quests.
I remember collecting Crimson crystal at the beginning of the game, thinking about where I could use it. Until one day, a quest came, and I finally put the item to use. Quest items, as they are categorized in the inventory, are unique items that you will also use in your adventures and obtain.
I am here with an interesting Genshin Impact Quest items guide where I will take you through numerous Quest items available in the game. We will discuss what these Quest items are and their types and discuss interesting questions to further pique your interest. So, sit back, and let's go straight into Quest items!
Quest Items, What are they?
As the name suggests, Quest Items are items that the player obtains during Quests. Usually, you can obtain them during the quests or in the overworld, where you have to submit them to an item or an Non-playable character to progress through the quest.
Like in the Look for Vermeers paintbrush guide, you must submit two items that will go into statue structure and progress through the quest after doing that.
There are Quest items like photographs or notes that you can go through to get hints about the quest and find some locations where you can do certain tasks to progress. In the same quest, Vermeer gives you photographs of where he left his paint material and urged you to fetch them for him.
But not all Quest items will be used, as some Quest items, you obtain sit in your inventory and have no use till now. These are the items that may be used in the future, but for now, they sit in your inventory, and you cannot do anything about them. Also, there are Quest items that are event-exclusive only.
Like event-exclusive NPCs that disappear after the event has ended, similar is the Event Quest items that go away once the event has ended. It's no wonder there are many events happening in Genshin Impact in updates, and sometimes they have Quest items that expire as soon as the event ends.
List of Quest Items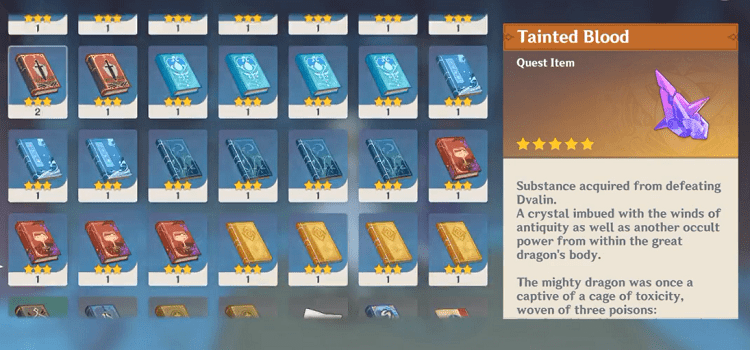 Before I start to jot down Quest items, there are a few things that you should remember. A short disclaimer is that more than 500 Quest items are in the game, and even some are event-exclusive Quest items.
Event-exclusive items pertain to a certain event and expire after that event. So, it's better to cover them up in event guides when new events launch or the previous ones repeat in the game.
I've sorted out a list of tens of Quest items in the game that I felt connected to. I suggest you look at them and see which ones you have collected already. I know jotting down all of them will make it cluttered, so here is a list of the Quest items I'm fascinated with.
Tainted Blood
You get this item after defeating Dvalin in "A Long shot" quest. Maybe it will have a use in the future, but not now. Defeating Dvalin in the early game might be tough, so it's better to have properly invested characters before initiating the challenge.
Monolith Fragment
You receive an item after defeating the Overlord of the Vortex, Osial, in a battle. So far, it doesn't have any use in the game though this could change in the future.
Funerary Mask
Currently, no use in the game, but you obtain this item after defeating La Signora, Eight of the Fatui Harbingers, in an Archon quest at Inazuma. It might be possible that this item can be used down the line as proof of Signora's death, but that's speculation from my end.
Realm Dispatch
An item that allows you to invite companions into your Serenitea pot which you get after interacting with the Realm spirit, Tubby, in the game. You will have to interact with the Teapot spirit on a lot of occasions, so it's likely that you will obtain this item.
Naganohara Fireworks Note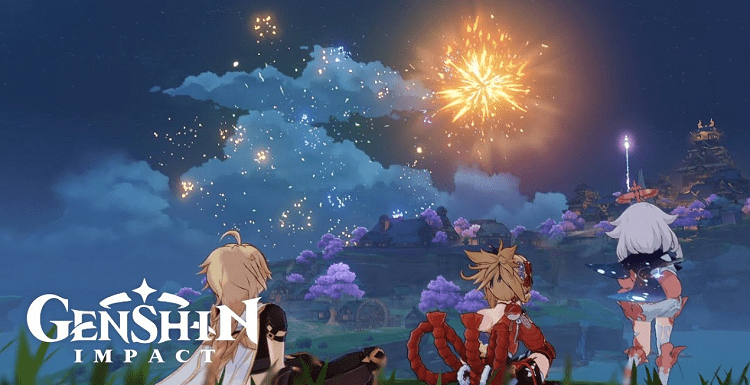 A quest item that was received during Yoimiya's story quest contains firework formulae within it as a record. Yoimiya will be able to formulate the fireworks if you have remembered them correctly.
Grand Narukami Shrine Omamori
An Omamori that was given to the Traveler by Yae Miko had a key role within the Plane of Euthymia. Currently, the item is not used in the game, and it serves more as a keepsake. A lower rarity version of it is given to you earlier, but once you progress further into the Archon quest, the item's rarity will change.
Lucky Omamori
An Omamori was given to the Traveler by Thoma after reaching a certain ending in his hangout event. More like a good luck charm item for the Traveler that's been wished by Thoma.
Shriveled Seed
You receive an item from a chest after exploring a giant tree in the Chasm: Underground Mines area. The area is peaceful, serene, and has a positive vibe to it. Currently, no use in the game now, but I speculate that we may see it in the future quests.
Dream Sakura
You will receive this item after completing the Raiden Shogun's story quest, where it relates to Raiden Makoto, who was the sister of Ei, the current Electro Archon of Inazuma.
You will witness a series of events in the quest where you will get to know about the Original Electro Archon and her role in the Cataclysm that occurred 500 years ago.
Sangonomiya Chronicles
An item that you will find in the Komore Teahouse is written by a famous historian named " The Great Calligrapher." The book features the history of Watatsumi Island in a calligraphy style of writing. A bunch of books will end up in the Quest items section.
Sacred Sakura Cleansing Summary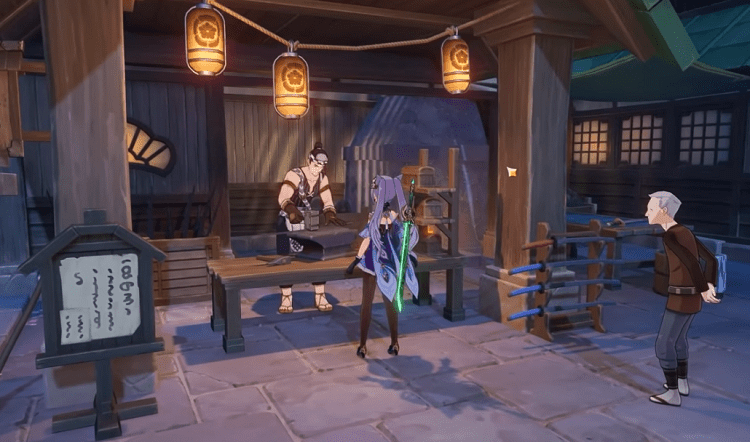 An important world quest item you will receive during the Sacred Sakura Cleansing Ritual quest contains information about the cleansing ritual. At the end of the quest, you have to fight a mini-boss and solve plenty of puzzles through the world quest. This is one of the most memorable world quests in the game.
Onibudou
A book that you can obtain from Yae Publishing house is written by a writer named Junkichi. You can find this book in the game's cabinet inside the Yae publishing house. It's easy to obtain and you can just grab by going into the Yae publishing house in Inazuma.
Orb of Blue Depths
You obtain an orb after defeating shadowy husks in the Chasm: Underground mines region. You must collect nine orbs to unlock a gate in the nameless ruins. A heads up that the shadowy husks are a bit challenging if your characters aren't leveled up properly and are located in tricky places.
Along with the Divinity: Prologue
You can obtain a book from the Grand Master's Office that features a story without the presence of archons. The author covers the book in humor and logic in various instances.
Letter from the Abyss Order
A quest item that you get during Darknight Hero's crisis quest where you can derive that the Abyss is planning an attack on Mondstadt city.
Darknight Hero is an alias of Diluc, and you witness him defending the city against a Cryo abyss mage. I've thoroughly enjoyed this quest and claim that this comes under one of the best quests in the early game that has action-packed fighting scenes.
1000 Years of Loneliness
After completing the quest Troublesome Work, you will get this book, which notes the beginning of the Springvale Hunter's fantasy journey. It focuses on the life of Gothson, which is a fantastical fog story of his life.
Wind, Courage, and Wings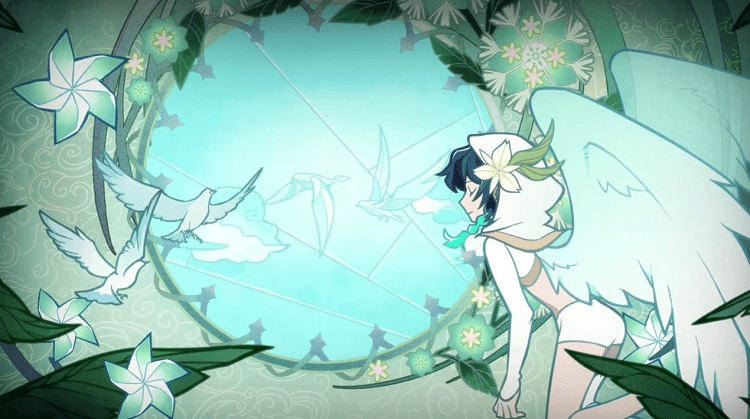 This book is an item you will obtain from the quest Glide with the Wind and mentions that Amber mistakenly took it, which is about fables?
Gliding Instruction Manual
A book you obtain in the Outrider Style quest mentions the information related to the Windgliders. It's reading material for anyone who wants to take a gliding license in the Mondstadt.
Most of your wind gliding quests will feature Amber. She is the only remaining Outrider in the city and has previously won numerous gliding tournaments. So, she's pretty qualified when it comes to Gliding.
Godwin's Letter
A love letter was written by Godwin to Glory that you obtain during the Long Distance Love quest detailing their love. It indeed is romantic and will make any reader blush. Seems like Godwin really loves Glory with all his heart.
The Wrath of Haishan
It is a quest item that you obtain from a commission "Cliffhanger" and selects a certain NPC in the commission. In a nutshell, this text features the story of the Crux Fleet. The Crux Fleet is under the command of Beidou, who bows to no one and has slain mighty beasts with her raw strength alone.
Star-Shaped Gem
You will find this item in the ruins of the Shirikoro Peak, where you have to use a Gadget Peculiar Pinion to access the hidden areas. To get this item, you must open chests in the hidden areas.
With the help of the Peculiar Pinion Gadget, you can unlock those areas and grab these gems. You have to complete a few tasks after getting the gems and eventually get decent chest rewards upon completion.
Verses of Equilibrium
A book you can get at Wanwen Bookhouse contains ancient incantations used to respect the Geo Archon, Rex lapis, and the Yaksha Adepti. Additionally, it also serves as a historical record of the ancient belief in Rex lapis. Rex lapis is an alias for Zhongli, who is the Geo archon of Liyue.
Ruin Guard Loot
You have to collect loot from a Ruin guard in Tales of the Winter commission, which is given by an NPC named Viktor. Viktor will give you information related to the Fatui once you have completed various phases of this commission. I'll recommend you check out our guide on the Tales of Winter commission in-depth.
Stone Tablet Compilations Vol 1
It's a history book that you can find in the Knights of Favonius headquarters library that is compiled and translated from ancient stone tablets of Liyue. Historian Zichang has compiled this book which contains fragments of historical events.
Humor from Tianheng
You can find a book at the Wangshuu Inn in front of Verr Goldet. This book contains poems from all sorts of places and is used as a reference book by poets or wannabe poets in Liyue.
History of Kings and Clans: Prologue
A book that you can find in the Knights of Favonius headquarters contains a comprehensive history of Mondstadt. It's edited and compiled by the Northland history society and captures a brief description of the city's history.
Biography of Gunnihilder
A book containing historical stories and legends from the aristocratic period can be found inside the Dawn winery. It contains the life of an apical ancestor of the Gunnihilder clan, which is compiled by a modern historian.
Yakshas: The Guardian Adepti
As the name suggests, this book contains information related to the Yakshas who have fought beside the Geo archon and covers it in great detail.
You can obtain it from the Butterfly dream quest, which is written by Masudi, a scholar from Sumeru. As of now, Xiao is the only remaining Yaksha, also known by the name of the "Vigilant Yaksha" or Alatus.
Sigil of Permission
An item that allows its holders to enter the residence of Adepti and protects them from any Adepti as well. This served as an important item in freeing Osial in an archon quest and was used by Childe to do the same.
Childe used the Sigil of Permission to free Osial, who tried to wreak havoc on the City of Liyue but was eventually resealed to the depths. Sigil of Permission is also featured on Genshin Impact's Youtube channel trailers.
Linling's Anthology of Selected Poetry
You can obtain this book from So-Called work quest, a collection of poetry Linling published with her own money. She takes much pride in this book as it's her first publication.
Black and White Sketch
A sketch that Vermeer gives you to locate his missing painting tools and paints. It is an unfinished painting made using only black and white colors. He gives you other sketches, Color sketches, and Nameless sketches, that are obtainable during the Luhua Landscape quest.
Feel free to check out Looking for Vermeer's paintbrush guide to complete this quest with flying colors and go through the quest in step-by-step detail.
Childe and Teucer's Mora Pouch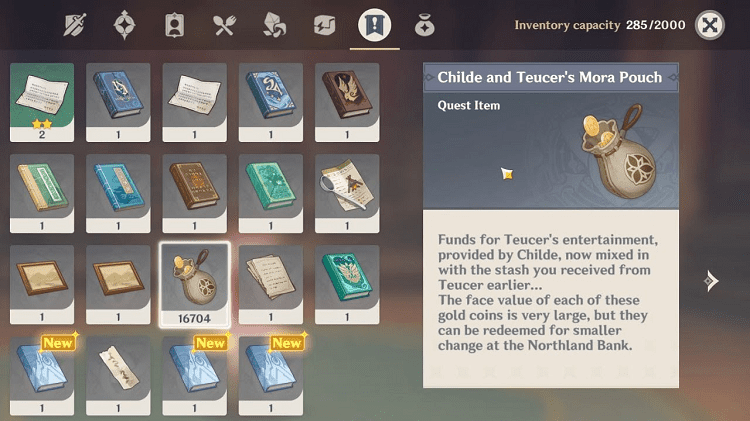 Childe, a good older brother, gives the Traveler this pouch to spend on Teucer if he needs anything. Though the face value of these coins is large, they can be redeemed at the Northland bank.
That's exactly what I'm going to do after writing this guide. Also, you get to know about Childe's other side, where he cares about his family but cannot deny the command of Her Majesty, the Tsaritsa. You should check out the Fatui Harbingers guide to know more about the Fatui and its ranks.
A Discarded Blade
A quest item that you will obtain during the Dreams of Sword Art world quest. In this quest, you must interact with a nameless samurai and help him find his identity.
Eventually, he will get to remember his name. He will become more like a practice dummy for you to check your characters' damage. Masanori will have an interesting backstory that you wouldn't want to miss. 
Ragged Notebook
It is a notebook you obtain during the Time and Wind quest and helps you find orbs that will help you unlock the secrets of the Nameless Island.
You will obtain another item named Thick Notebook during that quest, written notes of Henry Morton. Henry Morton will share his story with you, and you can collect his notebook from his nearby camp.
Knights of Favonius Handbook – 5th Edition
An interesting book you can obtain after the Question and Answer quest cover language usage and behavioral norms for the Knights of Favonius. This book has been personally edited by the Action Grand Master Jean.
Meadow of Gems
It's a book that you will obtain during the Return of the Jade chamber quest and written by Qingzhou, who writes it for you for some food and has an insanely sharp memory. Check out our Jade chamber quest guide and see how you can progress through it.
Ancient Investigation Journal Three-part Series
It's an investigation journal that you will find during the exploration of Enkanomiya, whose author seems to be a member of Mondstadt's aristocracy in the past. Enkanomiya's exploration will lead you to uncover truths of the past and give more lore pieces to connect the main storyline.
Qingzhou's Signature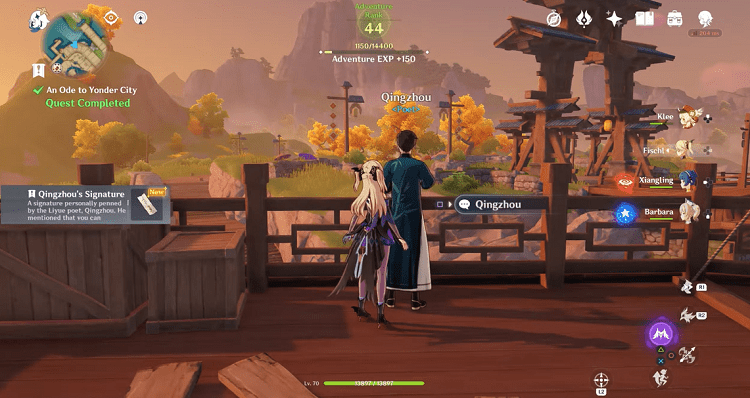 Qingzhou is a famous poet who helps you in the Return of the Jade chamber quest and has given you his signature so that you can exchange it for his new anthology at Wanwen bookhouse.
The Crux Clash Champion Medal
After winning the tournament, you can obtain this medal during the Archon quest Follow the Wind. Beidou and Kaedehara Kazuha will play key roles in this quest, where you get to know more about their personalities.
If you have Kazuha, then hop onto our Kazuha Genshin Impact guide to check out his best weapons, artifacts, and team compositions.
Mysterious Conch
An item that you can find on the coast near Tatarasuna Island can be exchanged with an NPC named Takashi for the diagram of Hamayumi. Hamayumi is a 4-star bow that becomes available for forging after you learn its diagram. 
Rinzou's Signet
You will find mysterious marks at Watatsumi Island, and completing a hidden objective will reward you with this item. Rinzou was a great pirate who left this item as proof of his adventurous life. I used to think these were the marks left by the Yakshas, but I was wrong.
Hidden Ledger
You can obtain this ledger during a quest after questioning Keijirou, and it contains taxation records of Ritoi's merchants in Inazuma.
Komore Teahouse Invitation Letter
Obtainable during Confessions of an outlander quest, and this letter is given to you by Thoma. Throughout your journey in the Inazuma region, you will frequently visit Komore Teahouse and discuss various matters with other characters for certain quests in the game.
The Seventh Samurai Script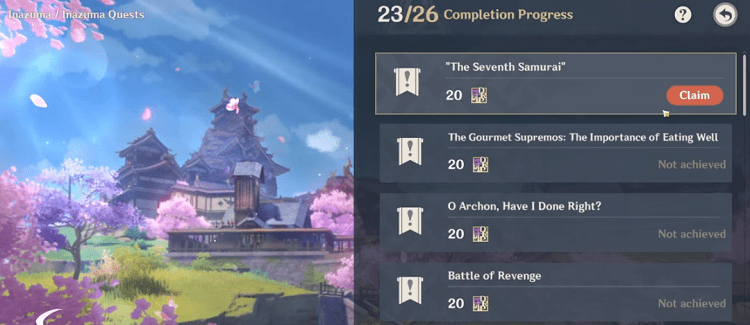 A film script that you obtain from an NPC named Xavier, who is a key character in the Tatara Tales world quest. Xavier is an NPC who is a researcher from Fontaine.
Lightly Perfumed letter
Featured in the Ritou Escape plan quest, this letter is written personally by Hiiragi Chisato, who is the young lady of the Hiiragi clan. It actually asks the Traveler to meet her at night to discuss something.
Travel Permit
After you complete the Ritou escape plan quest, a new quest, Chisato's Letter, will become available. You can obtain this item during that quest. With this permit, you can easily go in and out of Ritou without any limitations.
Photo of a Strange Rock
You have to collect five photos of strange fossils that you encounter in the Chasm: Underground mines, where you have to eventually submit these photos to Khedive.
I completed this quest today and would say some interesting lore hints were given by him. One that stood out to me was that he pointed out that the fossils were created at the same time. Meaning that some force instantly changed the whole second in a split second, and that's why they were preserved so well.
Archaic Stone
An extremely rare item that can be found in the ancient mountains is obtainable from an NPC named Kun Jun during Zhongli's story quest. You have to obtain three of them to complete another quest.
Bedrock Key Location Diagram
Possibly the first quest you will take up once you reach the Chasm. You will get this item from an NPC named Zhiqiong after you unbind the first Bedrock after attacking it to unlock it. It has general locations for other bedrocks that you have to deal with in the quest.
The Miraculous Adventure of the Traveler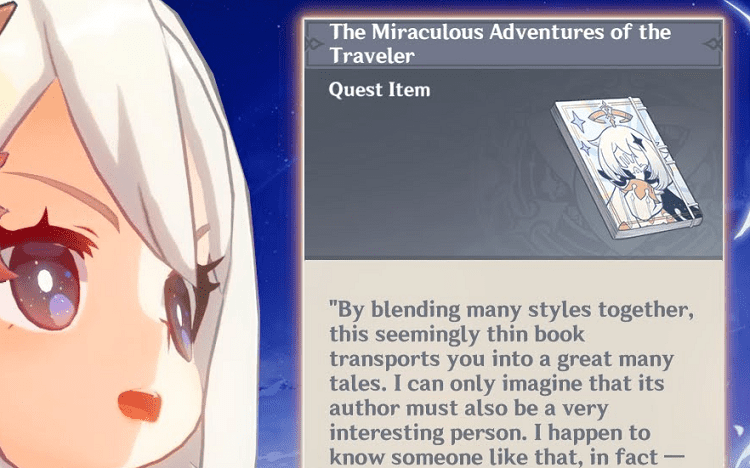 You will obtain a book during Yae Miko's story quest, where the player has to choose various options. You will be given options that you can choose depending on your mood, and once you are done with them, the quest will eventually come to an end.
A Firsthand Guide to Summoning Spirits
Another item that you obtain during Yae Miko's story quest is Divina Vulpes. I remember performing exorcism during this quest because it's rare that you see ghosts in the game. But, yes, if you don't know, there are ghosts in the game with whom you have to interact sometimes.
Dragonbone Orb
A quest item that you can obtain during the Lotus Eater quest is the fruit of the Dragonbone Flower which can bring peace to one's mind.
Divine Bridle
it is a Quest item that can be obtained during The Phaethon's Syrtos world quest, symbolizing Sunchild's authority. This quest will take place in the Enkanomiya region, and you must interact with the ghosts there.
Damaged Holy Lyre der Himmel
It is a prized Treasure of the Anemo archon, Barbatos. Barbatos is another name for Venti, who is currently the wind archon and cherishes this Lyre. The archon quest, Reunion with the Dragon, is focused around this Lyre, where eventually Venti will summon Dvalin with the help of this Lyre.
Dull Ring
it is a quest item that you can obtain from a chest in the Nine pillars of the peace world quest. We have a brief guide on the quest on our site, and I'll recommend you to go through it to know how to ace it.
After completing the quest, you can exchange this quest for mora from mentioned NPCs in the guide. A heads up that I'll advise you to go with an option for food and mora.
Dull Golden Bridle
it is an item that you will get in The Subterranean Trials of Drake and Serpent quest and is the hereditary national treasure of Byakuyakoku.
Great Snowboar King Meat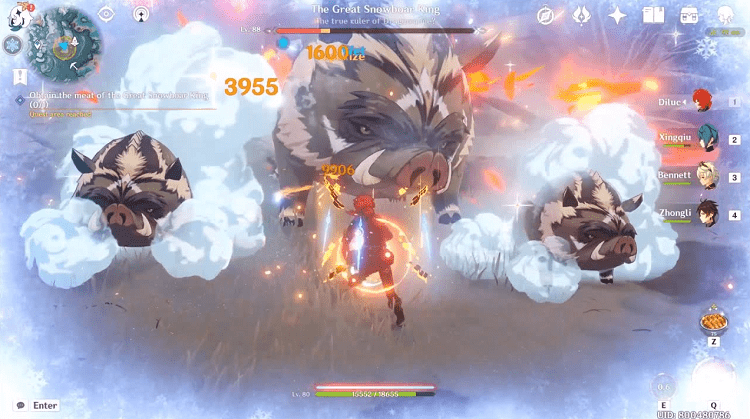 This cold meat is available after you defeat the Great Snowboar king in the Dragonspine region. With exquisite flavor and rich in fat, you can obtain this item in Ah, Fresh Meat world quest. Though it indeed is helpful in a few dishes but not necessarily that you should start farming it for days.
Crimson Crystal
When you start the game, you will venture into the heart of the forests to find Venti and Dvalin, where Dvalin will leave a teardrop. Paimon will urge you to collect that teardrop, and eventually, it will be purified by the Traveler's powers. It's uncertain why it gets purified, but this will sit in your inventory for a while.
Clear Dvalin Tear
It is an item that you will get after purifying the Crimson Crystal that you obtain at the very beginning of the game. After it gets purified by the Traveler, it will be used to partially repair the Holy lyre der Himmel.
Items like this one prove that currently, the items you have in your inventory may have a use in future quests.
Smaragdus Jadeite
An item that is used by Madame ping to craft the Serenitea pot for the player is a housing system where the player can do numerous activities.
It is said to be resistant to vision holders who will face side effects if they are in contact with this item. You will frequently visit the Serenitea pot to claim various rewards and modify your housing system.
Event-Exclusive Quest Items
Now there are some Quest items that are available during certain events only. You can check some major events that have happened in the game in our events guide and go through them to know more about their themes. Usually, these Quest Items disappear once you submit them or the event duration ends.
I've avoided writing them as they are better suited for the events they were featured in. Also, there's no guarantee that when these events will be re-run or come in the future. Items like Husk Gem are event items that were featured in the Three Realms of the Gateway offering event.
Bag, Special or Fresh Quest Items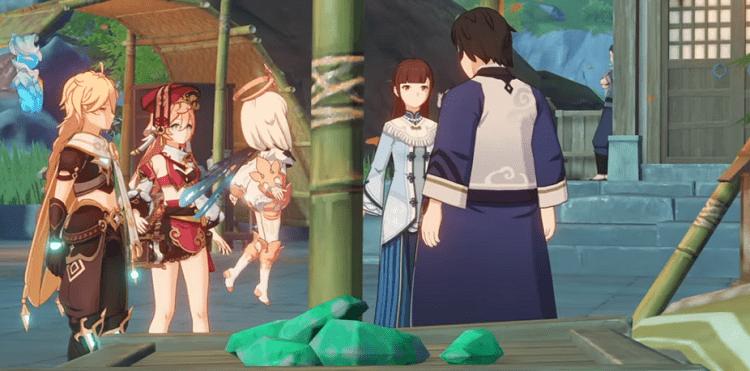 Quest items will have a Fresh or Special prefix to their names because they are related to a certain category of events. Usually, for a bag of items, you have to either submit them in daily commissions or quests in the game.
You will notice that they are in a group and have to take them up to a place or deliver it to an NPC. The Fresh and Special dishes may have to be submitted to NPCs for the completion of certain quests.
I do agree that there are numerous items that are still left out but worry not! As we push more guides on our site, we will update the lists with the latest additions and briefly explain the Quest items you can obtain in those quests. There are plenty of Quest guides on our sites, and we have mentioned the Quest items that you will get.
Some of them are temporary, while others are permanent. If your favorite Quest item isn't on the list, then hop on to our Quest guides because we have mentioned everything in detail.
A Few Questions
Let's go over a few questions that you may have after going through this guide. With plenty of items in the game, I've listed the ones that I've found relatable in my experience. I'll encourage you to review those items to know their origin and backstory.
Question: How many Quest Items are there in the Game? Do You have any Idea?
Answer: There are more than 500 Quest items in the game, and we have only discussed a hundred of them. But here's the thing, some of them are event-exclusive and don't exist for a longer duration in the game. Some Quest items you will receive after completing some quests but still don't have a use in the game yet.
Maybe it's possible that Genshin Impact will launch new quests in the future where we have to use Quest Items obtained from the previous ones. That's just me being optimistic and really hoping that something like that happens.
Question: Do Quest Items have a Rarity with them?
Answer: They may or may not have rarity associated with them. I've observed that the quests that hold significance in the game have rare Quest items associated with them. Now, there are no rarities associated with Quests, but you can judge a quest depending on its rarity.
Archon Quests and Character story quests are some of the major quests in the game, so it's likely that the Quest items you will receive from them would be a higher rarity. But there are some items that don't have rarity associated with them, although some of them may look important.
Question: Which is the First-ever Quest Item we Get in the Game?
Answer: Crimson Crystal is the first-ever Quest item that you will get in the game. As you start the game, you will go inside the forest area and unlock your first statue of the seven.
Once you resonate with the statue, get Anemo powers, and are about to travel into the forest, you will see a blue dragon flying over your head towards the forest. That Dragon is Dvalin,  and Paimon urges you to follow it into the heart of the forest.
As you head inside, you will notice Venti near Dvalin, where soon you are caught, and they both leave the site. A Crimson Crystal is left behind, basically Dvalin's teardrop.
It has a red shine around it, and once you obtain it, you will be able to purify it later. The purified crystal, Clear Dvalin Tear, is eventually used to repair the Holy Lyre der Himmel during an Archon quest, and that's where this item is put to use.
Now, you will notice that this item will sit in your inventory for a long until you reach the Archon quest and use it on the Lyre. This means it's possible that the Quest items we have in our inventory may be used down the line in future updates.
Quest Items Remarks
Still, if you see my inventory, there are numerous Quest items that I don't have a clue about why they are there or what their use is. But in a nutshell, I keep them as a souvenir so that I can relate to the quest I completed. I remember an item named Sigil of Permission, also featured in a Genshin Impact trailer related to Childe.
That item also had a major role in an Archon quest and still sits in my inventory. Quest items like these serve more like a memory for the adventures we have completed and shed light on the experiences we had.
I would say even if you don't know what some Quest items are meant for in your inventory, just wait for the right opportunity. Sometimes we get Quest items that will have use in later stages of the game, and who knows what surprise they hold for us?
While some Quest items are beautiful and vibrant, others have a creepy look, with one having blood on it. It's thrilling and full of suspense, how the game turns from happy-go-lucky to an eerie vibe in a few quests.
Well, we should wait for future quests to unravel our secrets, and that was it for the Quest items guide. I hope you find incredible Quest items before your friends in the game and share your stories with them.
For now, the time has come to take a leave, and before going, I suggest you look at our guides. We have brief guides on various items in the game, and I'm sure you will get to know a lot of interesting facts and theories!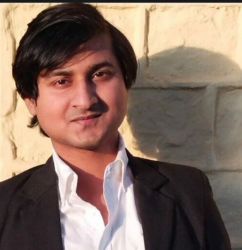 Latest posts by Himanshu Verkiya
(see all)