Genshin Impact is one of the most popular anime video games on the planet and enjoys a large amount of attention from all sorts of cosplayers. Any anime-related expo with cosplay as a part of it is guaranteed to have Genshin Impact Cosplays on display.
So, in this guide, let's look at 20 of the most popular Genshin Impact cosplay ideas and the materials you will need to bring some of your favorite characters to life.
Overview
Selection Criteria
Accessibility

: Cosplaying should be accessible to everyone, so I have mustered together ideas affordable under different budgets.

Popularity

: Everyone wants to be recognized for the character they cosplay, so I've made sure to pick some of most popular ones.
Basic Assumptions
All the cosplays will require some makeup that you can decide according to your preferences and the character's appearance. 

For weapons, you may purchase them or have them 3D printed and then painted. 

I recommend using clay foam for most accessories as it is easy to cut, shape and paint at home. 

Buying costumes, weapons, or accessories

does not

make your cosplay any less valid, so go ahead and pick whatever you prefer.

Full cosplays and specific pieces are all available online.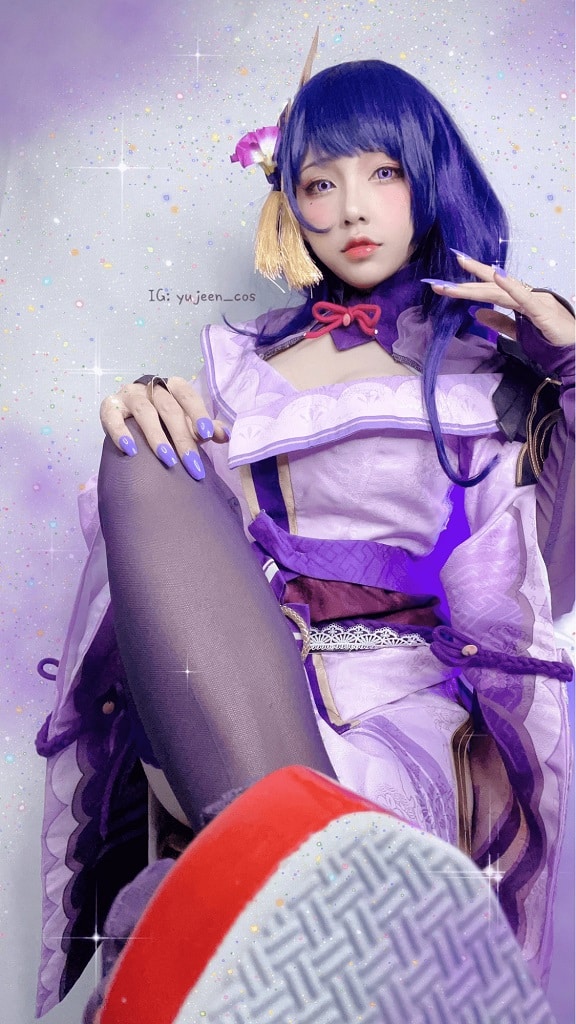 Raiden enjoys a huge amount of popularity. She is the imposing Archon of Electro and has a beautiful design and interesting personality.
Difficulty: 8/10
Affordability: 7/10
What You'll Need:
A ready-made wig or purple dye for your hair if they are long enough. Be sure to get the braids right.

A headpiece accessory with a large purple flower

Purple colored contact lenses 

A red string necktie 

A light purple short kimono with purple shoulder coverings. There are many of these available online at relatively affordable prices.

A red flower patterned waist ribbon.

A decent quality printout or shoulder guard with the electro archon's symbolic golden and purple electro pattern

An electro vision accessory to tie around the waist with a purple braided rope

Her signature black nylon arm wear or wrap black bandages around your arms with the 3 dotted electro symbols.

Lightweight black or purple boxer briefs with embroidery on the ends

Black thigh highs

Black sandals with red straps on top

Purple nail polish, light blush, and light eye primer

Your weapon can be a katana replica or printout scabbard. Alternatively, a polearm will do.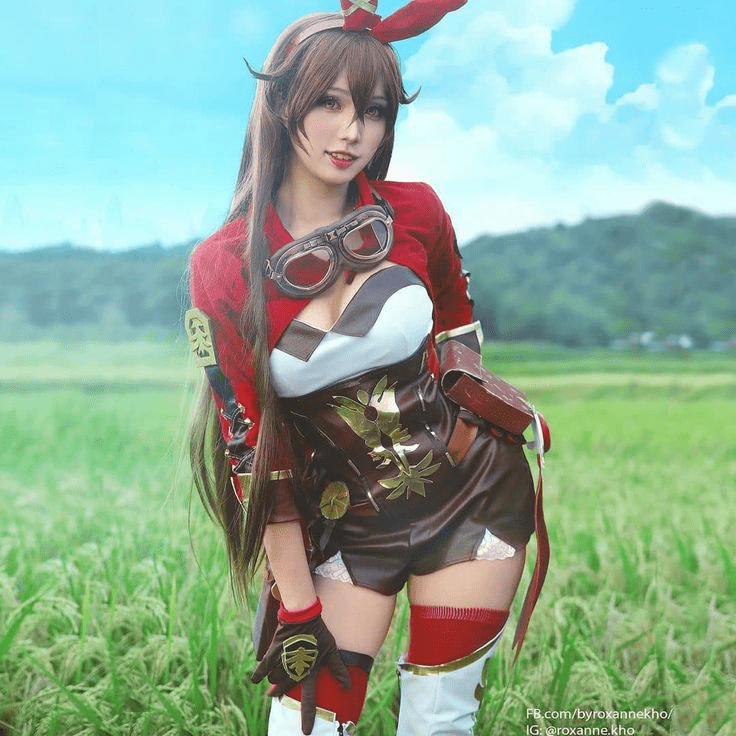 She is the first playable character we meet when we arrive in Teyvat and is very well known even to those who do not play Genshin Impact.
Difficulty: 7/10
Affordability: 7/10
What You'll Need:
A brown wig with bangs and long hair. 

A red hairband with red bunny ears attached

Brown contact lenses

Her signature brown aviator goggles

Dark brown gloves with the gold symbol on them

A light brown belt for the waist

Patch together a white and brown shirt to get her shirt

Gold embroidery or spray paint on foam for her shirt's waist material

A red pouch to tie at the side of the hip

Brown shorts 

White thigh-high boots with red thigh highs to wear underneath. Alternatively, cut a hole to slip your foot through in a pair of white thigh highs.

Amber's signature bunny plushie(baron bunny)

Red lipstick, foundation and light pink blush

A small bow if it is possible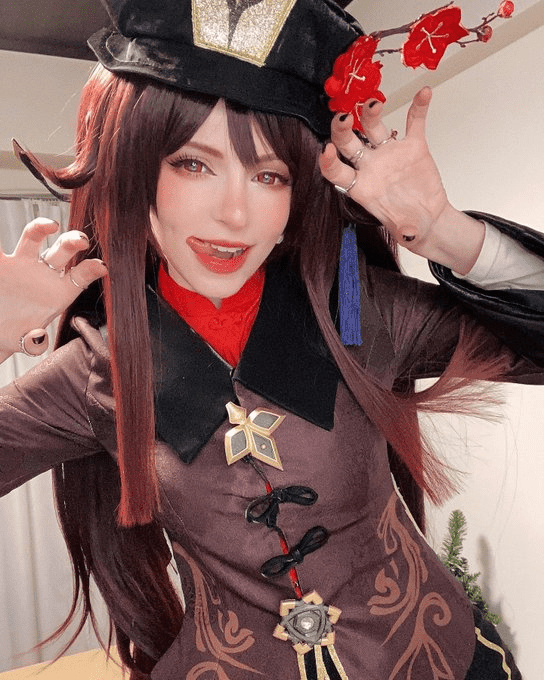 Hu Tao is the eccentric prankster of Liyue who runs the Wang Sheng Funeral Parlor. She is also one of the game's most popular and strongest DPS.
Difficulty: 5/10
Affordability: 8/10
What You'll Need:
Lengthy brown wig with bangs and light brown colored hair ends

A black conductor top hat. You can cut and paste any suitable material to recreate the emblem.

A red flower with a purple ribbon attached as the hat accessory

You may simply use red contact lenses.

A red collared shirt to wear underneath

Get a brown robe and stitch a black collar and sleeves on it. Then embroider the golden patterns on the body and arms. 

Black ribbons to go on the middle and the cuffs

Her golden black award ribbon to stitch at the stomach area of the shirt

A bunch of your favorite rings

Black shorts. You can add golden vertical tapes to these.

White socks with red flower bands at the top 

Any pair of brown loafers. 

Heavy foundation, black nail polish, red lipstick and strong blush

For her weapon, replicating any in-game polearm would suffice

A cutout of her signature ghost.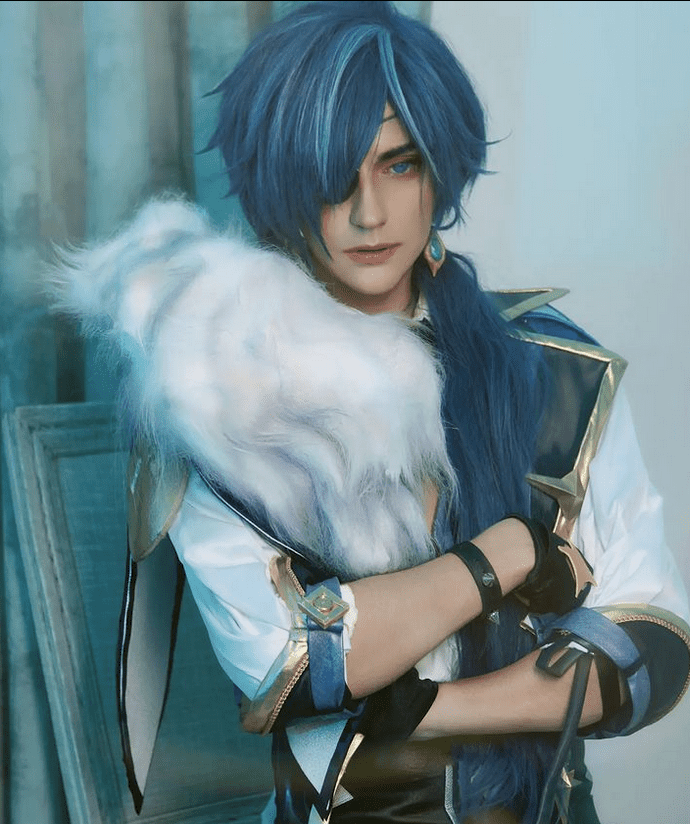 Kaeya is a suave and charming cryo character in Genshin Impact, who we meet relatively early on, and he is a captain within the Knights of Favonious in Mondstadt.
Difficulty: 7/10
Affordability: 7/10
What You'll Need:
A lengthy blue wig and a lot of hair spray. You need first to get the ponytail sorted. Then you can use hair spray to style the hair at your desired angles. Cut the bangs from one side only. 

A black eyepatch. You can color the string golden.

Blue color contact lenses for the eyes

Prominent blue earrings

A golden necklace.

A plain white shirt will do. Keep the buttons open

Recreate the sleeves by attaching a black cloth, with golden ends, to the sleeves and folding them.

A blue cape to wear on your back.

The chest section will have to be blue clothe stitched to the cape and the shirt. You can then add golden accessories to it as well.

A lengthy fur piece(fake fur works) to attach to your left shoulder on top of the cape.

Black gloves with open fingers and golden star accessories

Black band with golden spikes

A brown belt

A vision replica is attached to a small blue accessory. These form one strip on a piece of cloth and will be attached to the belt.

Navy blue dress pants or black ones should suffice.

Regular brown boots or brown knee-high boots. You can add extra details.

A sword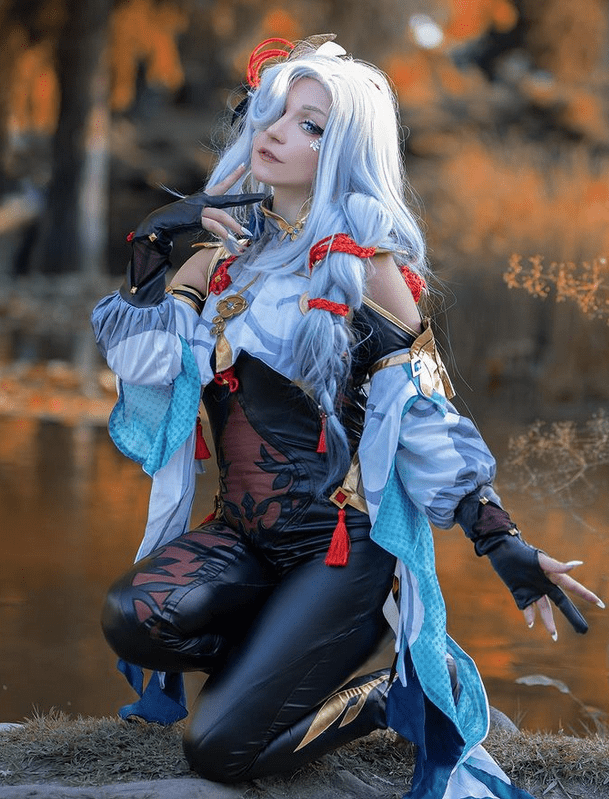 Shenhe is the icy exorcist of Liyue, who has one of the most interesting backstories and a unique design that resembles a crane.
Difficulty: 9/10
Affordability: 5/10
What You'll Need:
A white wig of moderate length. Keep the bangs on one side and cleanly cut shoulder-length hair at the front. 

The hair accessory can be any elegant large red or golden one with a black base. 

Light grey contact lenses with a tinge of green 

Lengthy red string earrings

A full black bodysuit. If you are comfortable with it, you will have to cut holes in the shoulder and hip areas. 

Cut open the finger areas of the suit for the glove effect.

A lot of cloth with one side white and the other blue. The white side will have grey patterns on it, and the blue side will have dark blue patterns. The white side will be the outside.

First, you will create the chest piece to wear over your body suit. Color it with the relevant grey pattern and adorn it with the relevant golden accessory. 

Then use the same cloth to create open frilly sleeves to be worn at your elbows to imitate open crane wings.

The same cloth will be used again to be attached to your back as a tail.

Red string bunches similar to the earrings as accessories, to put along the suit where needed.

Golden taping and accessories decorate the legs and waist.

High heels 

Heavy foundation, red lipstick, strong red blush and red shade

Any polearm weapon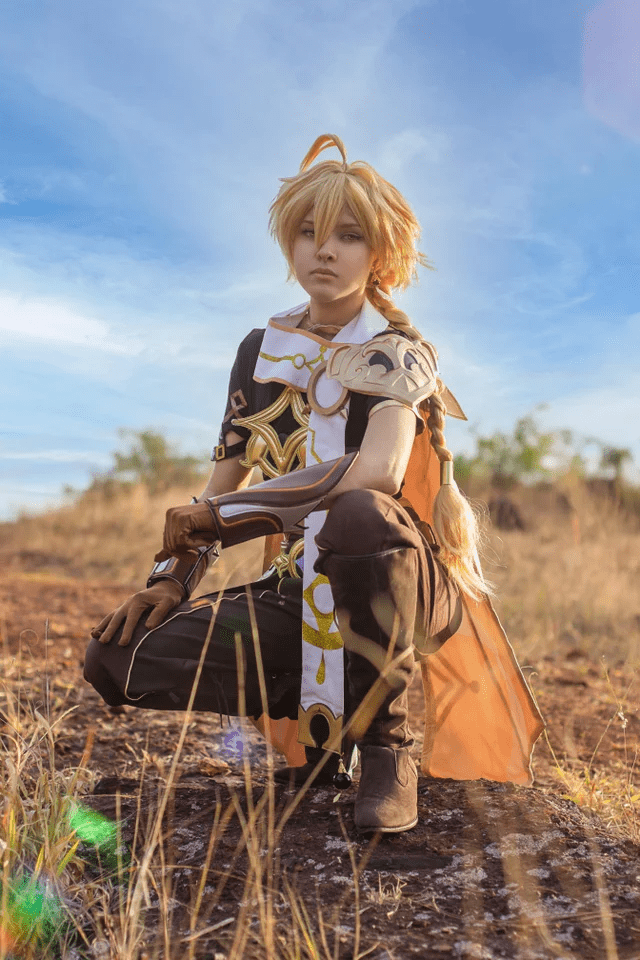 Difficulty: 8/10
Affordability: 8/10
What You'll Need:
A blonde wig that can be braided at the back. The front needs an M-shaped bang. Use hair spray to style and fix the many layers of the hairstyle. You can use small hair clips and hair spray to get the ahoge(a standing strand of hair at the top).

A pair of golden contact lenses for the eyes

One toothlike white earring for the left ear

Take any white scarf and add in the designs using either golden tape, clay foam, or just coloring it that way.

Take any black T-shirt that fits you well and cut it short from the bottom to get a crop top effect. Add in the golden patterns here as well, similar to the scarf. A grey piece of clothing can also be attached near the bottom.

A pair of brown gloves. These can also be improved with the relevant golden designs.

Any brown belt. You will have to make the buckle accessory yourself. You can also attach some brown cloth to the underside of the belt to then attach it to the boots and get the most accurate look.

Any brown pair of pants. To get the stuffed look, you can fill the insides with fabrics such as cotton. Add in the golden designs as needed. 

Any brown high boots.

Any sword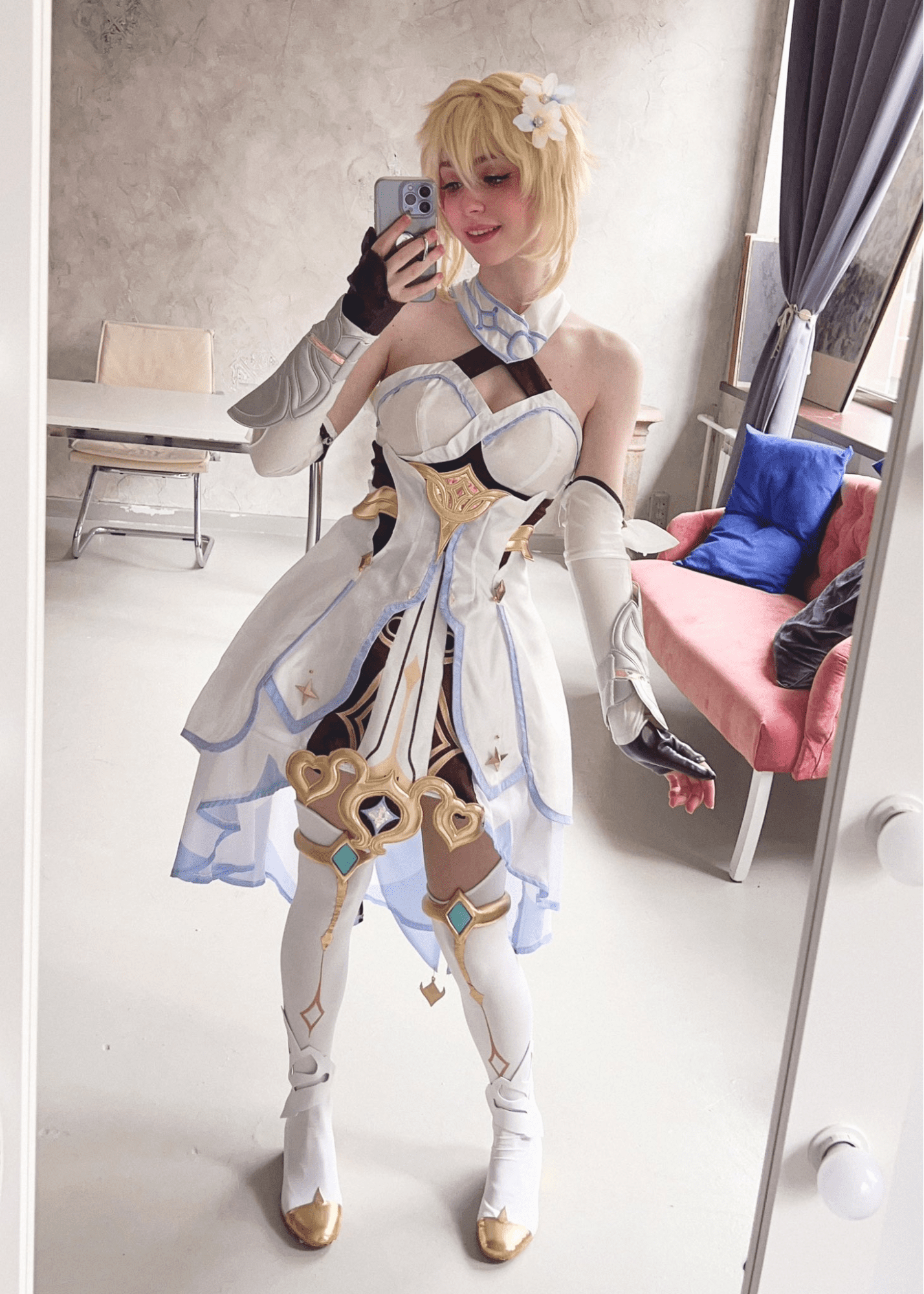 Difficulty: 7/10
Affordability: 8/10
What You'll Need:
Lumine has a very interesting and relatively complex hairstyle compared to the other characters. You will have to manage multiple layers on a golden wig and fix a lot of the layers on the top. Keep M-shaped bangs and shoulder-length locks at the front.

You can get some light blue and white accessories or flowers for the hair. 

A pair of golden contact lenses

Get a white scarf. To make it more floaty like the original, you can attach small metal or fiber wires to it. 

The dress itself is a plain white dress underneath with a whole decorative layer on top of it. 

White gloves with blue embroidery or decorations on them. Attaching a cloth to your gloves and elastic around your elbow is a handy way of extending smaller gloves.

You can take a pair of white thigh highs and cut the ends. Slip them over a brown shoe and slip your foot inside to recreate thigh-high boots if you need them. 

A lot of pink blush and eye shade. Light red lipstick and foundation cream

Sword replica from the game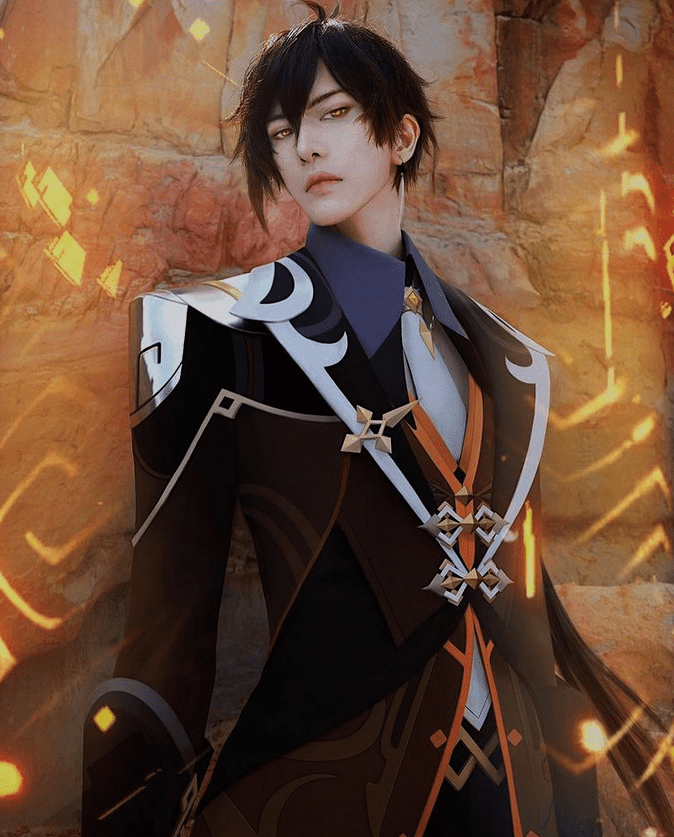 Mr. Zhongli is the Geo Archon of Liyue. Zhongli has probably one of the best-looking designs in the entire game. He is also one of the most powerful and popular to use units in the game.
Difficulty: 6/10
Affordability: 6/10
What You'll Need:
A light brown wig with the M shaped bang. You can make the hair ends stick out using hair spray. You can recreate the light-brown hair tips using dyes or soft crayons.

A pair of light brown lenses for the eyes.

An earring with lengthy white strings attached.

A white or very light brown dress shirt with a black collar attached

A white tie with golden accessories on top.

Black gloves with the diamond Geo symbol on top in golden colors. You can also add the required purple designs to the gloves to improve accuracy.

Any black dress pants will work. You can use golden tape or strips to add to the accuracy of the designs.

Any black boots will suffice.

Zhongli's coat is the fanciest and hence most difficult part of his design to recreate, but it is also easily available for purchase online. If you really wish to copy it, you will have to work separately on the black and dark orange sections before stitching them together.

The black sections that make up the collars and shoulders of the coat require white patterns to be attached to their ends. 

The orange sections underneath require strips of golden clothing to decorate them properly. 

Orange or dark brown eye shadow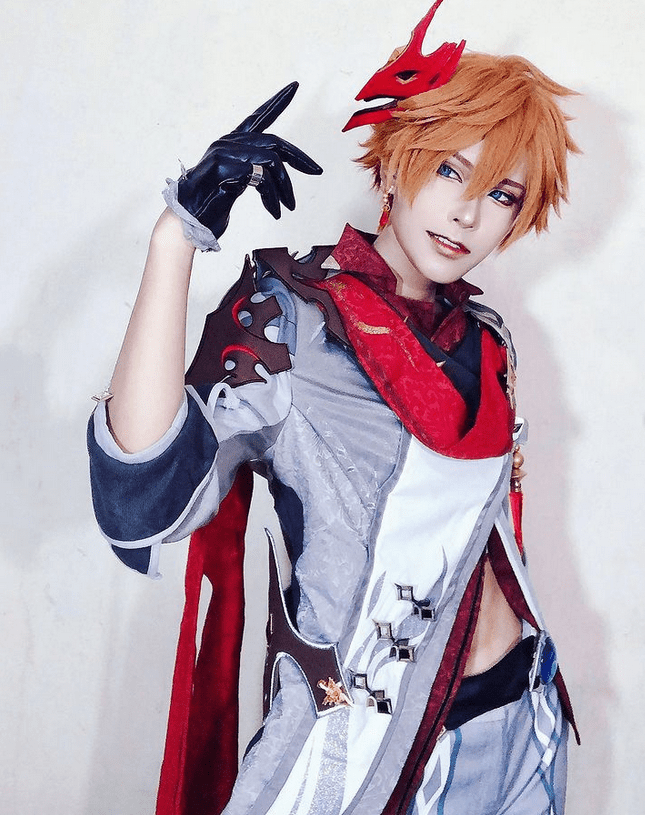 Tartaglia, also known as Childe, is one of the antagonists of Genshin Impact. He has a fun but battle-hungry personality. He is also shown to have a caring side which makes him oddly likable.
Difficulty: 5/10
Affordability: 8/10
What You'll Need:
You can decide the color based on your preference(ginger, light brown, or orange). Styling his hair can be a bit of a chore as you will need a lot of hair spray or hair gel to ensure it stays in place. So treat each section slowly and individually.

You can get his mask accessory 3D printed or style one yourself. It is one of the most popular items that is bought in cosplay retail stores online. Tie it using either pins or elastic.

You can also get his proper red face mask instead of just a hair accessory if you intend on going boss mode.

Blue contact lenses for the eyes

Any lengthy red piece of cloth or red scarf will suffice. Add the necessary designs via embroidery and use wires to give it a stiff floaty feeling so you can pose for photos. 

A grey two-piece suit will work well. Leave the bottom buttons on the suit open. You will have to add a custom white layer on the left side of the coat and a wide black belt to attach to it from the back. You can make the belt using foam or cardboard.

Roll up the sleeves and attach black embroidered clothing for the cuffs.

A black belt with a prominent blue buckle or make your own blue buckle accessory.

Black gloves for the hands.

Any boots with a dark color will do.

Eyeliner, dark lip gloss and foundation cream

For his weapons, a polearm, a bow, or a pair of daggers will do. Keep them blue.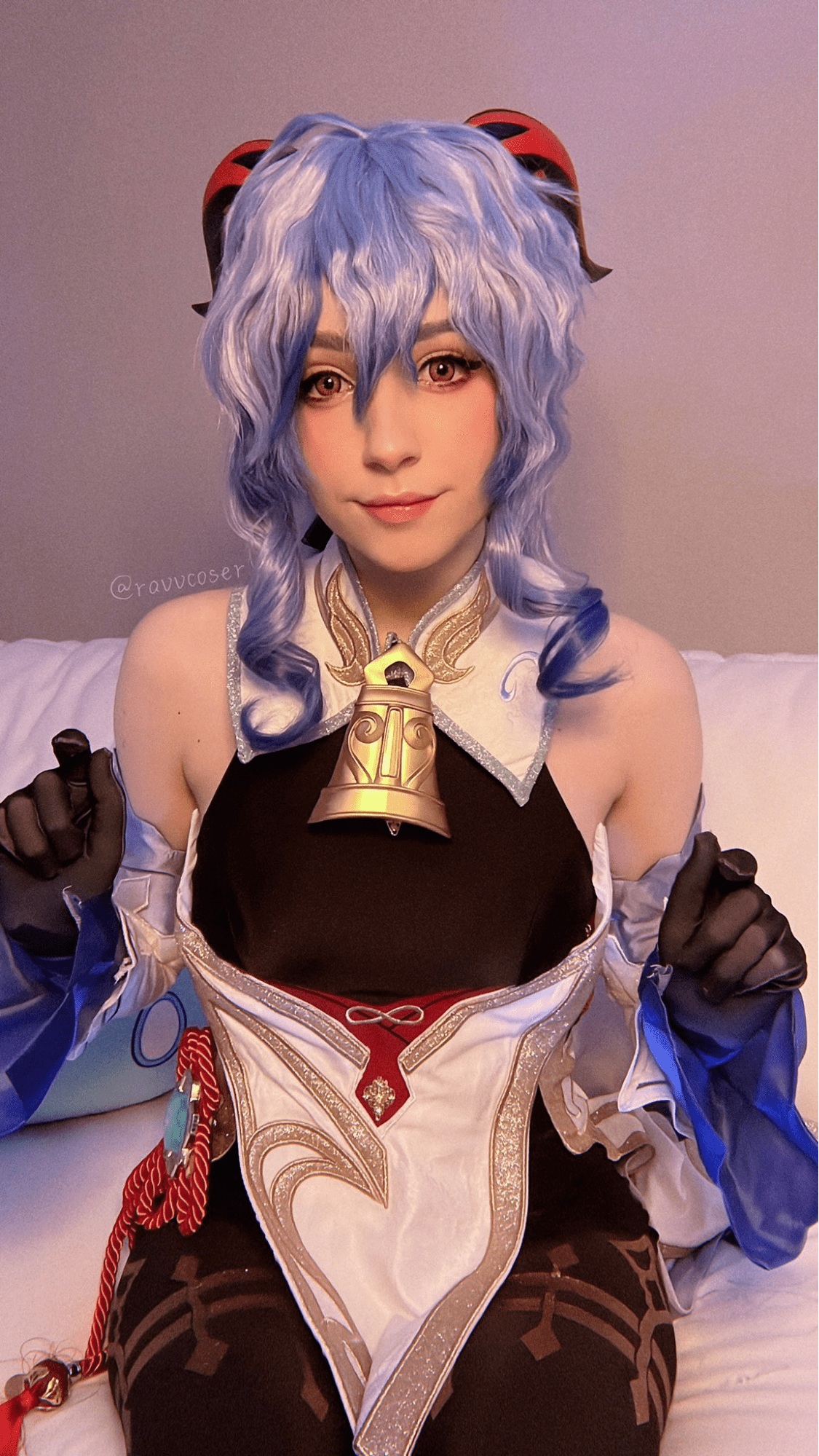 Ganyu is a half Adeptus and is everyone's favorite mild-mannered shotgun archer. She also has a very cute and attractive design which has made her very popular.
Difficulty: 7/10
Affordability: 7/10
What You'll Need:
A blue wig with M-shaped bangs and long hair. You can use pastel crayons or other methods to color the tips a darker shade of blue.

You can create your horns.  Alternatively, you can luck out at your local costume store for a pair of decent horns. 

Purple color contact lenses for the eyes.

DIY her signature cowbell that is attached to her blue collar. Alternatively, just purchase any bell from your local stores. 

A black leotard with a high neck is the main suit for the whole body. You can always purchase a black full-body unitard and remove the back area, the sleeves, and the shoulder region as needed.

For the sleeves and dress adornments, use a thicker white cloth that can serve as frilly sleeves. You can then use blue and golden colors, cloth, or foam to decorate these as much as you find as necessary.

Black gloves made of lighter material

If your bodysuit isn't thick enough, then you should get darker black tights. You can add the necessary accessories with golden tape around the thighs.

Red ribbons around the ankles.

Any light or cream color heels will suffice. 

Light pink blush, pink lipstick and eyeliner

A bow or self-made replica to serve as her weapon.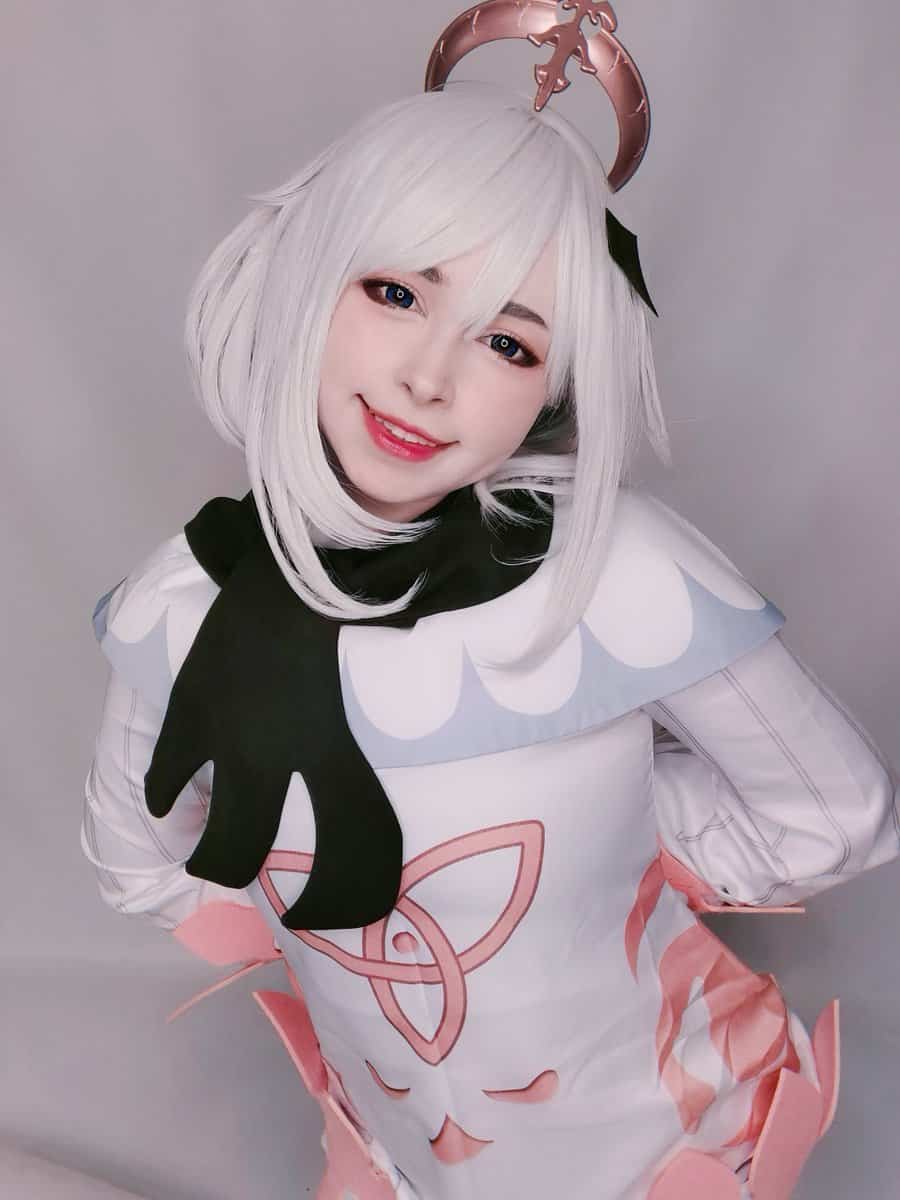 Paimon is our traveling companion in Genshin Impact and enjoys the highest amount of screen time and dialogue out of all the characters. She is the mascot of the game and hence very popular.
Difficulty: 5/10
Affordability: 7/10
What You'll Need:
A white wig with a single bang runs down the middle. The rest of the hair can be straightened and curled at the front

You can design the headpiece using foam, 3D printing, or cardboard cutouts. Use a thin wire to attach it to a headband or the back of your shirt to give it a floating effect. 

Her scarf is a bit complex to make. You need a black or dark blue circular piece around your neck. Attach three short winglike extensions with the same material at the front. Use some cloth with wires to create the stiff floating effect. Decorate these with the relevant geometric symbols too.

Her dress is a puffy fabric that you can purchase quite easily. Otherwise, you may create one by attaching two white fabrics over one another and tightening the joints to trap air inside, giving it a bubbly appearance. 

Add gold decorations on the dress as necessary using cutouts and foam.

A single white thigh high with cutout holes.

Dark pink lipstick and light pink eye shadow. Lots of foundation cream for the paleness

Any pair of white boots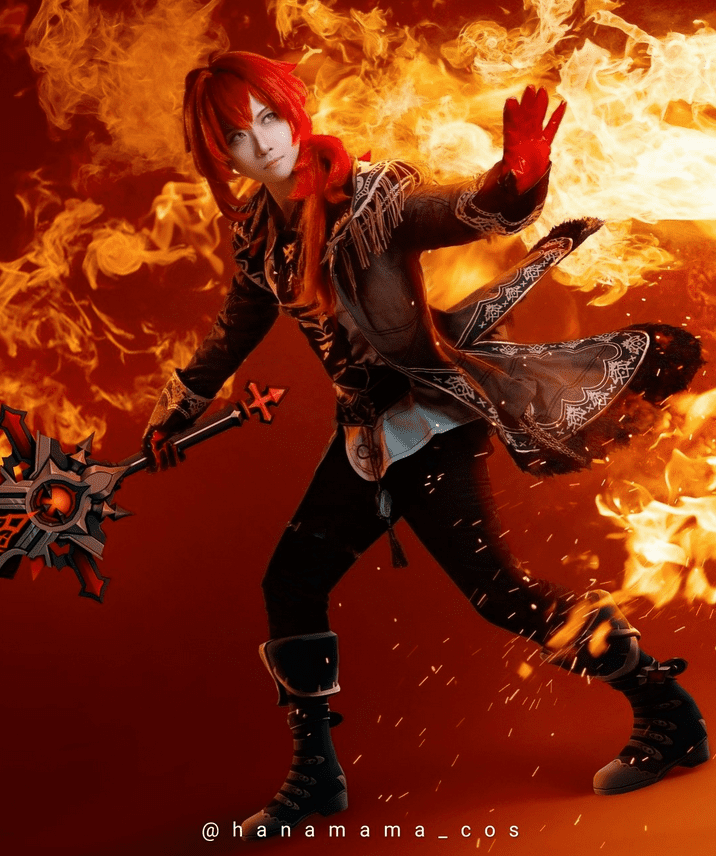 Diluc is the owner of the Dawn Winery and the vigilante of Mondstadt. He is a very popular 5* unit among the fans.
Difficulty: 6/10
Affordability: 8/10
What You'll Need:
A long red wig with a deep M bang in the middle and a layered ponytail.

Red lenses for the eyes

A white dress shirt

A black long coat or blazer. You can use stitching, leather or adding lace accessories for the embellishments. Be sure to paint these the appropriate gold. A simpler look can also work depending on your style.

Tie with golden edges(stitch or paint)

Belt with golden edges. Piece of cloth wrapped around your waist can also work.

Black gloves with red fronts

Pyro vision accessory

Black dress pants

Any black boots

Bartender accessories

Any claymore from Genshin Impact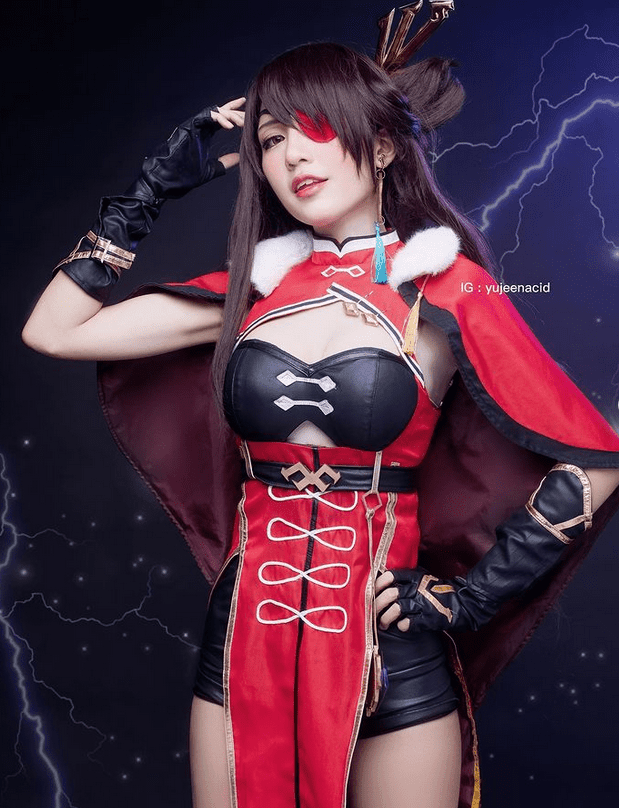 Beidou is the pirate captain of the Crux and roams the waters of Liyue and Inazuma with her crew.
Difficulty: 7/10
Affordability: 7/10
What You'll Need:
Any dark brown wig. Style the right to be shoulder length and wrap the left around the back. Straighten the bangs to sweep over the eyepatch.

Large hairpin accessories. You can make these yourself with foam. Must match with earring.

Lengthy blue earring

A red eyepatch or cloth piece

A black bodysuit to wear under

A red Chinese dress. Cut the chest piece and add in the golden embellishments and accessories as needed. 

Some fluffy faux fur to attach between the dress and cape

A tough red cloth to serve as the cape. Add black leather to the edges and attack to the Chinese dress.

Black gloves with gold embellishments

Electro Vision accessory or lookalike cutout/model

Black thigh highs

Black heels with gold embellishment

Light red lipstick and some solid cream foundation. Powder for the chest area.

Any claymore weapon model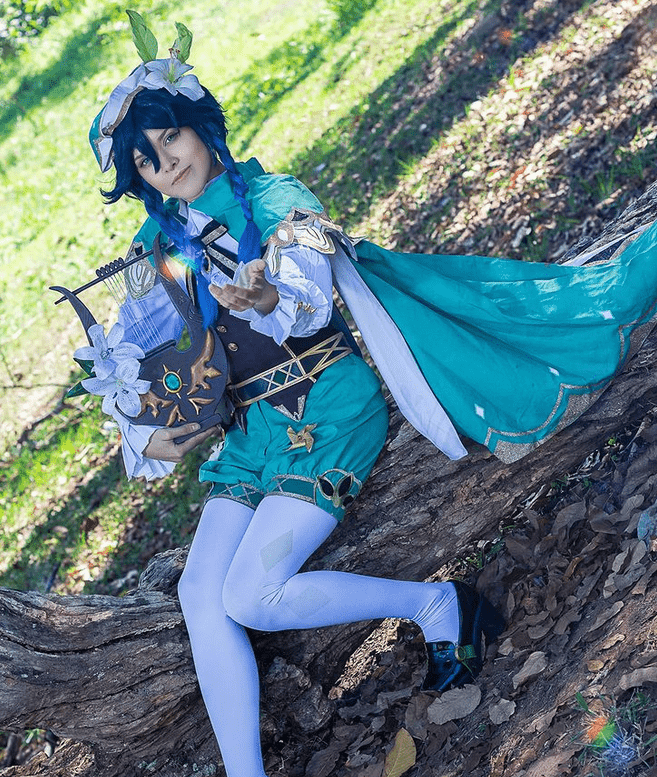 Venti is the archon of Anemo and the first archon we meet. He is a free-spirited and alcohol-loving bard who spends his days singing songs.
Difficulty: 8/10
Affordability: 6/10
What You'll Need:
A dark blue and black gradient wig with the should braid tips colored a brighter shade of blue. You can also order one online.

A green beret with a diamond pattern.

Green lenses for the eyes

A white flower and feather accessory for the hat.

A loose white dress shirt with frilly cuffs. Use elastic to make the sleeves match. Add in the golden buttons.

A green cape you can cut and embellish with the brown/white feathery ends for the front and back.

A dark brown corset with golden embellishments and buttons.

Anemo vision accessory with feathers attached.

Dark green short pants with embellishments embroidered on top.

White leggings with the golden diamond pattern

Any brown/black boots

You can 3d print or cardboard cutout his signature harp. Foam is also an option.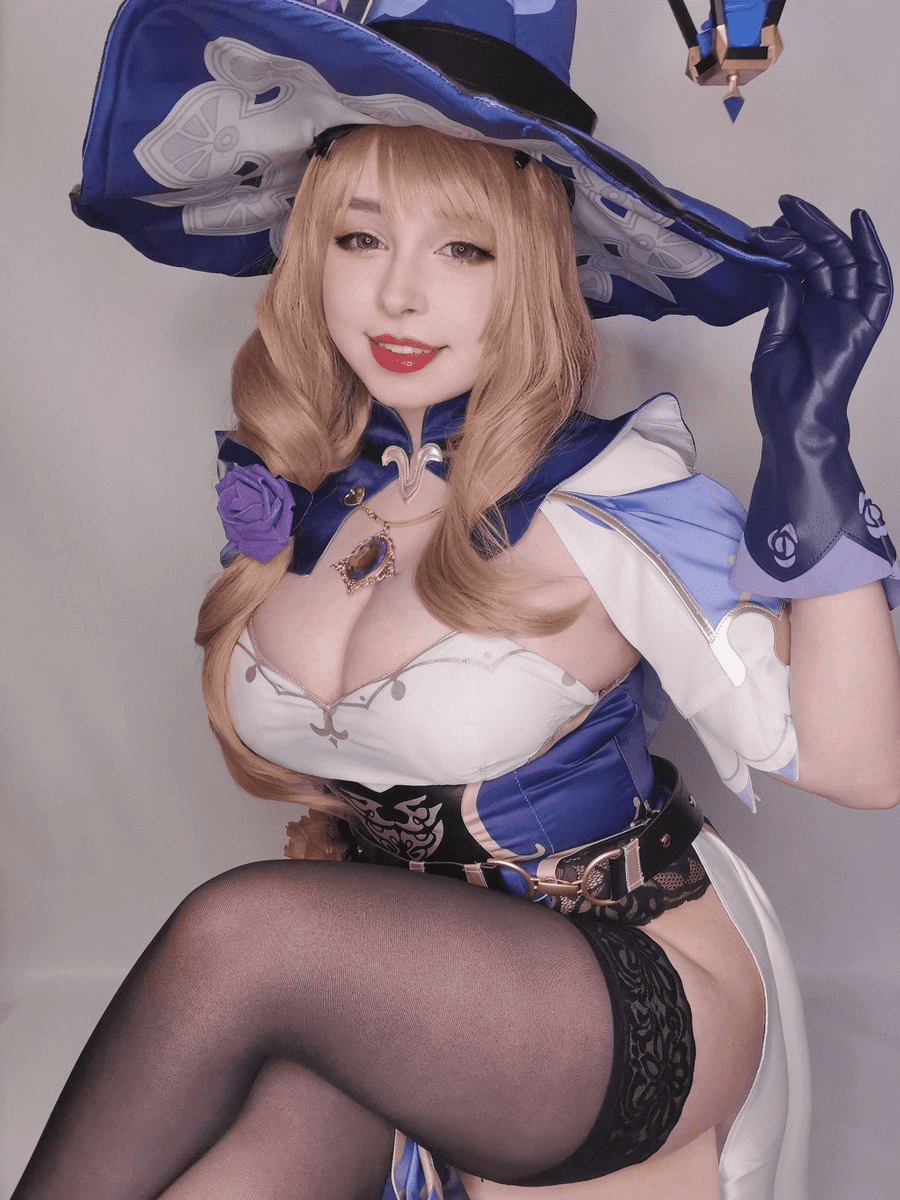 Lisa is the charming and mature librarian of Mondstadt who uses her knowledge to help the Knights of Favonius. 
Difficulty: 8/10
Affordability: 6/10
What You'll Need:
A blonde wig you can restyle with M shaped bangs and shoulder-length hair

A flower accessory for her hair

A big purple witch's hat with a white underside

Belt and flower accessories for the hat

A purple necklace with gold colored chains

A purple collar

For the dress, you can wear a white undershirt and first add a black layer on top of this. This black layer will go down to the thighs and have a triangular pattern at the bottom. Add the dark purple dress on top of this extending to the front of the knees and a square design at the back. The purple piece will only cover the stomach and sides of your torso.

Golden stencils or other accessories you can manually add 

Light purple sleeves that you can attach to the collar

A black belt attached with a golden chain if possible

A small purple flower to attach to the waist

Black gloves with purple edges

A pair of black thigh highs with netted tops

Any black boots

Dark red lipstick, strong foundation cream and some powder work for bare skin.

A book as her signature weapon or to show her role as a librarian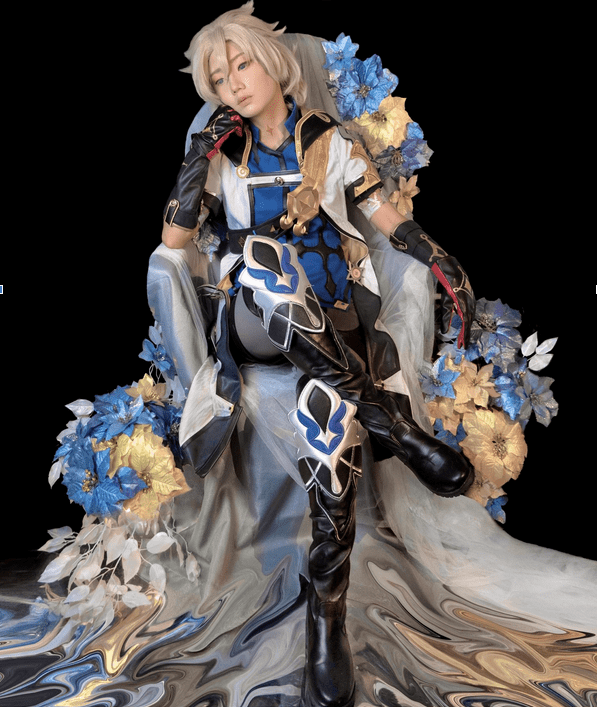 Albedo is a reclusive but genius alchemist who serves the knights of Favonius in Mondstadt. He is always in the pursuit of knowledge and seeking deeper truths.
Difficulty: 6/10
Affordability: 9/10
What You'll Need:
A blonde wig you will have to style with a ponytail and multiple curves to match the style.

Light blue lenses for the eyes

Dark blue undershirt. Cut the bottom as necessary. Add the black design accessories on top.

Black gloves with golden designs on top

A long white coat with yellow insides. You can stitch in yellow cloth for the insides yourself. The gold embroidery and design in the back need to be done with extra care. You can also use stencils.

You can attach a black hood with a golden edge design to the coat collar.

A golden belt to wear over the shoulder

Any pair of black pants or jeans

You can add the extra designs on the thighs and knees to increase accuracy.

Any pair of black boots

A geo vision accessory

Light blush application

A big brown book to compliment his look

A regular sword model from the game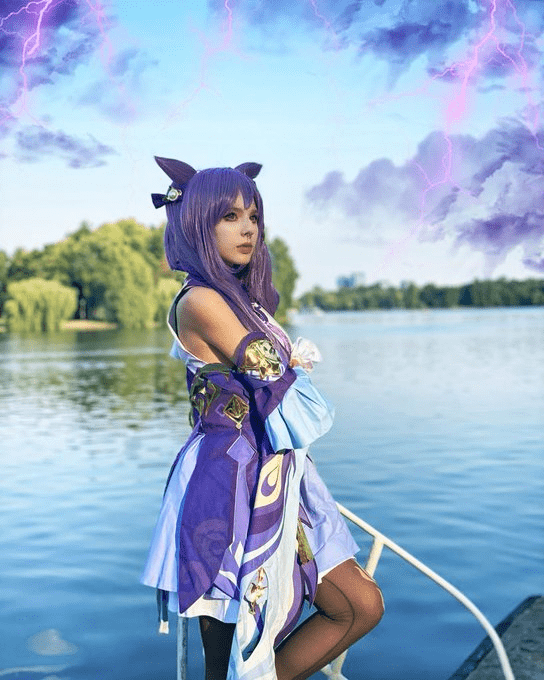 Keqing is the Yuheng(upper management) of the Liyue Qixing. She is a serious character who is always searching for her own path to help the people of her nation.
Difficulty: 6/10
Affordability: 8/10
What You'll Need:
A purple wig with twin tails. You can order a preset one online or spend some time styling the ears.

The golden hairpin accessory

Purple neckband or choker

A white dress for the base with some patterns and a cut for the back

A light purple layer similar to a skirt

The final dark purple layer on top with the necessary designs

Purple sleeves with flowing dark blue extensions made of lighter cloth

Black gloves

Black pantyhose

Purple heels

Electro vision accessory for the back

Dark red lipstick, purple eye shade and foundation cream

A dark blue or purple sword model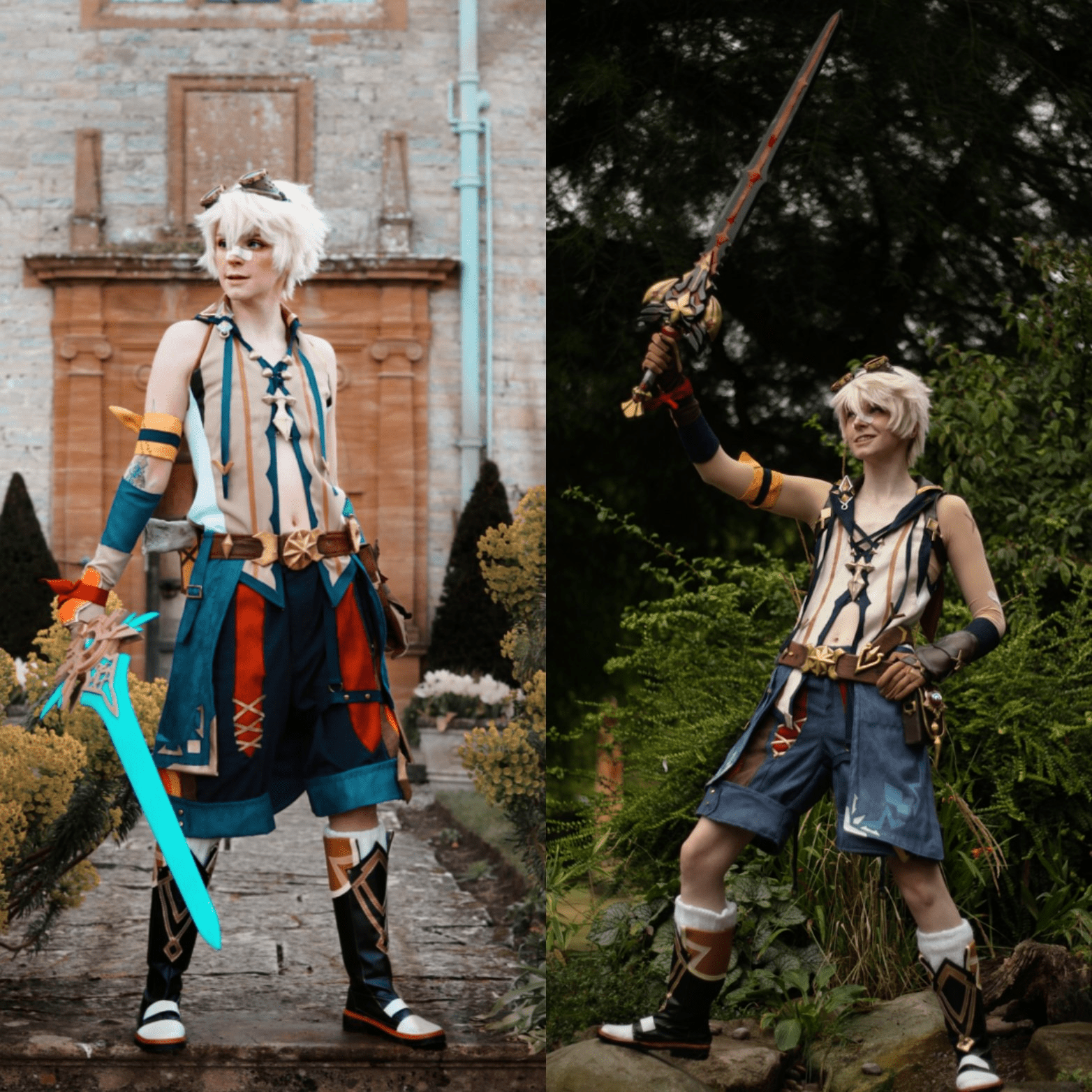 Bennet is the unlucky adventurer of Mondstadt. He is also one of the most powerful support units in the game and hence quite popular. 
Difficulty: 4/10
Affordability: 9/10
What You'll Need:
A very light blonde wig with M shaped bangs and spiky hair

Brown aviator goggles

Green lenses for the eyes

A brown dress shirt or vest. Add in the black collar and black strips to join the two sides. Also add in the accessory to where the sides of the vest meet.

Make sure to also extend the collar design to the back and add the X shape black strips. Add golden designs to the collar piece. 

A yellow band to wear on the arm

A pair of brown gloves

A brown belt with the buckle accessory

A small brown satchel/fanny pack to wear on the back of your belt

Any dark blue shorts

Add red strips either to the shorts or belts

White socks

Navy blue boots

Any sword model from the game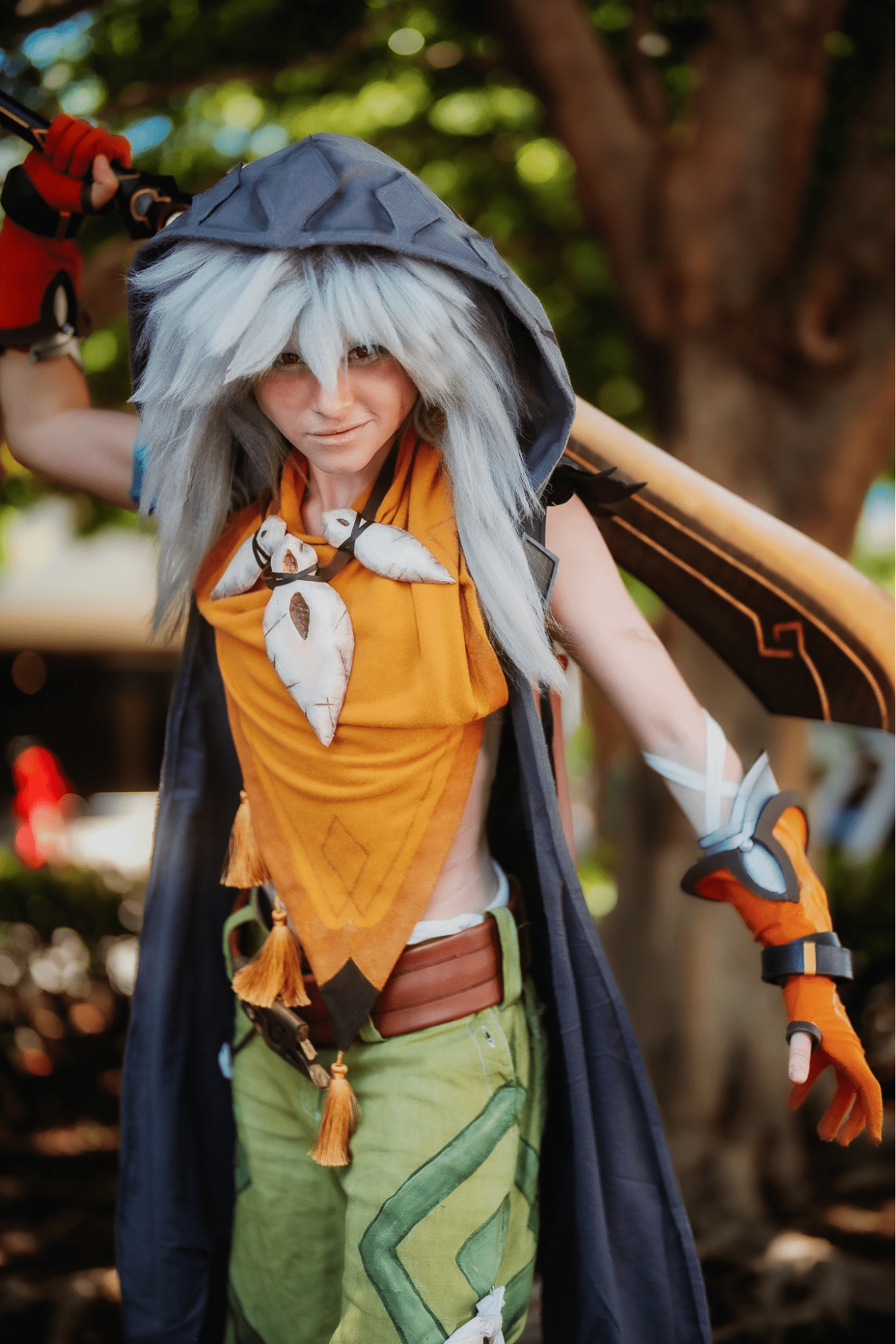 Razor is the boy raised by wolves in Mondstadt. He is often found prowling in the wild with wolf packs. He is a good-natured character that's quite fun to play.
Difficulty: 6/10
Affordability: 7/10
What You'll Need:
A greyish-white wig with unkempt spiky hair on top. Make sure to style the bangs.

A detached brown hood you can pin to the wig. Make sure to style it so the front remains open and the sleeves remain uncovered.

Wolf teeth accessory if you want to add to the look

A small yellow/mustard yellow vest with open short sleeves and the stomach area open as per the design.

A tooth necklace you can make yourself

A brown belt

Brown gloves

Green faded camo pants

Brown boots

A big claymore sword model from the game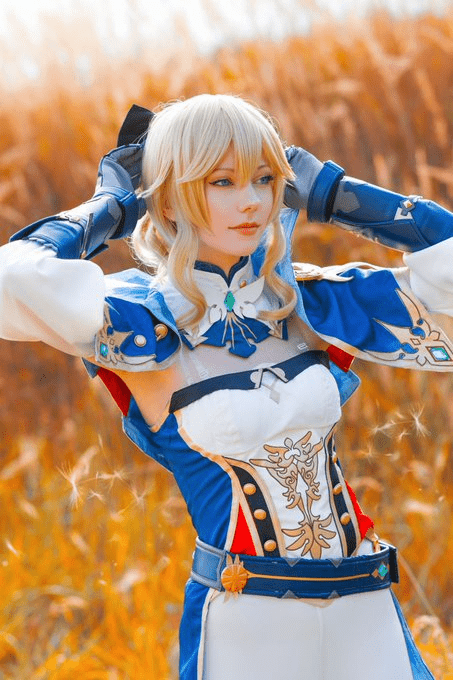 Master Jean is the acting grand master of the Knights of Favonius and can always be found toiling away busily to serve the people of her nation.
Difficulty: 8/10
Affordability: 6/10
What You'll Need:
A blonde wig with a high ponytail and prominent bangs

Grey lenses for the eyes

A white dress that leaves the neck and shoulders bare

A brown underbust corset that can be styled

Black leather straps to style the dress

White sleeves

Black gloves with golden designs

A white collar piece

A black and green cape to connect to the collar. Make sure to add the golden accessories on top of the cape.

White skinny jeans with gold designs added on, such as the beltlike shape.

White boots

Light red lipstick and foundation cream
FAQs
Question: What is the best material for creating vision accessories for Genshin Impact cosplays?
Answer: The best material you can use would be to either 3D print your desired shapes or make use of clay foam and color over it.
Question: Who is the most popular Genshin Impact character to cosplay as? 
Answer: According to google search frequency, Paimon should be the most cosplayed character. However, Raiden, Amber, and Hu Tao are very commonly seen online and at anime expo events.
Question: Where can I purchase wigs from?
Answer: You can get them from general wig stores, but I would recommend specialized stores such as wig-supplier.com as they have a large variety of anime wigs. 
Conclusion
With that, we're done with our list of 20 of the most popular characters to cosplay in Genshin Impact and how you can pull them off yourself. I hope this guide will prove useful to you in fun group activities, expo participation, fun photoshoots with friends, or to show off your cosplaying talents to everyone.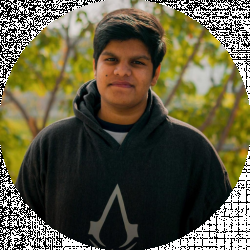 Latest posts by Syed Arham
(see all)