Back in the day, my family frequently told me toys were strictly for children. And that their sole purpose is none other than entertaining kids. Now decades later, that sentiment is no longer valid. Genshin Impact fans of all ages are eager to surround themselves with as many Genshin Impact-related items as possible, especially toys.
But if you're unsure what to buy, why not let this best Genshin Impact toys article lead the way? I've been in the toy collecting hobby for years, so I know a thing or a dozen about toys.
What kind of toy do you want? Inexpensive but cute? I've got it covered. Searching for one you can pose in all sorts of wacky positions? You'll find it here. Stay tuned to discover the Genshin Impact toy that's right for you.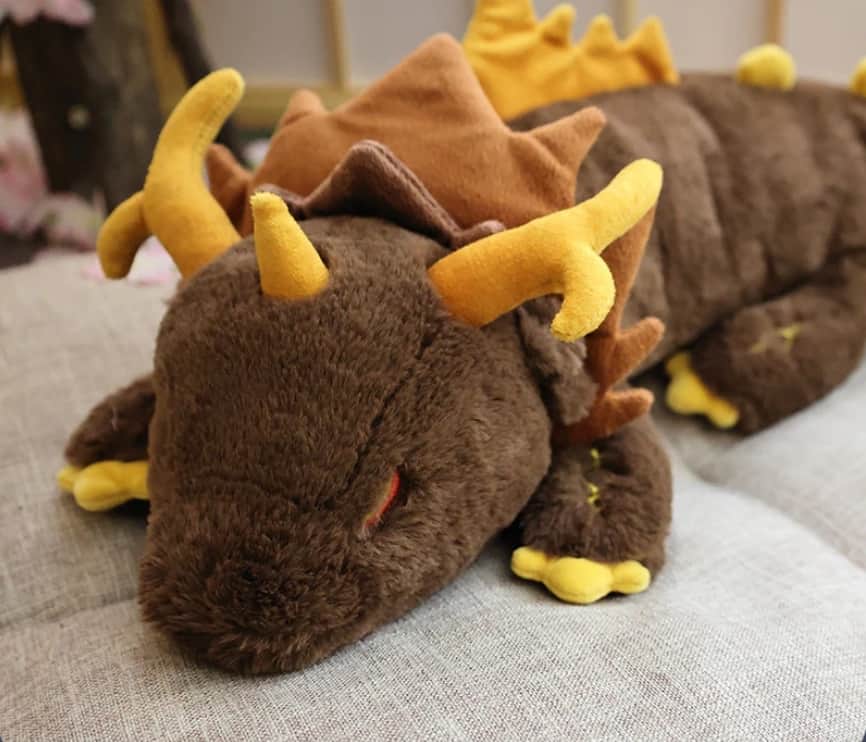 My Number One Wish
The one toy in this guide I would buy in a heartbeat is the Ningguang 1/7 scale figure. Everything about it conveys Ningguang as a character, and the diorama it comes with is the icing on the cake!
I've been routinely looking at its photos for months now. Unfortunately, its hefty price tag is what deterred me from preordering it. But maybe you'll have better luck with it or with the other items in this article.
Top Genshin Impact Toys at a Glance
Here's a quick look at the best Genshin Impact toys you can get your hands on.
Components of a 5-Star Toy
Hardcore Genshin Impact fans will probably want to buy everything related to the game. It's common for fans to feel this way when they learn their favorite game, show, or anime has merch they can get. However, I have something important to share as a collector before you check out any Genshin Impact item in your cart.
As a fan, it's normal to feel an immense desire to purchase every Genshin Impact toy you see. Though if you don't select items wisely, you'll probably dispose of most of them after a while. Because only when the excitement over the new toys is gone will you realize if what you bought is indeed a good buy or not.
To avoid a lengthy trial and error process, the wisest thing to do is to target the cream of the crop at the get-go. But what makes a Genshin Impact toy the best in the first place?
These are the three crucial factors that led me to the high-quality Genshin Impact items:
Made of good material – One of the main things that differentiate a quality item from the rubble is its material. If the toy's plastic or fabric is lousy or inferior, even having an exciting design can't hide it. Similarly, no matter how simple the toy is, it'll show when the plastic or fabric is of premium grade. So none of the Genshin Impact toys included in this article look or feel cheap.
The design resembles or is true to the character – People love characters because of their attitude, appearance, and role in the story. As such, the best Genshin Impact toys are the ones that have a certain quality or vibe of the character. Regardless of the art style, size, or type of toy, the product should still have distinguishable features. The first words that should come to mind when looking at a toy should be, "This Zhong Li plushie looks awesome," and not, "who's this?"
Looks professionally made – In spite of how expensive the materials are, if the craftsmanship lacks skill and precision, the outcome will just be average. So only the toys close to perfection are worthy of being called the best.
I've held and scrutinized hundreds of toys since 2015 from my collection and others. The guidelines listed above are what helped me stop buying toys that only ended up as a waste of time and money once their novelty ran out. Following them should also put things in perspective for you, so you can better focus on only getting premium items.
Read also: How to Find the Best Genshin Impact Plushes.
S-Tier Materials
Since prices are always important, I've arranged the toys from cheapest to most expensive. Additionally, only the Plush section will include fanmade Genshin Impact toys to avoid threading on illegal products because HoYoverse has strict licensing rules about plastic figures of all sizes. Hence, all the plastic toys that I'll be talking about are officially licensed Genshin Impact products.
Budget Friendly Toys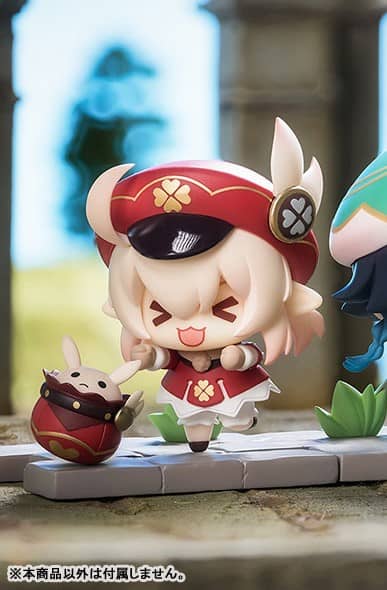 Not every Genshin Impact fan plans to start a shrine or display. Some may just want a souvenir type of toy they can take home—something tiny and adorable that they don't have to feel guilty about buying.
The best toy to take home when this is what you want is the Genshin Impact Mondstadt Character Blind Box Figurine by HoYoverse. I suggest you get the whole set if you can, but if you just want one, it should be the Klee mini figure. It's the cutest one from the Mondstadt collection and can go with you wherever you go.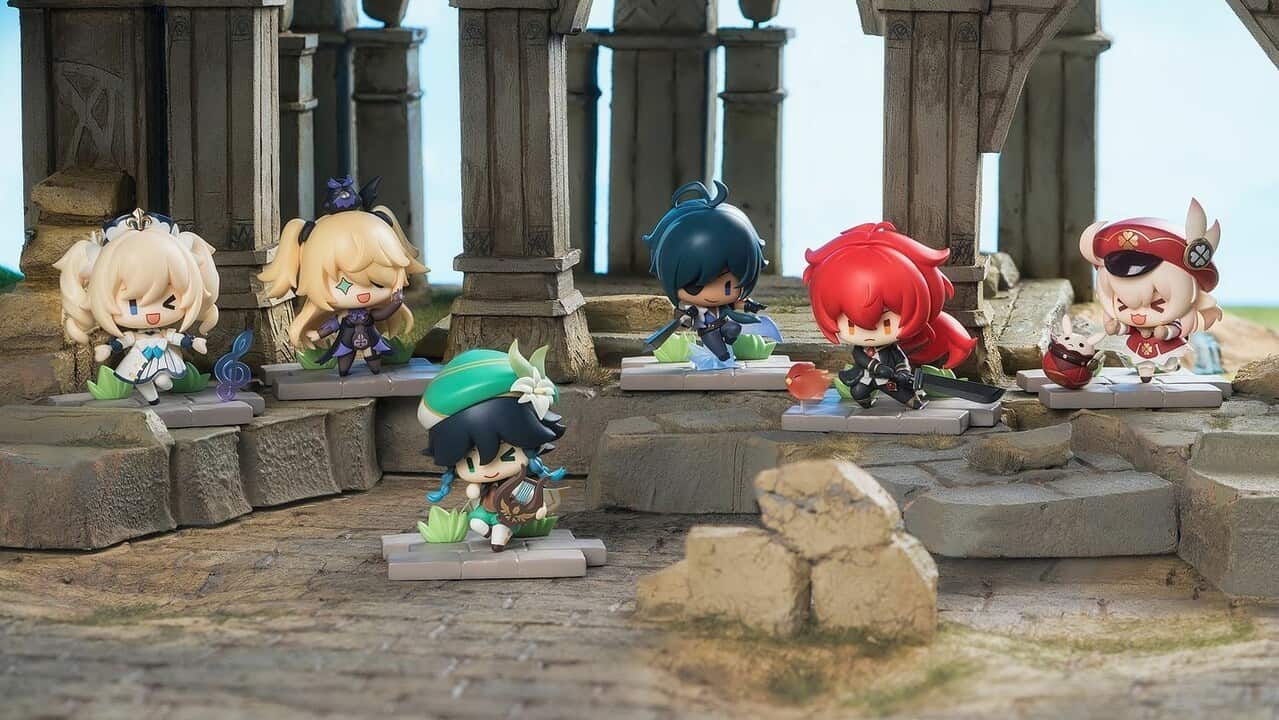 Key Details
Price: 18.99$ per box and 109.99$ for the set of 6
size: 2-2.5 inches
Pros
Since the Klee mini figure is smaller than Pops and other figures, you might think its production quality isn't good. But it's pretty decent as most stocks of the mini figure don't have paint flaws and have consistently even sculpt
This Klee mini figure is the appropriate size when you want something to remind you of your fave Genshin Impact character but don't want to commit to collecting
It can fit in narrow spaces without a hitch since it's so tiny, making the small Klee a good addition to your desk display or decoration inside the CPU
The Klee mini figure is the only one from the set that includes a character's signature move, Klee's famous Jumpty Dumpty Elemental Skill
The base of this Klee mini figure looks much better than the usual mini figure. It's thick and detailed, whereas regular mini figures simply have a thin transparent base
While the other bases have generic effects or accessories, this mini figure's base has a recognizable Genshin Impact design, Jumpty Dumpty
Cons
Since the Klee mini figure is tiny, it can quickly get lost or broken when handled carelessly
There's a market for mini figures, but it's not as large as the ones for Pops and Nendoroids. Therefore it won't be as easy to sell the Klee mini figure when you don't want it anymore
The Klee mini figure is not as highly detailed as Nendoroids or Scale figures
You can't pick the design you get from blind boxes. So you'll either have to buy a set to get the mini Klee for sure or repeatedly buy individual boxes until you get the Spark Knight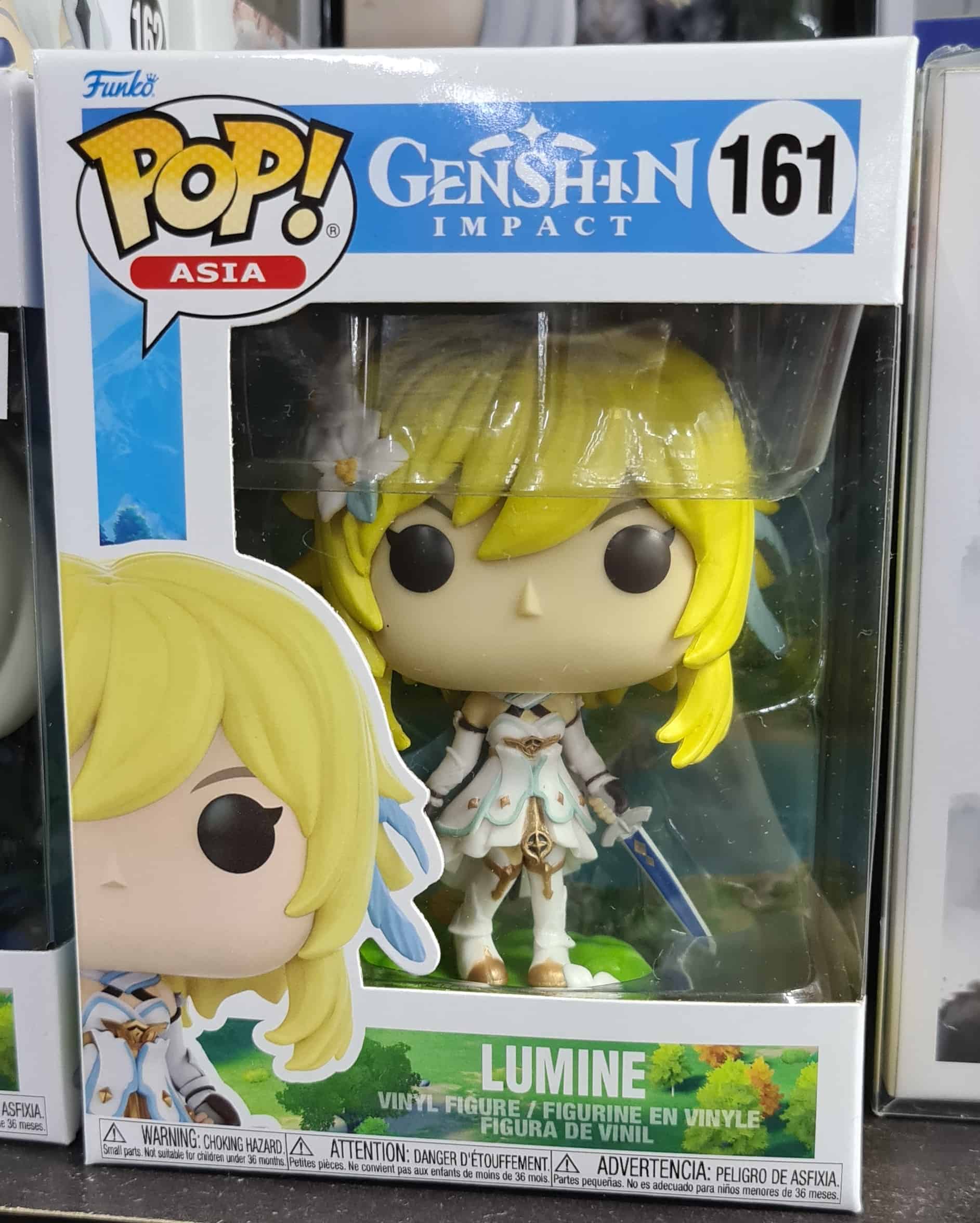 Funko Pops are the best option for beginners who want to get into the toy collecting hobby. They're the ideal entry-level figures due to their simple design and affordability. Among the Genshin Impact Pops that Funko has produced, the best one so far is the Lumine Pop.
Of course, the Aether and Paimon Pops are good, too – I even wanted to list down all three of them. But, the Lumine Pop has a more balanced color scheme, making it easier on the eyes than the rest. The figure's dainty design, the colors, and the base complement each other seamlessly.
Key Details
Price range: 12 – 13$
Size: 4 inches
Pros
Regular Pops don't run out of stock quickly like Chase or Glow in the Dark variants. Since Lumine is a standard Pop, you won't have a hard time getting it at SRP even when it's been months after its release
This Lumine Pop has a feature that the majority of Pops don't have. It's a bobblehead figure as it belongs to the Funko Pop Bobblehead line, making it a bit unique from the traditional Pops
I like the base of this Lumine Pop more than the others. It's because it has more details, which looks like the flowers, grass, and leaves of the plains in Mondstadt's area. It also matches the included backdrop much better
The Lumine Pop comes with a background. It's an image of an overlooking view of Mondstadt, and Starfell Lake's Statue of The Seven
This Pop has the most appealing color coordination. In comparison, the Aether Pop's bland since it primarily has earthy colors, and the Paimon Pop seems washed out next to Lumine
Due to Lumine's costume design, this Pop has a more intricate sculpt. As a result, it's more visually attractive than the Aether and Paimon Pops
Cons
The Lumine Pop's flaws are more noticeable since it has more details, particularly around its skirt and legs than Aether or Paimon's
Some stocks of this Pop have a rough mold. The common problem areas are along the hair's edges and the flower hair accessory
Despite the Pops being already available in the US and Asia, its release has been delayed in other areas
Moderately Priced Toys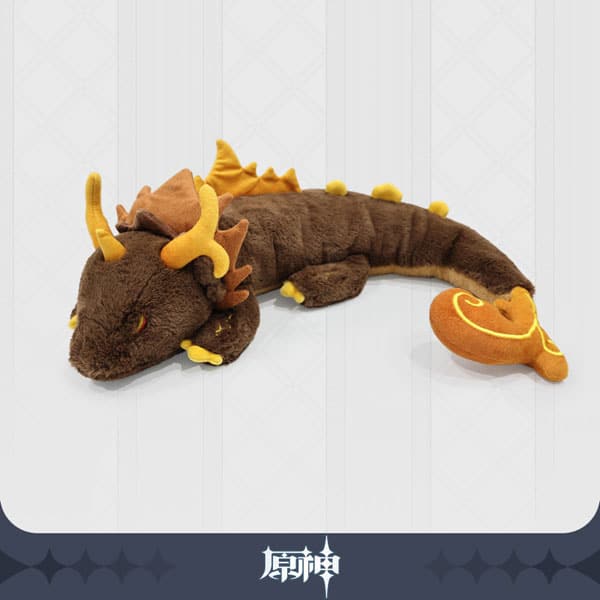 Plushies will never go out of style, no matter how young or old Genshin Impact fans are. And as someone who's got a weakness for cute and soft things, I understand how irresistible these cuddly stuffed toys are.
Right now, the best plushie to bring the world of Teyvat into your bedroom is Rex Lapis' large and furry exuvia. I love Zhongli's human form, too. Who doesn't? But it was during the Rite of Descension that I fully felt the fantasy element of Genshin Impact since the Geo Archon's vessel appeared for the first time.
Moreover, it wasn't just any form. It was a combination of a dragon and qilin – two of the most legendary creatures in Asian lores. How could the other plushies beat that?
Key Details
Price range: 119.99 – 129$
Size: 26 1/5 inches long
Pros
Aside from being a fan's trusty bedside companion, this Rex Lapis plushie can also be a decoration when not in use. Its eye-catching colors and attractive design are sure to add zest to any place you put it
It's an official HoYoverse product, meaning the plushie's appearance in the promotional photos is what you'll get
This Rex Lapis plushie stands out a lot since it's larger than standard-sized plushies. Its size also allows you to use it as a pillow
What makes this plushie extra appealing is that it's based on one of Zhongli's better-known Archon forms in the game: the dragon-qilin God of Contracts, Rex Lapis
It's a good representation of the fantastical side of Genshin's playable characters since most merch only uses their human forms
Cons
The horns and mane of the plushie are made of a harder material than the rest of its body. As such, it might be uncomfortable to use as a head pillow
Due to the plushie's size and weight, ordering this plushie overseas might be a little costly
You'll have to clean this plushie often since it mainly consists of fur-like fibers which quickly accumulate dust
There are many bootleg versions of this Rex Lapis Plushie, so you might get the imitation if you don't buy from a credible store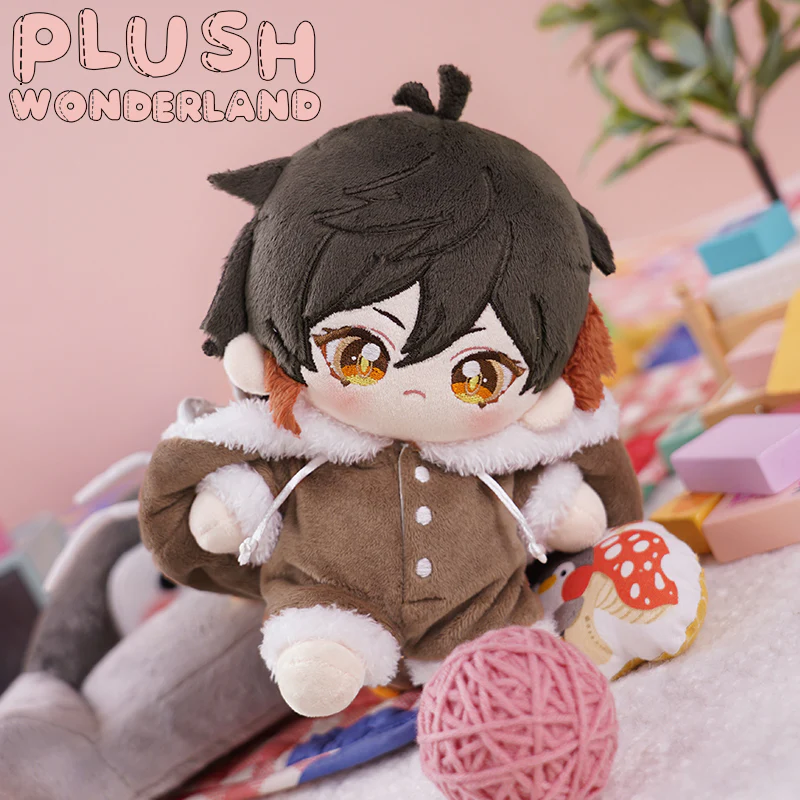 If customizable plushies are more up your alley, then there's no better toy than a Plush Doll. This toy offers the best features of dolls and plushies as it's a soft and huggable toy that you can dress up in all sorts of clothes.
With over 25 Genshin Impact characters to choose from, I had difficulty deciding which one deserved the top spot. They're all cute! The one that won me over, though, is the fanmade Zhongli Plush Doll by Plush Wonderland. It chibified Zhongli without making him feel out of character. I don't think anybody could resist the Geo daddy with such a cutesy face.
Key Details
Price range: 22 – 30$
Size: 7.8 inches
Pros
This toy has superb quality and looks like an official product of HoYoverse. The stitching is well-made, and Zhongli's facial features are well-defined
This Plush Doll is better than the regular Zhongli plushies with permanent clothes. You can dress this version up in whichever way you want
Since this Plush Doll comes from cotton material, all you need to keep it looking neat and clean is to wash it gently
This Plush Doll's face is cuter and closer to the character's original design than the other Zhongli Plush Dolls. It also has the most accurate eyes since the irises are the correct shape. Even the amber eye makeup is blended in smoothly with the lower lashes
Cons
Zhongli's default outfit isn't available yet for this Plush Doll
This Plush Doll isn't mass-produced. So when it runs out of stock, it'll take a while to get one since it's a made-to-order toy. The waiting time may take a month or more
This toy may not appeal to brand-conscious buyers since it isn't by HoYoverse or any registered toy-making company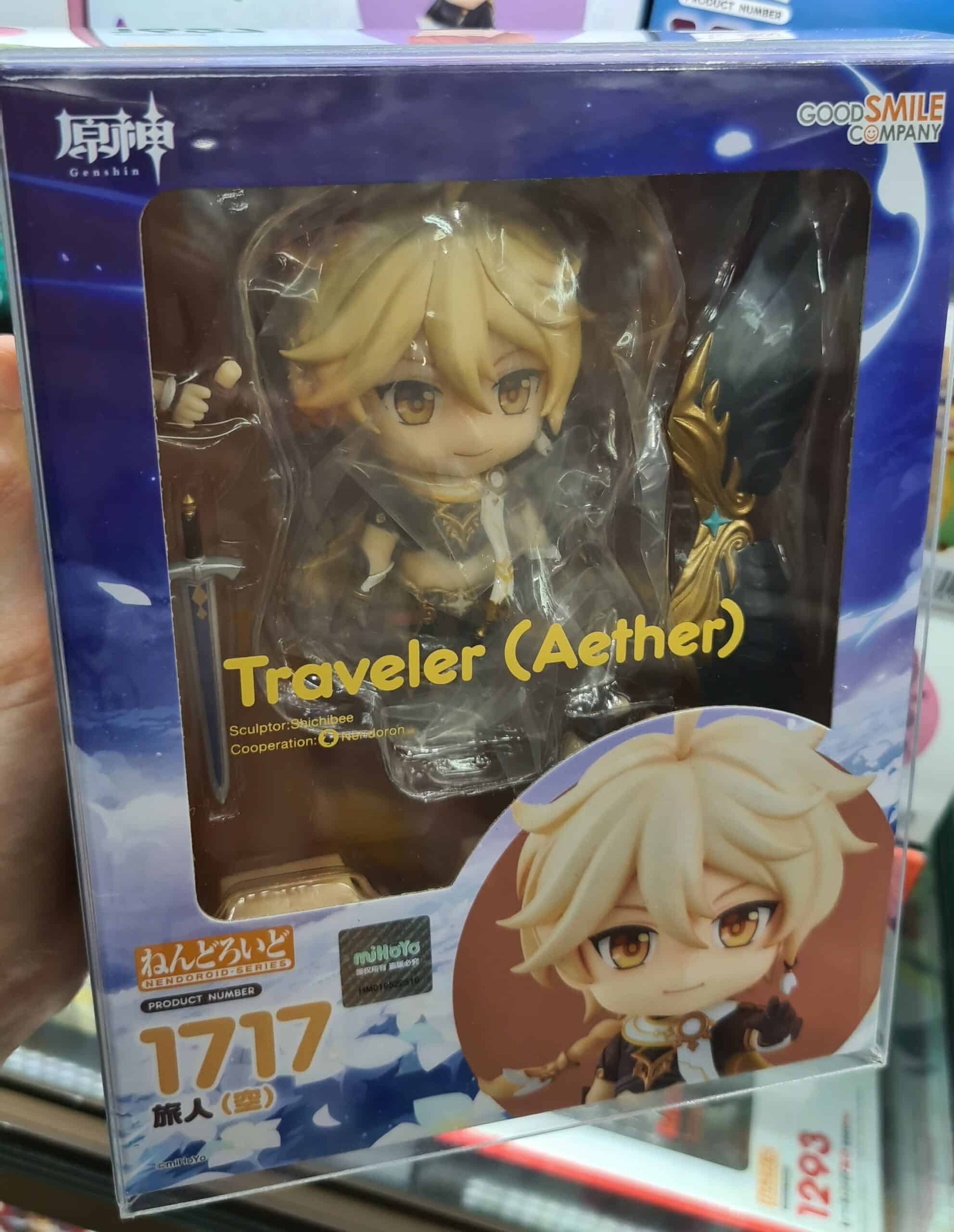 One of my favorite toys to collect are Nendoroids. They got me into the toy collecting hobby almost a decade ago. The chibi-style figures allow fans like me, who love cutesy designs, to admire Genshin characters in their most adorable and lovable form.
So, selecting which of the available Genshin Impact Nendoroids to put here was an ordeal. I was conflicted between Aether and Lumine because their expressions and accessories were almost identical. So I went with the Nendoroid which was more faithful to the source material – Nendoroid Aether. This toy also offers more variety than the Lumine and Venti Nendoroids.
Additionally, getting a Nendoroid is an excellent way to test the waters, too, in case you're considering getting into Genshin Impact scale figures. Because although Nendoroids don't cost the same as a 1/7 figure, they're more expensive than the other toys on this list. It'll help you gauge your willingness to spend on toys in general.
Key Details
Price: 59.98 – 74.99$
Size: 4 inches
Pros
This Aether Nendoroid has the correct sword accessory from the game's photos. Because if you look at the official Genshin Impact illustrations of the male and female travelers, this Nendoroid's ascended Silver Sword is the actual weapon they both hold. It's a significant advantage over the Lumine Nendoroid, which has the basic Silver Sword that none of the two Outlanders use
Since this Aether Nendorid can use the Nendoroid Doll body, you can switch up its appearance if you want. Enjoy Aether with its original chibi body or with a longer and more mobile one
This Nendoroid has more expressive faceplates than the Lumine Nendoroid
Cons
Some stocks of this Nendoroid have defective hair parts. The bangs, in particular, may have a noticeable rough mold
The ahoge or strand of hair on top of Aether's head is the most fragile part of the hair piece. It might break off if you aren't careful with it
Due to Aether's long braid, this Nendoroid's head won't have as much flexibility as short-haired Nendoroids. You can remove the braid if you want, but it won't be faithful to the character anymore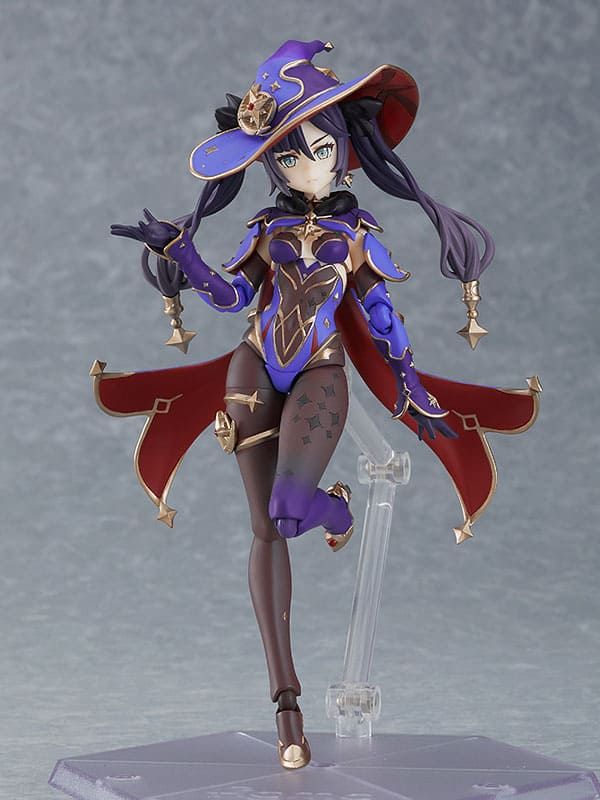 Do you prefer action figures since they can do extreme poses? Perhaps a Figma is what you need. They're small and highly detailed figures with the right body proportions of the characters. I have some Figmas myself and stand by their quality and design.
Since Max Factory has only recently started their Genshin Impact line, the only Figma up for grabs is the Mona Mirror Reflection of Doom Version. Fans of the astrologist will have loads of fun with this toy as it can do numerous poses that Nendoroids and static figures can't.
Key Details
Price: 108.99$
Size: 5 – 6.5 inches
Pros
This Mona Figma comes with an accessory of her trademark empty purse, which is essential since it's one of her memorable items
You can duplicate a good number of Mona's scenes in the game since this Figma includes three of the character's most common facial expressions. I specifically like the troubled face because it's how she looks when she's explaining astrology topics or expressing her woes
The Figma weapon accessory, the Skyward Atlas, can be opened or closed. So you can pose Mona with it like she's casting a spell or carrying it
You can reenact many of Mona's attack moves from the game since this Figma comes with a Catalyst, and an effect sheet for her Elemental Skill, Mirror Reflection of Doom
Since this Figma includes Mona's astrology chart sheet, you can recreate one of her idle animations in the game or the scene where she meets the traveler for the first time
Good Smile Company offers a preorder bonus for this figure, a smiling faceplate. So you can pair this Mona Figma with four faces
Cons
All of the toy's joints and seams are visible since it's an action figure. Due to the design, there's no way to hide or minimize them at all
This Figma is quite a pricey Mona toy even though it's just roughly 5 – 6 inches tall
Mona's breast area looks a little weird due to the anatomical designs of Figmas. Her chest looks like a crop top at some angles
Expensive Toys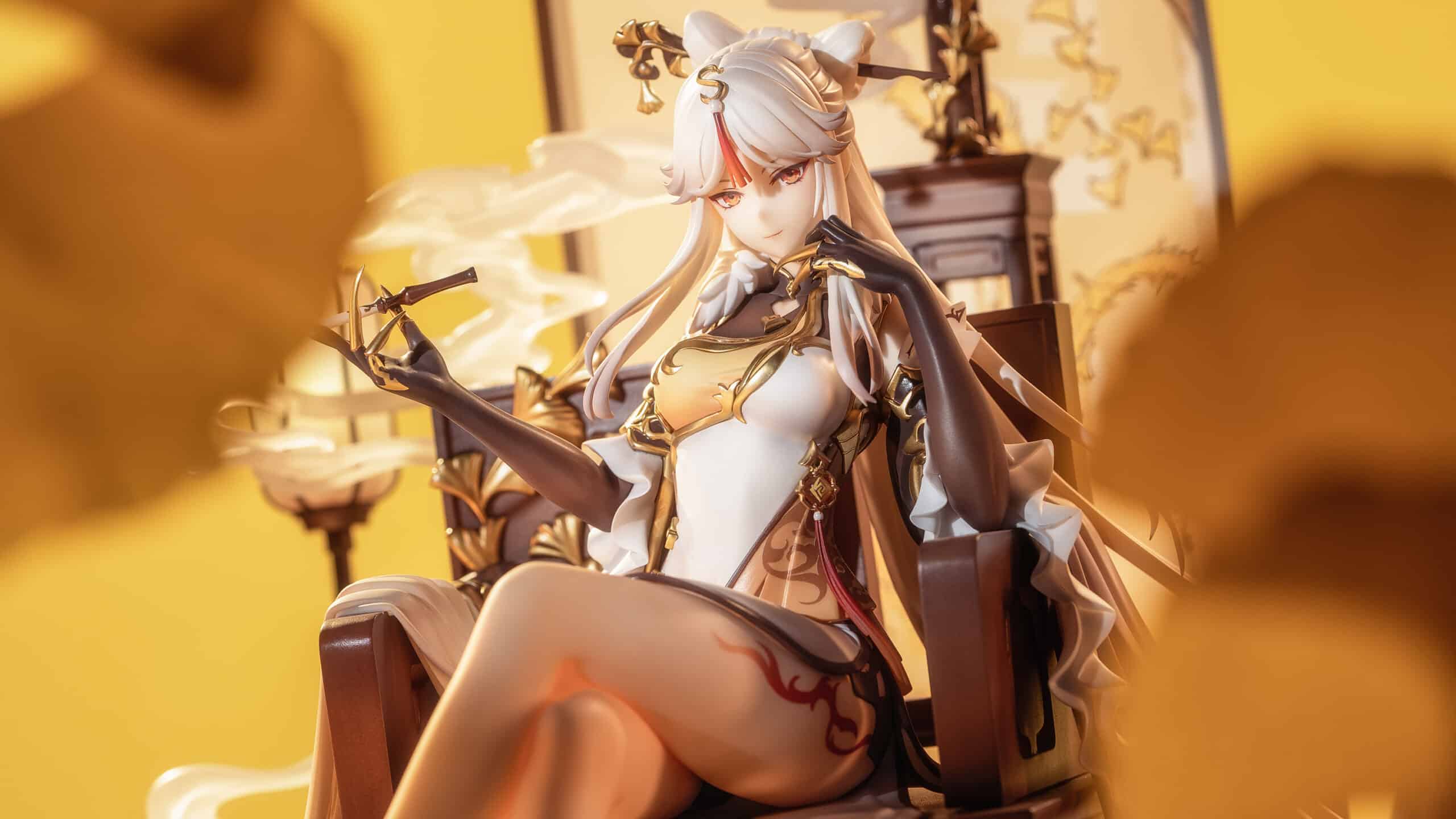 Soon after I got into the toy collecting hobby, scale figures became the number one toy line for me. They're breathtakingly gorgeous and precise replicas of the anime or game characters. All of the details present in the official illustrations are meticulously copied. Even the tiniest features, like nail polish or lip color, are duplicated to a tee.
And the Genshin Impact scale figure that captivated me the most is this lovely Ningguang 1/7. It should be evident from its layout and design why it's at the top of the Genshin Impact figure list. Given how perfect it is from head to base, this is the figure you should buy if you have the budget to go all out on Genshin Impact toys.
Key Details
Price range: 400$ or more
Size: 10.62 inches tall and 11.81 inches wide
Pros
This Ningguang figure's design is faithful to the character's personality. From the figure's position down to the diorama's content – every part immediately makes me think of the Qixing's Tianquan
This figure is a solid and mesmerizing representative of the Liyue region since it includes the head honcho, Ningguang, and the Qixing's headquarters, the Jade Chamber
Considering how elaborate and finely crafted this figure is, it'll be an in-demand piece once it's on the market. Its value will also likely increase after some time
This scale figure of Ningguang has the most extensive and detailed base compared to other Genshin Impact figures. As such, it'll thoroughly overwhelm and outshine those with smaller and plainer bases, like the Ganyu Plenilune Gaze version 1/7 and Paimon 1/7 figures
This figure has a feature that none of the other Genshin Impact figures have. The lantern has a light-up switch which you can turn on to give Nigguang a serious vibe
Cons
Since this figure is as good as a diorama, it's got a hefty price tag. It's the most expensive Genshin Impact figure at the moment
You have to assemble this figure, and should anything get broken, replacement parts might be hard to acquire
Due to the scale figure's size, it will take up the space of almost two figures. Its box is already around 12 inches tall and wide
What Newbie Toy Collectors Should Know
It's so easy to buy Genshin Impact toys these days since there's an abundance of them at malls, conventions, and online stores. Yet a lot of toys you see might be bootlegs with poor quality. Some sellers may even pass off counterfeit products as genuine to unwitting newbie collectors. Fanmade plushies are totally in the safe zone, though. Since they have HoYoverse's blessings, you can go crazy with them.
The same can't be said for plastic toys, however. As such, if you're on a tight budget, buying a fake plastic toy or figure may be a reasonable option due to its lower price. But I highly suggest you skip the bootlegs if you can. Because not only do they break down quickly, they typically consist of inferior materials.
They also won't have the same level of craftsmanship as officially made toys and thus won't be as beautiful. I can't even stand the Paimon 1/7 and Klee 1/7 bootleg figures. You can check out the big difference between authentic and fake figures, as they're a dime a dozen on marketplace sites like eBay.
It's better to buy an attractive and durable licensed toy since it will last a long time. You could even sell it later if you don't like it anymore as long as you keep it in good condition. Meanwhile, the most common ending for fake toys is in the trash since they're hard to sell and deteriorate quickly.
Top Q&A
Question: How Many Scale Figures of Genshin Impact Characters Are Available?
Answer: Nine licensed Genshin Impact figures have been announced. Two are already available, four will come out in the latter part of 2022, and three more in 2023.
Question: Which Company Makes Genshin Impact Figures?
Answer: Many different companies are making Genshin Impact figures. The two most prolific ones are Chinese toy manufacturers Apex and miHoYo.
Question: How Many Genshin Impact Nendoroids Are There?
Answer: Good Smile Company has announced seven Genshin Impact Nendoroids for 2022. Only two are currently available, and five are still in production but will come out in 2023.
Words from a Long-Time Toy Collector
Toy collecting can be addictive. I've seen people spiral out of control, trying to get everything they want all at once. I was like that too, when I started the hobby and ordered one scale figure after another. Looking back, that's a lesson I would've preferred to find out from the words of others than personal experience.
The wisest thing I learned when buying toys is to focus on only one toy line or stick to a strict budget. Having this type of limit should stop you from going overboard while still enjoying Genshin Impact toys. Besides that, it's also important to know what you want to achieve with your collection. Want to make a shrine? A diorama? Or a fancy display cabinet? The choice is yours.
What matters is that having direction will help you reach your goal since you'll have a theme you'll want to follow. After all, you'll be making your version of Teyvat. Why not do the best you can for your beloved primary team?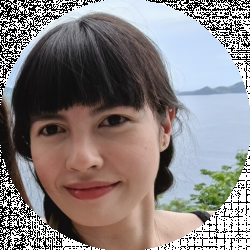 Latest posts by Charissa Fuentes
(see all)