When it comes to merch, you want to be able to find the best pieces possible at the best price possible, add Genshin Impact into the mix and you can very quickly become swamped with copies of copies of merch designs, making it very difficult to decipher what's worth your money. Although there is an official Genshin Impact merch site, anyone is allowed to make and sell Genshin merch, so there is a lot to get through.
Luckily, I'm a little bit obsessed with showing off my Genshin Impact obsession through merch, so I've trawled through the internet and found some of the best Genshin Impact Keychains you can buy. I hope your car keys and backpack zippers are ready to rep Teyvat in all its glory!
The Key(chain) to my Heart 
Of all of the keychains on this list, I think my favorite has to be the Genshin Impact Seelie Charm Keychain. It's been sitting on my keys for almost a year now without so much as a scratch, and it looks so pretty while still being distinctly Genshin-related. Just don't make the same mistake I did and peel off the blue protection backing straight away! 
The Key to the Best Keychain
When it comes to any merch, I never want it to just scream, "Look at me, I play Genshin Impact!" I think the more subtle pieces of merch can be used in more situations, and this also extends to keychains. The best keychains will look good to anyone who isn't in the know whilst telling other Genshin Impact fans that you are one of them. If you know, you know, y'know?
The quality of the product is also really important when considering keychains. When they're on keys or backpacks all day, every day, they're going to take a beating after a while, so you want a good quality material like acrylic or metal to really get the most out of your keychains.
Finally, I want my keychains to be affordable. If I'm paying more than $25 without shipping for a keychain, it had better be the best damn keychain I've ever seen in my life. At the end of the day, you don't want a singular keychain to break the bank. It just needs to look good and last long whilst representing the game you love.
Top picks at a glance
We all know you've got resin to spend, so if you need to read quickly to beat the resin cap, here are the best Genshin Impact keychains at a glance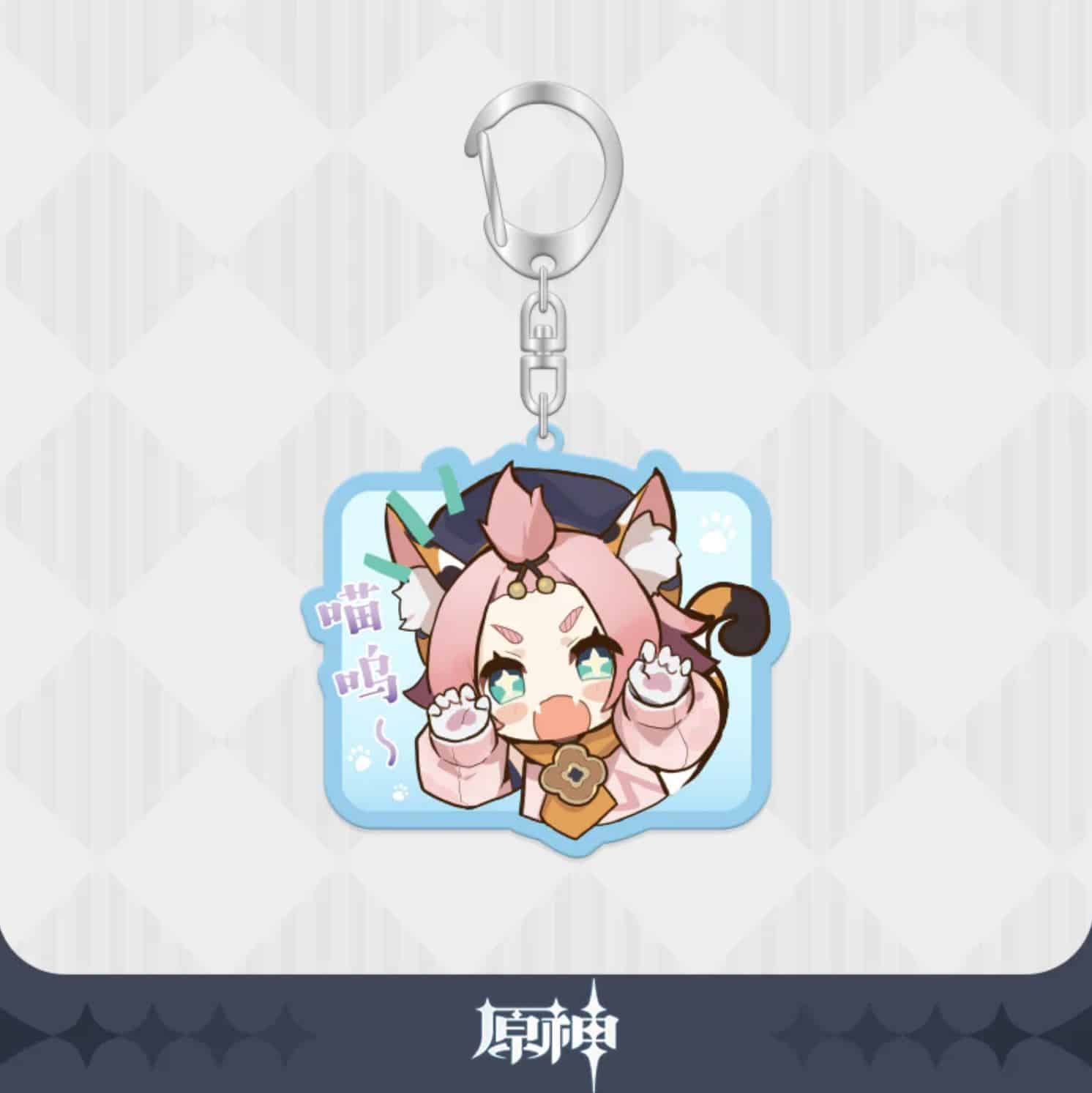 These keychains are super cute, and just about every Genshin Impact character is represented. Being made out of acrylic means that these keychains should be able to take a beating whilst still looking good! These keychains are based on the chibi emotes you can annoy your friends with in-game, so they will make a perfect gift to any notorious emote spammer.
Pros
All characters are represented, so there's something for everyone

The Chibi style is incredibly cute
Cons
Any writing on the keychains is in Chinese, which could distract some people

Some keychains have different clasps than others, so if you're buying multiple, there's a chance they won't match.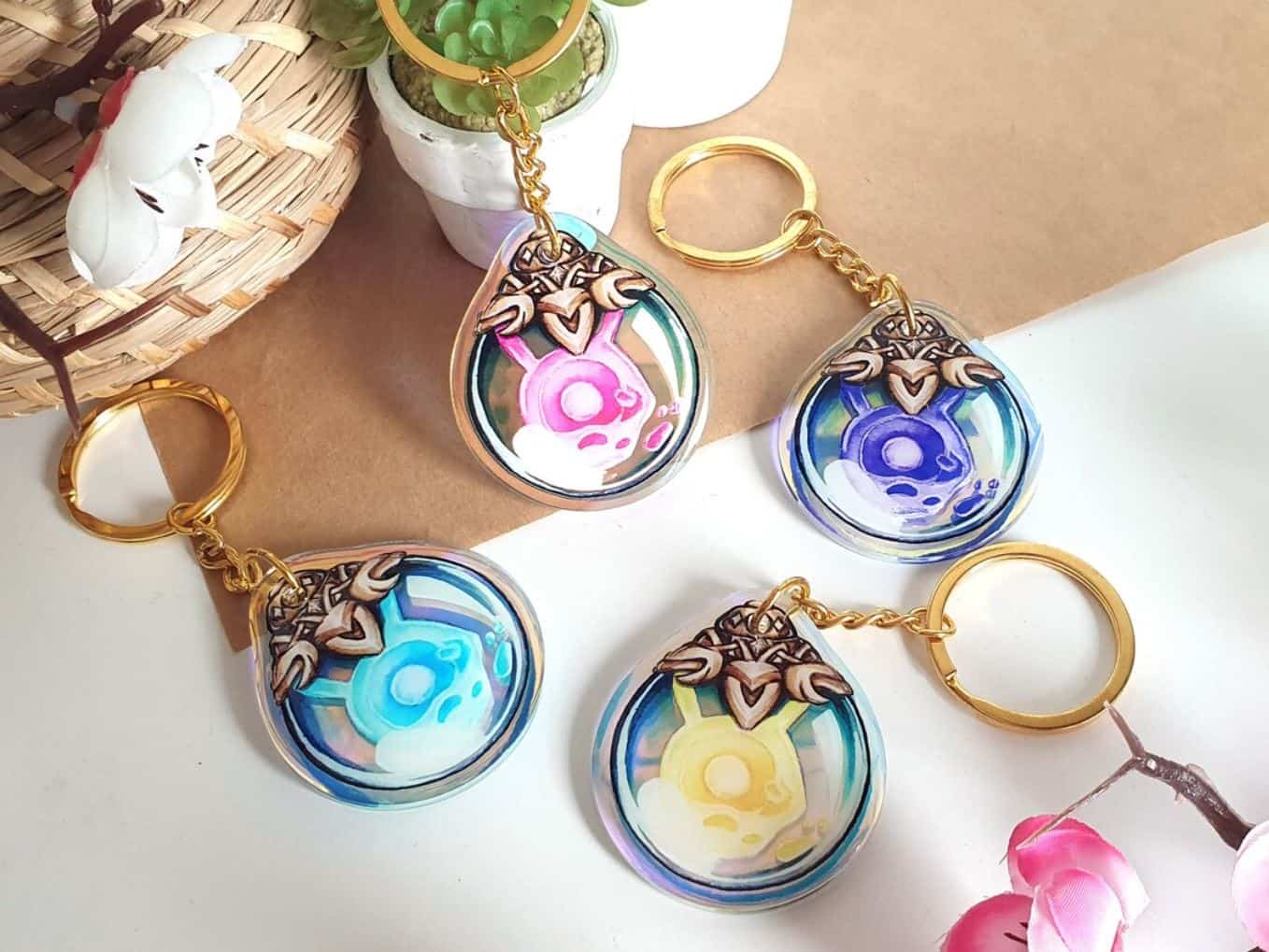 For those of us who missed the first Lantern Rite Festival (like me!) and the many more who missed Genshin Impact's first-anniversary event, you too will know the pain of only having one or no Seelie's to accompany you on your journey through Teyvat. Thankfully, Etsy user CitasPaintbox has come to our rescue with a Seelie Keychain that can accompany us on our real-world Daily commissions.
This keychain has been sitting on my keys for almost a year now, and it still looks as good as the day I received it. Let me tell you, my handbag is essentially a graveyard where small items go to die, so the fact that they've been on there attached to my mess of keys and still looks pristine is really saying something.
This may be partly due to the fact that I kept the protective blue backing on for months after receiving the keychain. I never claimed to be the smartest cookie in the jar, okay?
Regardless, this is a fantastic keychain. I love the holographic effect it has, I love how durable it is, and I love that I can own a pink Seelie even though I chose the purple one in the game.
Pros
High-quality keychain (if it can survive my handbag for a year, it can survive anything)

Beautiful Holographic effect
Cons
The image of the Seelie itself could be a little sharper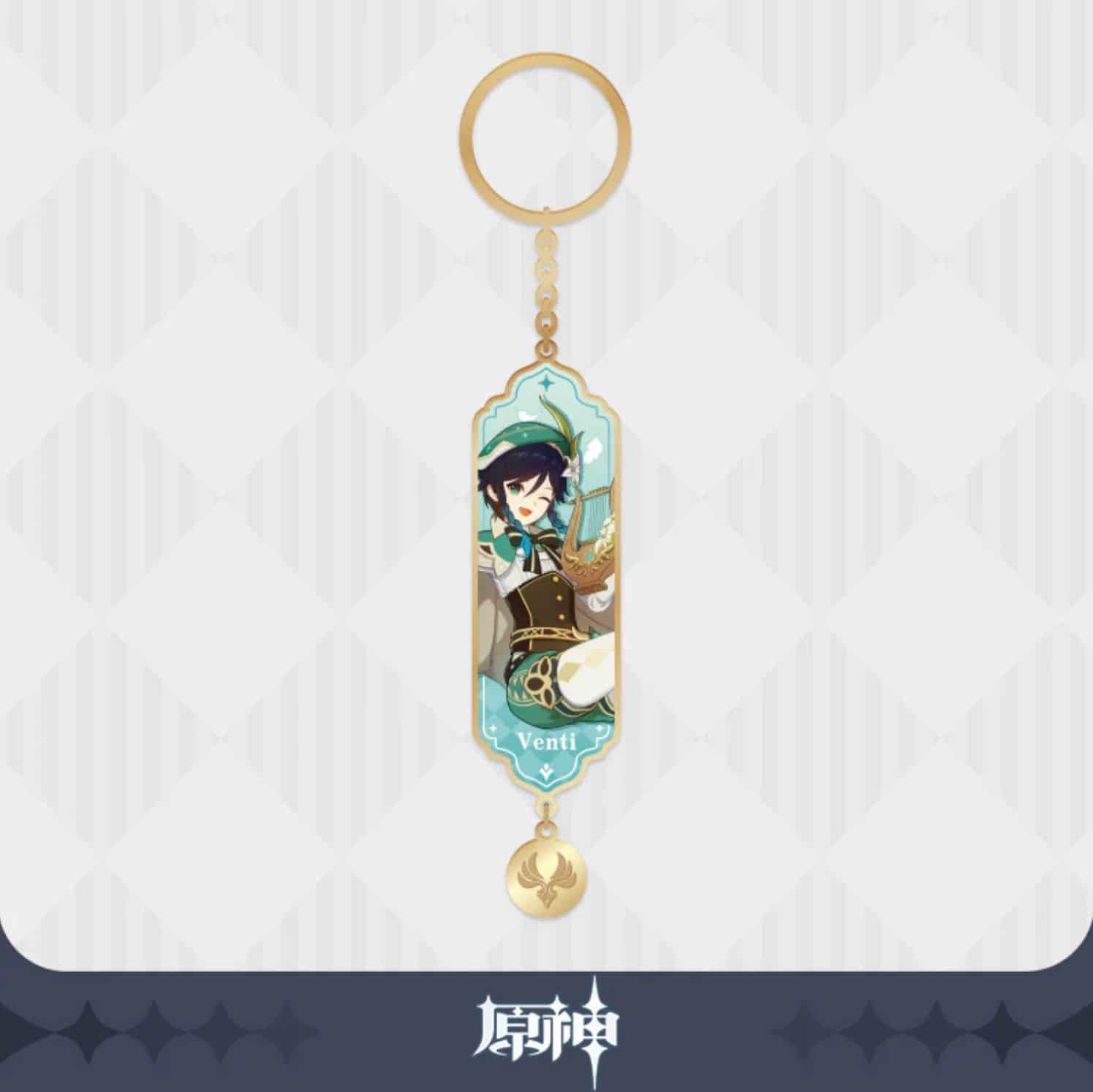 There's nothing like the adrenaline rush of pulling a five-star character, and these keychains perfectly bring that feeling back by showing the character frames as though they appeared in a 10-pull. Being made of a metal alloy makes these keychains extra durable, and considering that they're relatively long for a keychain and have a small charm hanging off the end, durability is key (chain).
Unfortunately, not every five-star character is represented here, but fan favorites like Zhongli, Klee, and Xiao are available. Childe even gets his very own silver metal, unlike everyone else who gets a golden edge, so everyone's favorite Snezhnayan boy is really going to stand out from the crowd.
Pros
Has a unique shape and looks like the end scene frames of a 10-pull wish

Features a cool little element charm
Cons
Not every 5-star character is represented, and there are no 4-star characters

Childe, for some reason, has a silver border. I would prefer to be able to choose which color.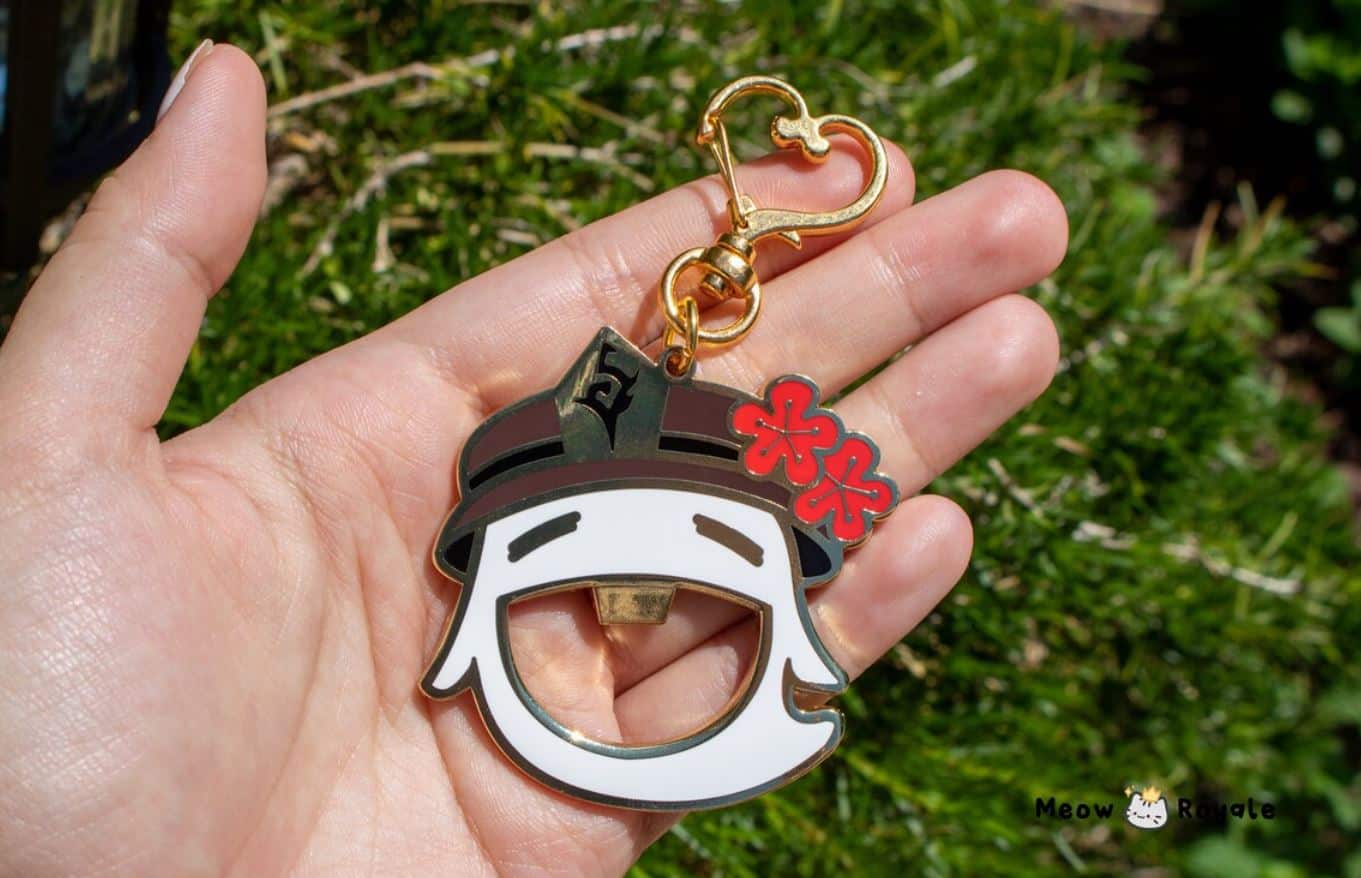 For those who like a practical keychain, this BooTao Bottle Opener is perfect for cracking open some of Diluc's finest Dandelion wine, or maybe some Osmanthus Wine to see if it still tastes the same as you remember.
HuTao's little ghost companion is here to help gnaw open any bottles you have, and boy, does he look cute as he does it! This gold-plated enamel keychain is more than up to the job of opening any capped bottle, and you can take it with you anywhere!
Pros
Dual use keychain/bottle opener for those who like a practical gift

It's recognizable Genshin related if you know, but if not, it still looks like a cute little ghost
Cons
Some keychains may have defects, and you can opt for a cheaper version if you don't mind this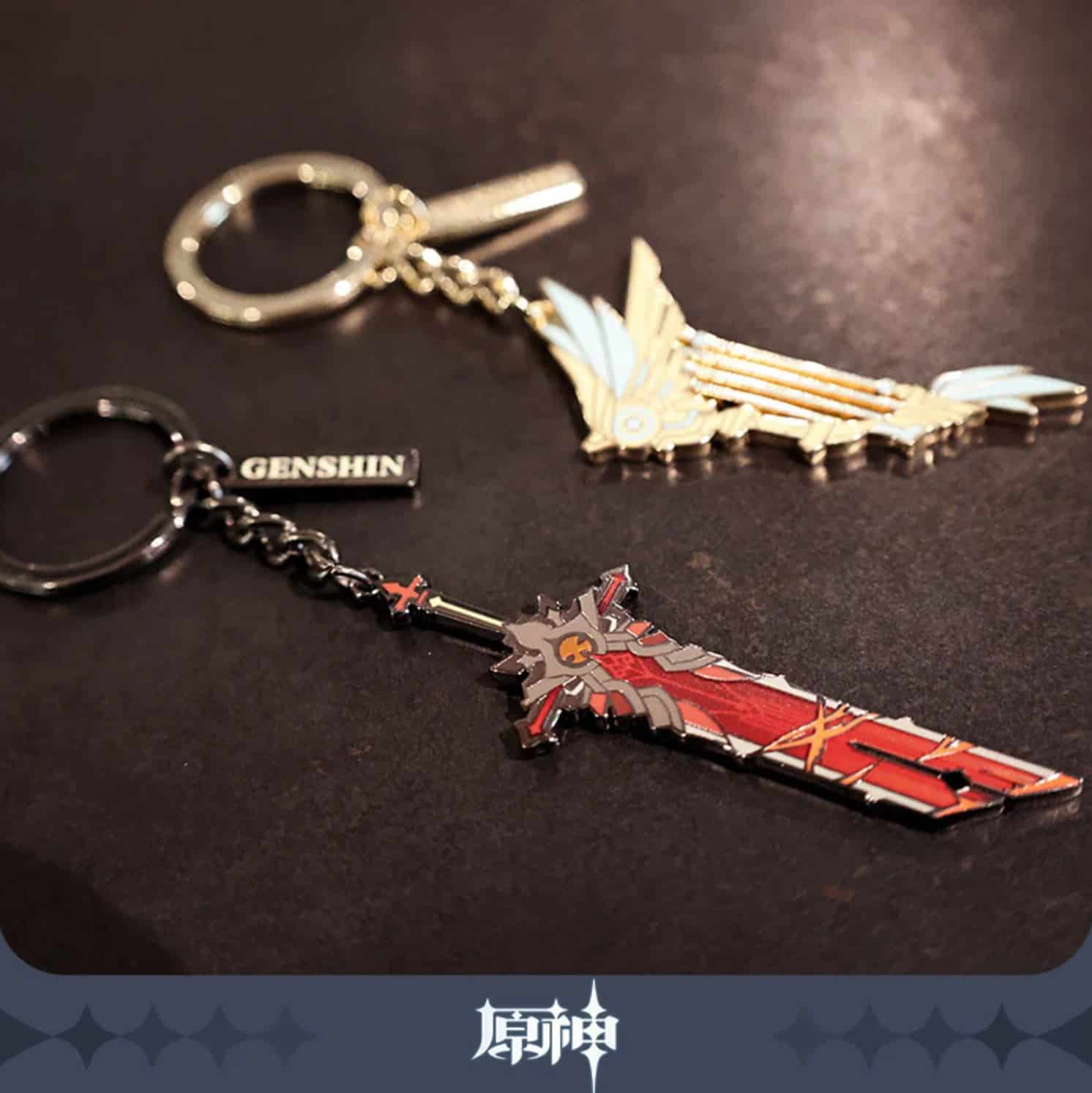 If the weapon banner hasn't been kind to you, skip the RNG process entirely and just buy your weapon of choice as a keychain! These weapon keychains are a sleek way for any Genshin fan to show off their love of the game, and who doesn't want to carry around a tiny Staff of Homa? Being made out of metal alloy makes these tiny weapons durable, but don't worry about any cuts or scrapes. Unlike real weapons, these ones are totally blunt and safe for your keys!
Pros
Really clean weapon design, especially when it's printed for a 2D keychain
Cons
Some weapons have some really thin pieces, which I imagine could lead to breakages.

Wolf's Gravestone comes in a black keychain instead of gold, which is cool, but again the option to choose would have been nice.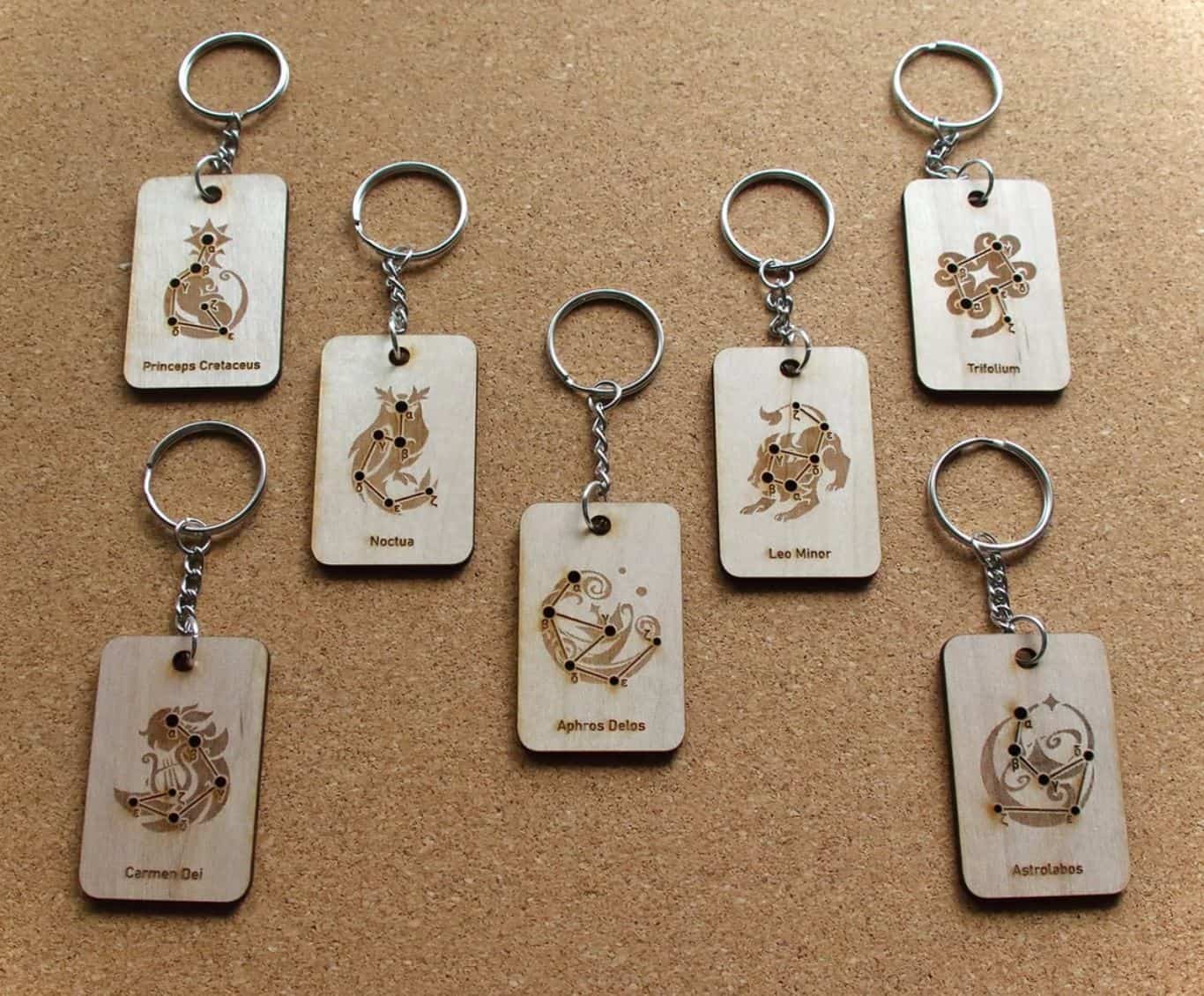 These wooden Constellation charms are a fantastic way to represent your favorite 5-star character. The wooden material is sturdy, though I'd try to avoid getting this one wet in case it makes the wood swell. The constellation design on these is amazing; with the stars getting bigger, the more constellations there are.
I also like the addition of the constellations name, which really pulls the look together. With 21 different characters to choose from, there's something for everyone here.
Pros
The wooden material is unique

Not many keychains feature character constellations in so much detail
Cons
Without proper care, there is potential for the wood to warp

No 4-star characters are available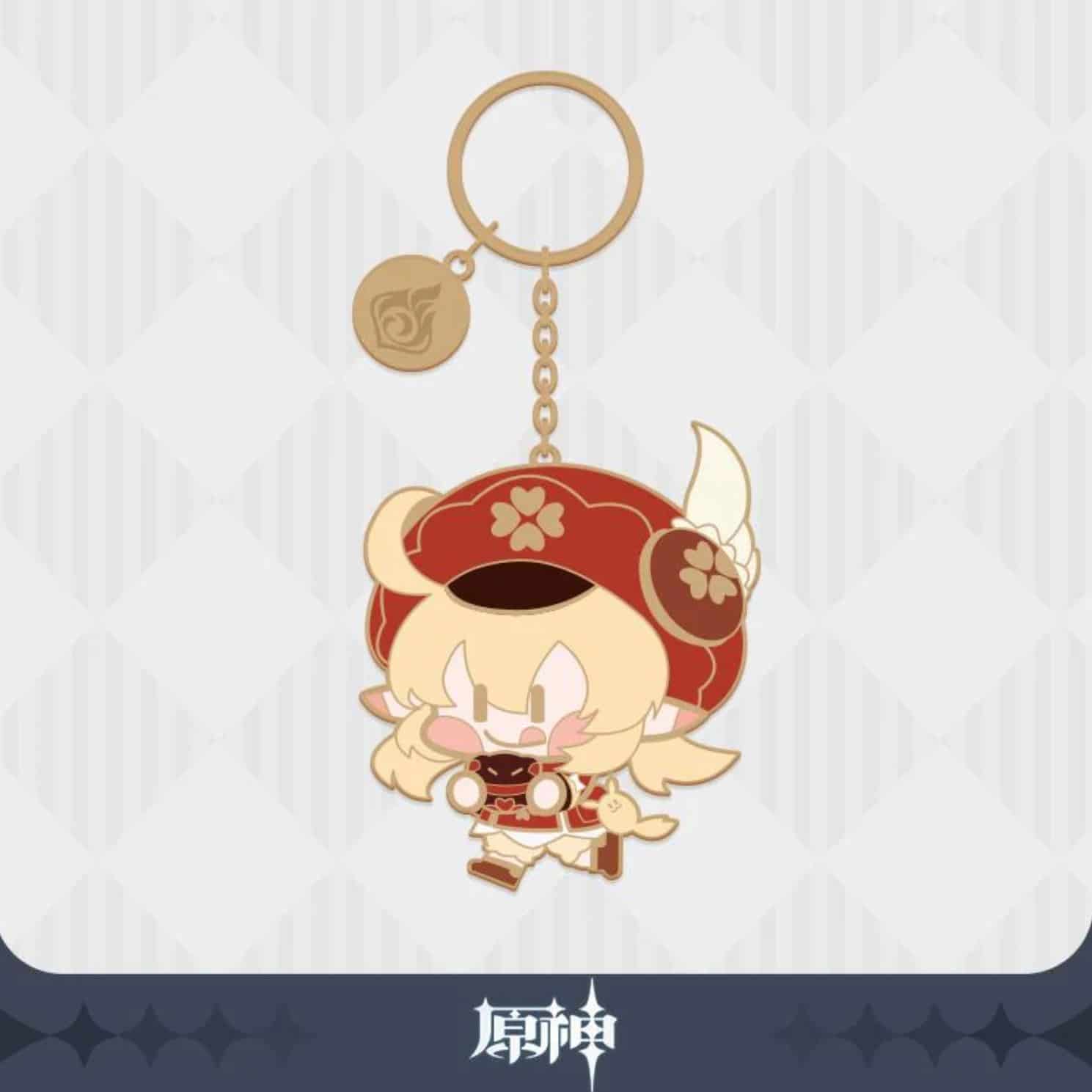 These keychains are just so damn cute. I absolutely love the cutesy chibi style, and these keychains are large enough so the smaller details aren't obscured. There's a large array of both 5-star and 4-star characters to choose from, and unlike other keychains from the official Genshin Impact store, there isn't one character with a different color border and clasp, so if you get more than one, they'll definitely all match!
Pros
Absolutely adorable design

Both 4-star and 5-star characters are available

Little element charms are included
Cons
Not every character is available

Sizes vary depending on the character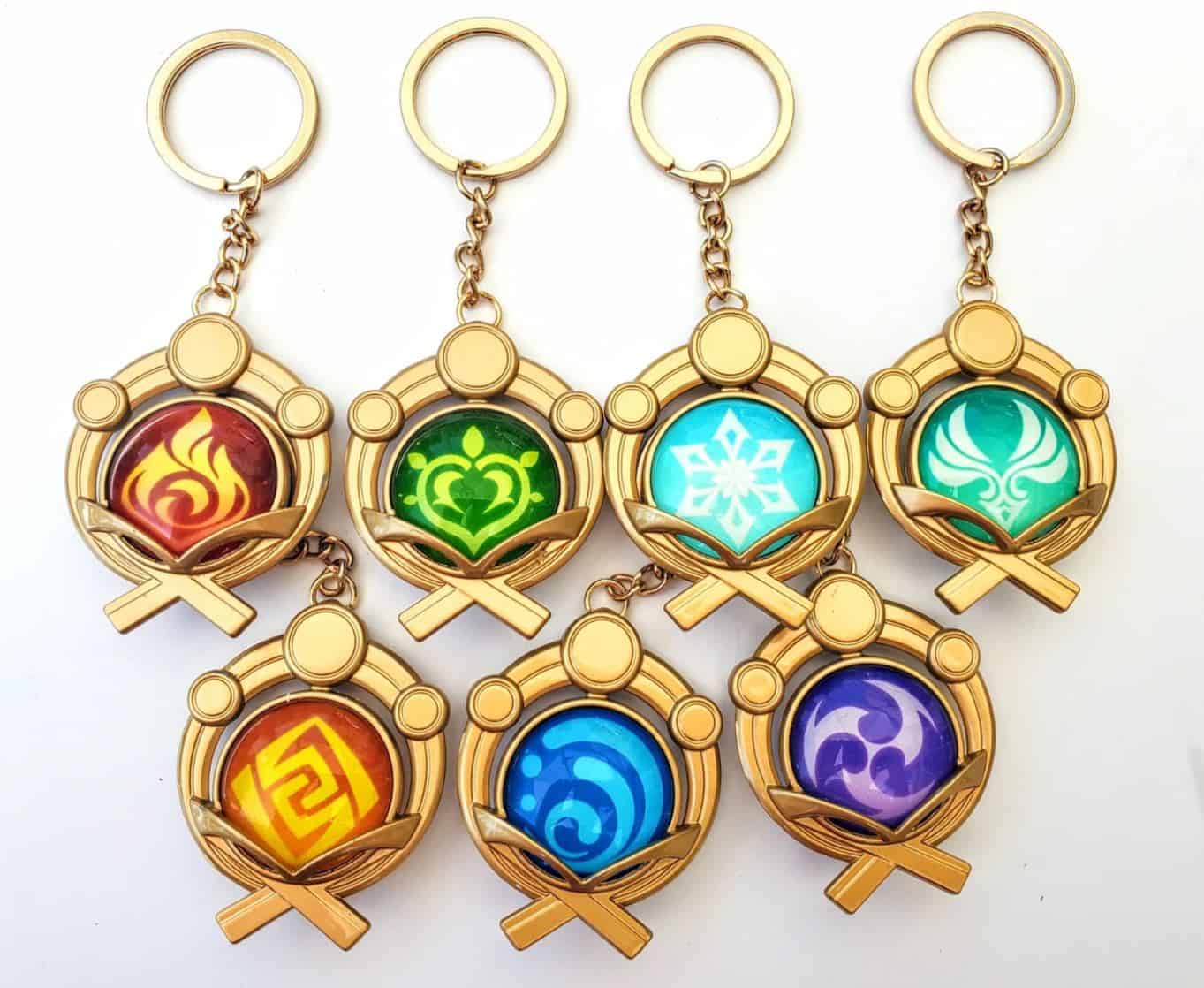 You're really getting your money's worth with this keychain, and being one of the more expensive ones on this list, I should think so too. Not only are you getting a keychain, but these double as a pin badge too.
These keychains are fully customizable, so you can either design yours after your favorite characters' vision or make one that's entirely new! If this wasn't enough, these keychains can glow in the dark, which is a fun feature that not many keychains have.
Pros
Fully customizable visions to suit anyone's needs

Glows in the dark!

It can double as a pin badge.
Cons
The glow-in-the-dark feature requires the keychain to sit in natural light to charge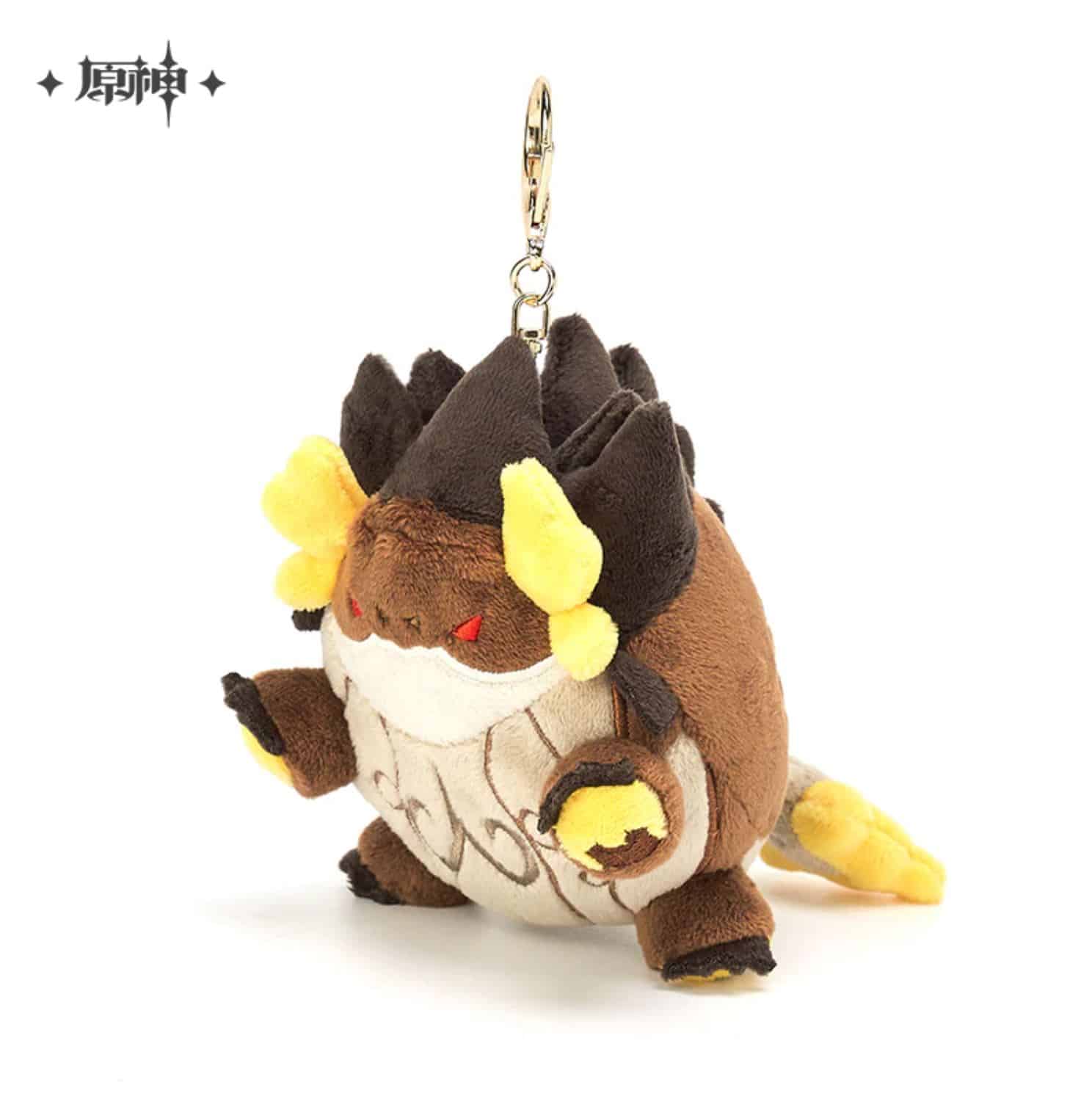 If the other items on this list are a little too hard for your liking, then this is the keychain for you. This keychain features Azhdaha as a cute round plush friend to protect your keys from any threats. Of course, being plush means that this keychain is going to be less durable than any metal or acrylic ones, and I'd definitely avoid getting him wet to keep him as pristine as possible.
If a plush Azhdaha didn't sound sweet enough, you have to option to get him in an angry version, where he has a smoother plush body, or a confused version, where he is more fluffy and snuggly. There is no right or wrong choice; both are equally adorable.
Pros
You can choose between two different designs

It's quite a large plush keychain
Cons
Plush keychains are less durable and won't age as well as a metal or acrylic keychain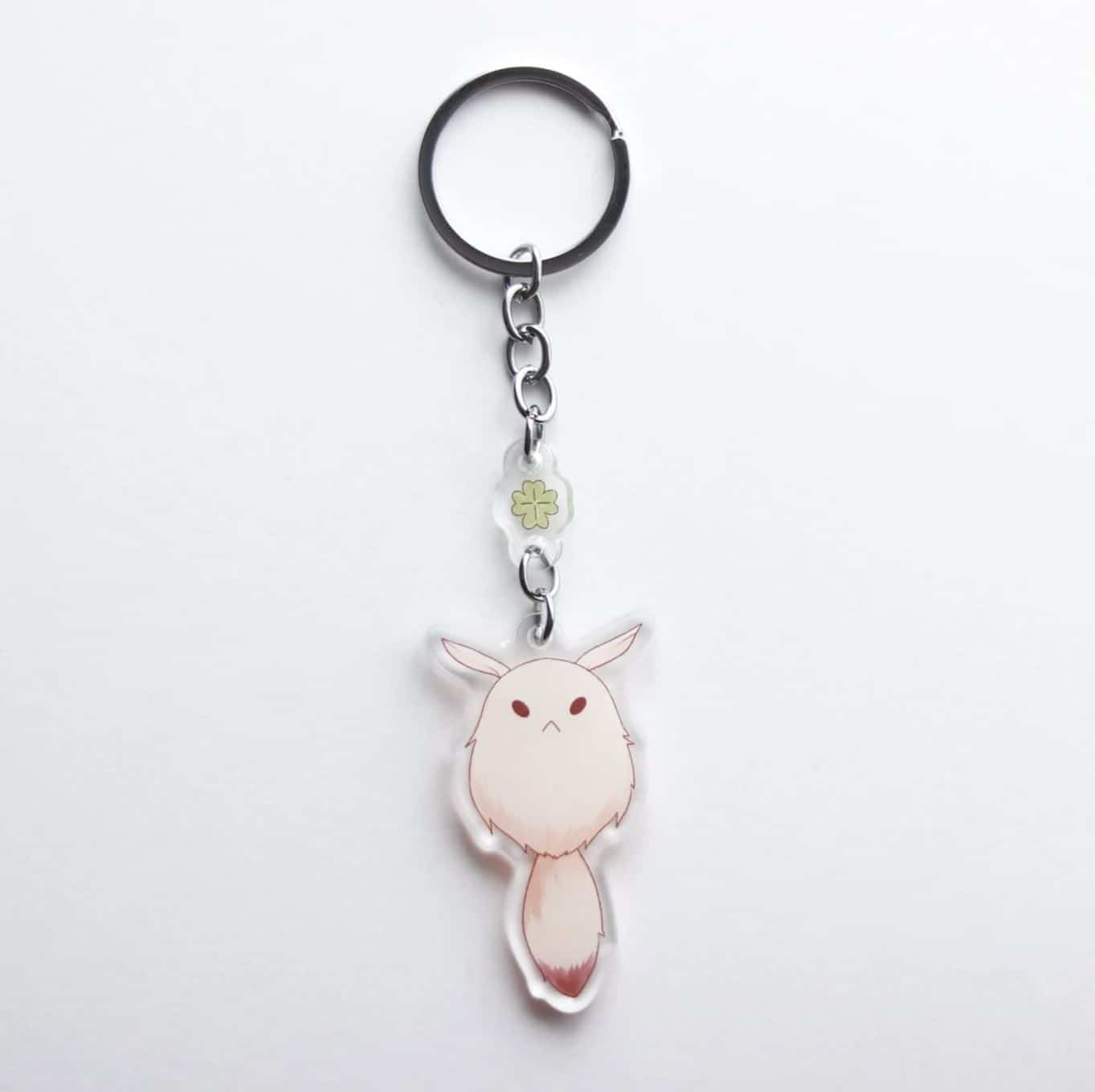 Though the summer adventure event may be over, the fun we have with Klee's best pal Dodoco doesn't have to stop! This Acrylic print keychain is super cute, and you can feel like Klee as you run around with it on your backpack! Just maybe refrain from bombing any fish.
I love the little clover charm linking the keychain to the clasp. It's such a cute little detail that I'm glad wasn't overlooked. Although this Dodoco isn't as fluffy as Klee's, it is just as cute!
Pros
This keychain is double-sided, so it doesn't matter which way it faces

The little clover is a very nice touch
Cons
I wish that the design of Dodoco was a little more fluffy looking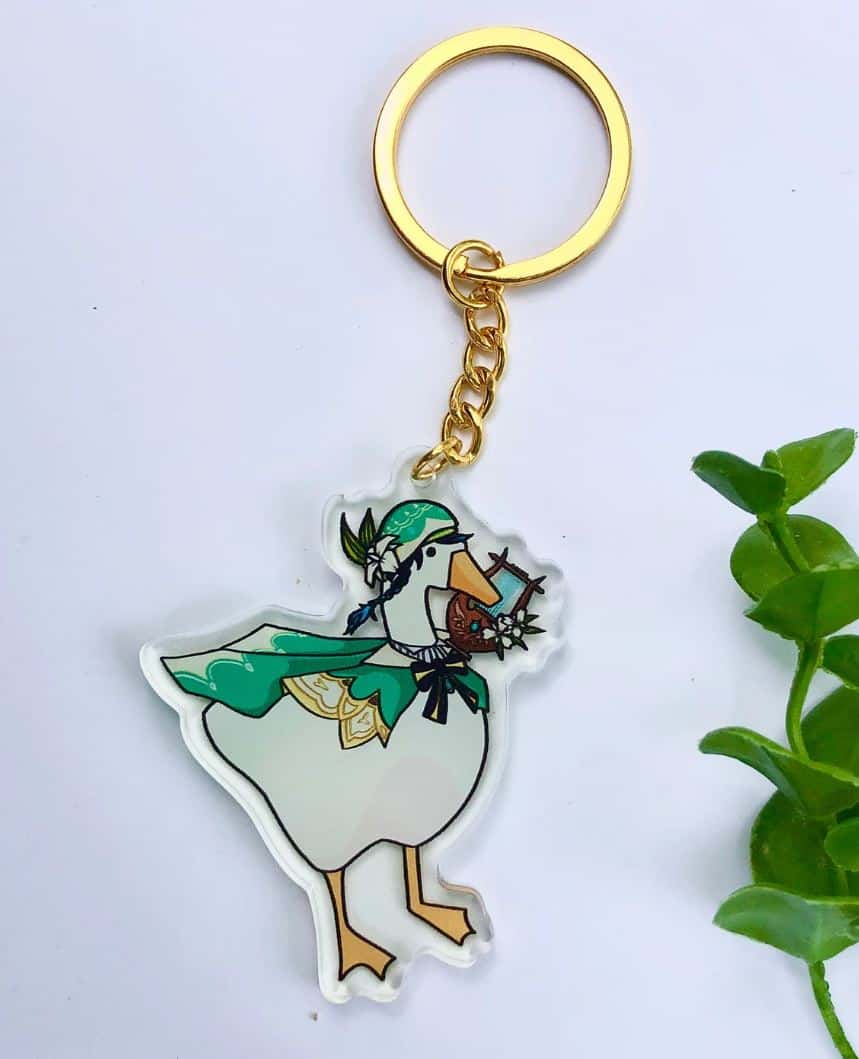 This one's for all the Untitled Goose Game fans out there. I'm not sure why someone decided to reimagine Venti as a problematic goose, but boy, am I glad they did. This keychain has such a fun yet intricate design featuring Venti's iconic outfit and even his harp, just goose-ified.
The store has other goosey characters available, too, in case Venti wasn't your cup of tea. Ganyu, Yelan, Xiao, Childe, HuTao, and the other two archons are all available in their goose forms and ready to cause trouble around Teyvat. You'd better link them to your keys quickly!
Pros
A fun and unique twist on the Genshin Impact characters

Comes with a protective foil (remember to remove it before you use it!)
Cons
Not a lot of characters are available.

It's potentially a very niche gift for those who like Genshin and Untitled Goose Game, but then again, who doesn't like a funny goose?
Frequently Asked Questions 
Question: Is there an official Genshin Impact Merch Store?
Answer: Yes! genshin.shop has merch from the flagship Genshin Impact store that is then delivered right to your door! 
Question: Is it legal to make and sell Genshin Impact merch?
Answer: Yes! HoYoverse has guidelines on who can make and sell merch here, but the quick answer is that anyone can produce and sell Genshin Impact merch with no repercussions. There are only limitations on mass-producing merch, but most home sellers aren't going to be doing that, so don't worry!
Question: Which character is the most popular in Genshin Impact?
Answer: According to stats from the Spiral Abyss, Kazuha is what most people decide as their first choice. If we go by banner sales, then Ayaka was the highest grossing character in a single banner, but with a little math with rerun banners, The Raiden Shogun wins the popularity contest (though probably not by our wallets), earning HoYoverse over 66 and a half million dollars. If you're looking for gift ideas for your Genshin fan, anything Shogun related is probably a winner.  
Final Thoughts
There are a lot of Genshin Impact Keychains out there, but this lineup of the best ones should point you in the right direction to find the keychain of your dreams.
My personal favorite is the Genshin Impact Seelie Charm Keychain, I love its design and the sparkle it gives, and it's so durable it barely has a scratch after sitting in my bag and being tossed around for months on end.
If there's any keychain you go for, make it that one. I promise you won't be disappointed!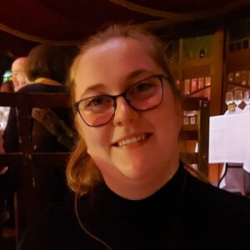 Latest posts by Bethany Gerrish
(see all)