When navigating the internet on the hunt for some quality Genshin Impact merchandise, it can sometimes be tricky to decipher what merch you should avoid, and what to buy so you know you will be receiving a high quality and beautiful product. In this Genshin Impact creator spotlight, I want to highlight to you what I genuinely believe to be some of the highest quality Genshin Impact merch you can buy right now, and to me, there is no better place to start than with Paimon's Boutique.
What you can expect
Paimon's Boutique began as an Etsy shop run by Mélodie Leblond-Champagne and has since branched into its own website full to the brim with content available to buy or pre-order. I remember first seeing Mélodie's products on my TikTok for-you page and thinking "Wow! this really is the for-you page" before being overcome by a primal need to own something from Paimon's Boutique as soon as possible.
After I placed my order I was just so excited to receive it. I ordered a bulk order with my partner and a friend which in the end was made up of two hoodies and a crewneck sweater, so a relatively large order for a smaller store. The order arrived in a timely manner especially as it was shipped from Canada to arrive in Germany, and some of the items in the order were pre-ordered so we were expecting it to take a lot more time to arrive than it did.
As well as the items we ordered, we also received some other extra goodies as a thank you. If I recall correctly we had a bonus Genshin Impact inspires scrunchie thrown in, but I don't believe that this item is available anymore. Whilst I would never expect small businesses to give away items as thank you treats, it was this care and generosity that really made Paimon's Boutique stand out to me on top of the beautiful clothing we received.
I went for the Ayaka hoodie, which you can see in the image above, and it is one of the most comfortable pieces of clothing I own. The design of the Ayaka hoodie stands out a little more as it is a three-quarter body portrait of Ayaka on the back of the hoodie with a little cryo symbol on the front instead of the panel eye images that Paimon's Boutique specialises in. All of the designs in the store are beautiful and all are embroidered into the clothes giving a high-quality feel and finish.
Personally, I am over the moon with this hoodie, and I would most definitely go back and order more from Paimon's Boutique.
As everything is embroidered and a lot of time and love are taken to make each item of clothing, I wouldn't blame you if you thought that the prices of the hoodies would break your bank, but in reality, at around 67 USD (not including shipping fees) the price is more than reasonable for something of such high quality and comfort that I would argue could compare to most designer brands that charge far more for far less.
Paimon's Boutique: Humble Beginnings
I spoke to the owner of Paimon's Boutique, Mélodie Leblond-Champagne, about her experiences with owning and running a small business and what inspired her to start making Genshin Impact merchandise in the first place.
She said: "I started playing Genshin Impact in January of last year and you know it was during the pandemic, so it was a very hard time for me. I just really like the game and I always wanted to start my own business.
"All the characters are very detailed, and I was thinking there are a lot of other businesses doing printed shirts, but I've never seen anything with Genshin characters embroidered on T-shirts or sweaters, it was always printed and I wanted to do something that would be higher quality. I had seen some other small artists embroidering anime characters, but I had never seen any Genshin Impact ones so I thought I should start making those and see how it goes"
With almost 2400 admirers on Etsy, it is safe to say that Paimon's Boutique has been a hit amongst Genshin Impact fans. The merch sold by Paimon's Boutique is definitely unique when you compare it to other Genshin Impact merch, and very few if any competitors can match the same quality of design and make that Paimon's Boutique supplies.
Mélodie continued: "I wanted to go make something different and I think it looks like a piece of art that you're wearing instead of just a T-shirt that's printed."
It's this drive to be different and still provide quality that I believe sets Paimon's Boutique apart from other Genshin Impact merchandise makers and providers which is incredibly important especially when anyone can make and sell merch for Genshin Impact.
HoYoVerse released guidelines on HoYoLAB which allowed anyone to make and sell merchandise relating to Genshin Impact as long as creators followed a certain set of rules. In a nutshell:
distributors cannot violate any laws surrounding merch making and distribution, nor should they damage the reputation of Genshin Impact or HoYoVerse
Fan groups must declare products if the quantity exceeds 200 units, this number is 500 units for individuals.
Players may sell magazines, comics and novels so long as they are not breaking any of the laws and regulations of their country.
Sellers must make their fans aware that they are purchasing fan-made merchandise, they cannot say that their content is an "original Genshin Impact product".
Creators must declare for authorisation of toys, dolls and other plastic figures
In-game elements and in-game screenshots cannot be sold but can be given as gifts.
A copyright fee will not be charged for all successfully declared merchandise.
These rules allow anyone to make Genshin Impact merch so long as the guidelines are met, which makes merchandise more accessible to more people within the community as odds are someone somewhere will have made some merch that is accessible to you.
Many companies and big franchises tend to shy away from accepting fan-made products in order to make as big a profit as possible, so it's a really nice breath of fresh air to see a company like Hoyoverse allowing anyone to create and distribute Genshin Impact merch as long as the rules are followed.
Paimon's Boutique: Best Sellers and Fan Favourites
With Xiao and Zhongli being fan favourites within the Genshin Impact fandom, they were of course going to be popular choices for hoodies and crewnecks and have proven to be a firm choice for many fans, with them featuring in almost every restock in Paimon's Boutique as well as selling out very quickly.
My favourite designs currently available in the store are the Ayaka hoodie I've hardly taken it off since receiving it and the Itto crewneck. What can I say? I'm a sucker for the Oni. I love how intricate and eye-catching the designs are and I also appreciate that the designs are more subtle.
They don't scream "Hey! I play Genshin Impact" right into your face, which for me is a must-have for any merch that is based on a franchise. I like to be able to represent the games I play without it being glaringly obvious, and the designs made by Mélodie perfectly tick that box whilst still being beautiful.
Of course, I'm sure every design on Paimon's Boutique means something to Mélodie, but I asked for her favourite designs. She said: "Well, I really like the new Xiao and Zhongli designs, I think they came out really nicely. I made a Keqing design and it turned out really good too, I don't even have Keqing but I think the design looks great."
You don't have to just take my word for it either, Paimon's Boutique boasts hundreds of positive reviews on Etsy, all of which speak for the quality of the craftsmanship.
Madison Gordon said: It was worth the wait! the embroidery is beautiful and the sweater is so cosy! The packaging was beautiful too and came with a few stickers. I can tell so much love goes into making these. I definitely will be getting another"
Another proud owner of the Kazuha leaf crewneck, Mallory Hawkes said: "This is my favourite Genshin inspired small shop. The quality, the owner, the design work and attention to detail speak for themselves. This is my third purchase with plans for more!"
It is clear from public feedback that these are some of the best Genshin Impact hoodies you can buy right now, and they're not wrong when they say the quality speaks for itself!
Paimon's Boutique: Plans for the Future
Genshin Impact Inspired lanyards are the latest addition to Paimon's Boutique, proving very popular amongst fans. I asked if there were any further plans for more merch in the future.
Mélodie said: "I want to bring some more lanyards in the future because you know I wasn't sure if they were going to sell well, it was kind of just something I wanted to try so I want to bring some more lanyards in.
"I was thinking maybe making bookmarks. I have an idea in my head like the panel designs that I make, I would modify them a bit and then there would be a gold border around them, but it's quite hard to do with everything else going on right now."
As summer approaches, more people have requested some more summer-ey items like t-shirts, however, the practicalities of this are a little more complex, as embroidery does not always come out correctly on thinner materials.
Mélodie said: "I don't want someone to wash it a few times and then it falls apart or something like that, so I'm trying to think of alternatives like I could do some skirts or shorts for the summer which would be easier."
Bucket hats may also be in the pipeline for Paimon's Boutique, a welcome addition for any fan looking for a trendy hat to keep them cool in the warmer months.
Paimon's Boutique: Pricing
It is no secret that an independently run business can take a lot of time and effort to run, so some of the time taken to produce and the prices to buy the items may be a little higher than other common retail stores.
However, the trade-off here is that you know you will be getting a high-quality product where a lot of care has been taken to ensure that customers will receive the best product possible, and the customer themselves will be able to help support a small business as opposed to a large soulless corporation, which is very appealing to a lot of people.
When asked how she deals with pricing, Mélodie said: "It takes a lot of time to make one shirt and honestly that's what I think brings the value to the shirt, because obviously the material is not necessarily going to be the most expensive parts it's really the time you need to experience you need to make them."
As previously mentioned, at around 67 dollars for a hoodie (not including shipping) I would say that this price is more than reasonable for the quality of the product you will be receiving.
I have grown up around my parents trying to run a small independent business, and I know from personal experience how difficult it can be to set prices that are fair yet still allow the creator to continue to make products to sell, so for an item of such high quality to be such a reasonable price, really makes Paimon's Boutique stand out from the rest as a high-quality seller.
FAQs
Question: Is Paimon's Boutique worth buying from?
Answer: I would say a huge yes! Whilst I can appreciate that these hoodies may not be in everyone's budget (we all play Genshin Impact here, I understand) especially with international shipping prices, the quality and beauty of the design justify that price over and over again.
Especially now that Paimon's boutique is branching out into more clothing items and designs, on top of the stickers and keychains that are available already in the store, there is something for everyone that is well worth your money.
Question: Where can I see the Paimon's Boutique store again?
Question: The store page is empty, why?
Answer: Paimon's Boutique works on the basis of restocks and pre-orders, so while the store may be empty for now, keep an eye on the Paimon's Boutique Instagram page to see when the next restock will be! When the store is restocked you will be able to purchase any items that are included within the restock.
Paimon's Boutique: The Takeaway
Paimon's Boutique is an incredible, high-quality store that sells gorgeous, embroidered hoodies for a very reasonable price. With worldwide shipping that is fast and efficient and a wonderful and kind seller who is very receptive to any queries, Paimon's Boutique is very worth checking out.
With more new merch in the making for the summer season, this is one to keep your eye on! Although as of current we are unsure when the next restock will be, Mélodie is aiming for the next restock to be before the end of June, follow her on Instagram to keep up to date with the latest Paimon's Boutique news!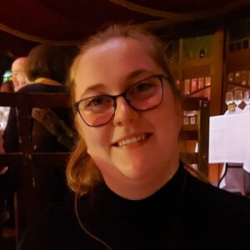 Latest posts by Bethany Gerrish
(see all)