If you are a newcomer to Genshin Impact, I'm pretty sure you will feel overwhelmed by the amount of content the game has to offer. The in-game content including events and the vast open world will take you months to thoroughly explore. Although it can be overwhelming at first, the sooner you start climbing the Adventure ranks, the sooner you realize that there's not much to do in the end game.
Higher adventure rank players know that after you are done with the game's current content, you won't have many things to do besides exploration and events. I'm not saying they are bad, but you shouldn't rush Adventure ranks just for the sake of running content.
Still, there are activities you can hop into even when everything else is done. In this Genshin Impact Activities guide, we'll go through some activities that I personally found to be useful to do once I reached the end-game.
In the end, it depends on the player, but I'm sure after reading this guide, you will have some new ideas to pass the time. So, without further ado, let's briefly review the Activities!
What Are the Activities?
Since I've been playing the game, there was so much content to complete, but now that I've reached the end-game, I have to depend on numerous activities to kill some time. Activities are tasks you do in the game to either invest in your character or enjoy moments with your friends. There's no technical definition to them because of how broad the topic is, but overall you get a gist of what I'm talking about.
Whether you are farming, fishing, or enjoying a co-op event with your friends, you are performing an activity in the game. They aren't the main part of the game, like completing Archon quests and progressing through the story. I've put them in a basket where they aren't related to the main storyline progression, and you can do them at your own pace.
Fishing
Fishing was introduced in the game alongside the weapon "The Catch" that made the players extensively go on fishing routes. I remember a Reddit post came up with all the fish required for the weapon, and many of my friends started doing the game. Trust me, I had no clue what it was because I wasn't aware of it and didn't know why people were doing it in the first place.
I remember a lot of people came to my world asking for fish, but they let me know I didn't have any. Maybe the ones before them took mine. A few days later, I learned that it was used to exchange weapons and fishing rods exclusive to regions.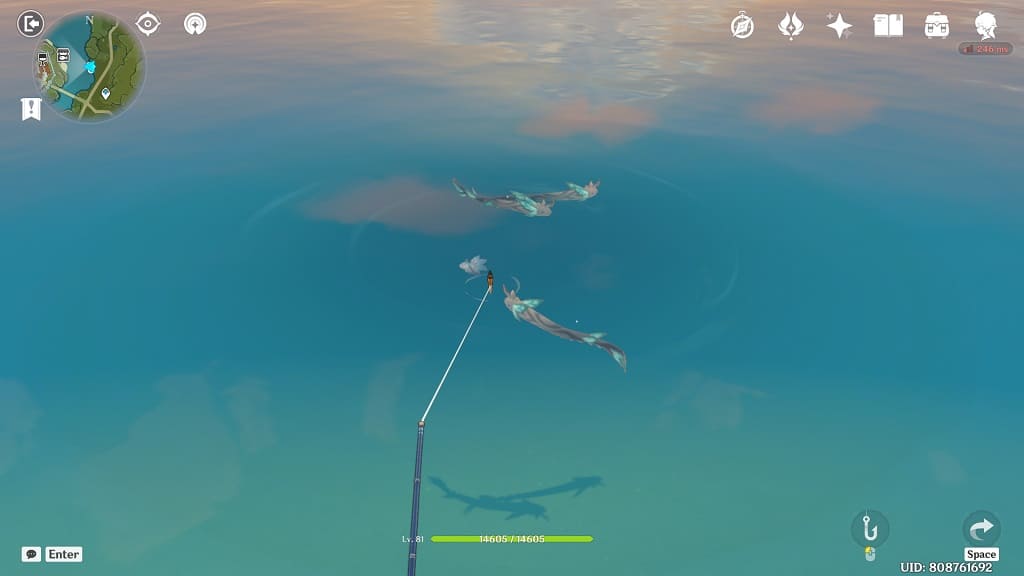 That was how I jumped on the Fishing boat myself and started hunting whatever fish I could find in my world. I was lucky enough to join random friends who let me fish in their world because they wanted to do it at a later date.
That was good for me, and I could get the weapon and refine it to a maximum rank in a day. After I got it all leveled up and ranked, I thanked my friends, and we all were giddy about it.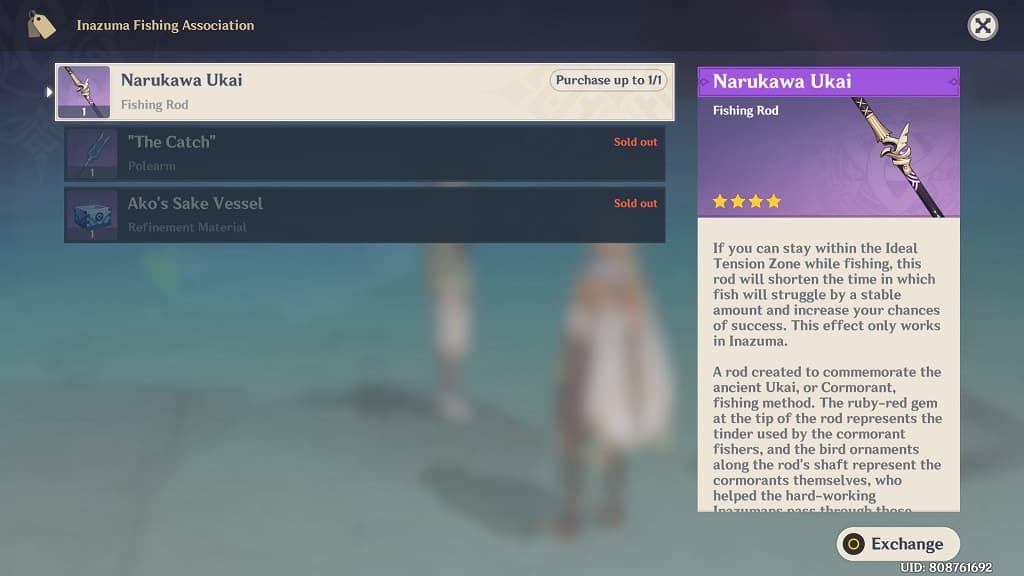 You can exchange the weapon at the Inazuma fishing association. It's a free weapon you are getting in the game, you just have to invest time in fishing to obtain it. I highly recommend you to get "The Catch" as it's an excellent weapon on characters like Xiangling or the Raiden Shogun.
Challenge Achievements
If you open up the achievements section in the game, you will notice a lot of in-game achievements you can complete on your own. Let's take the example of Mondstadt; you will see that many achievements are related to the nation, and you can quickly obtain them.
Usually, most of the achievements are available from the Quests or open-world challenges, but there are some hidden ones for which you have to go the extra mile.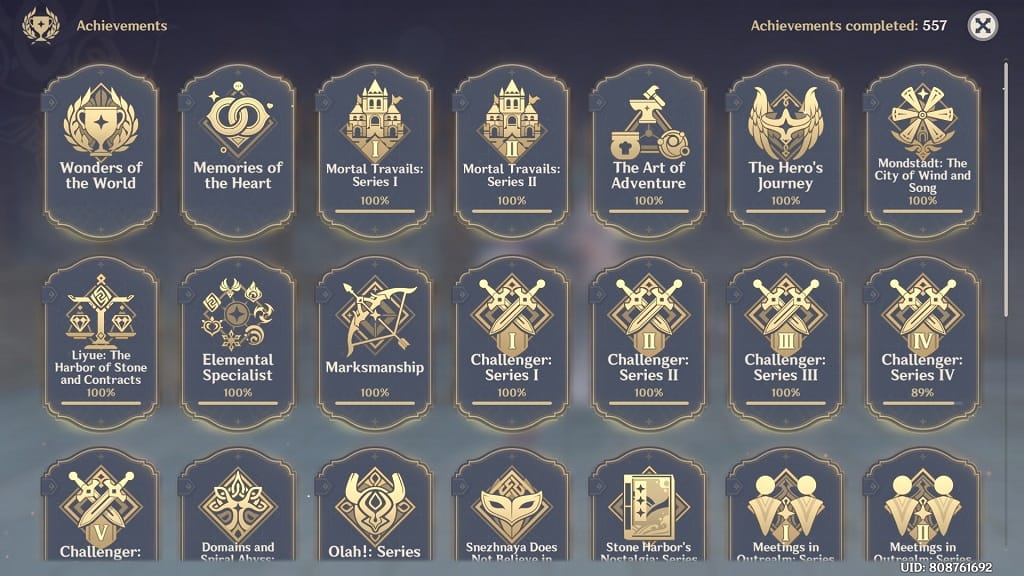 Although the nations have their own achievements that you can get by completing the challenges pertaining to them, there are achievements that you can get by completing challenges. Challenger series is a list of achievements that you can get by focusing on a single challenge and acing it to get that achievement.
Another reason to do these achievements is to get primogems so that you can get a few wishes. I've completed a lot of Achievements in the past and was eager to do them on a daily basis. 
Not only nations but the areas like Enkanomiya, Dragonspine, and the Chasm has their own achievement sections that you can take a look over and jot down the ones you haven't gotten yet.
Like them, there are all sorts of achievements that are related to the game, and I highly recommend you to try to do them. That will give you a sense of accomplishment and encourage you to take on formidable challenges.
Housing System
Though this feature isn't available to new players at the beginning of the game, Genshin Impact has its own Housing system where players can make buildings, place companions, and architect a variety of structures that are vibrant and art of masterpieces on their own. Since the addition to the game, a lot of players have been attracted to the Housing system, and over time it has received a few additions and changes.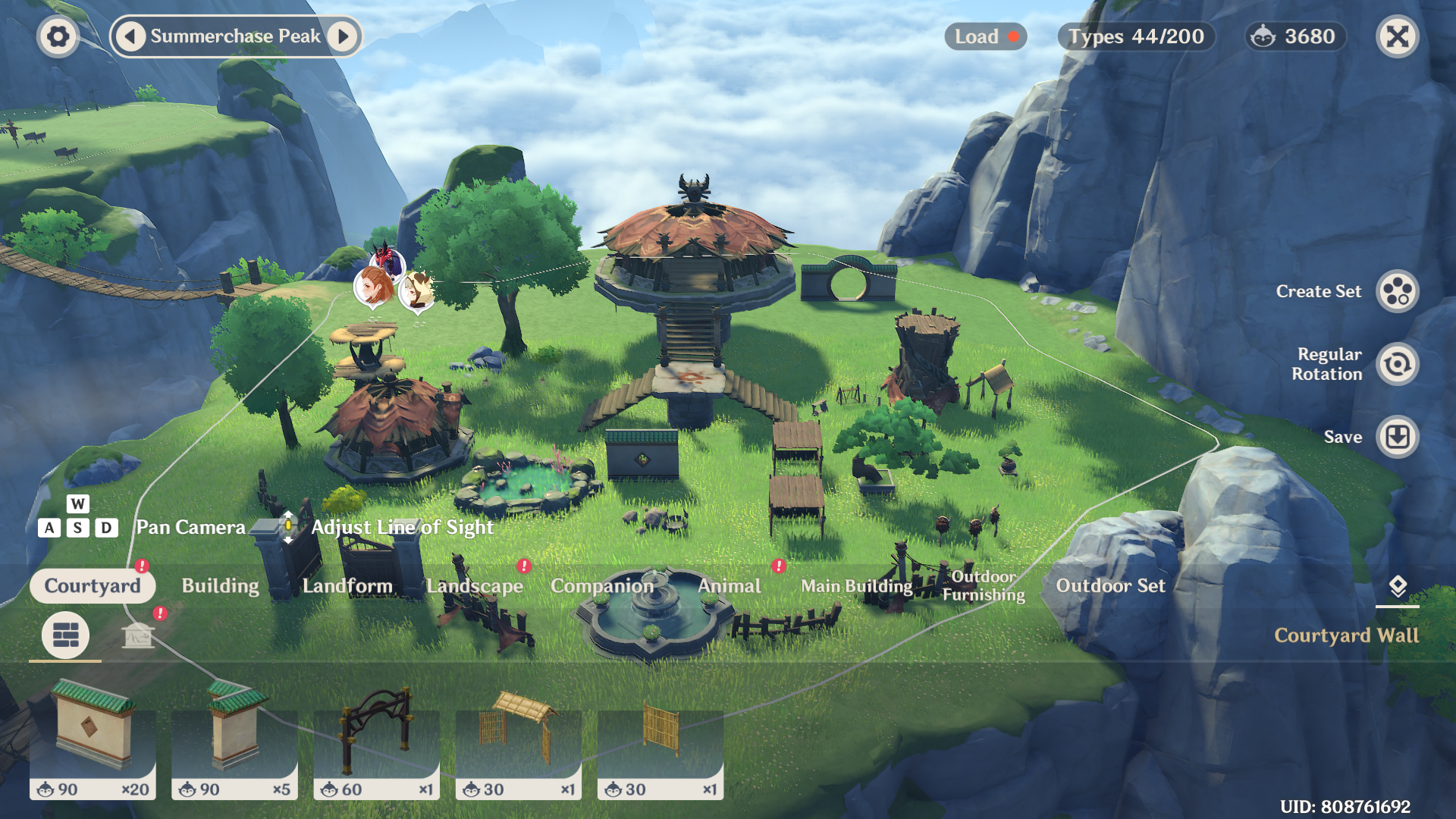 There is a lot of unique furniture you can obtain from Non-playable characters, Quests, or overworld chests. After you learn them, you can craft them in your Housing system and place them according to your choice. So far, I would say that I've been enjoying the Housing system because every week, the shop resets, and you can use the Realm currency for lucrative rewards. Usually, I exchange for Hero's Wits and Mora because I want to invest them in my characters and level them up to fight stronger enemies in the abyss.
A weekly merchant also appears in the teapot, and you can shop there for additional items. In the Housing system, there are Realm layouts that you can choose from, and whichever you like the most can be equipped. Though you need to spend some time before you can make a lot of customizations in the Housing system to gain the trust of Tubby. Tubby is a housing spirit and helps you to maintain the Serenitea pot.
I highly recommend you research before diving into the Housing system as it's a vast feature in the game. Once you learn how to set it up, you can easily create all sorts of structures and enjoy showing them off to your friends.
Community Interaction
Community Interaction usually is about how good your content is and how popular it is in the community. The unique thing about content creation is building a community that leads to a wholesome interaction among like-minded players. Referencing an interview I did with an Indian Genshin streamer named Dagger, I got to know that his community is toxic-free and always supporting each other. Even if there were any ups and downs, the streamer would moderate the community and help solve any issues that arose.
Another fantastic way with which you can interact with the community is merchandise. One of our team members, Bethany Gerrish, did an excellent interview with Paimon's Boutique, where she covered everything related to the merchandise exclusively with them. Suppose you want to buy Genshin Impact merchandise which is cute, lovely, and beautiful.
In that case, you should definitely check out that interview. I went through it and found that so many designer shirts were available that took my heart. I'm definitely up to buying some merchandise.
Another form of community interaction is to support newcomers by joining their worlds and helping them out. Most newcomers don't know what the game is about, and sometimes they may lose interest in it. I remember one of my friends left the game because he didn't know what to do and eventually gave up.
I was like this when I started the game and always willing to help out other people. I wished my friend would have told me that he was playing Genshin Impact; otherwise, I would help have them with all my might.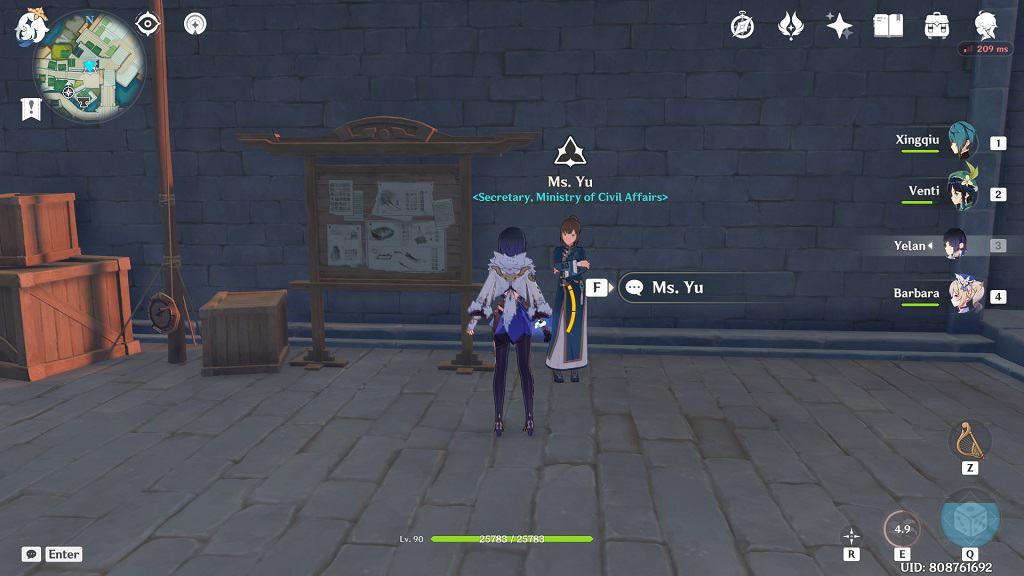 The reputation system is a unique system in the game that gives you access to a ton of rewards. In a nutshell, you have to level up your reputation in each nation to gain rewards. The reputation system is a weekly reset system that will feature requests, quests, and bounties that you can do in each nation.
It's not that you can level up everything in a week or in a few days because it's time-gated, and you can use only a certain amount of EXP each week. You have to complete the required tasks, and as you level up, you will unlock rewards.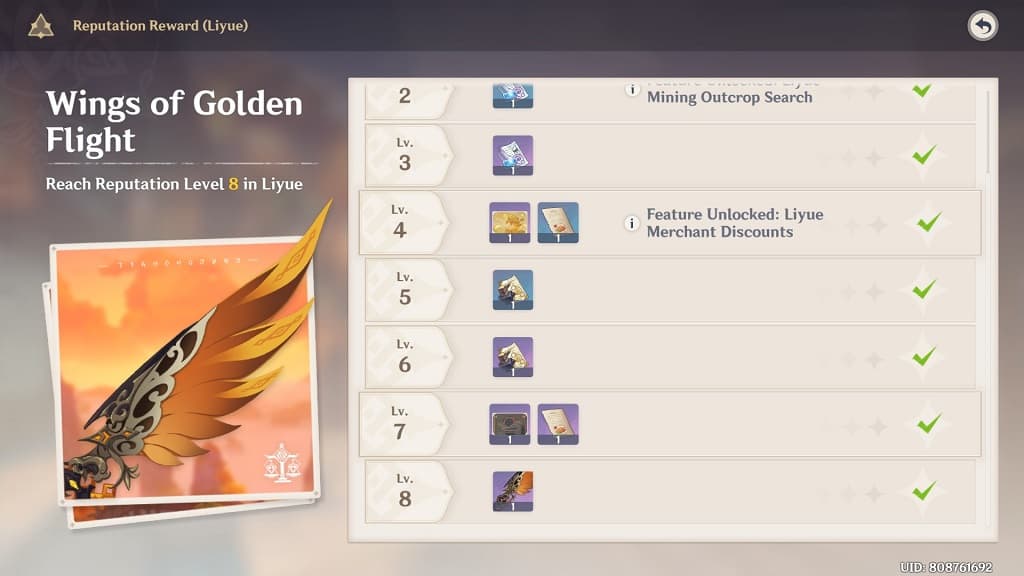 These rewards can be anything from a Diagram of a Gadget to a beautiful wind glider. I must say that the reputation rewards are indeed lucrative enough to make you grind a few extra weeks on them. I remember completing Mondstadt reputation first and getting that Mondstadt wind-glider; it was a phenomenal experience.
I love aesthetics, and when they are on clothes or items like wind gliders, that's really a bliss to the eyes. I highly recommend you to not miss the reputation system as it can help you get decent rewards and discounts at some shops. As of now, there are three reputation systems in each nation Mondstadt, Liyue, and Inazuma. You can interact with the NPCs there and access the reputation menu.
Once you have completed everything, I'll recommend choosing reputation tasks from Inazuma as they are a bit easier to find in the region, unlike the other two. That's more like a personal choice that I have because I want to do reputation tasks fast.
Co-Op
Co-op is one of the best mechanics in the game that helps players to play with each other turning the game into a multiplayer. Although I was a solo player in the beginning, soon enough, I realized that I was missing out on interaction with other players and felt a bit lonely.
Luckily the first significant event came in the game, Unreconciled stars, which featured considerable lore about the game and introduced Scaramouche as a Fatui Harbinger. The event was full of lore and tasks and featured a co-op mode where players could do the challenges together.
To this day, I have a fresh memory of that event and can recall a few moments that always put a smile on my face. I would suggest you read our Fatui Harbingers guide and Events guide if you want to know more about these.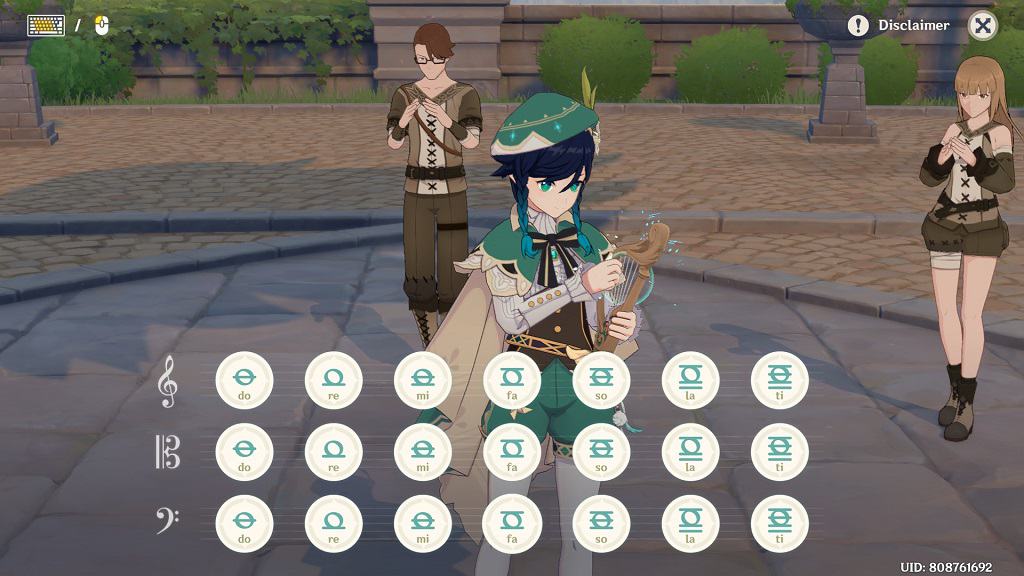 But, ultimately, the fun gets amplified if you end up with good friends or strangers in the game. So far, I'm lucky enough to not run into a toxic person, and I don't ever want to in Genshin Impact. Though there have been instances where people faced rude players, you should ignore them at the end of the day.
Another thing you can do in the co-op mode is to use your Gadgets and start a band! There are a few Gadgets like Windsong Lyre with which players can produce beautiful melodies, and I remember once a player came into my world to play a tune. I loved their performance, and soon after that, they left. I cannot play Gadgets tunes, but I love it when someone plays them for me. If you are someone who does this for other players, Thanks a lot!
Another thing that I do in co-op mode is to usually hop onto lower Adventure rank players and help them unlock unique domains that are puzzle-based. One among them is the Cecelia Garden which requires you to collect four seelies to activate a totem.
Sometimes new players don't know where the Seelie could be, so I hop onto their worlds and roam with them to unlock waypoints and puzzles. This helps them to have a sense of belonging and have the confidence to play with other players. I really want Hoyoverse to increase the friend list limit.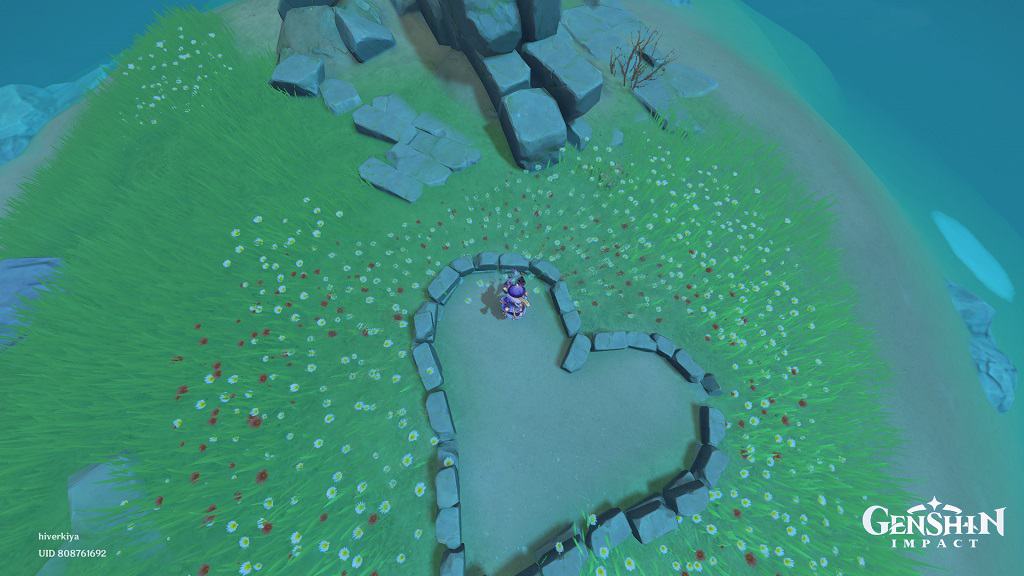 One special task you can do in co-op is going to the Heart Island. Go to an Island near the Yaoguang Shaol where you and your friend can stand in a heart-shaped place. Once you both step there, you will get an achievement named "Unswerving."
I was stunned when I got to know this because my friend told me to follow her to a place, and we both stood there. Once I got that achievement, I was so happy because it was something completely new and surprising to me!
Farming – Artifacts, Food or Materials
One popular activity for players is following farming routes and collecting food items or overworld materials from enemies for ascension. I personally farm materials on Sundays with friends because I'm totally free on those days. You need to farm for a variety of items in Genshin Impact because characters and weapons need ascension material for leveling up.
There are a lot of things in the game that will utilize mora, and you have to farm plenty of leylines for that. Also, as you start to ascend your characters, you will need a lot of resources to invest in your characters.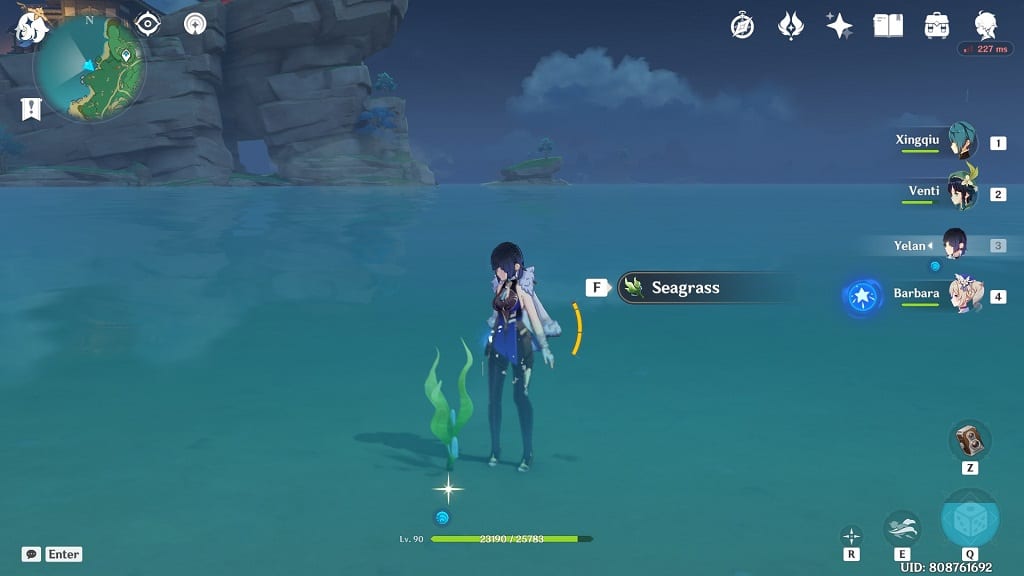 Go on the Official Genshin Impact map. You can even create your own farming route for artifacts or in-game items like Jueyun Chilli if you want to collect them. I would say that farming is an essential requirement in Genshin because you need to consistently invest in your character to keep up with the increasing world level. As you level up your character, their firepower will increase, or their support will become potent. You need to follow farming routes to collect the items faster and utilize them on your characters.
As for the Food items, there are plenty of food items in the game whose recipes can be obtained from Quests, events, or overworld chests. Check out our list of food items if you haven't, where we have discussed plenty of Food items that will be beneficial for you in the game. You need to collect raw ingredients from the overworld and sometimes process a few of them to make exquisite food dishes.
Frankly speaking, food is essential in the game, but you shouldn't overdo the cooking either. Try to have a good healer in your team and utilize their abilities to heal your character. Another way could be to teleport to the Statue of the Seven and let the Statue's healing effect heal your characters.
The Spiral Abyss
If anyone's referring to the end-game content, they are basically talking about the Spiral abyss. In the spiral abyss, you have to pay keen attention to your team composition and rotation to clear the challenges on time. The Spiral abyss features challenges and enemies with a higher health pool with elemental auras around them that can affect your characters.
Sometimes elemental infusion stones would be present on the battlefield that can enhance their effects or make them resistant to certain elements. You need to take care of all the environmental buffs in mind along with a limited time duration where you have to clear waves of enemies. It's not necessary that you will face multiple enemies, but sometimes you may face enemies that are single but highly aggressive, like Maguu Kenki.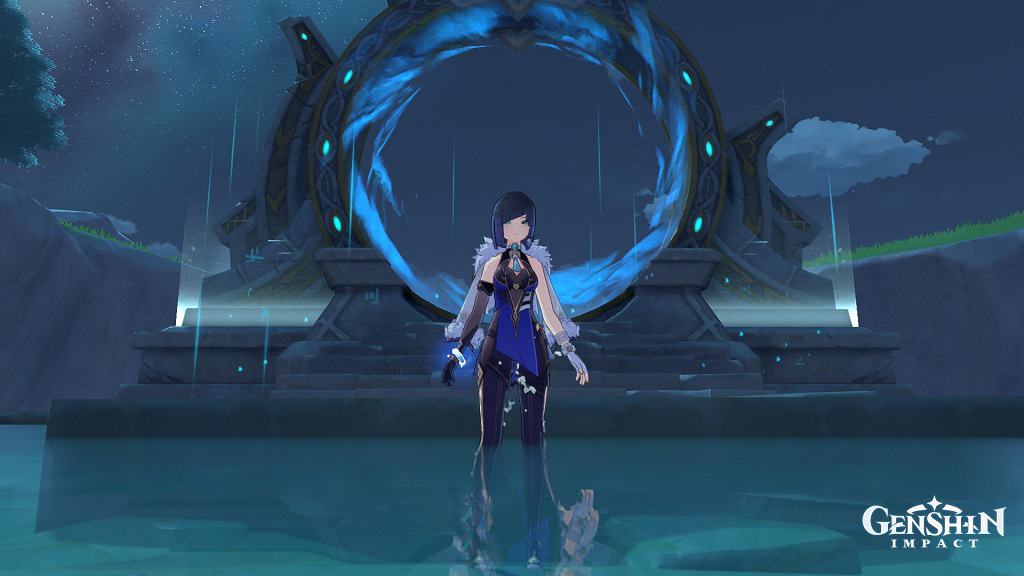 I won't go into much detail about the Spiral abyss here because we have an excellent guide on it. I highly recommend you go through it to get a good overview of the abyss and figure out which team compositions from your roster would be effective. One tip about the abyss would be to prioritize investing in your characters so that you have enough firepower and team damage output.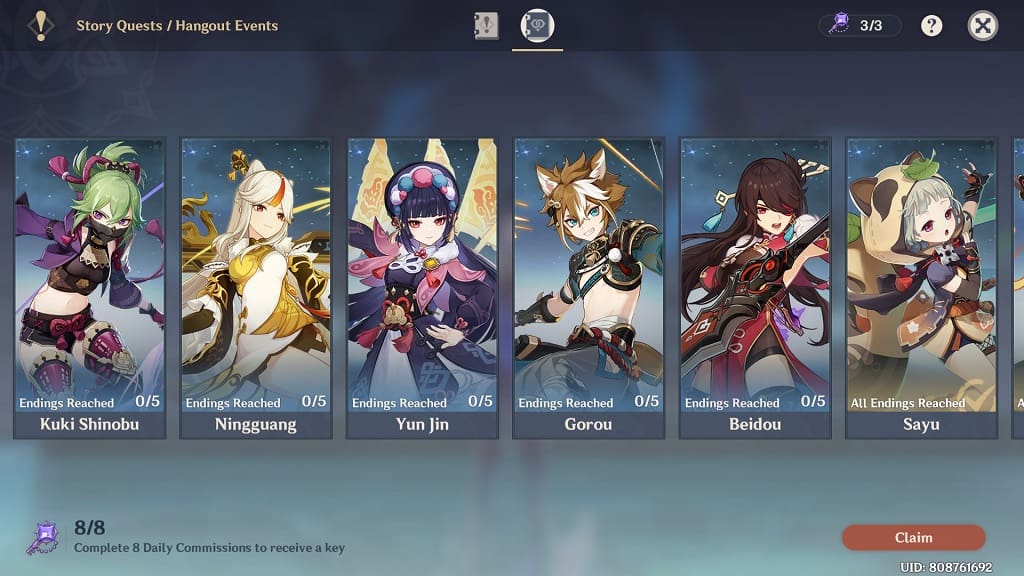 Genshin Impact has hangout events that feature certain characters with whom you have to spend time. Hangouts are fantastic if you want to know your favorite character's personality and have memories that you will cherish forever.
I must say that I've completed a lot of Hangout events, and my first one was Barbara's. Right now, one Kuki Shinobu hangout is available from the recent update, and I'm keen to complete it.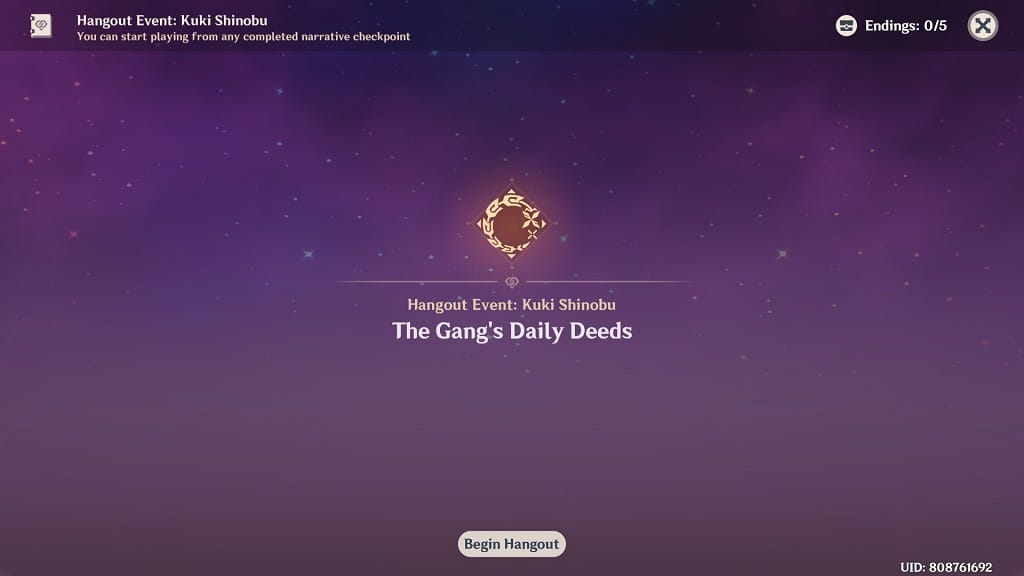 You have a heart status bar in hangout events where your characters' likeability is measured. Losing enough hearts on the status bar will lead to the hangouts' failure, and you have to restart from the recent checkpoint. In hangouts, you have to follow a chain of events to reach certain endings because there are multiple endings in an event.
So, you have to keep in mind the options you chose last time as there may be 5 or 6 endings depending on the hangout. I know it may sound exhausting, but I really advise you not to rush the event. If you have plenty of free time on your hands and want to spend the time having interactions with your favorite characters, then Hangout events are for you!
Exploration
Suppose you are done with the Archon quests and now left with an Adventure rank requirement for another one. Until you reach that Adventure rank, you can complete many overworld challenges and get chests or even do world quests to gain Adventure EXP.
I remember when I was free in the game, I hopped onto unlocking all the waypoints because they used to give decent Adventure EXP at the beginning of the game, and I wanted to level up fast.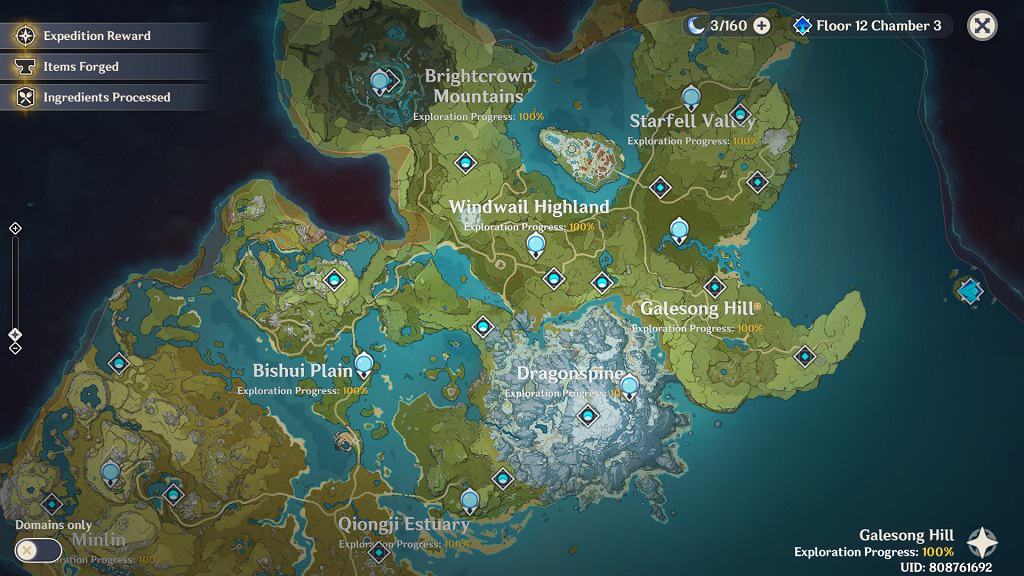 Not only are there plenty of chests in the overworld, but there are challenges that you can complete and plants that you can shoot to summon chests. Floaty bloaties are plants that have ballon figures attached to them, and interacting with them will detach those balloon-like entities. You can shoot them with bow characters or with a sword if that can hit them to summon a chest. I also remember completing most of the seelies because I wanted to get a lot of chests.
It may look like the overworld doesn't have enough chests to explore, but once you figure out about the puzzles, there are a lot of chests that you can grab and have plenty of wishes. There are pressure plates, stone puzzles, seelies, and all sorts of puzzles that you can complete and obtain chests in return.
NPC Rewards
There are a ton of NPCs in the game, although most of them have a similar design. If you want to know briefly about NPCs in the game, then I highly recommend you to check out our NPCs guide to get a gist of the game's Non-playable characters. These characters serve as a role to fill people in the game and often have roles designated to them.
Usually, you won't see most of them with unique appearances, and they have mostly the same game model. But fewer ones who mostly have a chance to become playable in the future have notable appearances.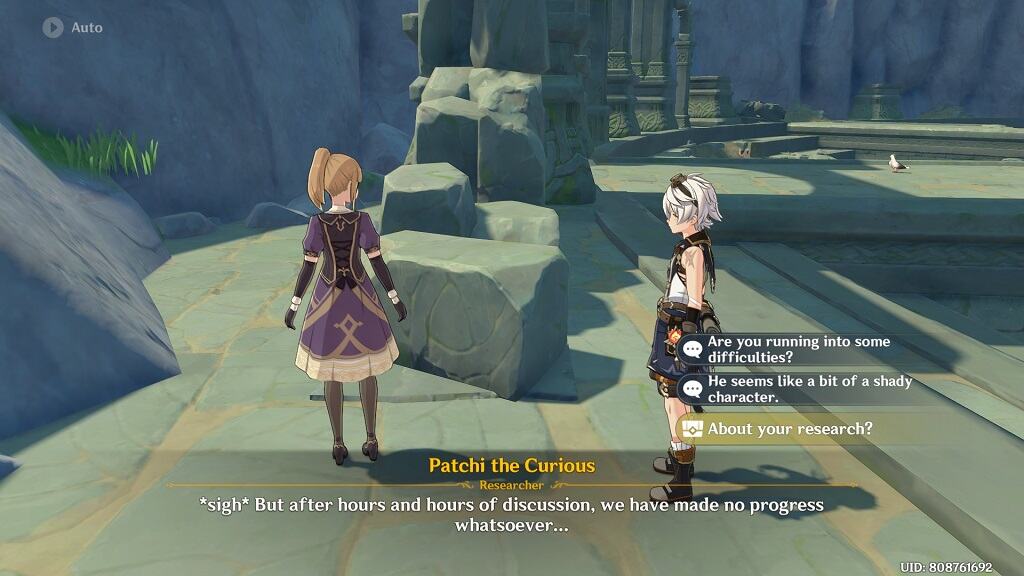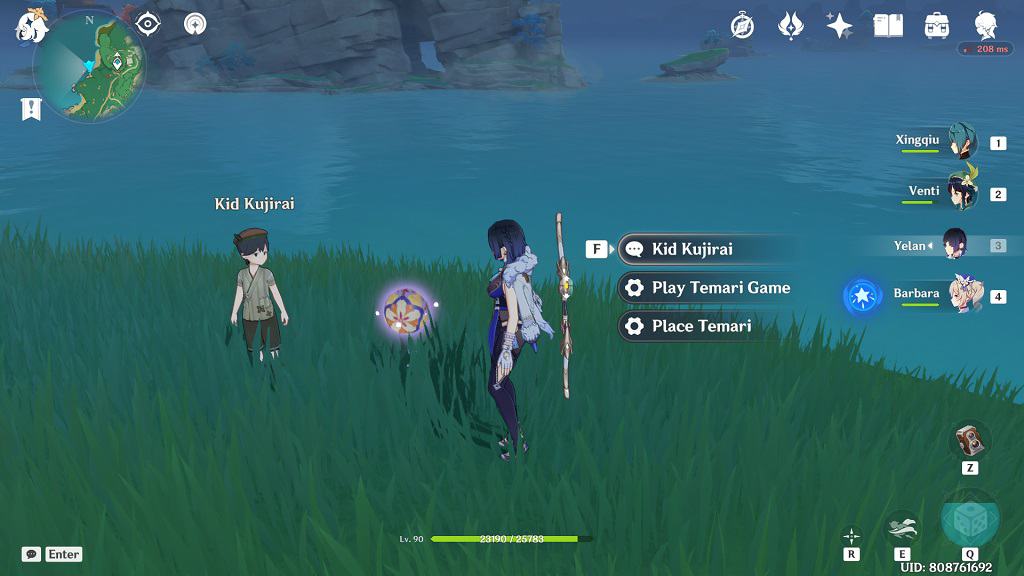 A lot of NPCs in the game can reward you for following a particular dialogue chain where you will end up with a reward. Or some of them can offer you chests as rewards if you complete their challenges. Kid Kujirai and Dandy are prime examples of this and offer you chests as a reward once you complete their challenges.
A Few Questions
That was a brief about all sorts of activities in the game, and I hope you may have done a few of them already. Feel free to try out new ones if you find them and share them with the community. Now, the time has come up to wrap this guide but before wrapping up, let's hover over a few questions that may be an interesting read for you!
Question: What are your favorite activities in Genshin Impact?
Answer: I love to co-op with my friends in significant events and do the challenges altogether. I remember in the Lantern rite event, there was a mini-game, Theatre Mechanicus, where I made an in-game friend. To this day, I play with them and interact on a daily basis, sharing game tips and tricks. Interacting with like-minded people who understand your viewpoint and cooperate on a single mission is fun. Another thing I love to do in the game is to help newcomers by joining their world and helping them do particular challenges or unlocking their regions.
Usually, I hop onto someone on a lower Adventure rank than me and guide them about the basics of the game and even help them complete tough challenges to collect chests. I highly recommend my fellow in-game friends to help out other players so that we can have fruitful community interaction that strengthens the bond among Genshin Impact players. At the end of the day, everyone wants to have fun, and it's better that we should help each other to achieve that collective goal.
Question: What do you say about fishing? I've heard that it's tough.
Answer: The main reason a lot of players wanted to fish was the weapon "The Catch." The Catch is a polearm that is insanely good on characters like the Raiden Shogun of Xiangling. It offers a lot of good stats for those characters and synergizes well with the Emblem of the Severed fate artifact set.
That was why many players and I started to fish, there were even instances when players were stealing each other's fish. I've had it happen to me a couple of times, and I restricted the co-op invites for a few days. But eventually, after a while, everyone was able to get that weapon, but still, a majority of players were on their way to getting it.
Fishing can burn you out if you are doing it in one go and want to collect a lot of fish. You need to exchange them for rewards but also keep in mind to be respectful to another person. Sure, you want to get that weapon fast, but you also have to be respectful to people who are letting you into their world. Even a few days back, I got someone's request, and they wanted to fish. I told them to fish as much as they wanted, and they were so happy about it.
Question: Is the spiral abyss tough? What are some tips for the spiral abyss?
Answer: Invest in your characters. Trust me, though it sounds way too easy, it is not because you have to focus on meta and characters that can fit in that picture. The normal Genshin gameplay is focused on casual style, whereas things like the spiral abyss are focused on a competitive side of the game. Usually, when you are in the overworld, you are able to clear most of the challenges as they don't require you to do much on them. Even if an event needs you to face a challenging enemy, you can take help from your friends or randoms in a co-op mode.
In the spiral abyss, you have to focus on teams that can output better damage to clear out waves of enemies in a time-limited frame and trigger reactions that can deal massive damage. Sometimes, there will be unique buffs for the characters of a certain element, and you can take the most benefit from it by using those characters.
I should say that you should prioritize your resin usage on characters and try to invest in characters that have better meta potential. Characters like Bennett, Jean, Ganyu, Xingqiu, and Xiangling are a few meta characters that can help you in the spiral abyss. With constellations, your existing characters become more potent, and a good combination of characters in a team can help you nail any challenge in the game.
Final Remarks
I agree that all activities may not be suited for every player, but there may be a few that you would like to try or join your friends in. I tried all of these activities when I reached the end-game and had been playing since the beginning. A lot of players don't know that the game underwent massive changes in Quality of Life improvements and gameplay mechanics.
Some changes were remarkable, such as the resin cap; however, drop rates are still a bit problematic. Overall, the game lacks end-game content, and players must devise creative ideas to pass their time.
Frankly speaking, I spend most of my time farming for characters, watching Genshin videos or theories on Youtube, or just listening to Genshin music in general. These days, I've habitually rewatched quest videos or top Genshin moments whenever I'm writing about a particular guide.
The day I was writing the Raiden Shogun guide, I went to Youtube and rewatched the cutscene where Kazuha and Shogun clashed with each other. It depends on your taste, and if you liked the activities, then I encourage you to try them out at least once. That way, you will get a taste of how they are and how good you are at them.
Summing up the Activities guide, I would love to see some creative ideas you have on social media or just post them on Genshin Impact's Reddit. There are some awesome creations there and funny videos that I just can't get enough of. Otherwise, if you want to know about characters, weapons, or the world in general, then hop onto our guides and learn interesting facts about the game.
There are some interesting findings and tips that will surely prove to be beneficial to you. I"' soon meet you in yet another exciting guide!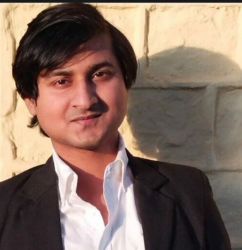 Latest posts by Himanshu Verkiya
(see all)