As is seen in many RPG's, Non-playable Characters, or NPC's are prevalent throughout, the same can be said for Genshin Impact.
It's no fun if you don't have characters to interact with or help them to achieve something. NPC characters form the core of Genshin Impact's storyline because they drive the game's plot to a certain extent. Sure, you are on an adventure to find your lost sibling, but you will meet a lot of people down the line.
Whether you are doing the main story or participating in an event, you will meet all sorts of NPCs. In this Genshin Impact NPCs guide, you will get to know various types of NPCs and their role in the game.
Not only that, but I'll take you through a curated list of NPCs that I found interesting in the story so far. So without further ado, let's jump onto this rollercoaster of meeting some unique characters!
Non Playable Characters, A Brief
 NPCs serve as a role for filler characters and key entities that you have to face in the game. It's also possible that some NPCs may become playable in the future, and you can have them in your roster.
It happens a lot in the game that some well-designed characters end up in the promoted banners. Like Yelan and Kuki Shinobu are some of the recently launched that were NPCs a few patches back.
NPC Types
Currently, the game has over a thousand NPCs, among which a few may become playable in the future. I have to take that into account and make a few speculative bets on characters that may change.
Overall, I've curated and consolidated the NPCs in such a way that even a beginner player will be able to observe my point of view. NPCs have all sorts of jobs, roles, and features throughout the story, and it's tricky to enlist all of them in a single go.
With that all cleared up, let's hop onto unique types of NPCs that you will meet in the game and know about them.
Event or Quest Exclusive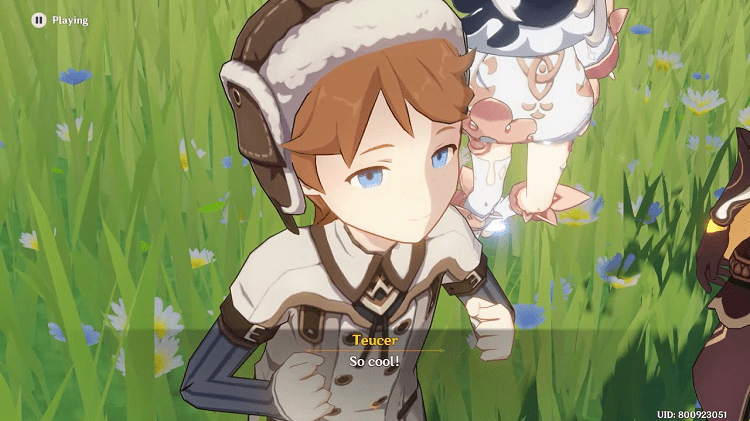 Event-exclusive NPCs, as the name sounds, appear when events are introduced in the game and are available during the event run. There are a variety of events in the game that you may participate in.
Whether in-game events, web events, or any other kind of event, you will meet a few new characters who are only present in those events. If you want to know more about the events, check out our events guide here.
As for the event-exclusive NPCs, one NPC is featured in the Marvelous Merchandise event, and that's Liben! Liben is the true Mr. Worldwide in Genshin Impact because whichever nation you visit, he's already been there in some sort but unfortunately loses his business every time.
You have to exchange a few common materials with Liben for primogems, he happily accepts the trade. I gonna love him because of how vibrant his personality is, and those primogems are always a bliss to receive for minimal effort.
Now, as for the exclusive Quest NPCs, you will only meet them during certain quests and not often interact in the future. Take the unknown God, for example; she's an NPC you meet at the very beginning of the game.
She manages to overwhelm the siblings, and thus the story is set in motion. Currently, you have only interacted with her once. That is only in the beginning, and there's no way we will be getting her as a playable character soon.
These Quest-exclusive NPCs appear in the main quests, story quests, or daily commissions and then rarely interact unless an event appears. With a ton of NPCs in the game, it's not sure whether we will interact with the previous NPCs or not.
Mainly because with each new nation, a lot of characters are introduced, and the storyline progresses further. I hope we get to meet exciting NPCs and learn about their stories.
Merchants
Merchants are an integral part of Genshin Impact. Whether you want to exchange your collectibles or buy some food items, you have everything at your disposal. Just visit a merchant shop, check out their prices, and purchase whatever you need from them. Let's discuss them one by one to get a hunch of their shop types.
I will focus on the shops that are available in Mondstadt city because you can easily visit them, and they are available in the early game for players. Mondstadt city has most shops near each other, and you don't have to cover any distance between restaurants or other shops.
Marjorie, one of the first souvenir shop characters that you will meet in Mondstadt, offers decent deals for the players where they can exchange ascension materials, souvenirs, or Mora.
Not only does she hosts a variety of items in her shop, but she's also involved in plenty of quests that will make you visit her quite often in the game. Also, her shop is near the Adventurer's Guild, and once you collect Anemo sigils, you can exchange them for items in her shop.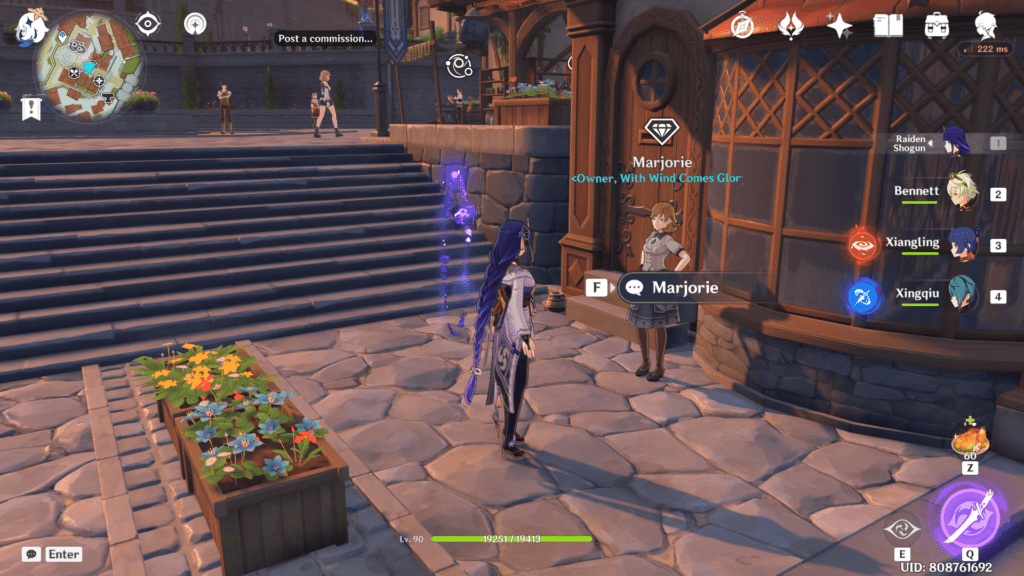 Blanche, the owner of the General Goods shop, takes pride in her shipping as it's the fastest in Mondstadt and even has a warehouse in Liyue. You can buy General goods like cabbage, milk, potatoes, and more from her if you want to make a tasty dish or process some ingredients for an exquisite food item.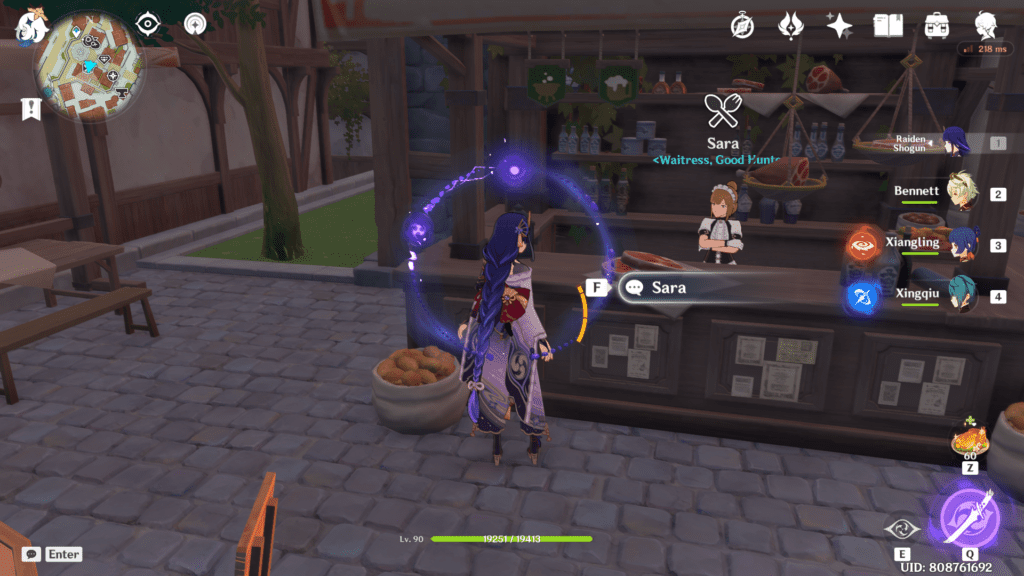 To my surprise, I saw that the General Goods store is just in front of a restaurant Good Hunter where their waitress Sara serves. You can interact with her to get food on the go or just buy a recipe for a dish.
If your commissions are in Mondstadt, then you will interact with her on occasion, and even there are some Archon and story quests where you will visit the restaurant. Also, if you want to cook a food item, there's a cooking pot at the restaurant that you can use for free!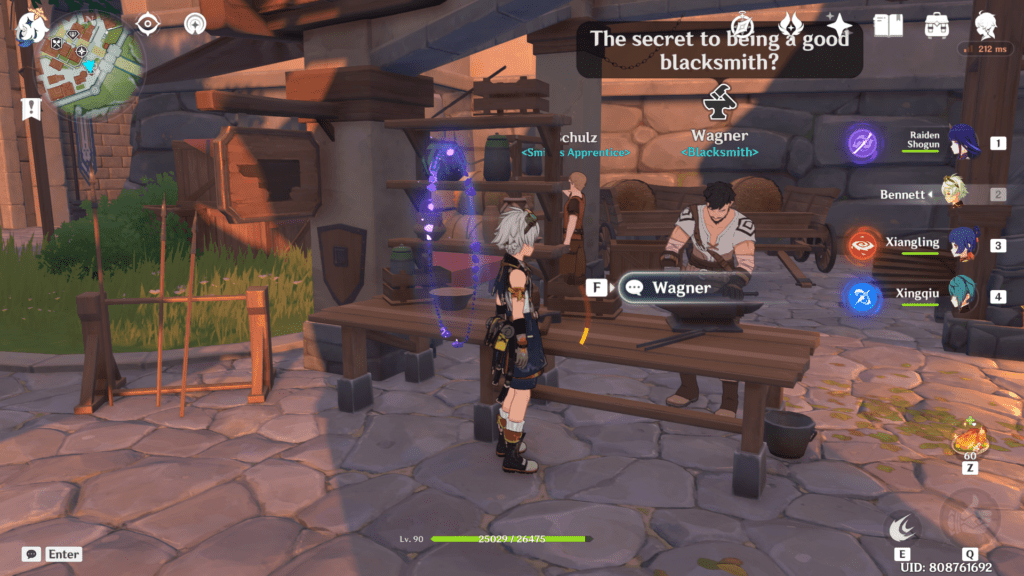 Now coming to the crafting and forging of weapons, there are Alchemy tables and Blacksmith shops that you can visit and interact with NPCs there.
Timaeus is near the General goods shop, and you can craft any item you wish to desire. Interacting with the table opens up a menu where you can see the crafting items available and craft them to invest in your characters. As for Forging weapons, you can visit Wagner who sells and helps to forge weapons.
He's quite a bulky NPC who is focused on his work and doesn't have any time for small talk. I send my characters on expeditions to collect White Iron chunks and Crystal ores so that I can forge Weapons enhancement ores.
Soon after collecting my ores from expeditions, I put them in forging at the Blacksmiths' shop and receive them after they're complete.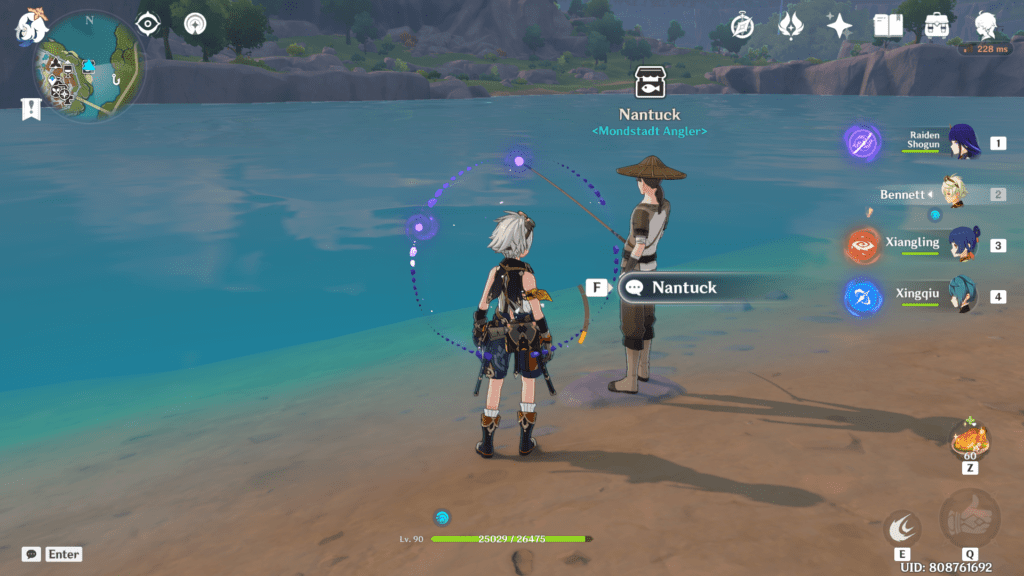 Recently, a few updates back, fishing was introduced to Genshin Impact where the players could farm for unique fish in the game. It's not that you can farm in any water bodies because there are dedicated fish spots in the game.
You have to visit them and make a unique bait for the fish that is in that place. After collecting a bunch of them, you can exchange them with NPCs who are in the Fishing association.
Nantuck, who is affiliated with the Mondstadt Fishing Association, is happy to trade some fish for Diagrams or other rewards. The Inazuman fishing representative Kujirai Momiji will give you "The Catch", a powerful polearm in exchange for some fish.
Guiding NPCs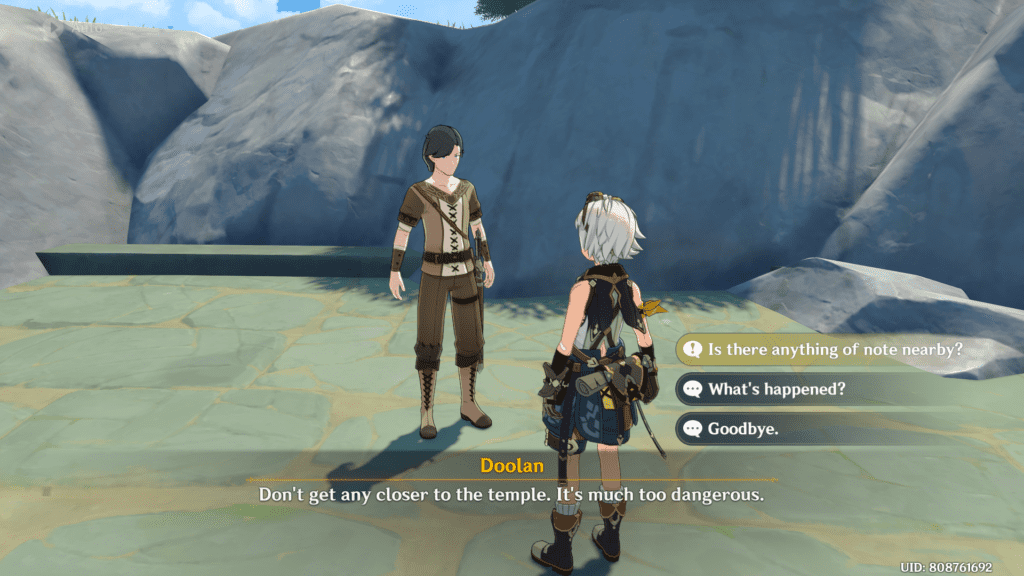 These NPCs help you by marking a particular item on your map. They tend to mark Mining outcrops on your map, which are Ore reserves coagulated in specific places. You can obtain plenty of ore by going there.
Now, if you want to find them, you can ask a few NPCs about them, and they will mark the items on your map. Their dialogues have an extra option where you can interact with them, and once the location is marked on your map, you can navigate to it.
For instance, I recently visited Wagner to inquire about some ores that I could find, and once I started the interaction, a new option was already there.
It was introduced in the game more like a quality of life change, but I'd still recommend you to use online interactive maps. It's better to see all the items you need at once and not hunt them one by one.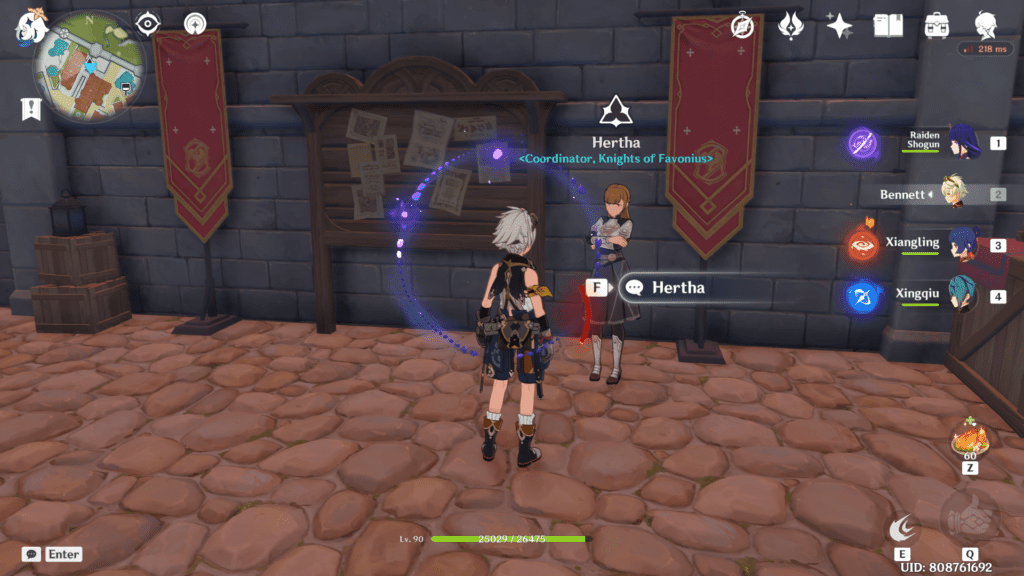 Genshin Impact has a reputation system where you can increase your reputation in the respective cities. You can get fantastic rewards in that particular nation in return.
Leveling up your reputation will help you to obtain Diagrams for Gadgets or unique recipes that will go a long way. You can get wind gliders that pertain to the diagram of that nation and have a unique design on them.
To access those reputation systems, there are NPCs dedicated to them with whom you can interact to open reputation menus. That's a case for another guide, but in a nutshell, there are quests, requests, and bounties that you can complete there to level up and obtain task-specific rewards.
You can go through a variety of reputation tasks in a week, and it will take a couple of weeks until you hit the maximum reputation level. As your level increases, so does your perks like purchasing General goods at discounted prices.
Merchants will be willing to give you discounted prices and offers because now you are known in the city and have a reputation to behold. It is a unique concept in the game that features beneficial rewards, some of which are Quality of life changes and help you explore the regions much faster.
NPC Rewards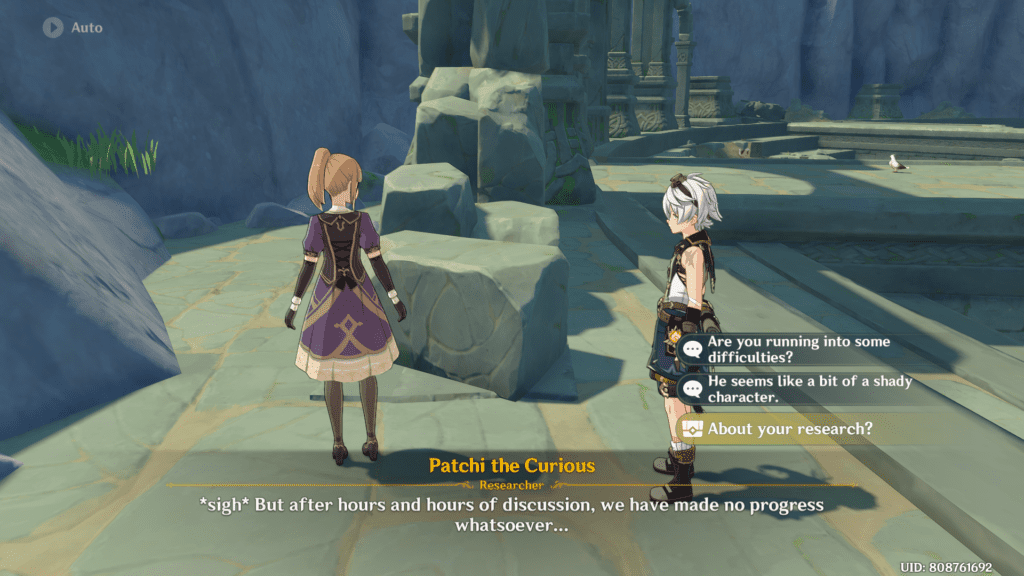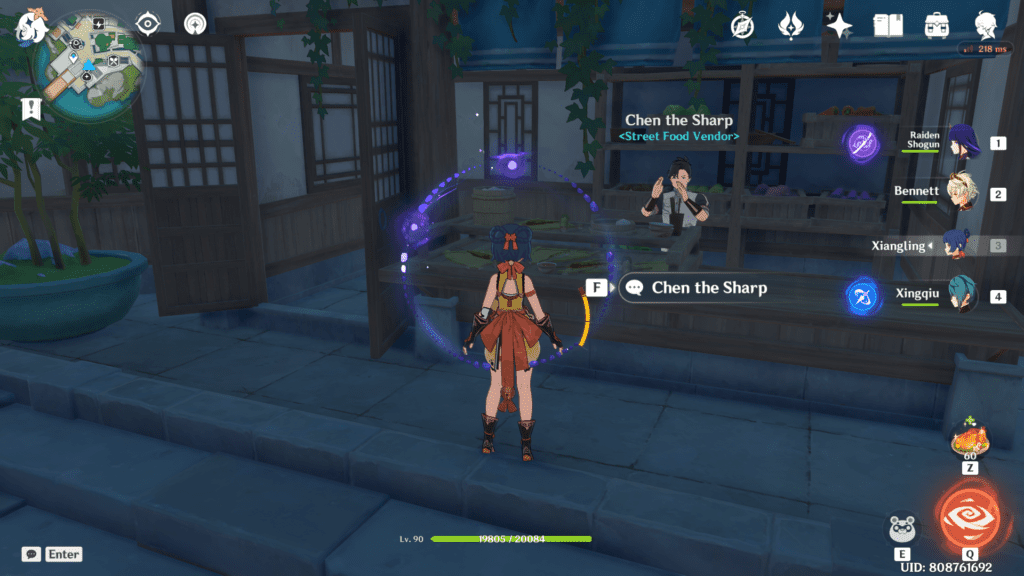 There are NPCs that reward you for following a specific dialogue chain in the game, and you can obtain decent rewards from them. They are not that great, but some are good, and you can use them well. It's not that they will offer you plenty of primogems, but something is still better than nothing.
There are NPCs who will provide you with a rare reward like the Dark Iron sword, which is the only weapon of its type in the game and doesn't have refinements for it. To obtain the Dark Iron sword, you have to talk to a Street food vendor named Chen the Sharp.
As you follow the dialogue chain, you must ask about the Guhua clan and eventually receive a Dark Iron sword. The unique thing about this weapon is that it has Elemental mastery as its secondary stat and is really good for characters like Kaedehara Kazuha.
I would say it's a decent 3-star weapon that can help you in the early and mid-game.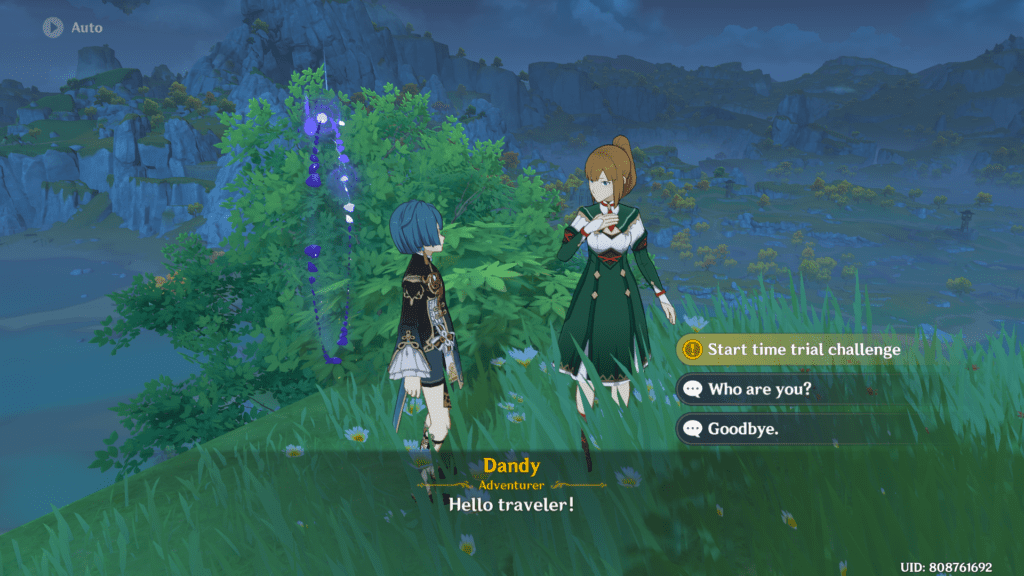 You can do the challenges multiple times but the rewards are for initial runs only.You will also find NPCs like Kid Kujirai, who will give you particular challenges and reward you for completing them. I remember doing this gliding challenge where I had to reach a place as fast as I could and was offered chests for that.
Dandy is the name of that NPC who will give you gliding challenges, and you can complete them for rewards. You can go over to these NPCs in their regions and interact with them to receive rewards for completing their challenges with flying colors.
I would suggest you complete the flying challenges with ease because when you initiate them, you have to beat your own record. Oh, trust me, I was trying so fast in the earlier tries, and it became a pain to break my previous records. I'd advise you to have some caution while doing these challenges and keep your head calm as you may require a few tries.
Remarkable NPCs
The time has come to go over a few notable NPCs in the game that will have an impact on your journey, or you will interact with them often enough that you will remember them by their names. I've handpicked a bunch of NPCs that I've felt are good enough to receive a mention.
Also, I do agree that there may be a lot of NPCs that were left out, but it's not feasible enough to list all the NPCs of the game in one single go. Worry not; if there's any quest that will feature a unique NPC or an important one, we will mention them in quest guides.
Let's go over these really significant NPCs in the game, and you have to interact with them at a few points in the game's story.
Aberaku

Enkanomiya is a region full of mysteries, suspense, and lore with a dark theme. The area is full of darkness, and there are shocking secrets that you will get to know from the quest and items there.
Aberaku is the creator of the artificial sun in that region that helps you to change the environment to white night. You will get to know about him in certain quests, but I must say the experience is indeed a thrilling one.
Cloud Retainer
Cloud Retainer is an Adeptus who resides in Liyue and makes her appearance throughout many quests in the game. In a fight against the overlord of the Vortex, Osial plays a key role in the fight and is quite talkative in her nature.
In the story, you will see her interactions with Ganyu and Shenhe are pretty wholesome, and she always talks about their childhood experiences.
Chouji
Giga chad Chouji. At first, I thought he was a genius scammer because he made me collect Crystal Marrow, and you will find him near Jakotsu mine. But I didn't give up and wondered why a kid was alone in a village in a remote location.
Soon enough, as I did the quests related to him, I got to know about his backstory. I will not spoil his story here because I think you should experience it yourself.
Ioroi

Ioroi is a Bake-Danuki who resides in the Chinju forest, which is just adjacent to the Narukami estate. You will interact with him on a few occasions, and he will drop some interesting lore pieces that will introduce some characters that lived in the past.
Other Bake-Danuki's will accompany you to various events and interacting with them is a wholesome experience.
Granny Ruoxin

Although she will look normal at first, she is the community leader of the Qingce village and knows a lot about some events of the past. You will interact with her in the Chi of Guyun world quest.
Note that the name has changed to the Chi of Yore and is referred to by its new name. I'm confident that you will learn a few interesting facts from the quest involving her.
Halfdan
Halfdan was one of the Royal Knights of the Eclipse dynasty that collapsed 500 years ago. From the story, we get to know that he fought alongside Dainsleif, who was also a royal guard for the same kingdom.
Dainsleif ordered him to protect Khaneri'ah, but he was cursed and eventually met Dainsleif and was assured that the kingdom was safe. Dainsleif did lie, but for the sake of his peaceful passing.
Related read: Dainsleif Genshin Impact Guide
Jinwu

Jinwu is a safety technician that we will meet in the Chasm. She's a key figure with whom you will interact on several occasions and guide you through your journey in the Chasm.
I must say, had it not been for her, I wouldn't have been able to enhance my Lumenstone Adjuvant and left wondering in the dark. She's an NPC with whom you will interact from time to time.
Lyudochka Snezhevna

Also known by the name of Gendo Ringo, in one quest, she reveals that she's an escaped Fatui agent who was raised in an orphanage by a Fatui Harbinger named Arlecchino.
If you want to know more about the Fatui Harbingers, I highly recommend you check out our Fatui Harbingers guide. I'm sure you will get to know some familiar names there.
Makoto
Raiden Makoto was the original Electro archon of Inazuma and sister of Ei. She perished during the Cataclysm event that occurred 500 years ago.
It might be possible that she got caught up in the same battle where Khaneri'ah faced obliteration. In Raiden Shogun's story quest, we get to know about her sister's story, and it was heart-wrenching.
Kazuha's Friend, AKA Tomo
A daredevil. Like Signora, he challenged Kujou Sara to a duel before the throne. However, he eventually lost the battle, and the Raiden Shogun gave him divine punishment. I would say he must be one hell of a person who had the guts to face the Raiden Shogun.
In a cutscene, when Kazuha faces the Raiden Shogun to protect the Traveler from a surprise attack, his friend's vision becomes active, and Kazuha goes on the head with the Raiden Shogun. A bone-chilling cutscene!
La Signora
One of the Fatui Harbingers was one of the main antagonists of the storyline and was arrogant and rude to others. She challenged the Traveler to a duel to death before the throne in front of the Raiden Shogun. The Shogun eventually executed her after she lost the battle, and it was the first time witnessing the power of an Archon.
Madame Ping

Madame ping is an Adeptus, unlike other ones who have a beast-like appearance; she's humanlike in the world. She's the one who will give you Serenitea pot, which is an in-game housing system where the players can have houselike functionalities.
Throughout the storyline, you will get to know about the past events from her and her past as well. Trust me, she's amazing.
Hanachirusato
She's a shrine maiden in Inazuma who will give you the world quest, the Sacred Sakura cleansing ritual. I would say this is one of the best world quests in the game, and you should complete it! It's an extraordinary quest that gives you a memento at its end, and you are also able to learn the Hakushin Ring blueprint.
Ruu
Ruu has one of the saddest backstories in the game. I don't think it's good on my part to spoil the beans here about his story. But I would say that when you will reach Tsurumi Island, pay attention to his dialogues and don't rush the quests there as there are a lot of interesting backstories.
Teppei
Teppei was a member of the Watatsumi Army who eventually rose to the status of Captain. He was one of the most kind-hearted and genuine NPC's in the game. Unfortunately, the events led him to a meet with the Fatui, and falling to their tricks, he lost his fight. Another NPC whose untimely demise affected me the most in the game.
Osial
Osial, also known as the overlord of the Vortex, was an ancient god who posed an immediate threat to Liyue. He was the main antagonist who was unsealed from the depths of the ocean and wreaked havoc on the city.
Thankfully, the Traveler, Liyue Qixing, and Adepti were able to defeat him, and Ningguang sealed him again after sacrificing the Jade Chamber.
Taroumaru

Who could have known that the owner of Komore Teahouse is a dog! He's a Shiba Inu dog who sits in the Teahouse but doesn't have any dialogues with him. To me, he seems pretty chill, and I want to give him a head pat.
Teucer
Teucer is Childe's younger brother who once came all alone from Snezhnaya to meet him on a boat. Childe was stunned to know about his brother and asked the Traveler to babysit him for a day.
Somewhat surprisingly, his brother didn't realize that Childe was a Fatui Harbinger and thought he was a toymaker. I must say that the story quest was rather interesting, fun and thrilling at the same time.
I remember a scene where Childe transformed into his delusion form and obliterated the living breath out of a bunch of ruin guards. Truly amazing!
Timmie

Timmie is an NPC who is usually on the bridge to the city of Mondstadt. It's common for the community to test their characters on his pigeons and have some fun there. Jokes aside, his story is full of sadness because his father died, but he doesn't know about it yet.
Paimon
Emergency food is an NPC who will accompany you on every journey, every moment, and even take care of you sometimes. There's not a single time where Paimon leaves your side and always being a bit suspicious about all sorts of things.
There are a ton of speculations and theories about her role, but still, nothing is sure because we don't know everything about her, and she occasionally dodges direct questions. Who knows what she's hiding, but for the time being, she's on our side.
Unknown God
Unknown God is the Sustainer of the heavenly principles; she is the one you face at the beginning of the game. It's inevitable that we will face her again down the line, but it's not certain when that time will come. I think that she's got an immense role in the story, and only the time will reveal the answers to our questions.
Enjou
Enjou was one of the NPCs that appeared in the Enkanomiya region and was eventually revealed to be related to the Abyss order. From his quests, we get to know the shocking truths about gods that weren't originally from Teyvat.
Not only that, there were some claims that were chilling to the core. In the end, he hints that Paimon may betray the Traveler at one point, and there was a really eerie silence about it.
Zhiqiong
Zhiqiong is one of the Adventurers who will join you in investigating the Chasm and accompany you to its depths. I really admire her for her determined attitude. Though she's all determined to uncover the secrets, the Traveler often advises her to rest and take care of her health. She's an essential character in the Chasm exploration.
A Few Questions
That was a brief about NPC in the game, and I hope you got to know about some unique characters that you have already met or will meet in the game. Before I wrap up everything, let's review a few interesting questions you may not want to miss. Maybe you will find something of interest.
Question: Which NPC has the Most Effect on You?
Answer: I would say Teppei was one remarkable NPC whose story affected me the most and left a mark that will remain forever. If you observe carefully, then most characters in the game try to take benefit of the Traveler and make them do the tasks they need to be fulfilled.
Rarely does it happens that they get to know anything from the characters in the game, and usually, the Archons avoid all sorts of questions.
Dainsleif is one character who is a bit more open about the events that happened in the past and speaks openly about them. But Teppei has a different vibe.
I mean, he was one of the most genuine characters in the game who treated the Traveler more than a friend. The guy cared for the Traveler till his last breath and always wished well for them. Scaramouche might not be behind delusions, but I'm going to snap his neck for mocking Teppei's death.
I'm pretty sure a lot of people were sad about his death, and I got messages from a lot of people that they were sad about a character's death. Genshin Impact really took a wild turn in Inazuma, and who knows what else is yet to come.
Question: Which NPCs do You Think May End Up Being Playable Characters in the Future? Any Speculations?
Answer: A few characters like Baizhu or Scaramouche could be playable in the future. For now, that's all speculation; you should take it with a grain of salt.
I'm making these assumptions on the case that most of the uniquely designed characters end up becoming playable in the game. So, it might be possible we get another Harbinger, an existing character, or a whole new character in the game.
Question: What do You Think about NPCs in the Future?
Answer: If we go by the Genshin Impact Teyvat Storyline preview trailer on Youtube, then the next region we will get will be Sumeru. Technically, a nation that hosts the Dendro element and is full of researchers and knowledgeable people. But that's all a bet from my end that I'm making about the characters from there.
So far, whichever NPCs we have interacted with from Sumeru are quite knowledgeable in their fields and know the ins and outs of the research work. They spend numerous hours working hard on their thesis and trying to graduate from the Sumeru academia.
If you don't know, Lisa is also a graduate of the Sumeru academia and has been their best student in the past two centuries. Although she may look all cute and flirty with the Traveler, we cannot ignore that she is indeed knowledgeable in her field.
So, judging from all that, I'm sure every NPC we will interact with within Sumeru will have some interesting takes on things about the world.
NPCs: Final Remarks
You cannot complete the essence of Genshin Impact without NPCs because they are valuable to the game's story. Though some annoying ones like Reckless Pallad may not have a good impression on you, there are ones like Teppei who are in a league of their own.
At first, it will look like the game is all about finding your lost sibling, but as you progress, you will see yourself entangled in various nations' affairs.
You get to meet every nation's Archon, but there's no solid information about your lost sibling. Likely that they are hiding something from you or aren't able to tell you because of someone's fear.
But in the end, you are on your own. Still, there are a few NPCs and playable characters who care for you and genuinely wish the best for your journey.
That was a brief about the Non-playable characters in Genshin Impact, and I'm sure you will meet a few of them real soon. There are so many NPCs in the game that sometimes I find myself confused because of their similar character designs.
But, it doesn't matter much as long as you are enjoying the game and able to feel the emotions of the story.
Feel free to head over to our other guides on characters, weapons, or the world in general. I'm sure you will find something interesting to read! I'll take leave for now and soon meet you in another exciting guide! Till then, Take care and have plenty of fun!
Read More: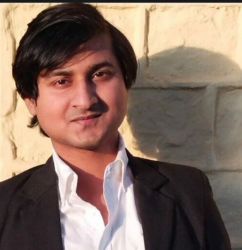 Latest posts by Himanshu Verkiya
(see all)