Money is an essential part of our lives. Since the beginning of time, we humans have had diverse methods of trading goods. In the early days of mankind, with no economic system in place, people traded livestock for items of equivalent value. It wasn't until we transitioned into modern times that monetary concepts were introduced, and people started using coins for trade.
Like any other game, Genshin Impact has its own currency, Mora, which we use in our daily lives in Teyvat. I wouldn't say that Mora has the same concept as a real-world currency because I'm pretty sure I cannot ascend myself as I do in Genshin Impact. Unless I drink Red bull, and suddenly wings pop out on my back. Jokes aside, Mora is an integral part of the game that players cannot ignore.
Without Mora, progressing in Genshin Impact is next to impossible. A universal currency that you can use across the entirety of Teyvat with uses ranging from ascending characters to buying goods at local shops, Mora plays an important role in our expeditions in Teyvat.
In this Genshin Mora Farming Guide, I will share special uses and sources of Mora that you can access in the game to make yourself rich. Without further ado, let's learn about all-purpose Mora, a currency that serves every purpose and can fulfill any requirement you will have in the game.
Using Mora
Before I dive into all the sources from where you can retrieve Mora, let's talk about its unique use cases. Being an omnipotent currency, Mora has weaved itself into all aspects of the game's system and is required at almost every step of the game.
Purchasing Items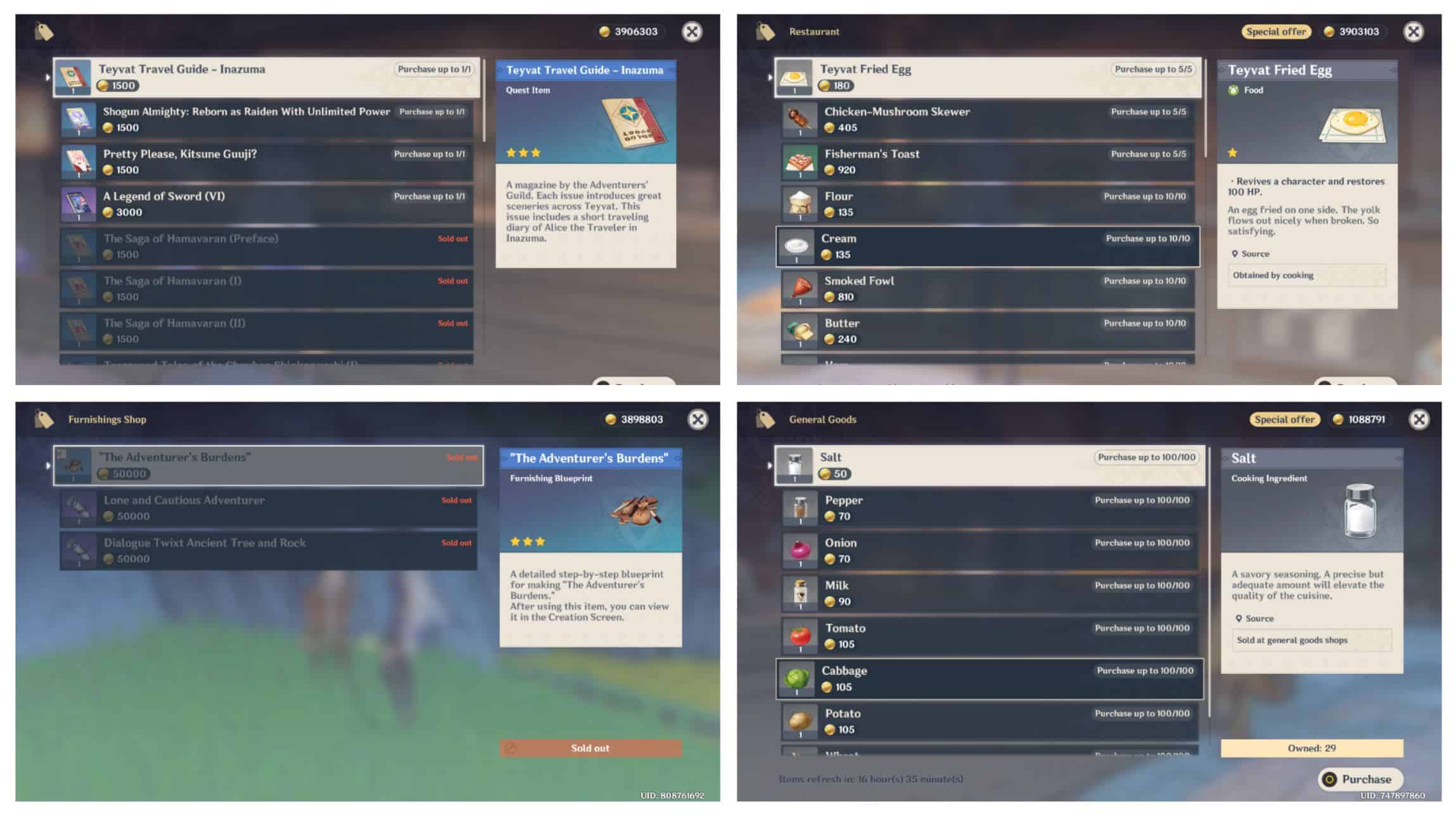 Mora can be used at shops to purchase various commodities. You can buy ingredients, food items, recipes, dishes, and other types of consumables. Besides consumables, you can also purchase furnishing blueprints that benefit the Serenitea Pot housing system. The NPCs that sell items will have a mark over their head, and you can exchange items for Mora. On top of that, you can also buy books from the Wanwen Bookhouse in Liyue or Yae Publishing House in Inazuma.
Buying Souvenirs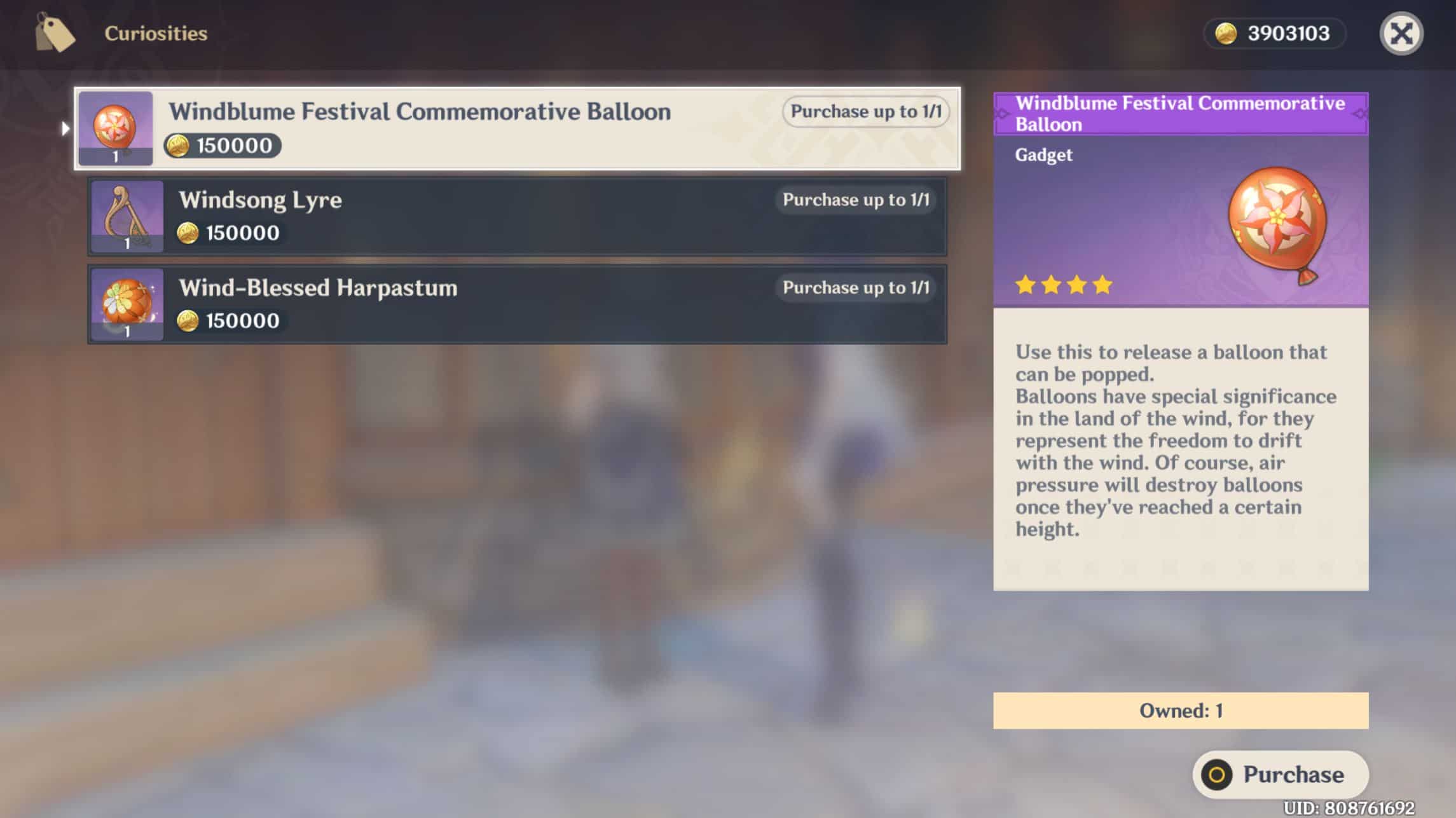 Genshin Impact features event-exclusive Gadgets that weren't available after the events, but with updates, the game has given the players the option to buy Gadgets and Souvenirs from NPCs. These NPCs will give you the desired Gadget or Souvenir in exchange for a large amount of Mora.
Crafting / Forging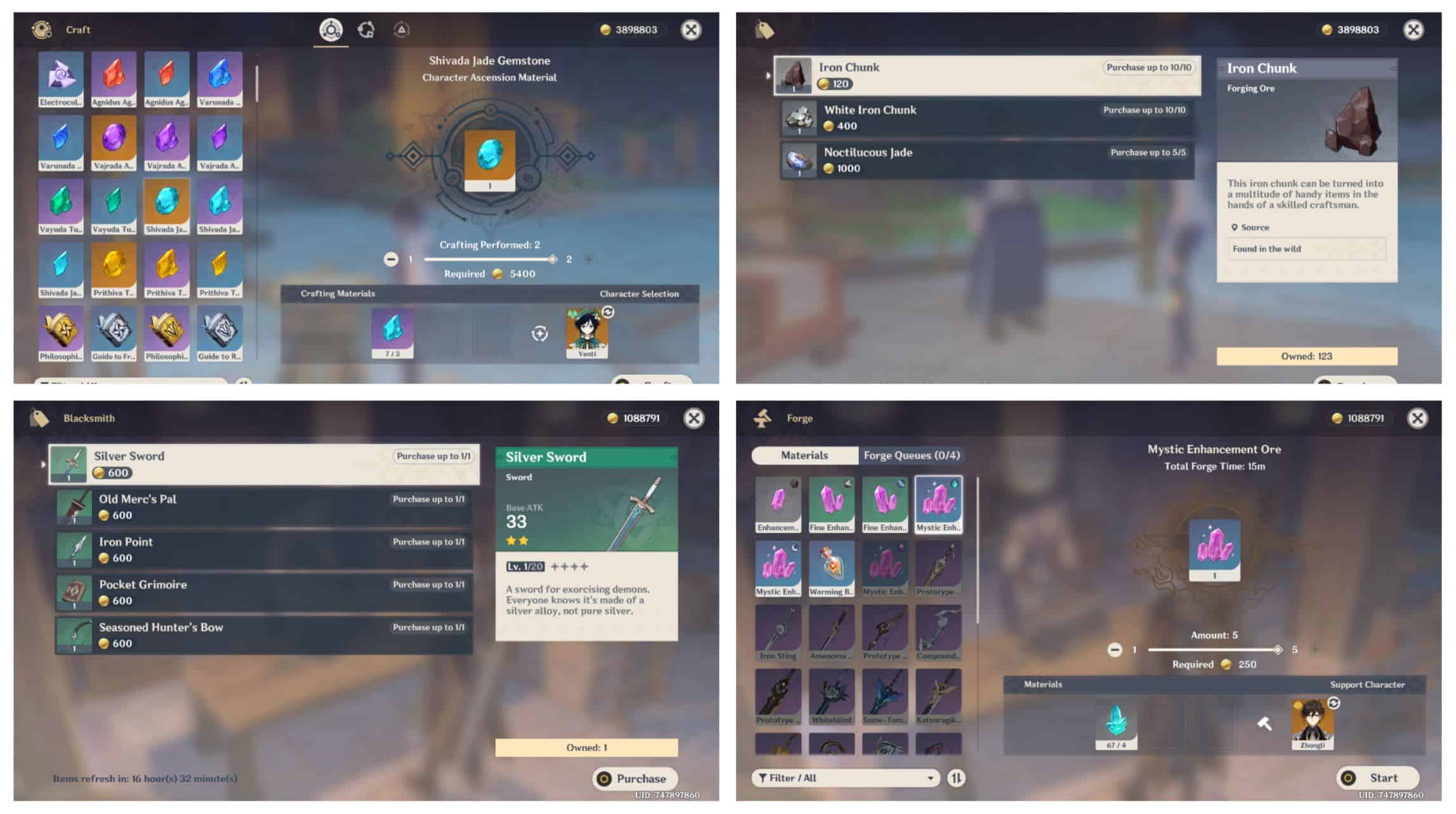 Craftable weapons are desirable in the game. These weapons will help you in the early game phase, and I highly recommend obtaining their diagrams. Once you complete certain world quests, you will receive their diagrams. For the record, I recently helped a friend to complete the Farmer's Treasure World Quest to obtain the diagram of the Amenoma Kageuchi in Inazuma.
After learning the blueprint, I went to the forging table and submitted the weapon along with the required Mora to process it to completion. Both the crafting and forging tables will require Mora to process the items, where the expense will scale according to the item's rarity.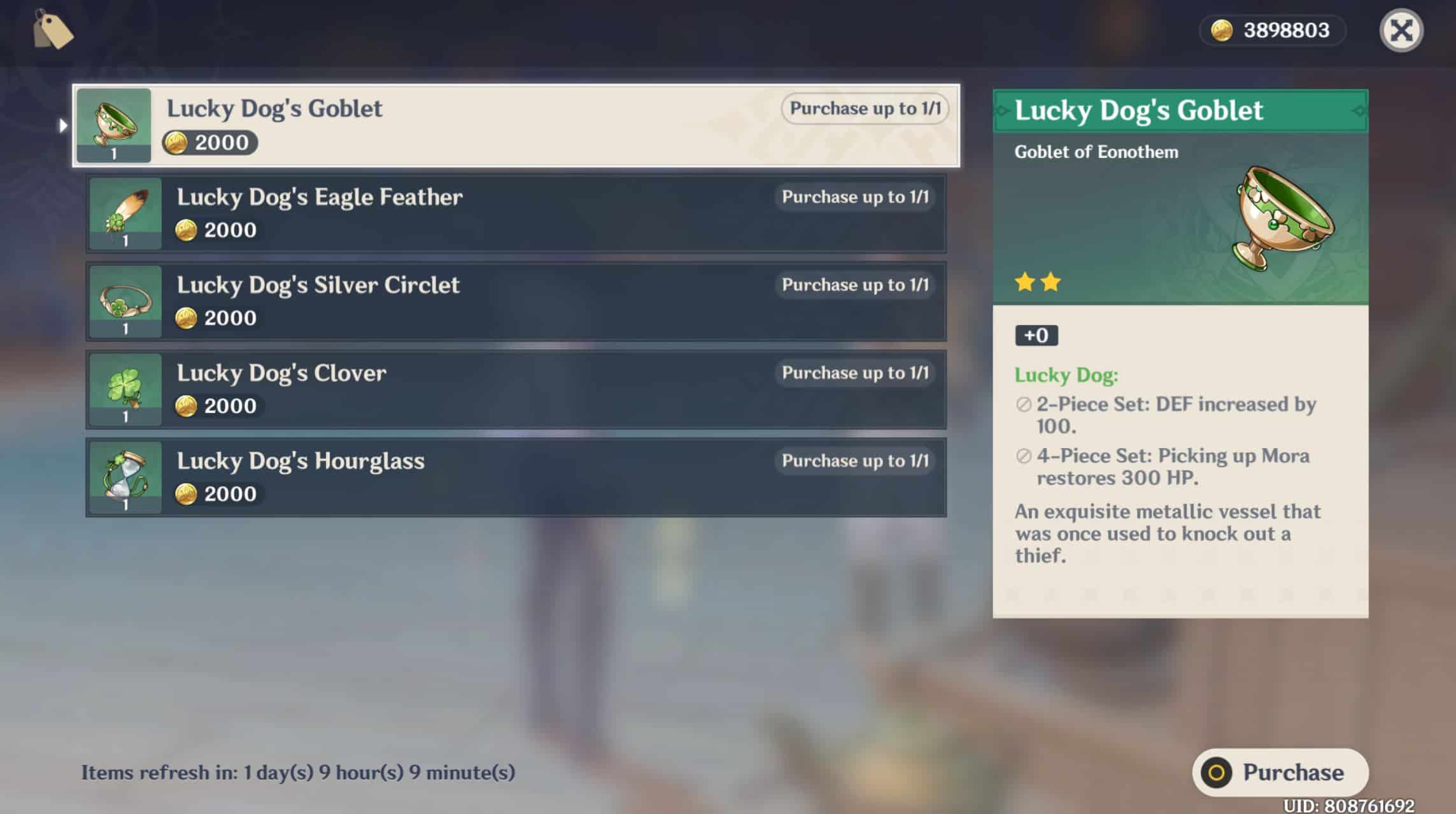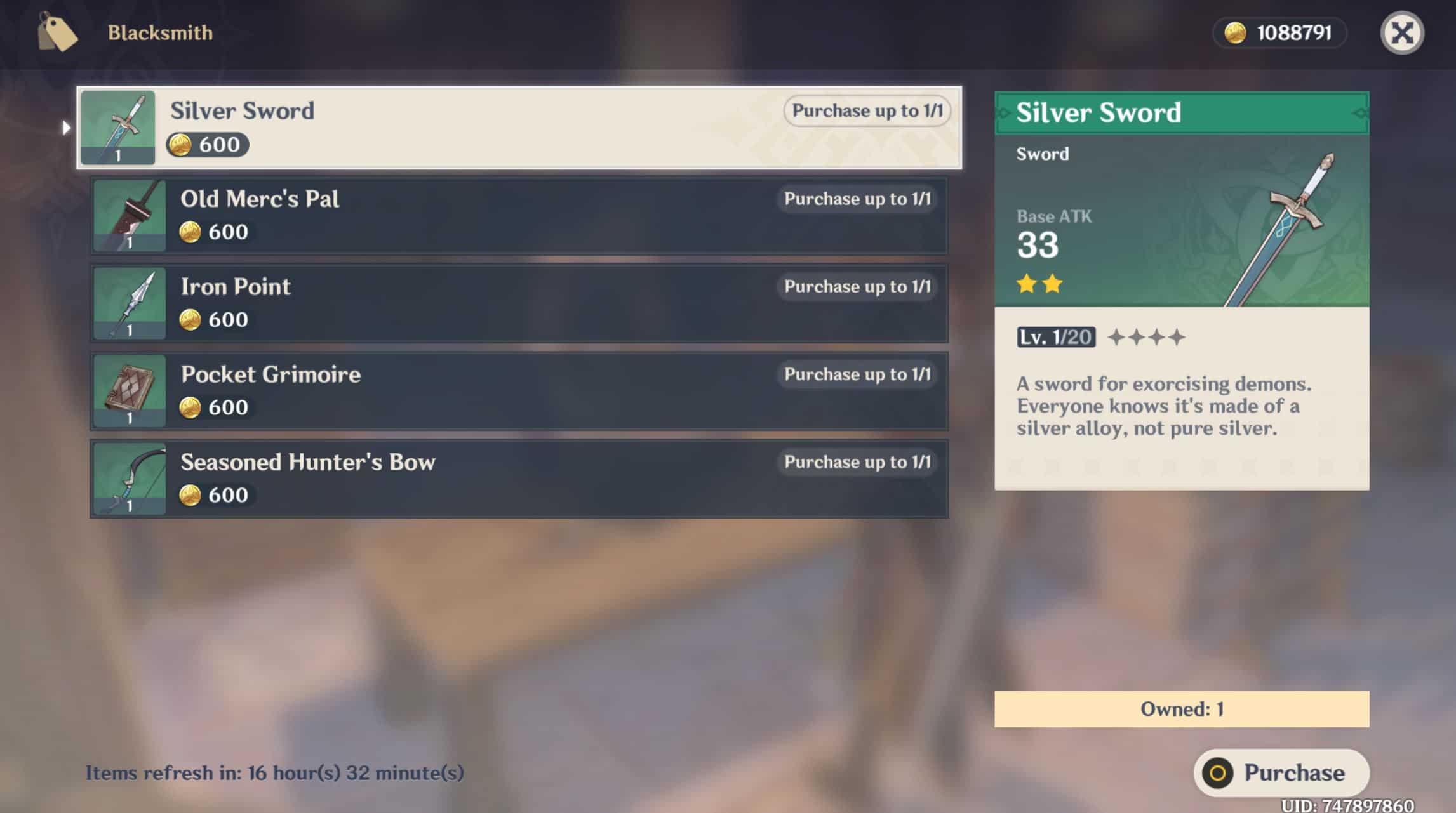 You can also purchase weapons from blacksmiths to feed them to other weapons. If you are looking for artifacts to feed to better pieces, head to certain NPCs that sell artifacts and purchase lower-quality pieces with Mora.
Still, you don't need Mora for everything. You can convert character ascension material like Nagadus Emerald or use the Dream solvent to transmute a talent material without any Mora.
Progression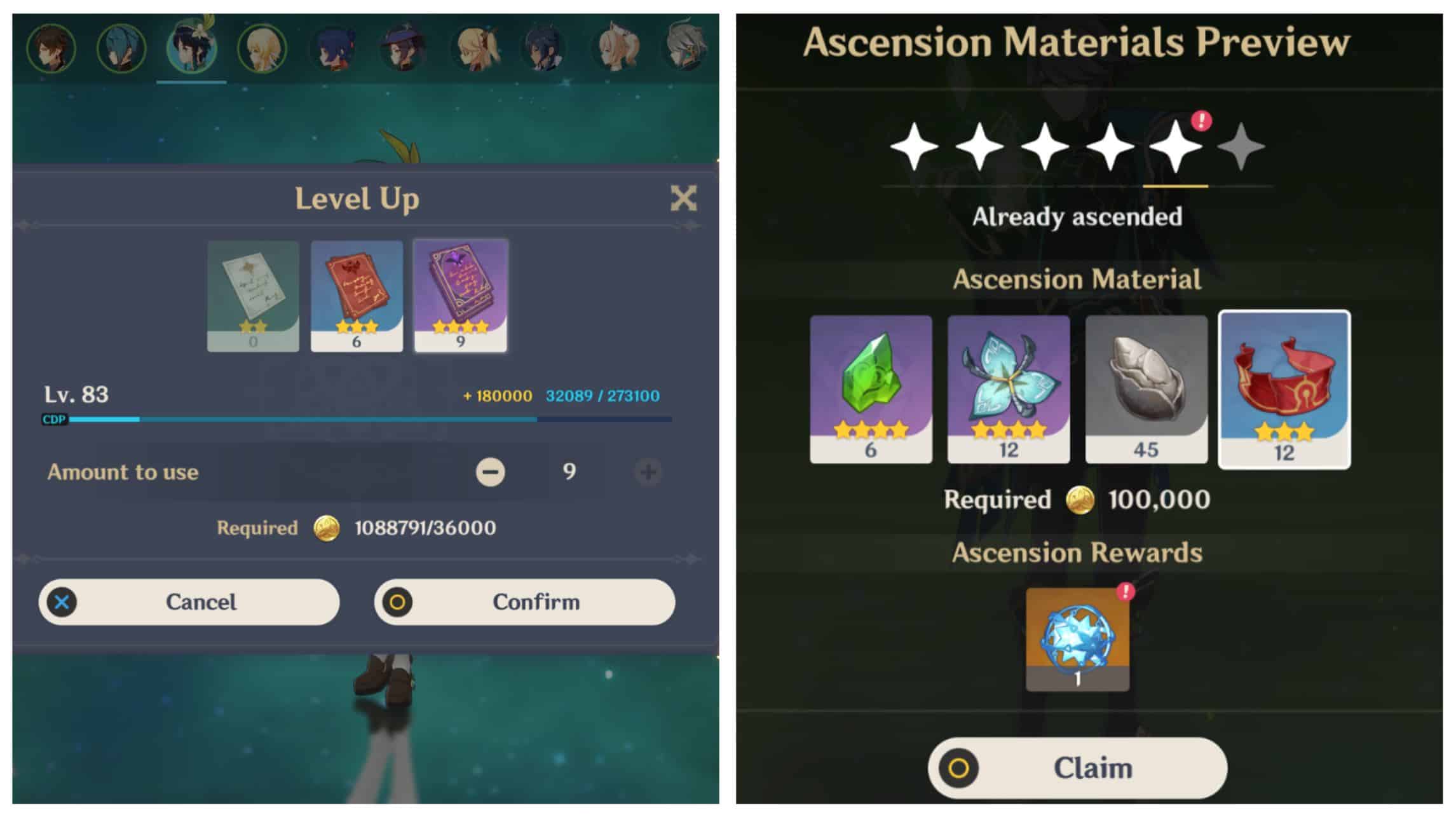 Most of my Mora has been spent on investing on my characters. Character ascension, talent level-up, and artifact level-up consumes absurd amounts of Mora. Besides that, I also needed it to level up their respective weapons and enhance them using the Mystic enhancement ores.
Sources of Mora
Before I dive into the best Mora farming options, here's an infographic you can quickly refer to get an idea of upcoming sections.
Events
Genshin occasionally features flagship events where players can obtain plenty of rewards. I've participated in all the events since the first one and haven't missed any of them. Why would you miss an event where you'll get tons of resources just for free?
Co-op with your friends, play mini-games, earn event currency, and redeem lucrative rewards. Most events have a rinse-and-repeat theme where you'll participate in activities to complete consecutive challenges and earn event-exclusive currency.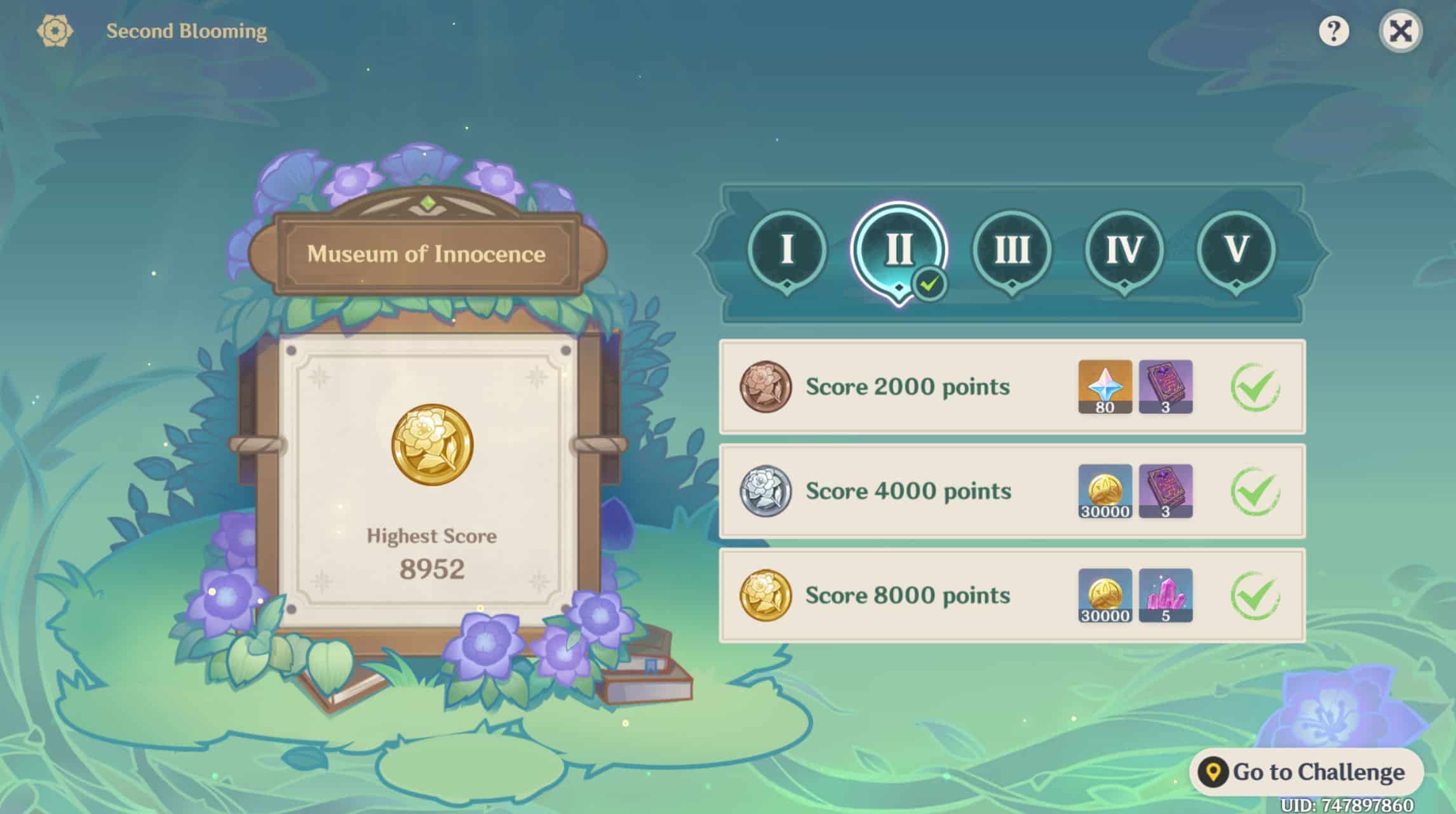 I would highly recommend participating in these events because the resources will help you save Original Resin and provide you an opportunity to earn primogems, Mora, character materials, and weapons.
For example, a flagship event like the Lantern rite can feature more than 1 million Mora. I've been a fan of events like the Lantern rite and the Windblume festival for the same reasons.
On top of that, you get to know more about characters and find lore crumbs that you otherwise would have missed. Currently, most of the events in Genshin Impact only run once, so if you miss any event, chances are, it won't be coming back in the future.
Even if an event launches in the future, it will probably have a similar theme but distinct rewards and mini-games.
Daily Login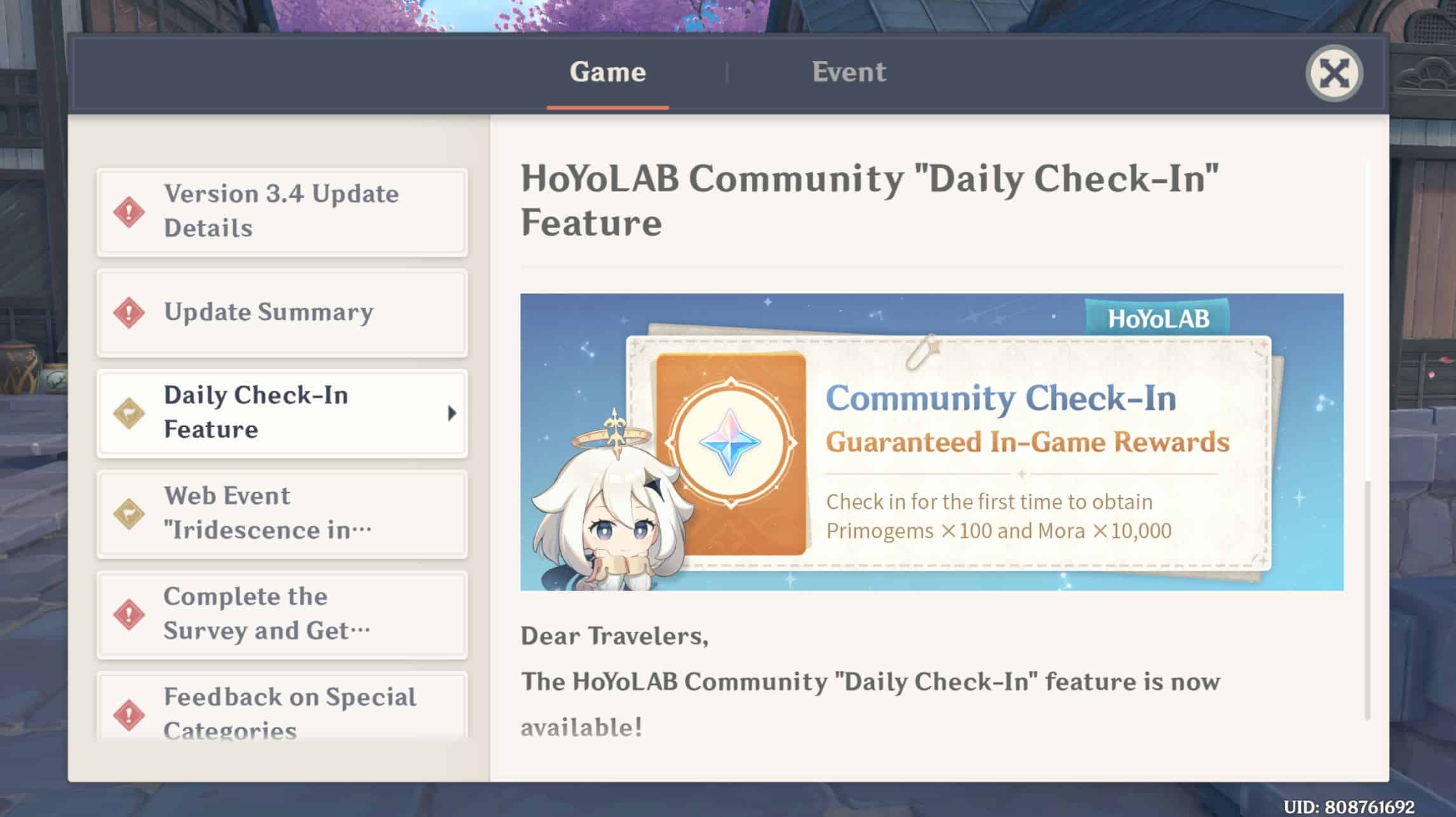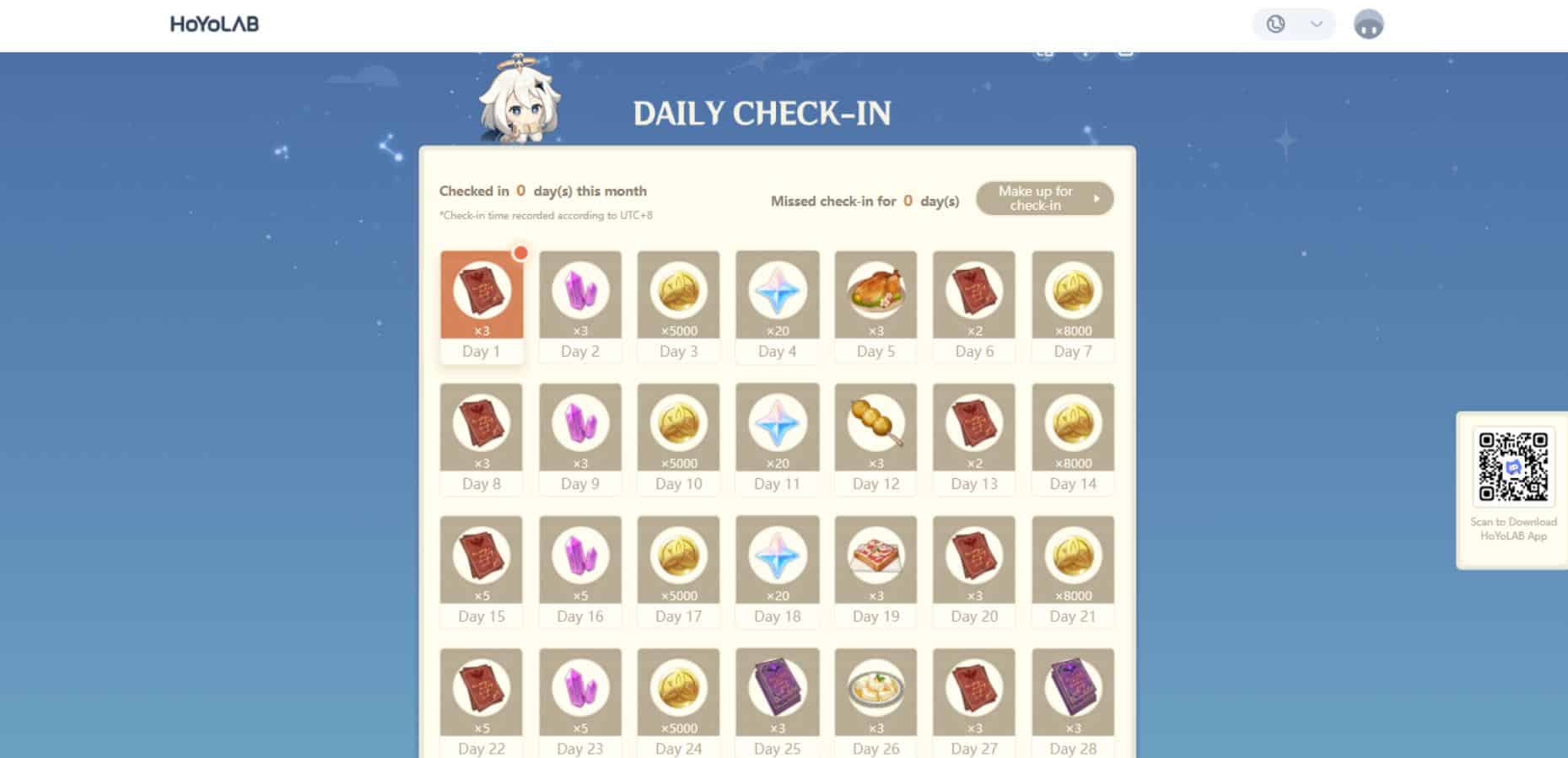 You can check in on the Hoyalab's website every day. These rewards are refreshed every month, and you can claim them by tapping on them. I usually keep a tab on my browser on mobile with Hoyolab's website, and whenever there's a new reward the next day, I immediately collect it by tapping.
It doesn't take more than 5 minutes to claim these rewards, and you can easily earn more than 50,000 Mora every month. The rewards aren't that great, but at the same time, they're free and don't take a lot of time. Open the site, collect the reward, and that's it.
Daily Commissions
Daily Commissions are assignments you get every day to complete in the game. The system isn't available in the game from the beginning. It unlocks once you complete the world quest " Every Day a New Adventure" after reaching Adventure Rank 12.
I would suggest prioritizing these daily commissions as they are a free source of primogems, Mora, Mystic enhancement ores, Adventurer's EXP, and Companionship EXP. With a limit of 4 commissions a day, you can earn these rewards in a rather short amount of time. The best thing is that you can set the region you want to complete commissions in the Adventurer's handbook.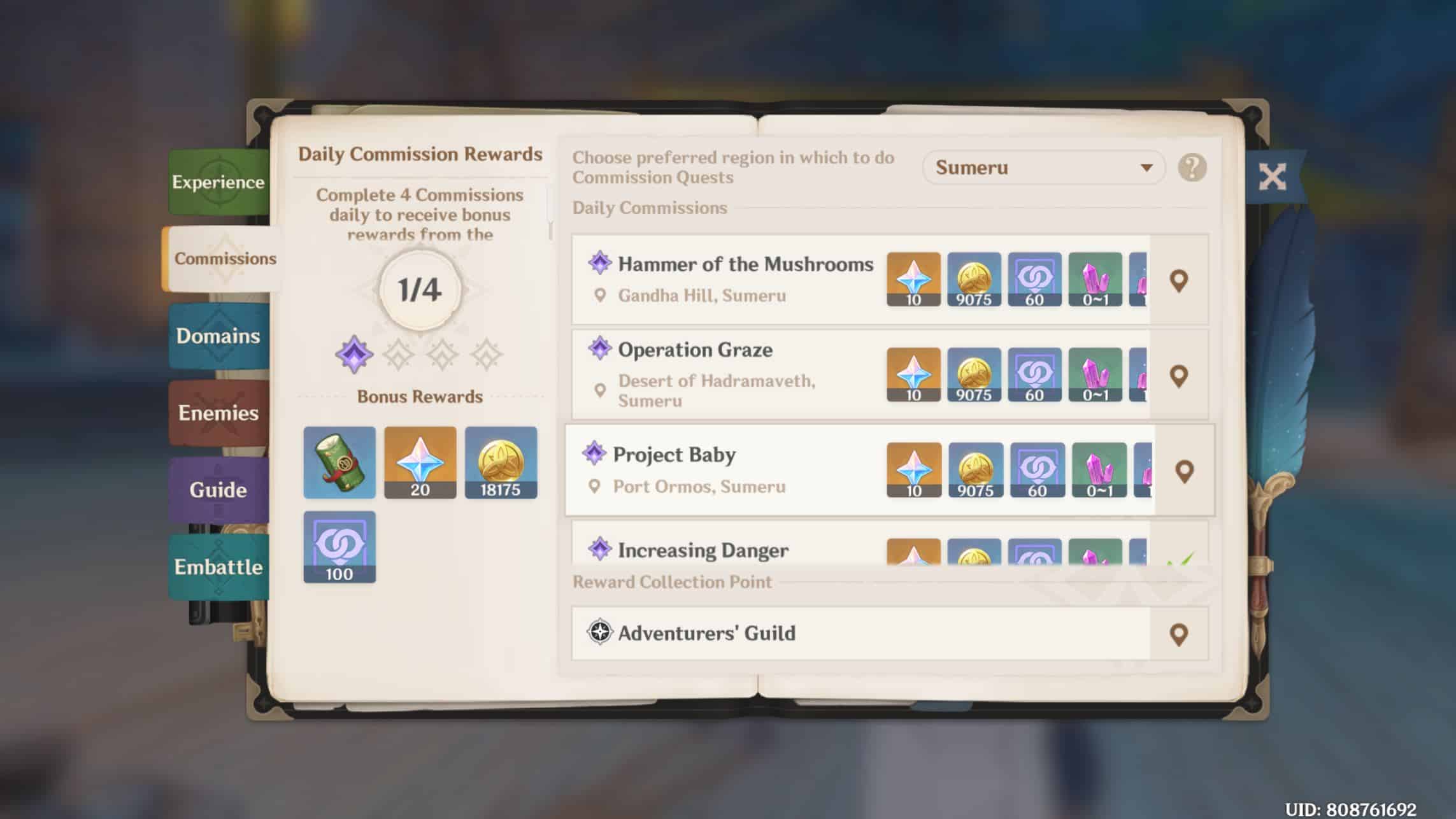 I occasionally switch my region between Mondstadt and Inazuma because I find the commissions there easier to complete. Each commission will grant you some rewards. Though these rewards depend on your Adventure Rank, you can check the exact amount you'll get from the Adventurer's handbook.
Since the day this book was added to the game, the experience has become smoother. Whenever I have to find a monster, locate a commission or check some domain's rewards, I open up my Adventurer's handbook and immediately mark them. Talk about saving time.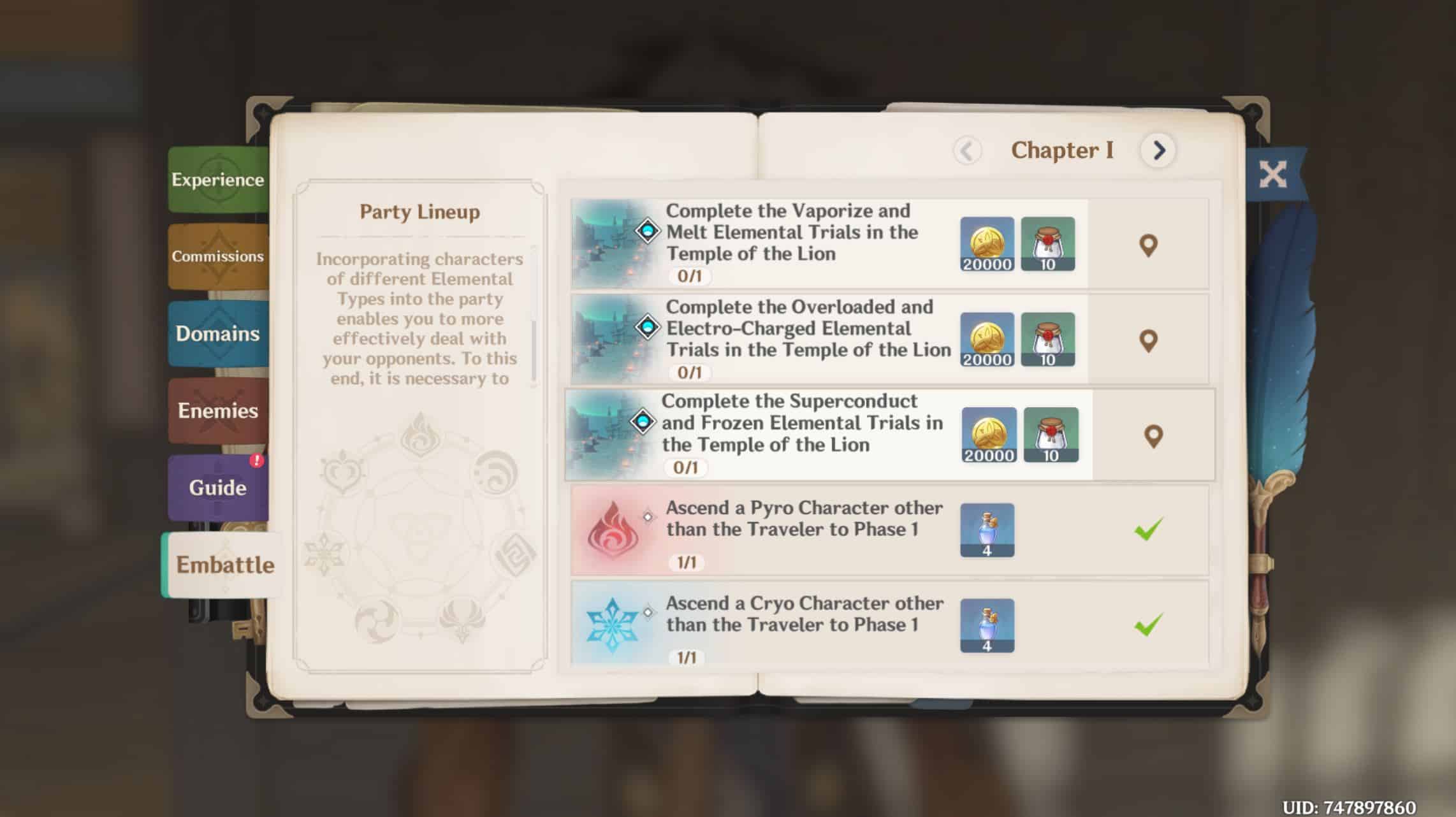 World Quests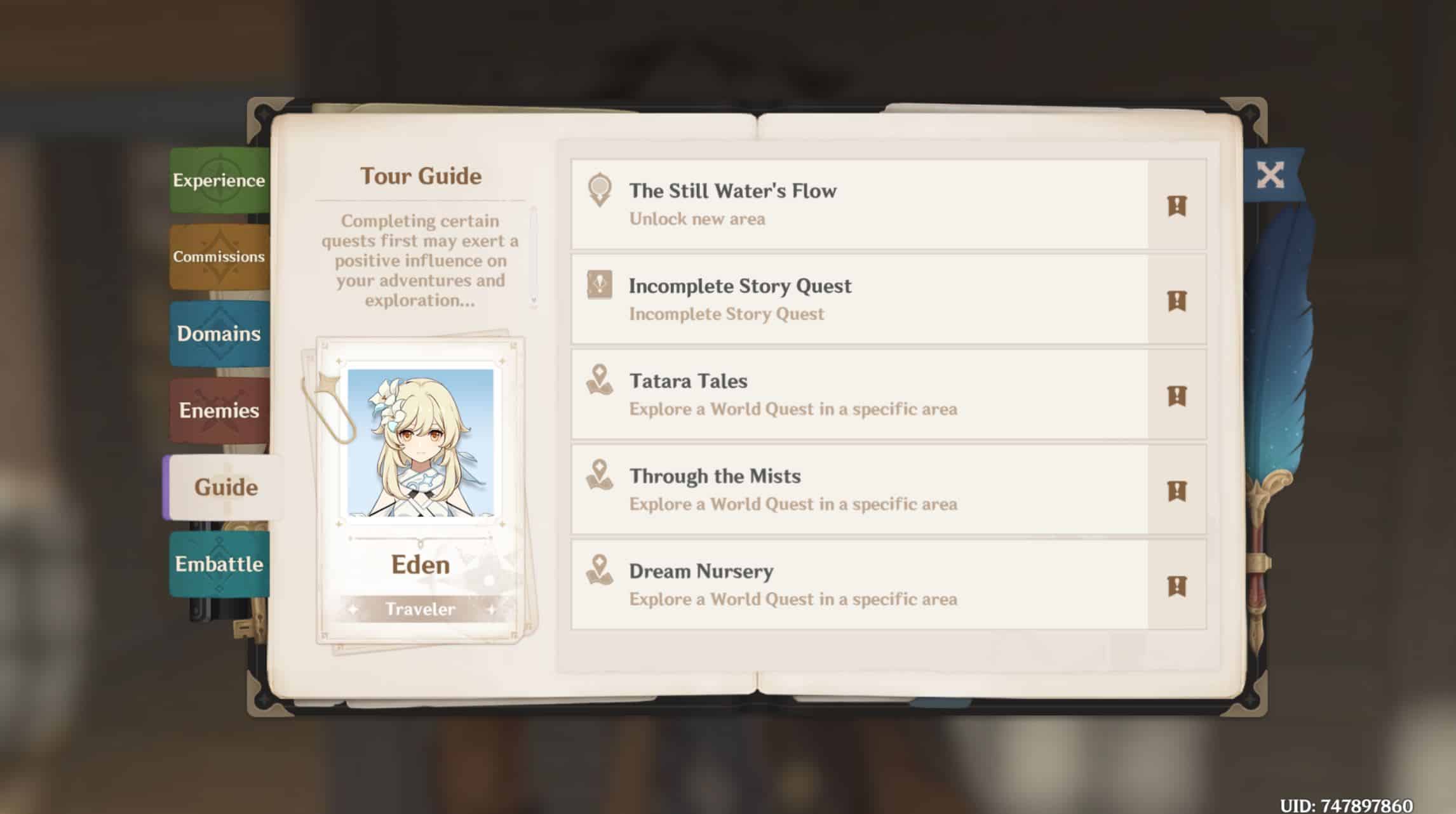 You can obtain Mora after completing World quests. Once you complete major storyline quests, you will receive primogems, Adventurer's EXP, Mora, and other rewards. The game has plenty of World quests that are spanned across regions.
Sometimes you will get them automatically, while others will initiate once you interact with a certain obtain in the overworld. I've spent a lot of time doing World quests, and the first one that impacted me was the Chi of Yore.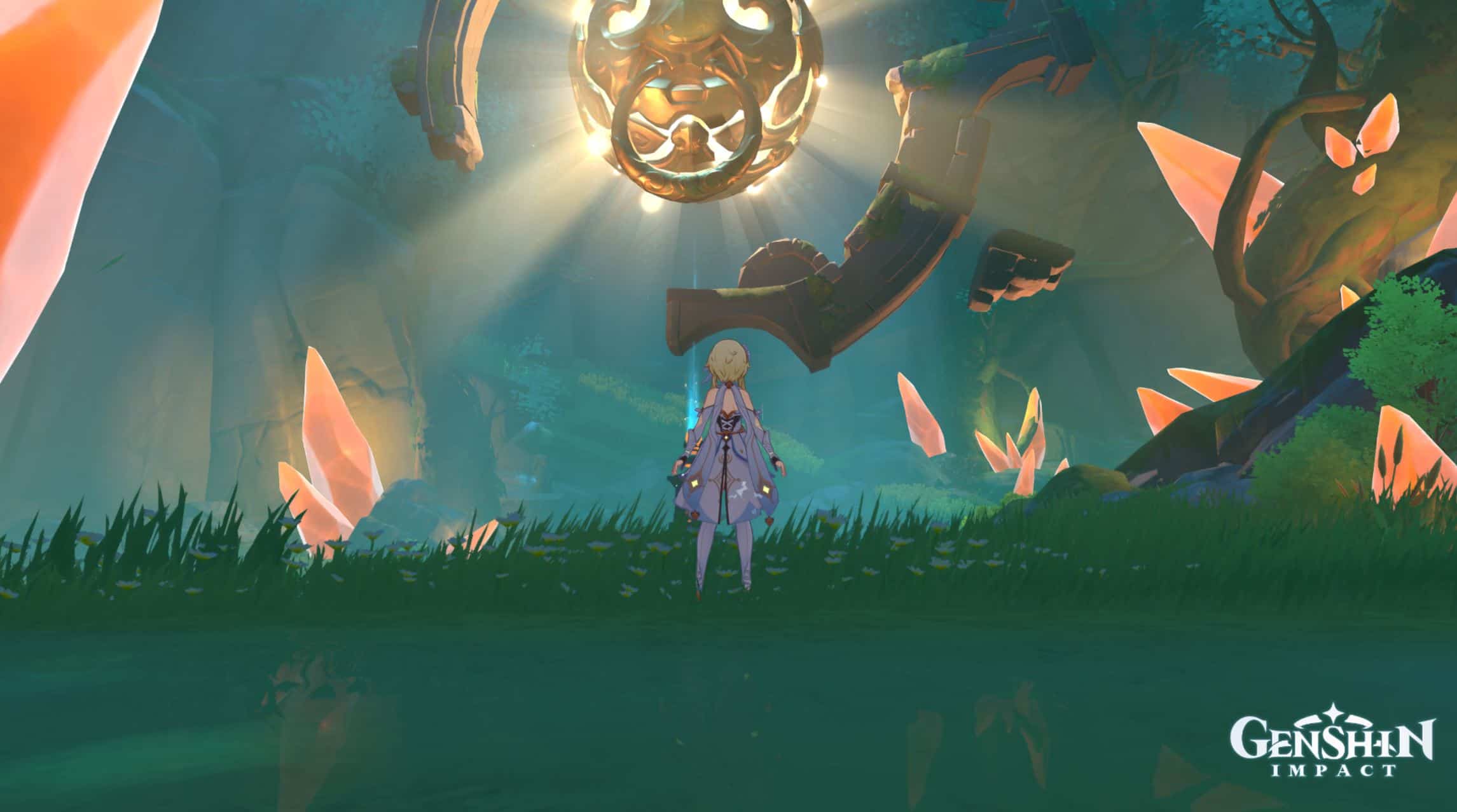 My characters weren't built properly, and I had to face powerful ruin guards and ruin hunters. It was a very challenging world quest, but I eventually aced it, and now I help others players to do the same.
Another quest,  The Nine pillars of peace world quest was also similar, where you could obtain plenty of rewards. I'm sure that you'll be able to find a lot of World quests in the game and clear them without breaking a sweat.
Archon and Story Quests
Most of the time, these quests will go hand-in-hand. There are some archon quests that are locked behind Story quests, and you have to complete them in order to progress through the story. For example, newcomers couldn't complete the third Lantern rite event because they didn't clear Ganyu, Yelan, and Kokomi's story quests. There were other prerequisite quests that stopped them from directly participating in the flagship event. I hope Hoyoverse allows players to jump straight into events.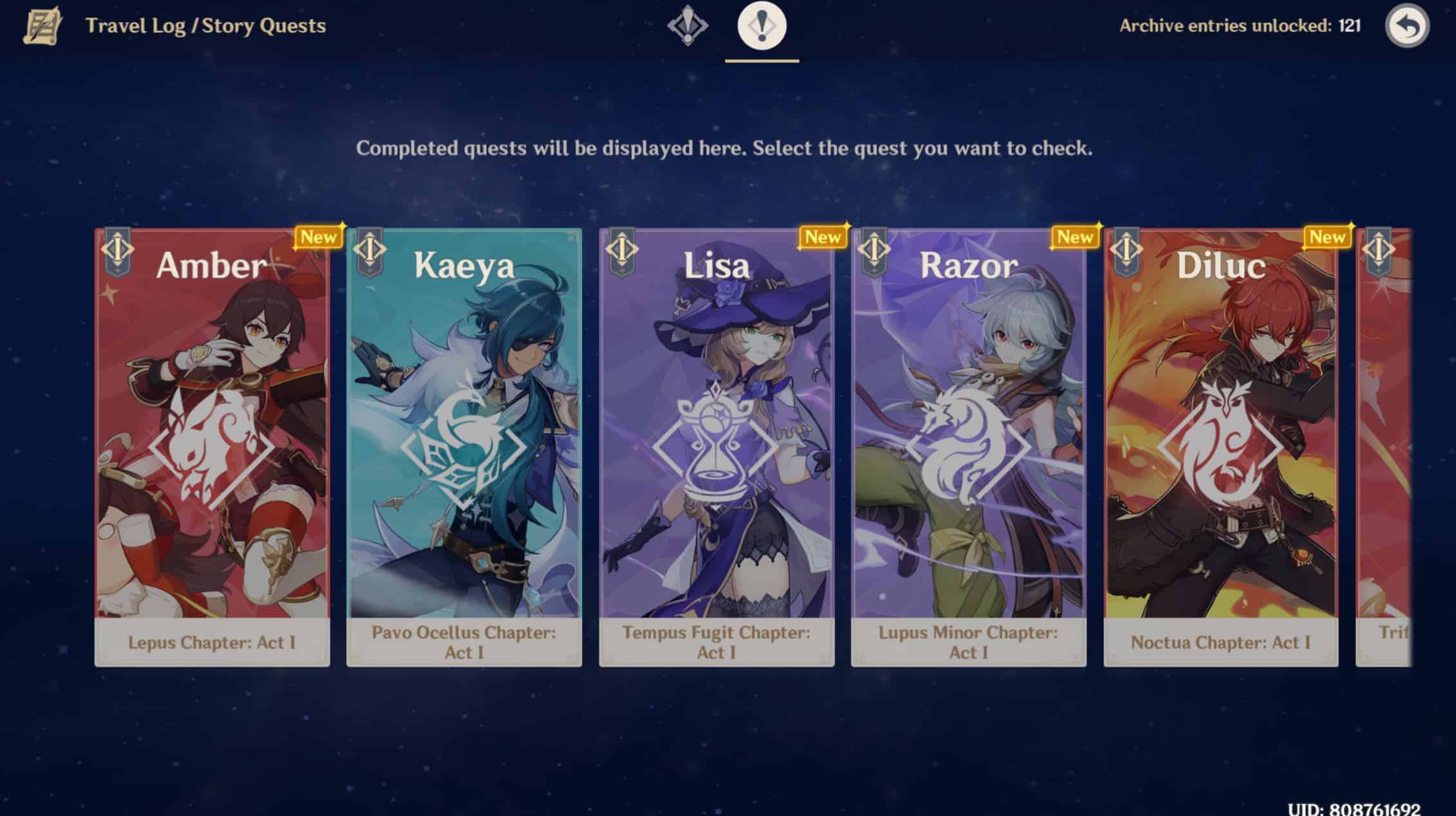 Besides that, the Archon quests, including interlude quests and story quests, grant plenty of Mora as rewards. You can also have a Quest item like a pouch of Mora from Childe's story quest that you can exchange for extra Mora.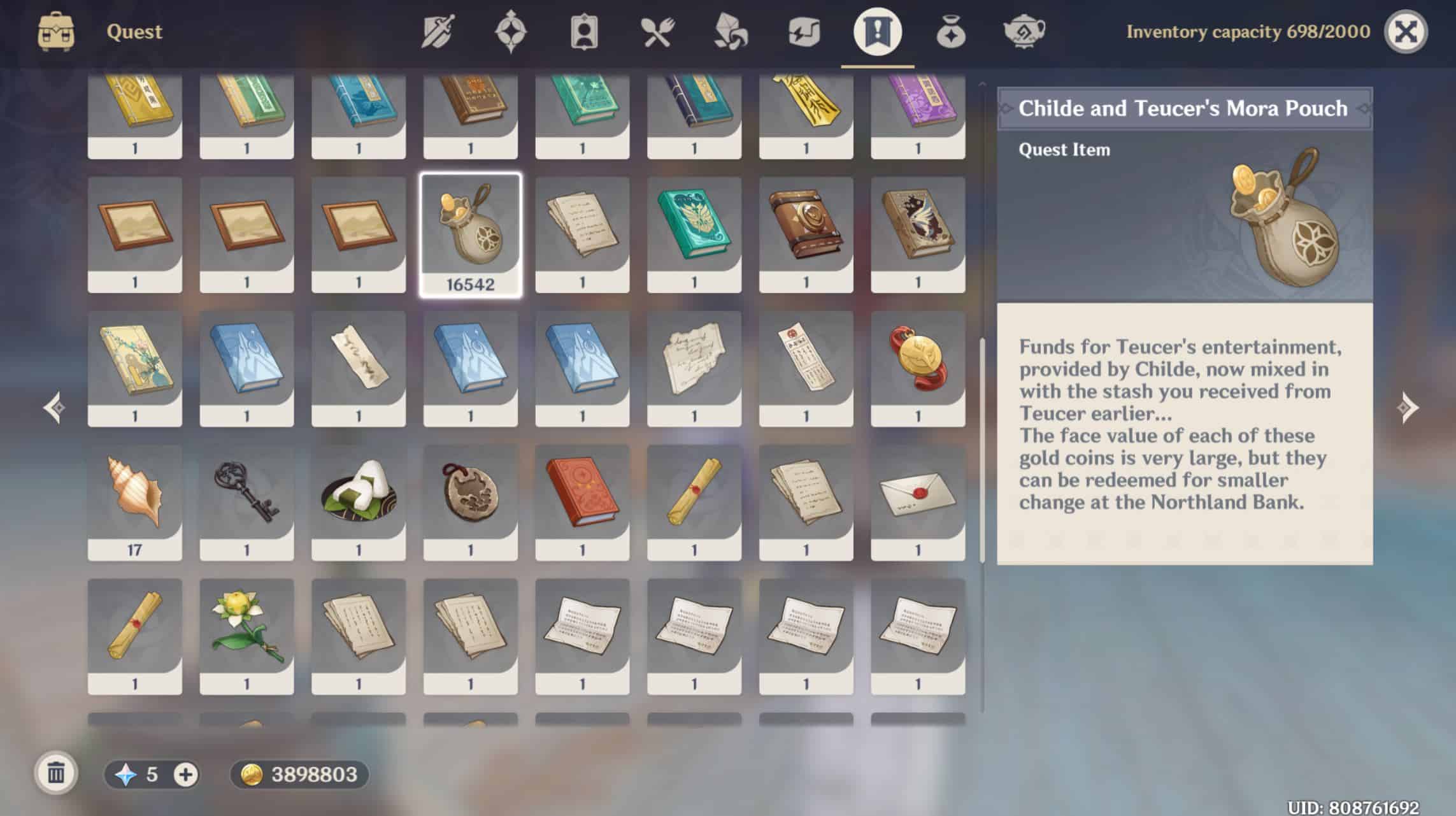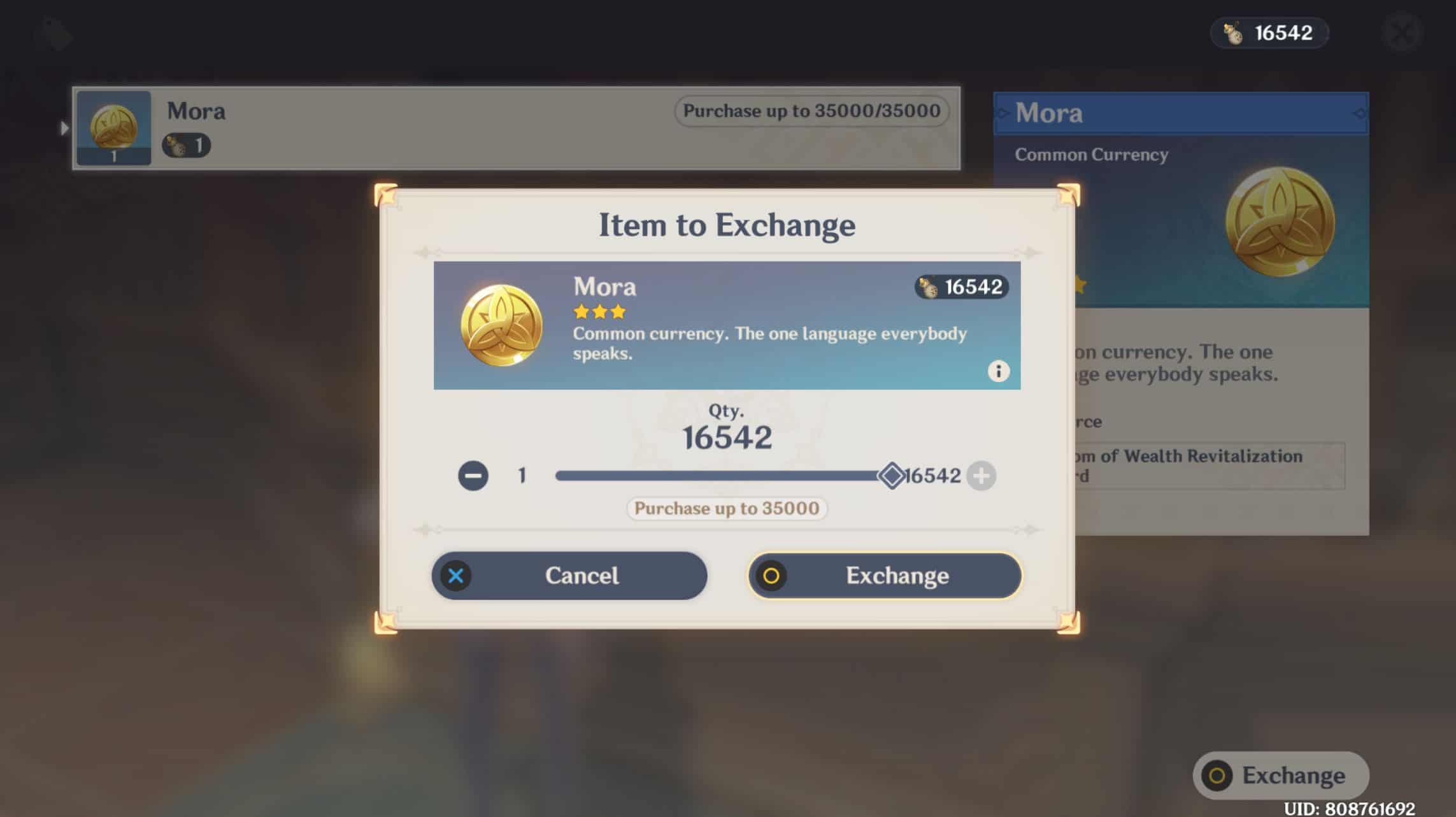 Expeditions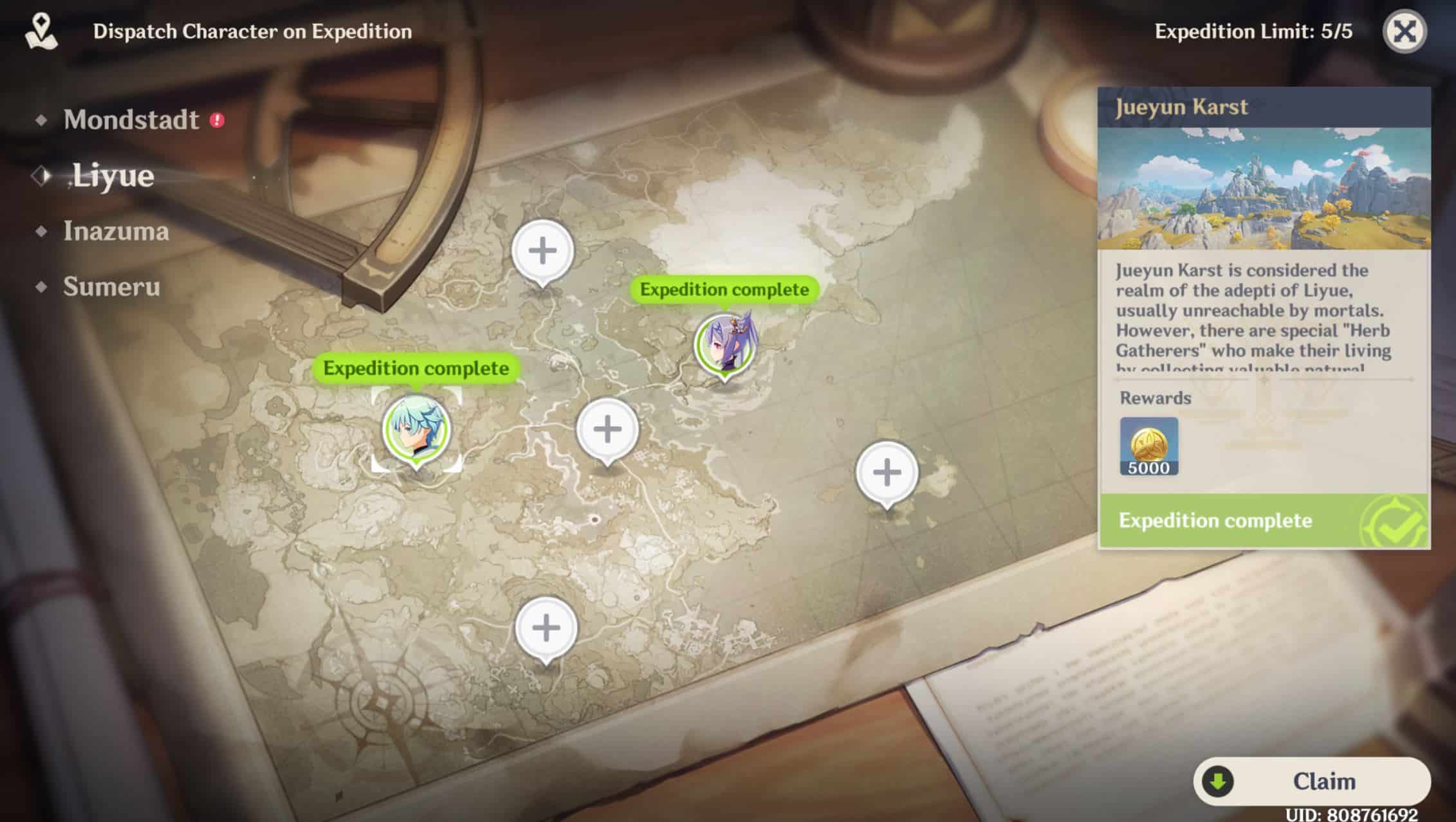 Once you reach Adventure Rank 14, after completing the World quest "Busy Adventurers' Guild," you can unlock expeditions in the game. Initially, you'll be able to send only 2 characters at once, but as your Adventure rank progresses, the limit will be relaxed. With a maximum of 5 characters at Adventure rank 36, you can farm a decent amount of Mora every day.
If you send your characters on the longest expeditions, with each taking 20 hours to yield 5000 Mora, you can obtain 25000 Mora every day. Additionally, characters' Exploration talents can grant them unique effects.
The following characters' talents reduce the time consumed in their respective regions by 25 %:
Bennett – Mondstadt

Fischl – Mondstadt

Keqing – Liyue

Chongyun – Liyue

Kujou Sara – Inazuma
The following characters' talents grant 25 % more rewards for 20 hours when dispatched in their respective regions:
Shenhe – Liyue

Yelan – Liyue

Kuki Shinobu – Inazuma

Faruzan – Sumeru

Cyno – Sumeru
Leylines: Blossom of Wealth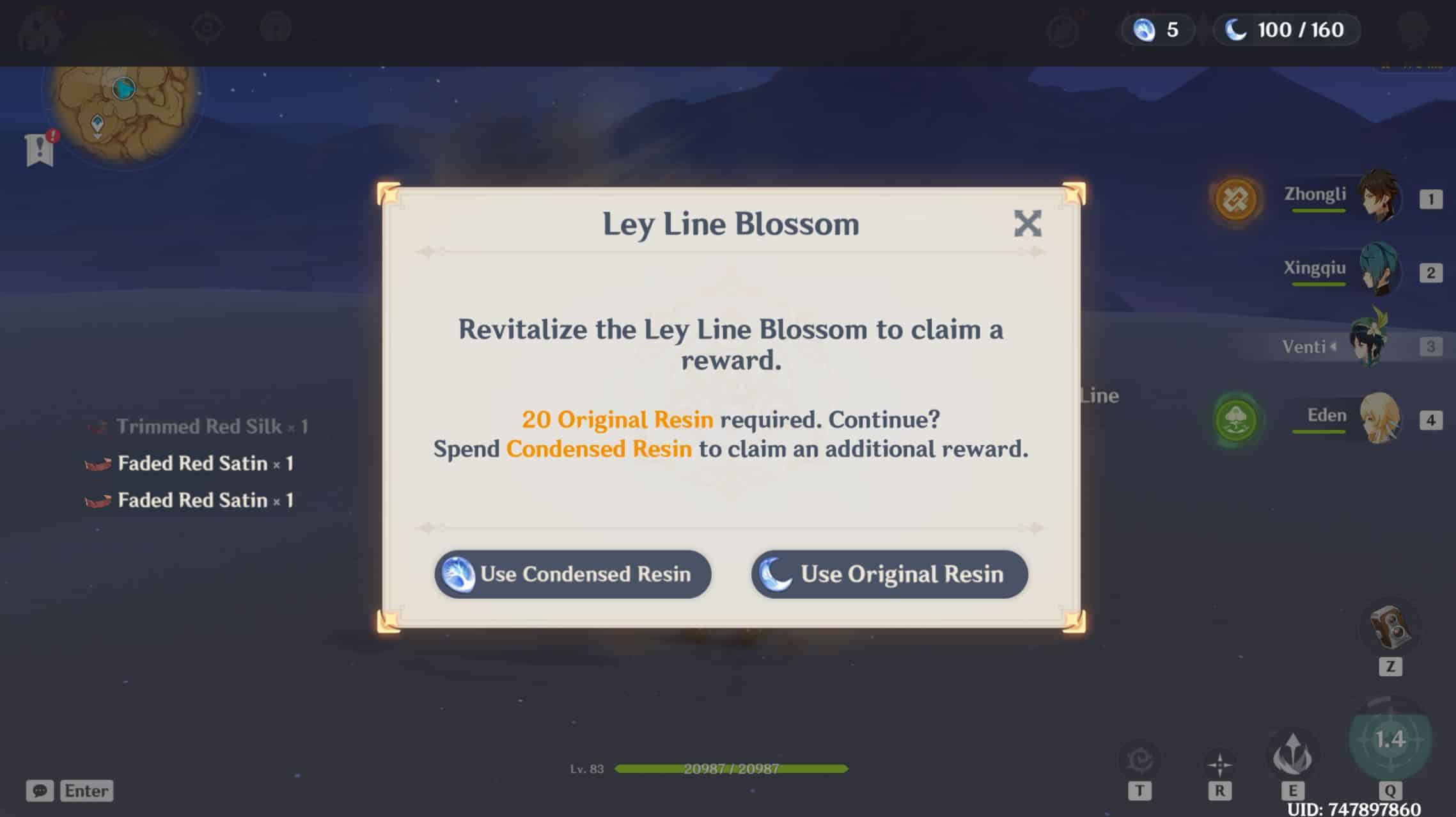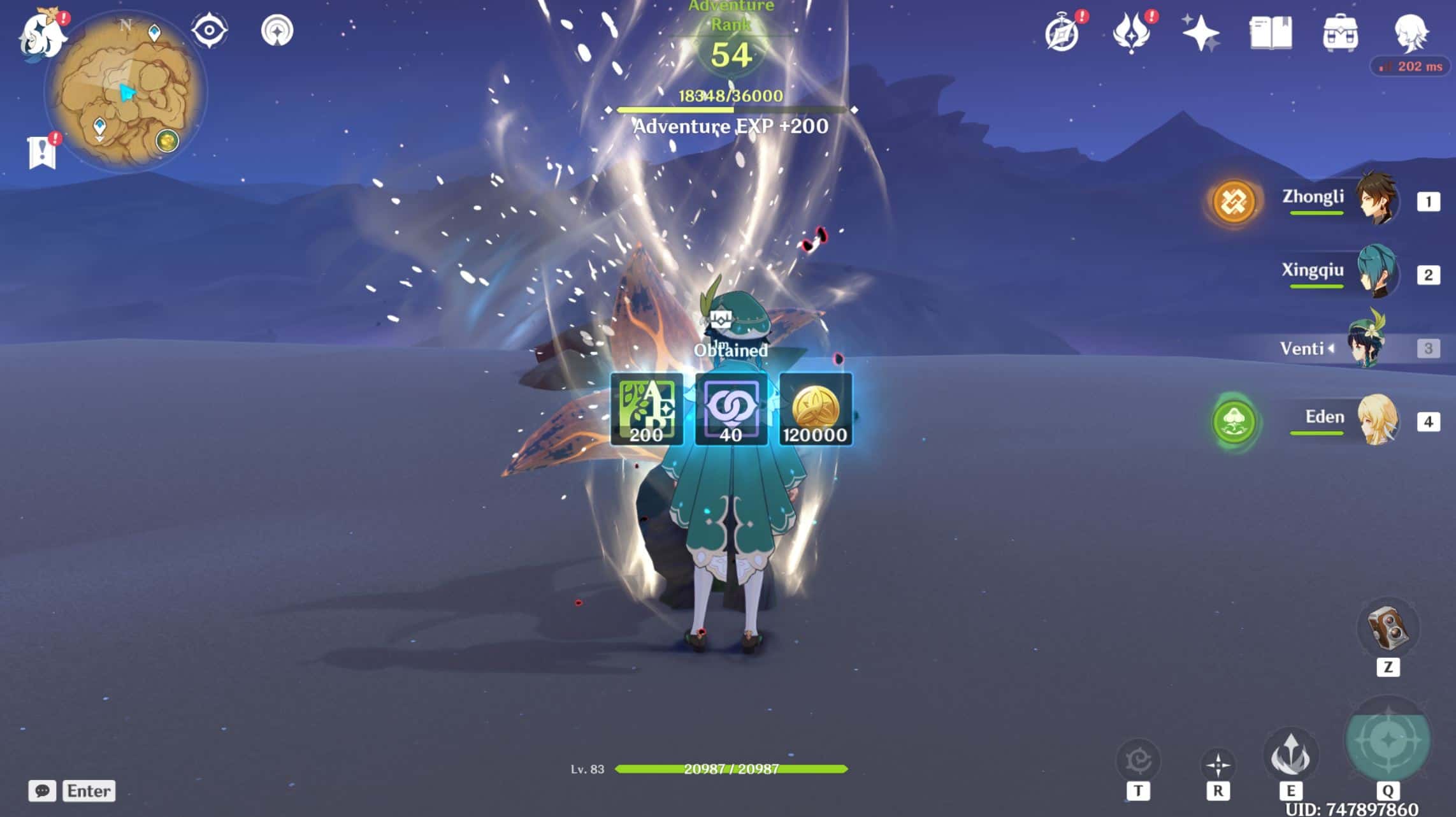 Ley line outcrops can reward you with Adventurer's EXP or Mora. After clearing the enemies, you have to spend 20 Original Resin to claim rewards from a Ley Line. I've lost track of the Resin I spent on Ley lines. Because how prevalent Mora's use in the game, I had to make consistent runs to these Ley Lines and use that Mora on my characters.
The amount of claimed resources will increase according to your world level, and the higher the level, the better the rewards. Once you are above the world level 6, you can obtain 60,000 Mora with a single run of Ley Line: Blossom of Wealth.
Gadgets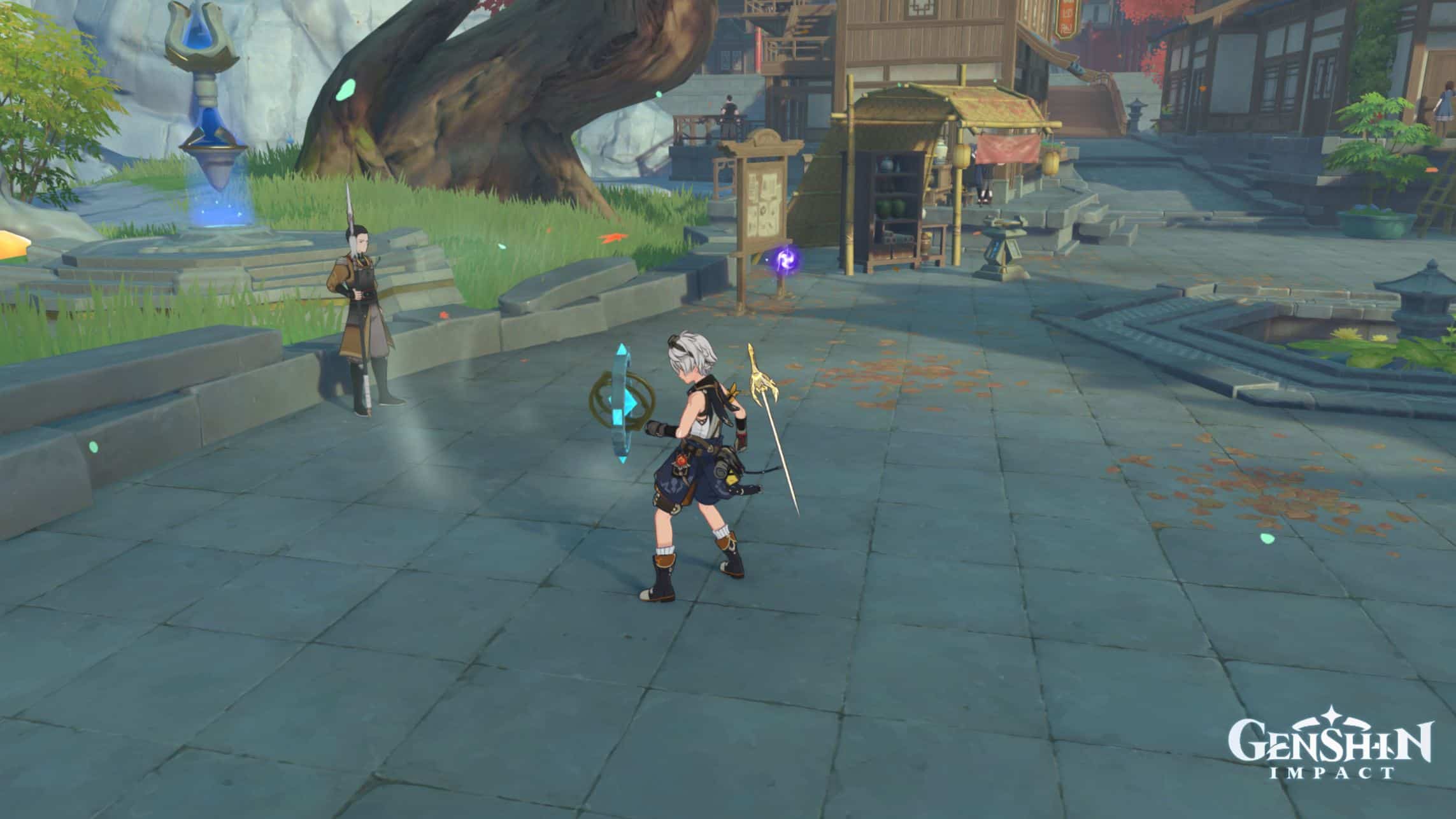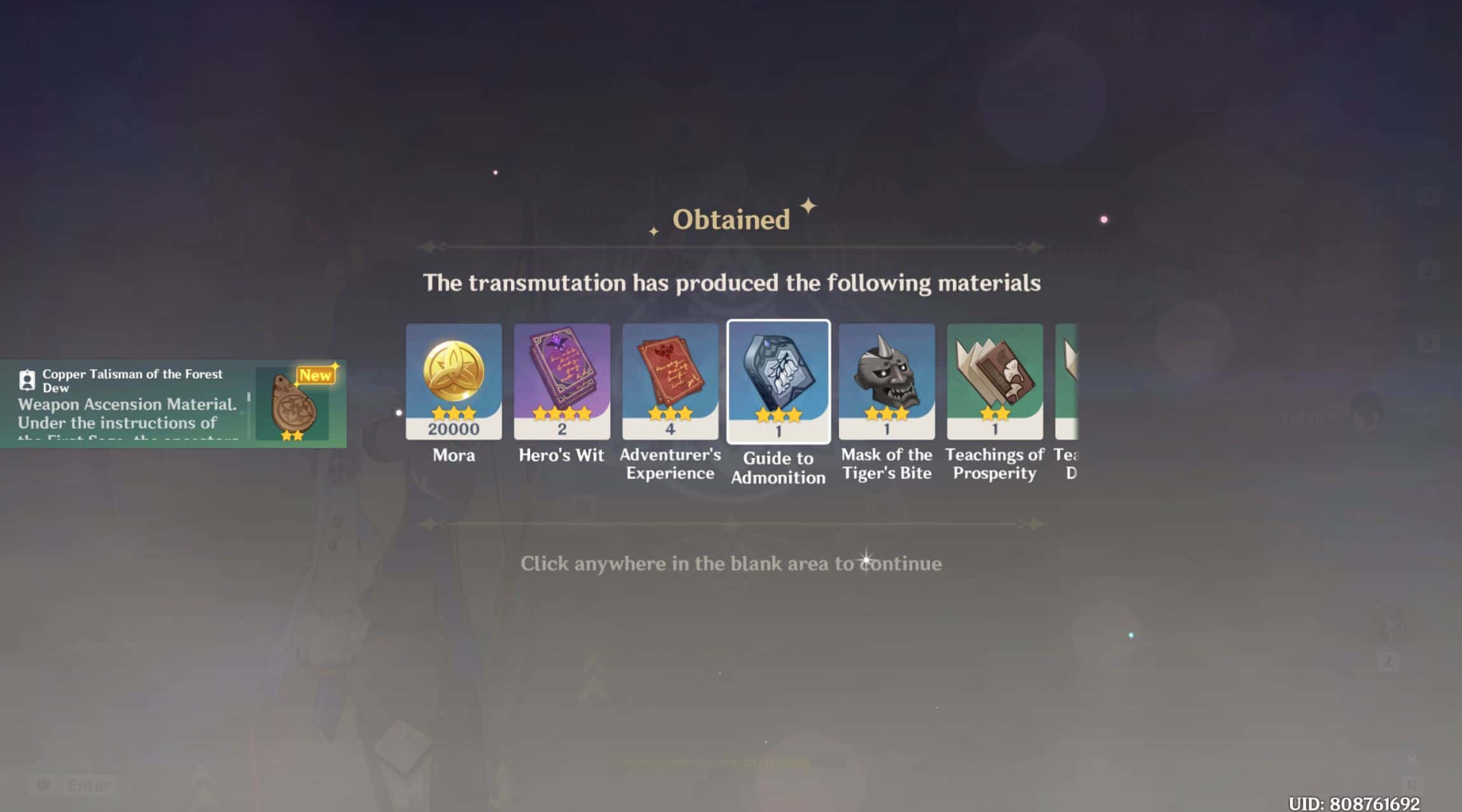 Gadgets like the Parametric transformer can help you get Mora and other rewards once a week. All you need to do is deploy the Gadget, feed some materials, and apply elemental energy. Once the process is completed, you can obtain around 20,000 Mora. I would suggest going over our Parametric transformer guide to know more about the Gadget in detail.
Reputation System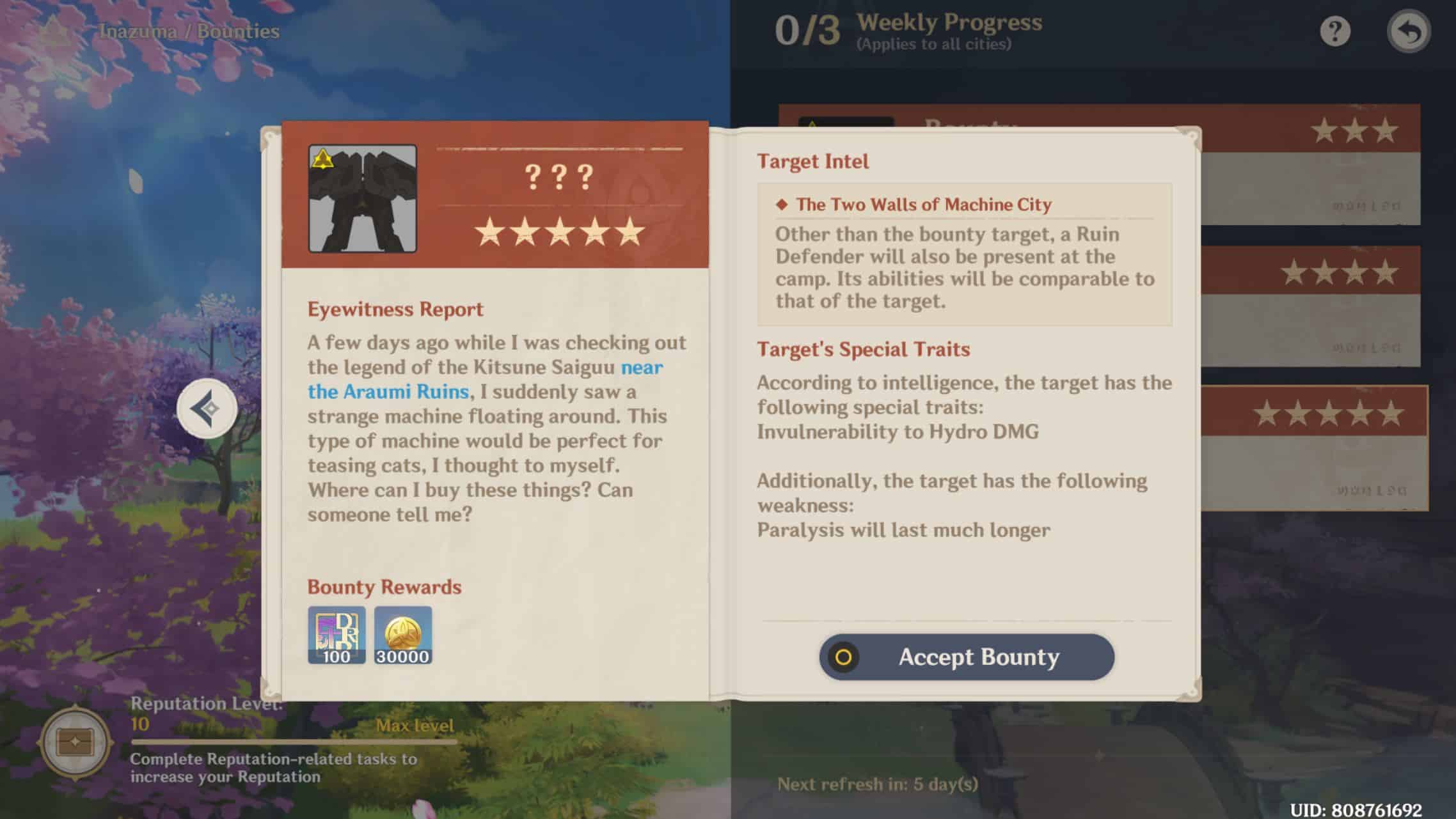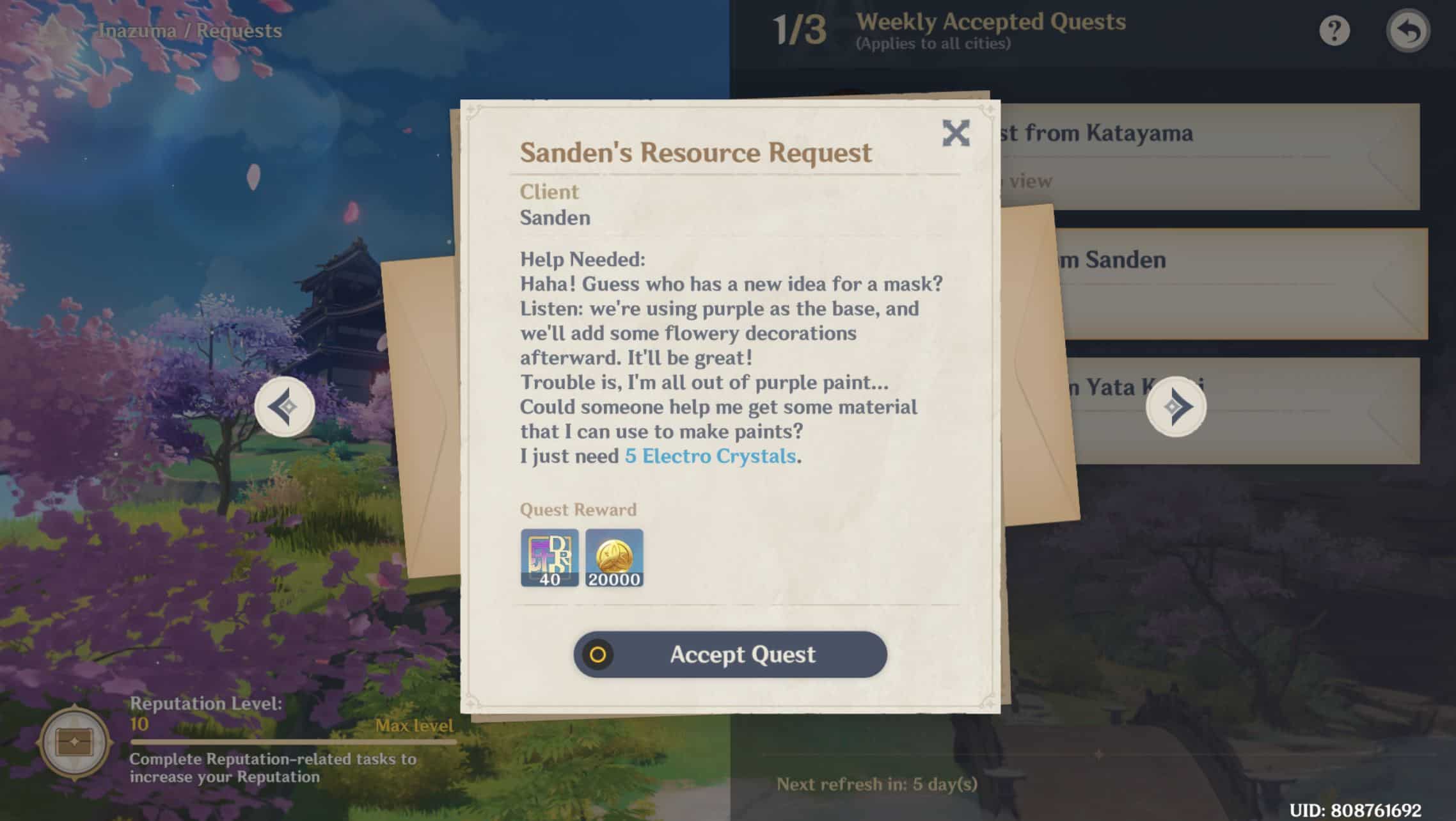 You can obtain Mora by completing Reputation requests and bounties. Even the World Exploration progress of a region awards you with Mora. With a limit of three, these bounties and requests are available to players every week. You can access the Reputation system by interacting with NPCs in regions and accepting the desired bounties or requests.
While requests don't have variable difficulty, the bounties do, where they feature three enemies with unique effects. I suggest going with the toughest one to earn more Mora to maximize the return on your hard work.
Serenitea Pot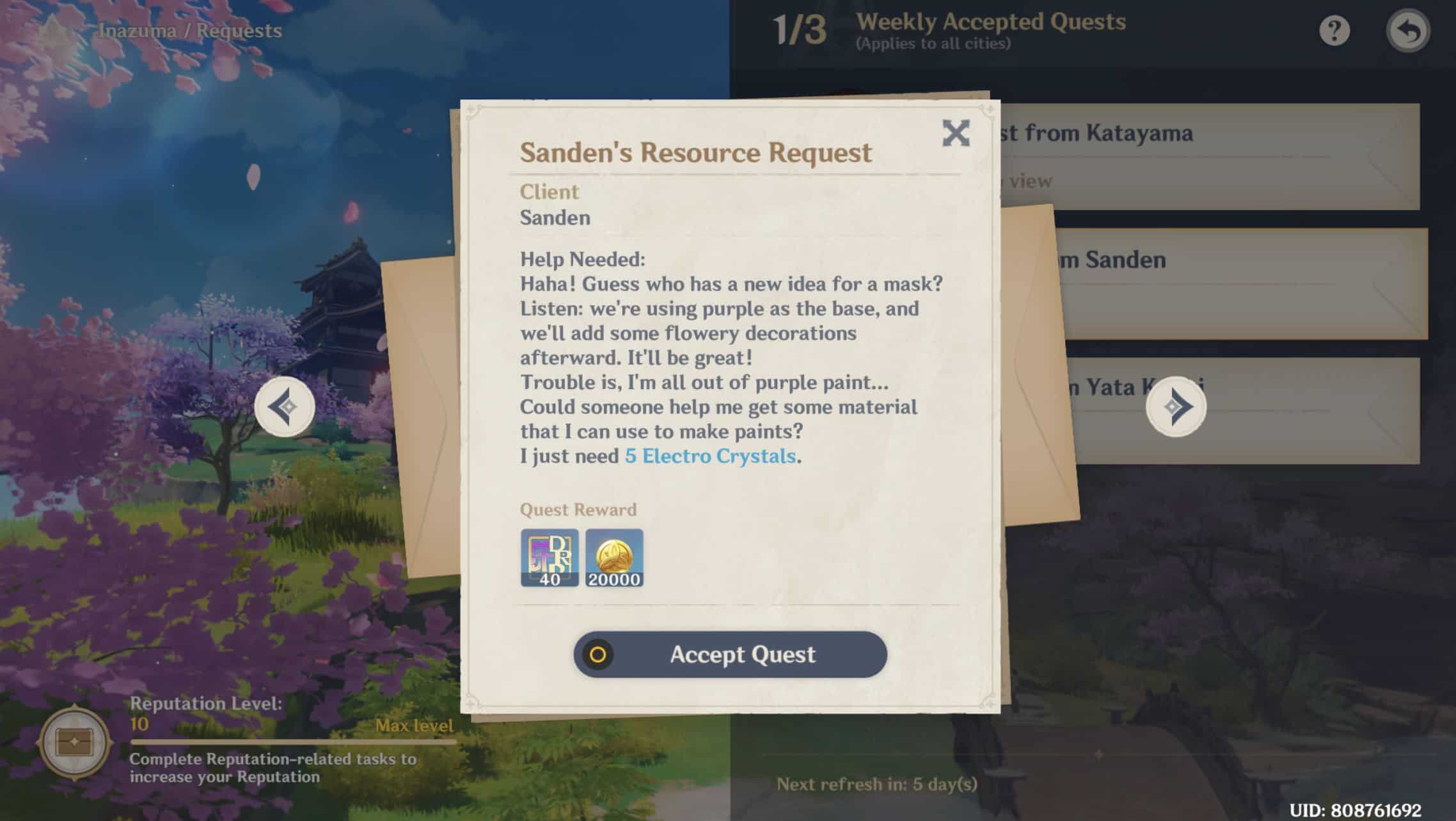 Once you unlock your housing system, the Serenitea pot, in the game, you can accumulate the Realm currency per hour. After you've amassed plenty of currency coins, you can exchange them in the Realm Depot by interacting with Tubby, the Teapot spirit.
Mora is available to redeem among other rewards like Fabric, Hero's Wits, Artifact EXP, and Weapon EXP. You can obtain up to 200,000 Mora for 2,400 Realm coins in the Serenitea pot.
Adventurer's Handbook and Challenges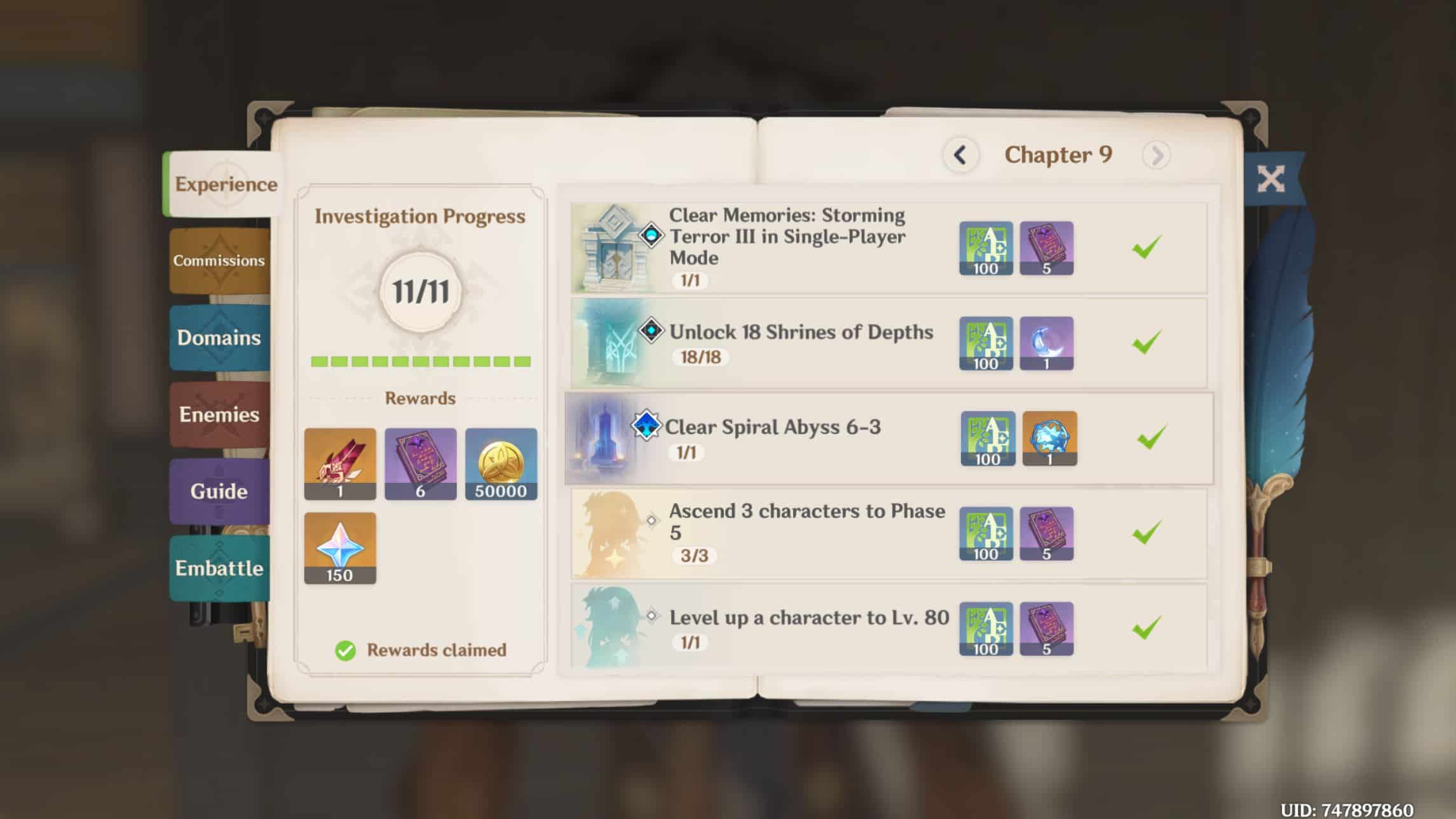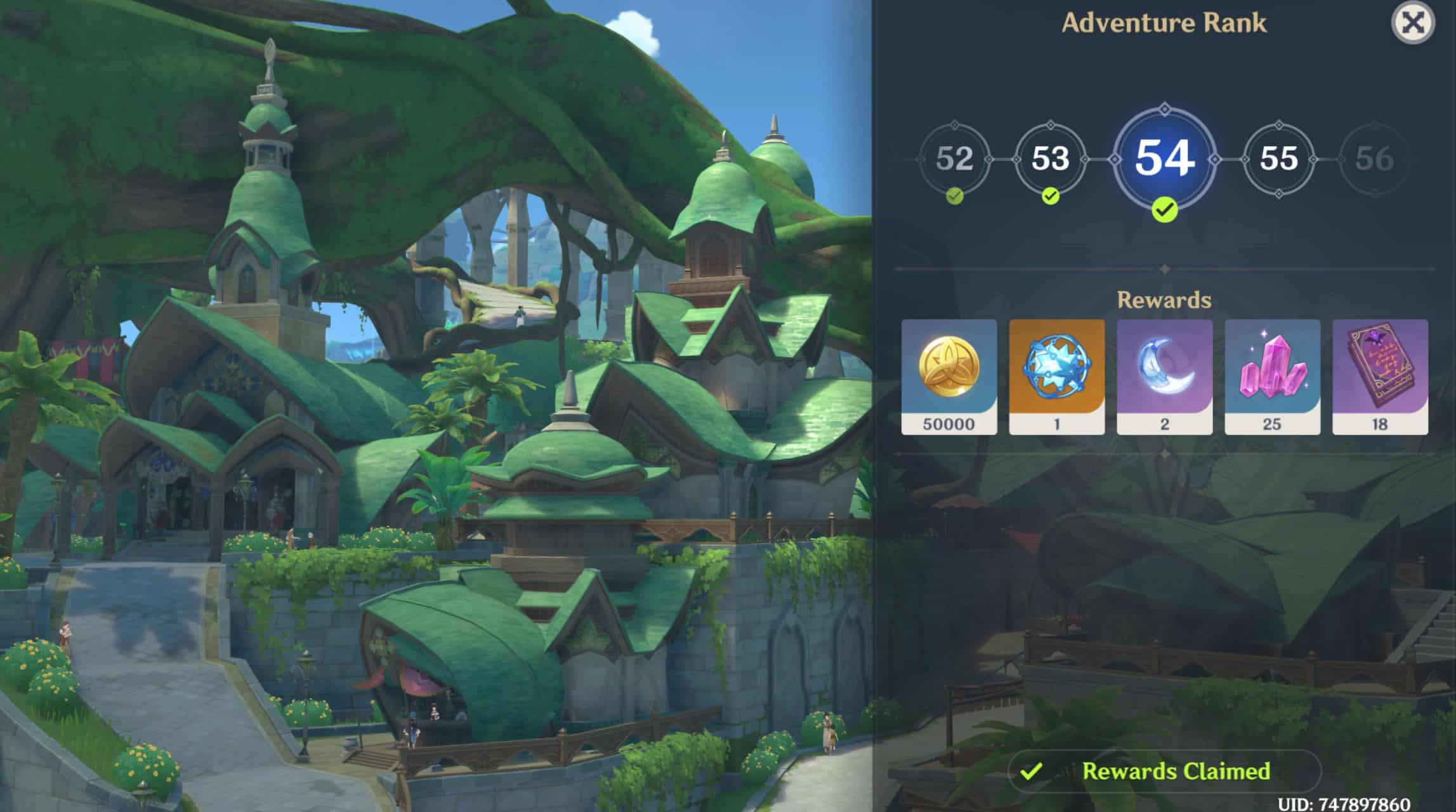 The book features a unique checklist that you can complete in the game to receive featured rewards. With a total of 9 chapters in the book, you can collectively receive a ton of Mora. I do think that the game will feature more chapters in the future, but for now, you should focus on completing its tasks. As you complete featured objectives and gain enough Adventure EXP, your Adventure rank will increase, allowing you to claim Adventure rank rewards. 
Exploring the Overworld; Mora is Everywhere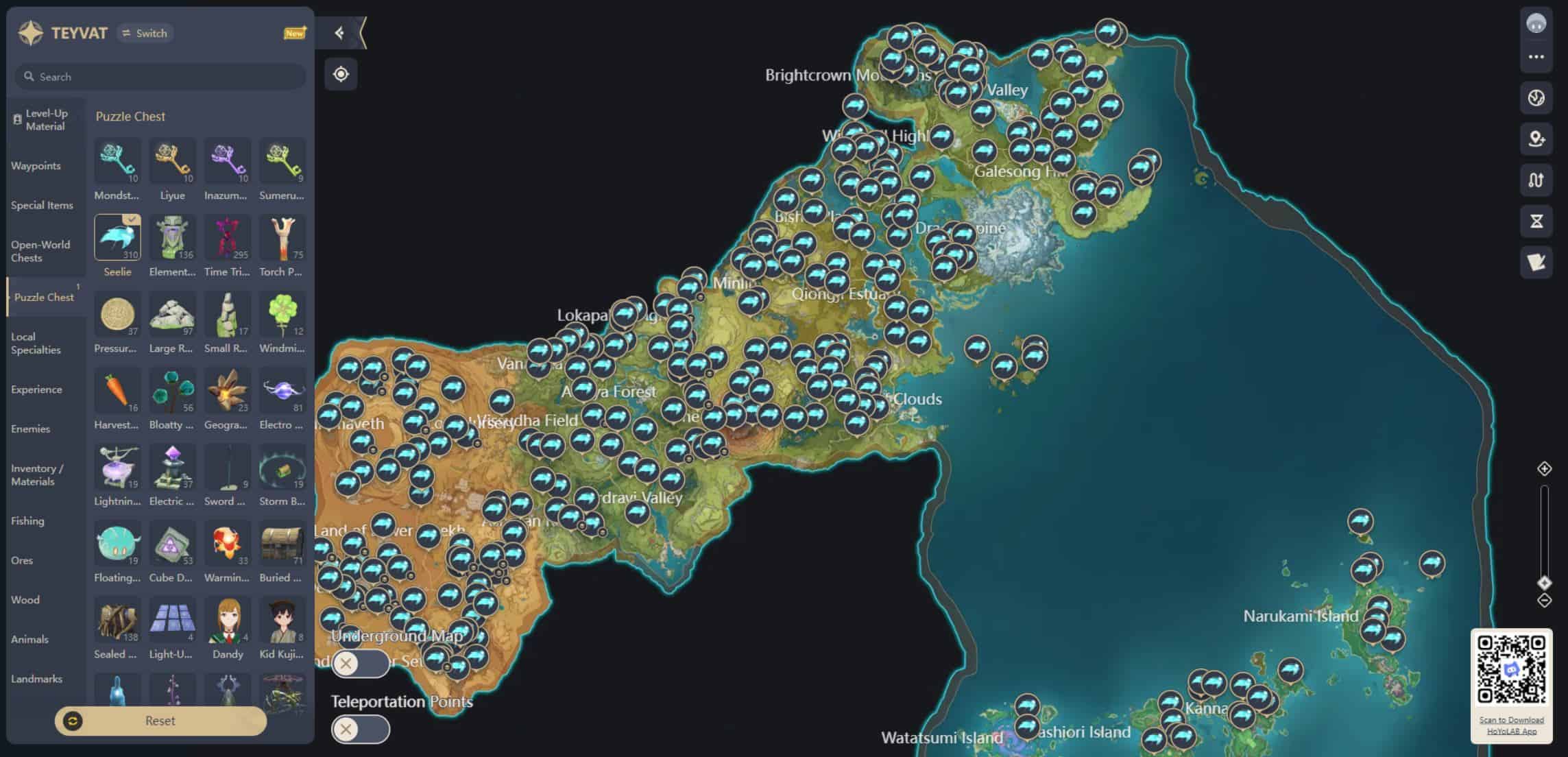 There are plenty of monsters, chests, challenges, puzzles, and seelies in the overworld. You can open a ton of chests in the overworld to obtain Mora. I would suggest using the Official Genshin Impact interactive map to spot these chests. You can keep track of these chests and continue with your daily commissions.
Another way to search for the overworld chests is to use the Treasure compass gadget. I've been using the Treasure compass to find chests that are hard to spot. There are also exploration objectives like floating boxes in water in regions, smashed stones in Enkanomiya, or Rock piles in Teyvat that can give you some Mora.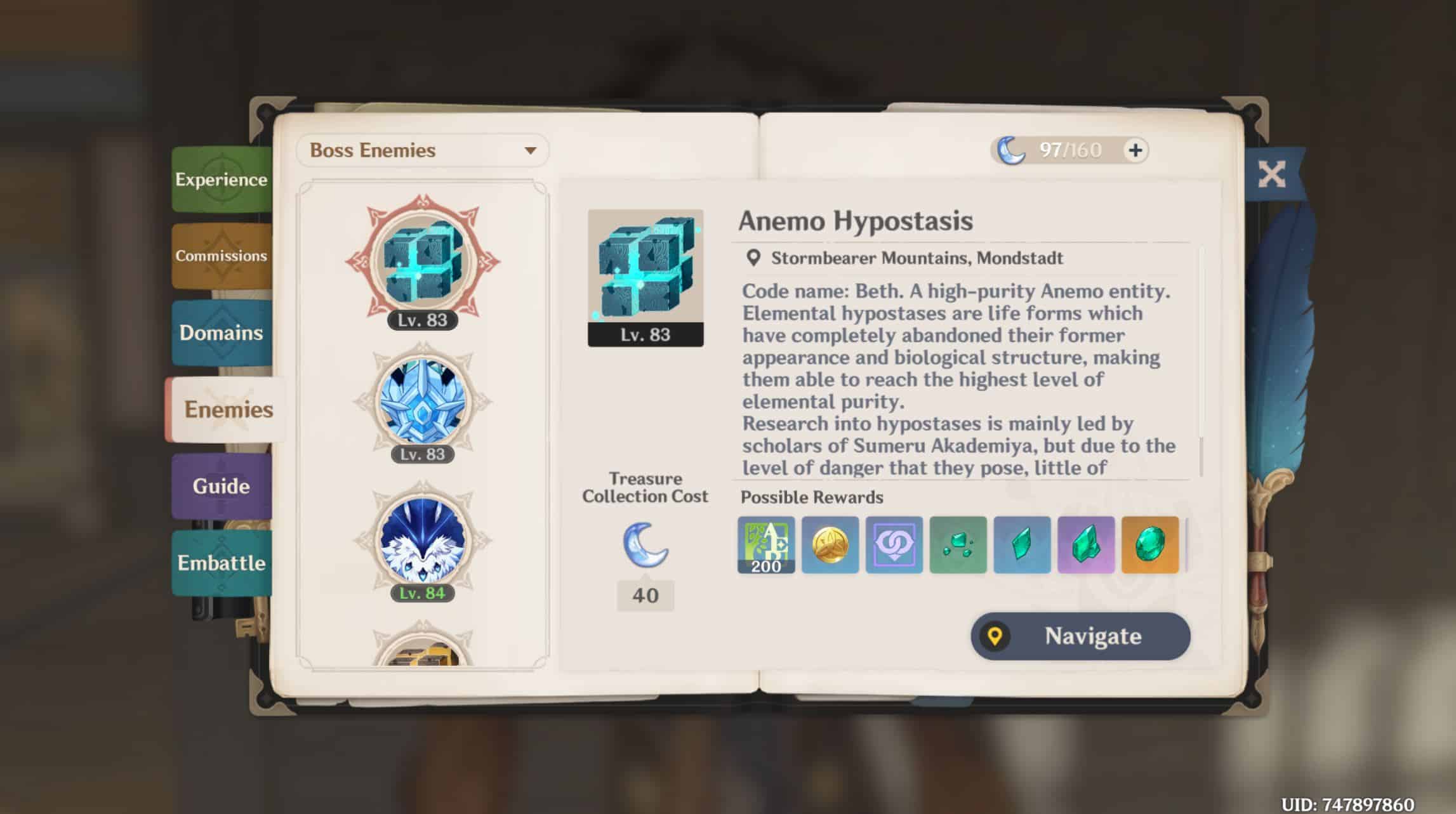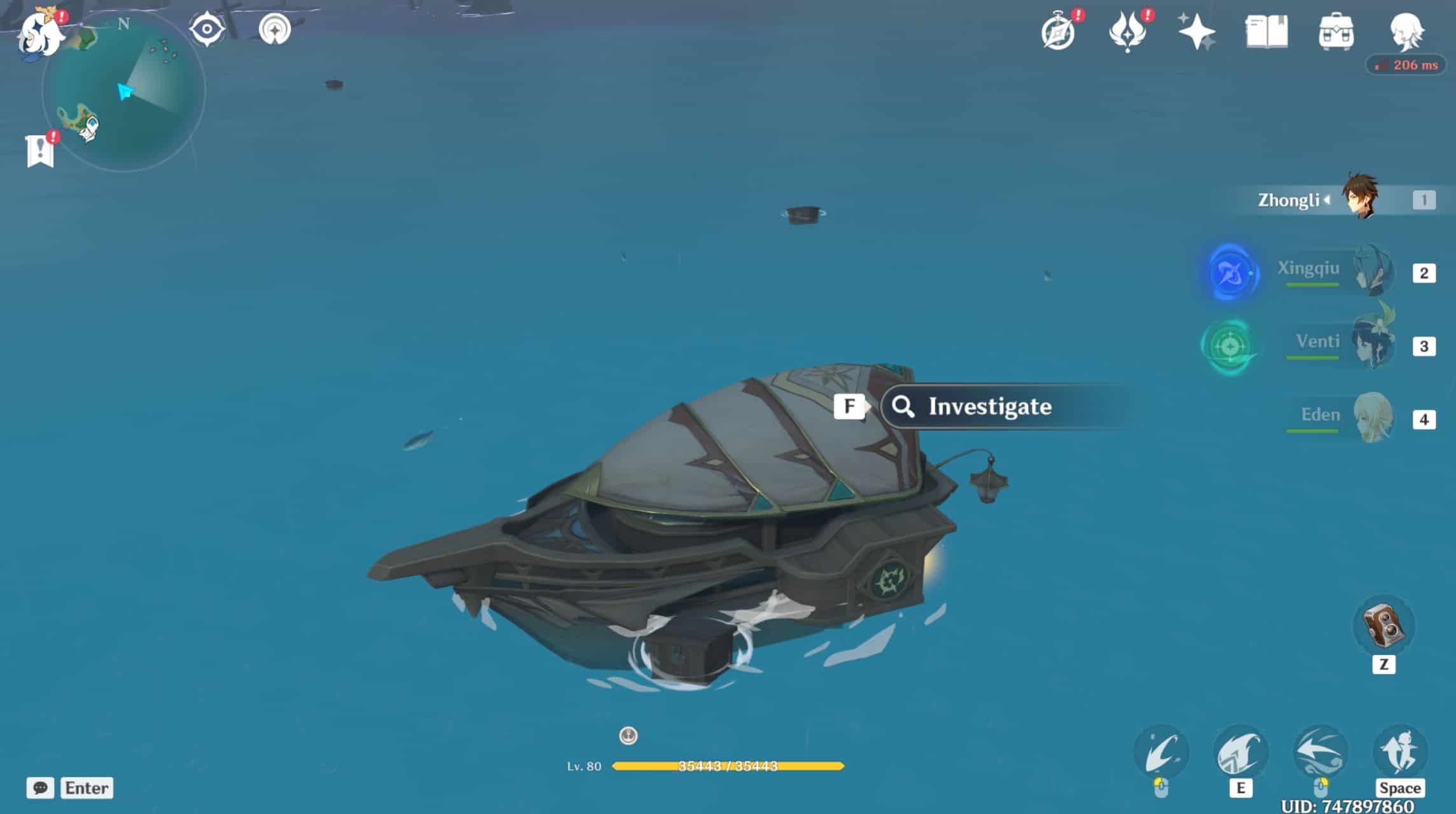 Bonus Chests
You can open Precious chests in the Northland bank in Liyue for 200K Mora. Once you teleport to Liyue Harbor, run straight to the Northland bank and take the stairs adjacent to the main counter. Go up the stairs, and at the end of that path, you will find chests laid upon each other. One of them is an interactive chest that'll give you 200,000 Mora.
Another chest is behind Taroumaru in the Komore Teahouse. You have to teleport near Inazuma's Adventurer's guild and enter the Komore Teahouse. Once you enter the Teahouse, you have to go inside the room behind the dog, and you will find a precious chest that'll give you 180,000 Mora.
Besides the chests, you can also defeat monsters to obtain Mora. Almost everything in Genshin rewards you with Mora, let it be monsters like the Setekh Wenut, seelies, or puzzles.
Domains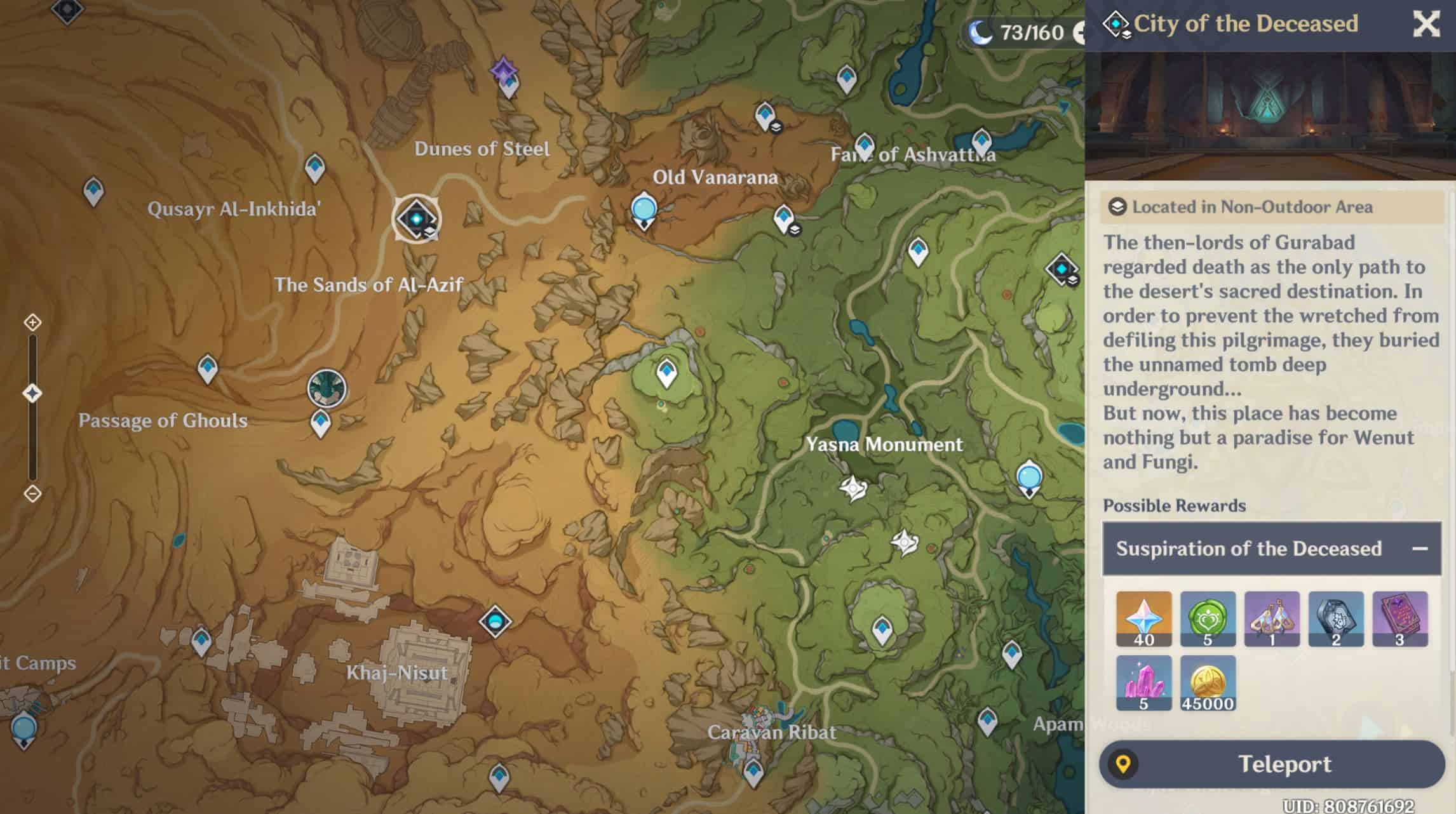 There are plenty of One-time domains that can grant Mora to the player. You will unlock some of these domains during world quests or after solving some puzzles. These domains feature one-time rewards, including primogems, Adventurer's EXP materials, weapons materials, and sigils.
The domains have a similar appearance to trounce domains, but there are no weekly bosses in these domains. You can unlock them, teleport to them and initiate the challenge anytime. Besides one-time domains, normal domains will also reward you with Mora, but the amount may not be that great.
Exchanging Sigils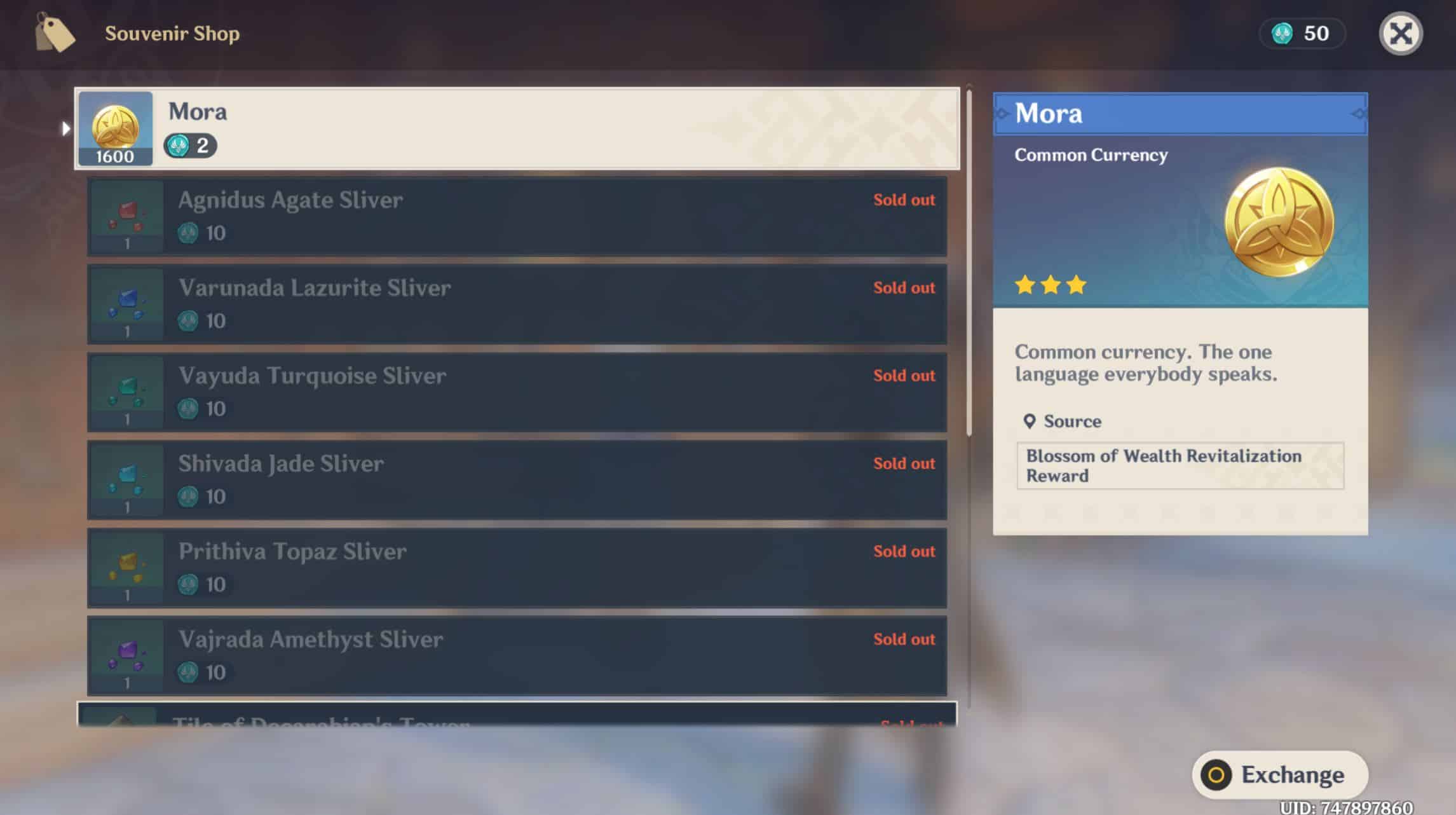 You can exchange the sigils for Mora in each region. You must visit a souvenir shop and interact with the NPC to go to the menu to exchange the sigils.
Offering Systems
With the addition of offering systems in the game, players can exchange their sigils. Currently, the game has four Offering systems that grant players a variety of rewards like Mora. Let's glance over these Offering systems and get an idea of the amount of Mora we can obtain from them.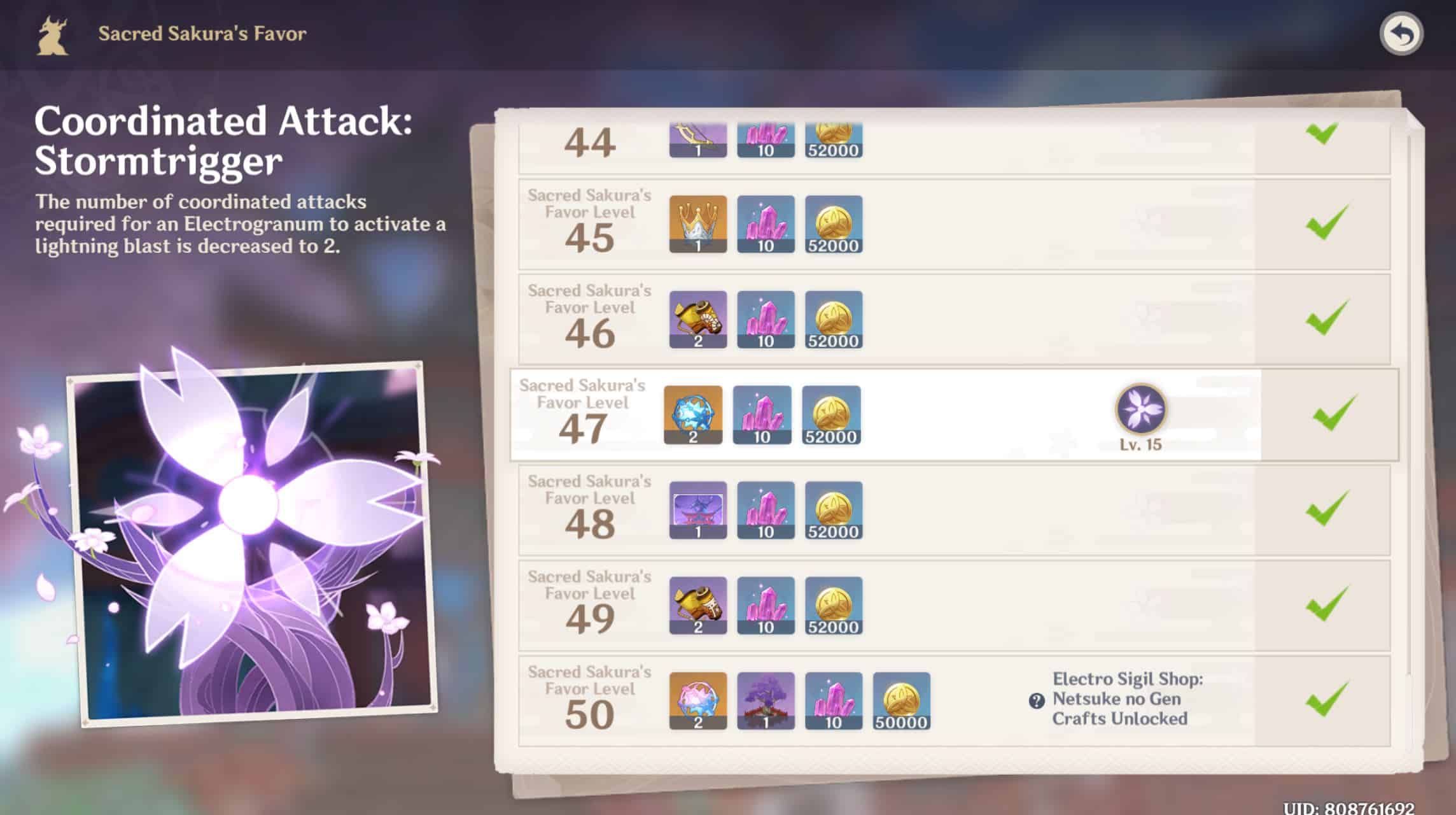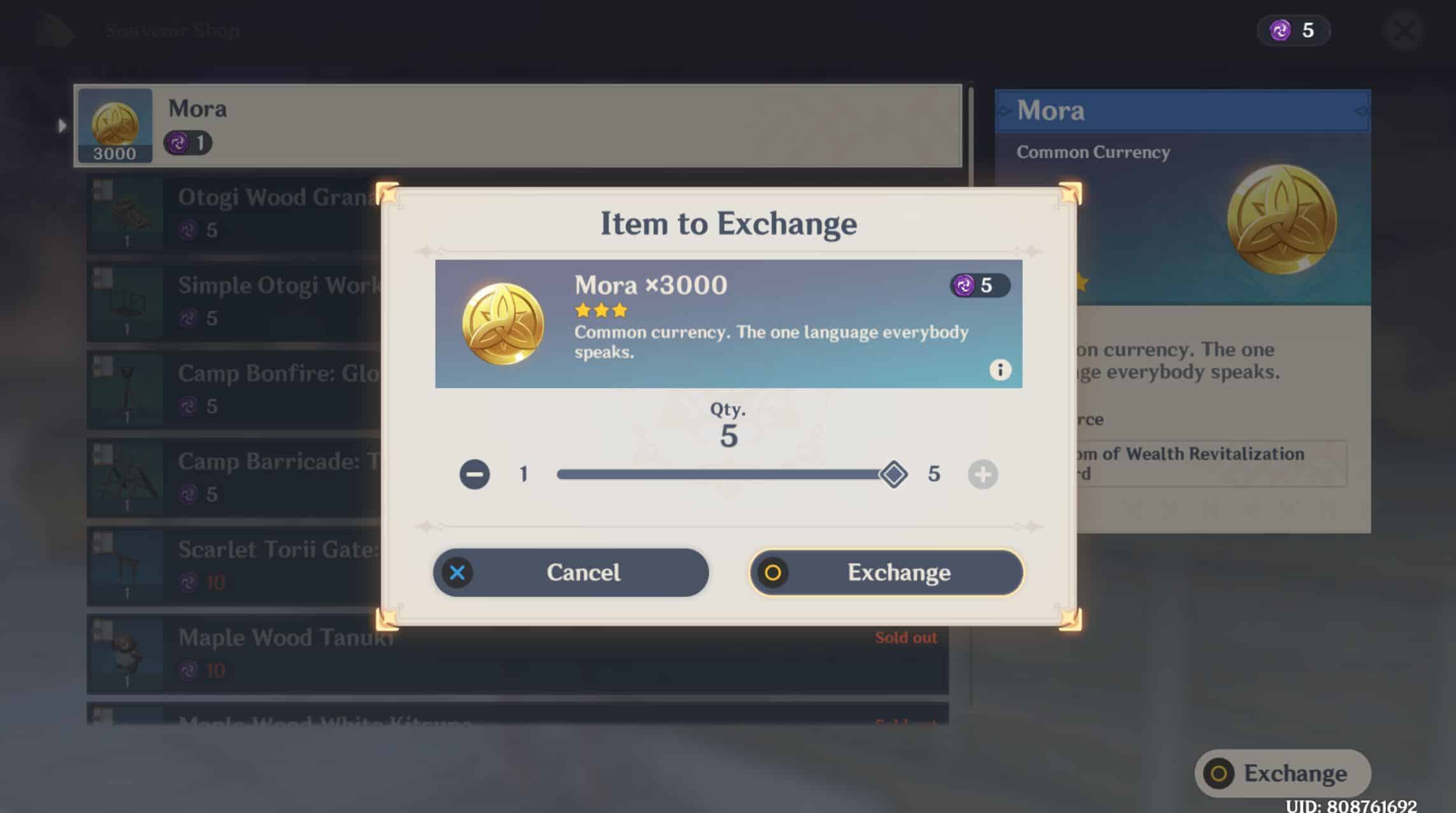 Frostbearing Tree's Gratitude – 600,000 Mora

Sacred Sakura's Favor – 2,500,000 Mora

Enhance the Lumenstone Adjuvant – 500,000 Mora

Vanarana's Favor – 2,000,000 Mora up to 40 levels
Battle Pass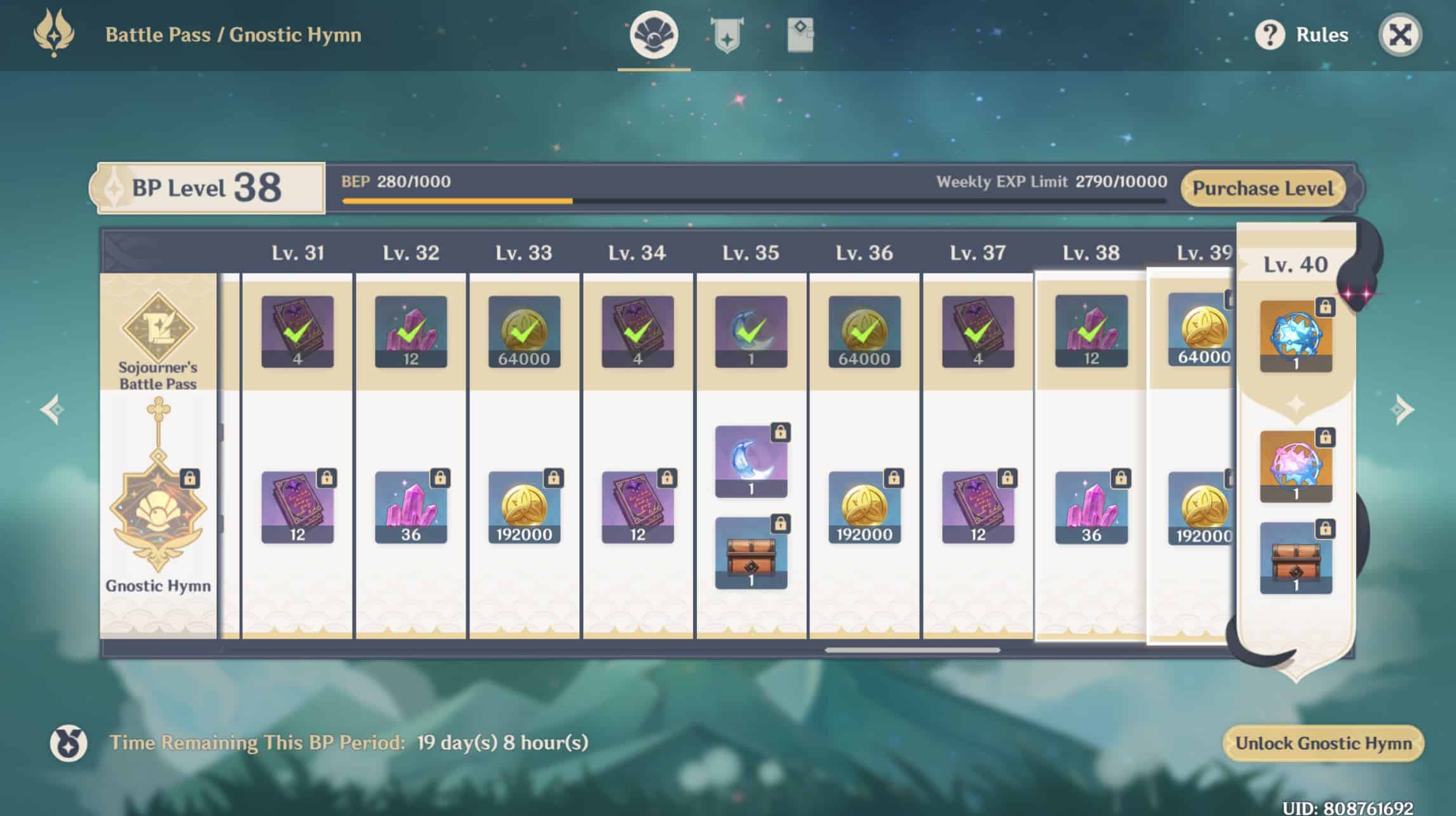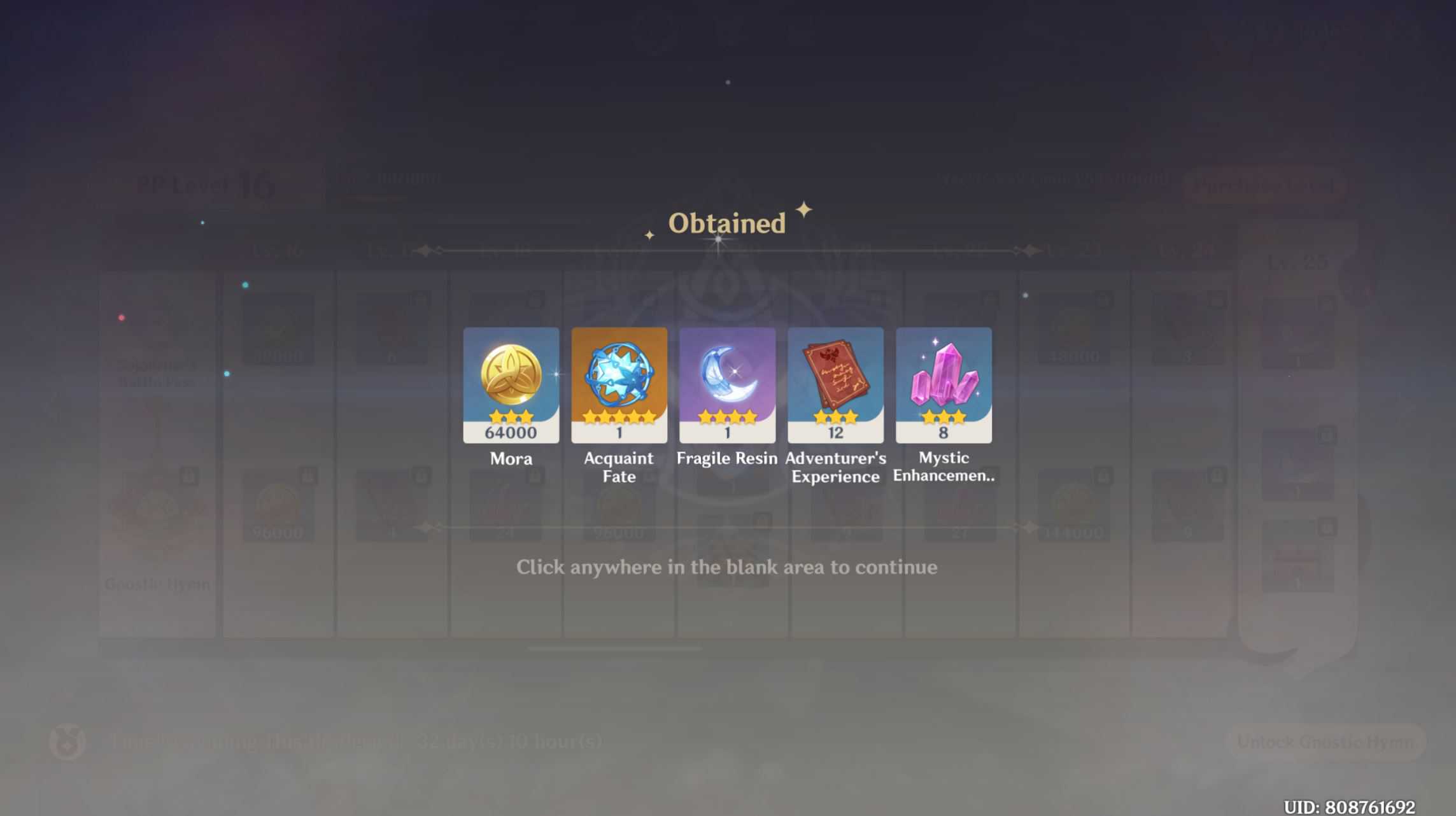 The battle pass is one of the best additions to the game. Once you reach Adventure rank 20, you can unlock the battle pass and complete daily, weekly, and BP challenges to earn EXP. With a total of 50 free-tier levels, you can obtain a total of 720,000 Mora.
So far, in my experience, I've been able to complete all the battle passes flawlessly. You can easily earn Mora alongside Fragile Resin, primogems, Adventurer's EXP, and Weapons' EXP.
Spiral Abyss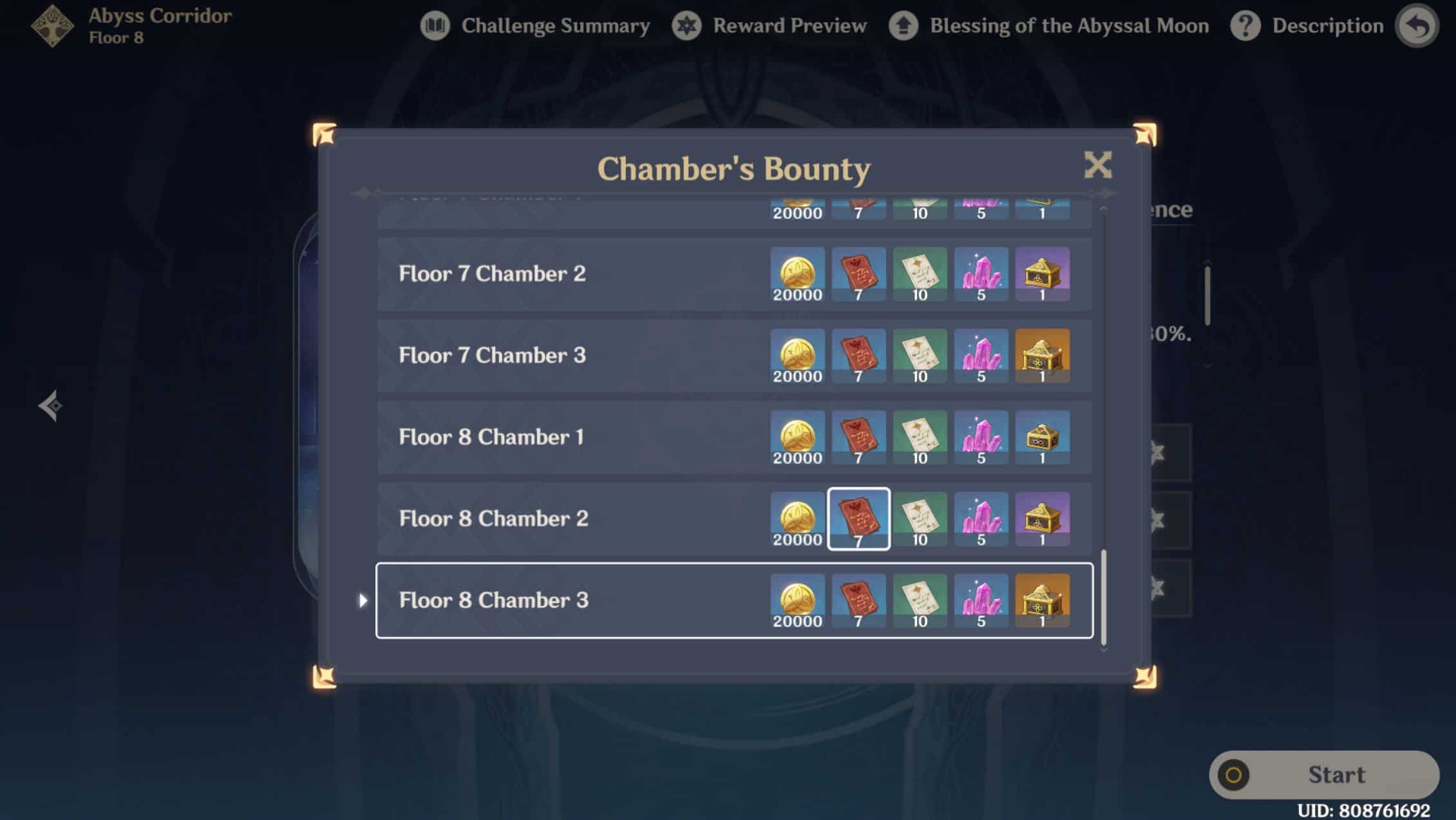 The Spiral abyss features a plethora of rewards in the game. With a total of 12 floors in the game, you can obtain primogems, Mora, Adventurer's EXP, Mystic enhancement ores, and Domain reliquaries. I remember hunting for abyssal stars on Floors 1 to 8 when I was in the early game phase and spending countless nights tweaking my characters' builds.
Once I cleared all the chambers to Floor 8, I learned that those were one-time rewards and Floor 9 to 12 feature rewards that refresh twice a month. The Abyssal corridor, Floor 1 to Floor 8, features 660,000 Mora that you can obtain alongside primogems, Adventurer's EXP, Mystic enhancement ores, Domain reliquaries, a copy of Xiangling and Collei, and a Northlander polearm billet.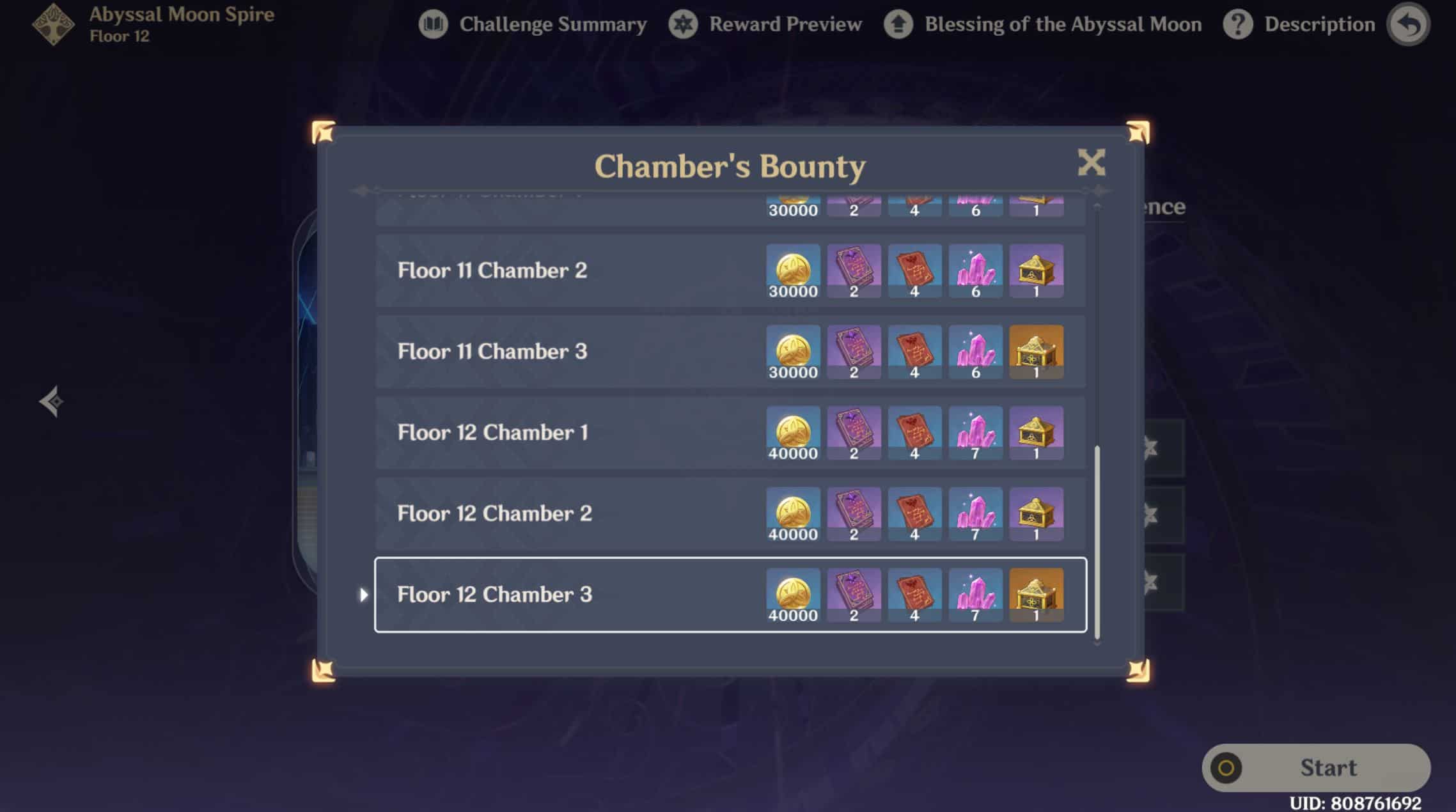 Once you clear the early floors of the Spiral abyss, you unlock, what is called, the Abyssal moon spire. These floors, from 9 to 12, feature similar rewards. 585,000 Mora, 600 primogems, Adventurer's EXP and Domain reliquaries. Though these rewards may look lucrative enough for you to jump on these higher floors, getting them is tough. The difficulty spikes with each floor, and you will face harder enemies.
Enemies with over a million HP would be waiting for you and sometimes would have unique effects with their abilities. There have been times when I had to restart a floor multiple times because I couldn't follow a proper rotation or missed a critical hit.
So, don't worry if you are trying like the rest of us; the abyss is challenging. You can still easily clear Floor 9, 10, and even 11 with a few stars if your characters are somewhat good enough according to the meta.
Redeem Codes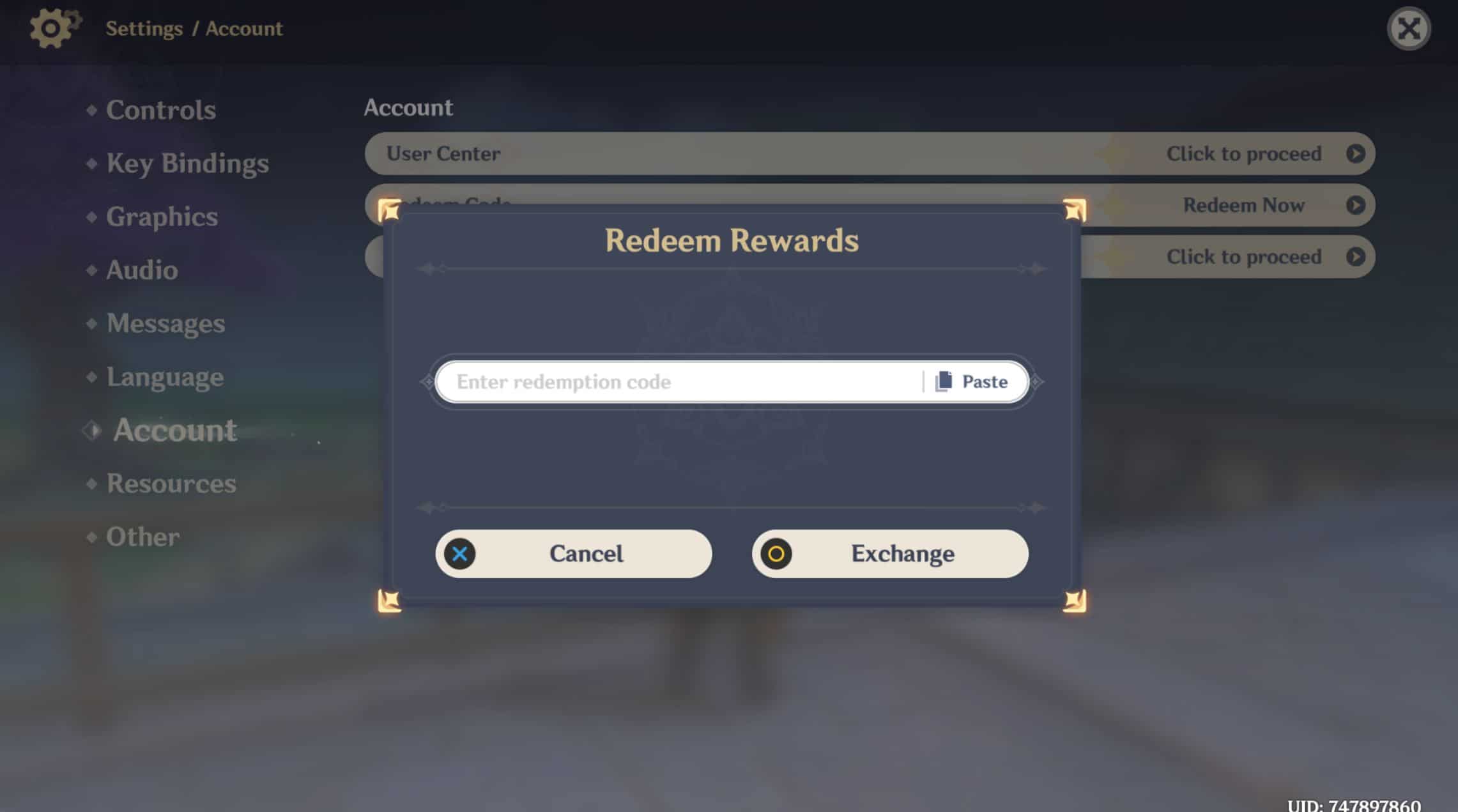 Redeem Codes
GENSHINGIFT – 50 x Primogems, 3 x Hero's Wit
XBRSDNF6BP4R – 60 x Primogems, 5 x Adventurer's Experience
2T9AUV3YPV49– 10,000 x Mora, 10 x Adventurer's Experience, 5 x Fine Enhancement Ore, 5 x Sweet Madame, and 5 x Tea Break Pancake
If you are someone like me who tunes into live streams to know more about the latest changes, Redeem codes will be your best friend. The game often launches promotional codes for players to redeem for rewards. You can find some of these codes on Genshin Impact's socials or join Genshin-based Discord communities. Redeem codes are my favorite. I can get primogems, Mora, Adventurer's Experience books, and sometimes food for free. If there's something free in the game, I want it.
You can get up to 50,000 Mora from a redeem code. You can either redeem the code on Genshin Impact's official website by logging into your account or paste them into the game's redeem option in settings. I personally like to redeem them in the game because I can collect them from in-game mail.
In-Game Mails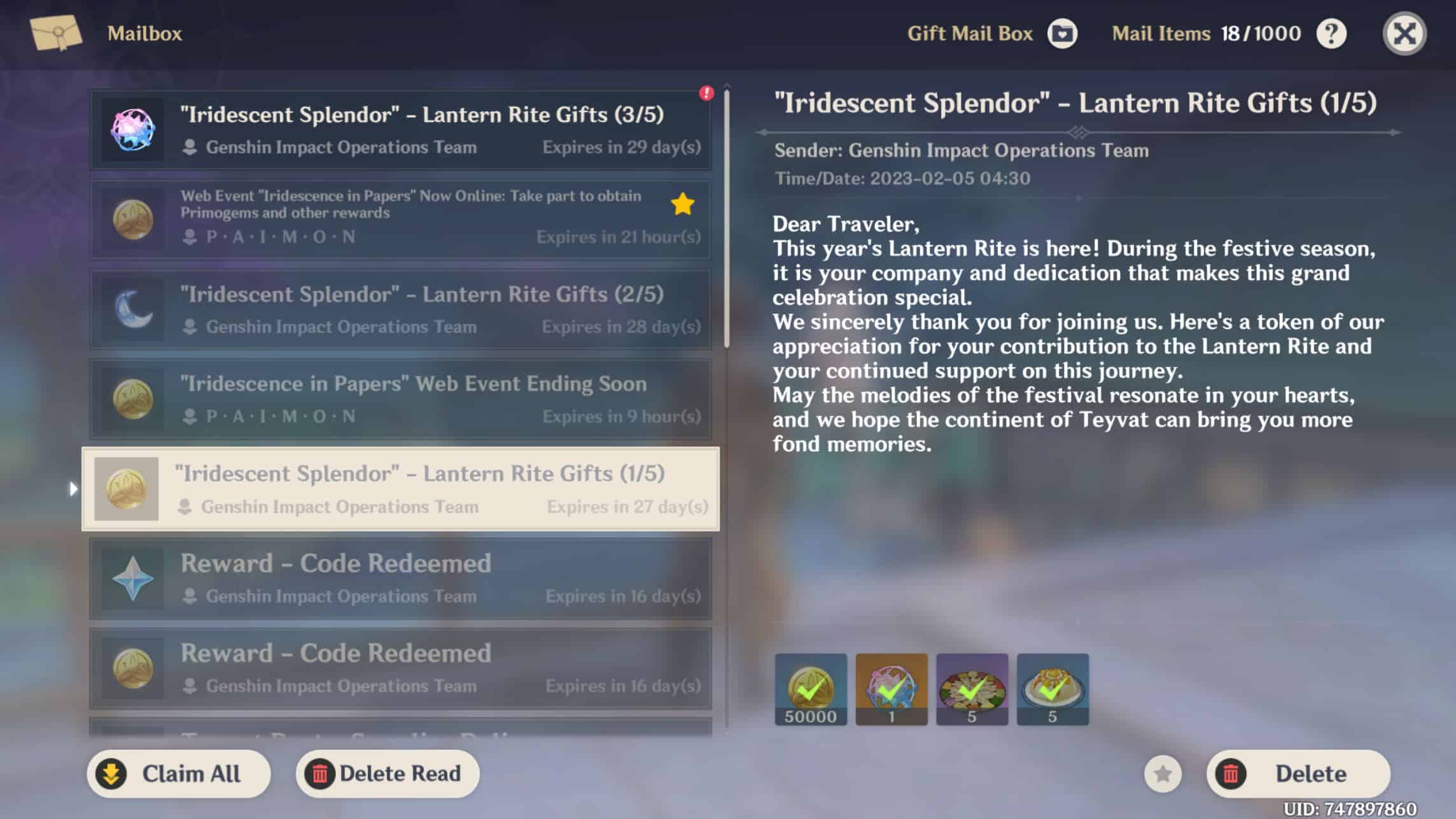 These e-mails are sent to each player's account, which sometimes features Mora as a reward. There is a unique kind of e-mail that you get in the game. Some of them are sent on the character's birthday, while others are announcement e-mails. Nonetheless, these free sources of Mora are welcomed, and I don't budge an eye to instantly claim them. You can also complete Surveys that the game sends to the players to get feedback. You will receive Mora in your in-game mail after successful completion as a reward.
Paimon's Bargains
Once you reach Adventure rank 10, you will unlock Paimon's Bargains shop in the game. The shop features plenty of rewards along with Mora. For every 3-star weapon, you can get 15 Masterless Stardust, and you can use 10 or 20 Stardust to exchange for 10,000 Mora. The monthly purchase limit for batches of Mora available for 10 Masterless Stardust is capped at 30. In contrast, the one with 20 costs has no limit.
Being a free-to-play player, I can exchange it for Mora, but at the same time, I have to account for the fact that I can use the Stardust to obtain discounted fates. There are limited sources of primogems in the game, and it's better to save your precious Stardust for fates. I won't lie, I have exchanged the Stardust on a few occasions, but I was hoarding primogems for quite a while and had some extra Stardust to spend. I don't do it anymore.
Cleaning the Inventory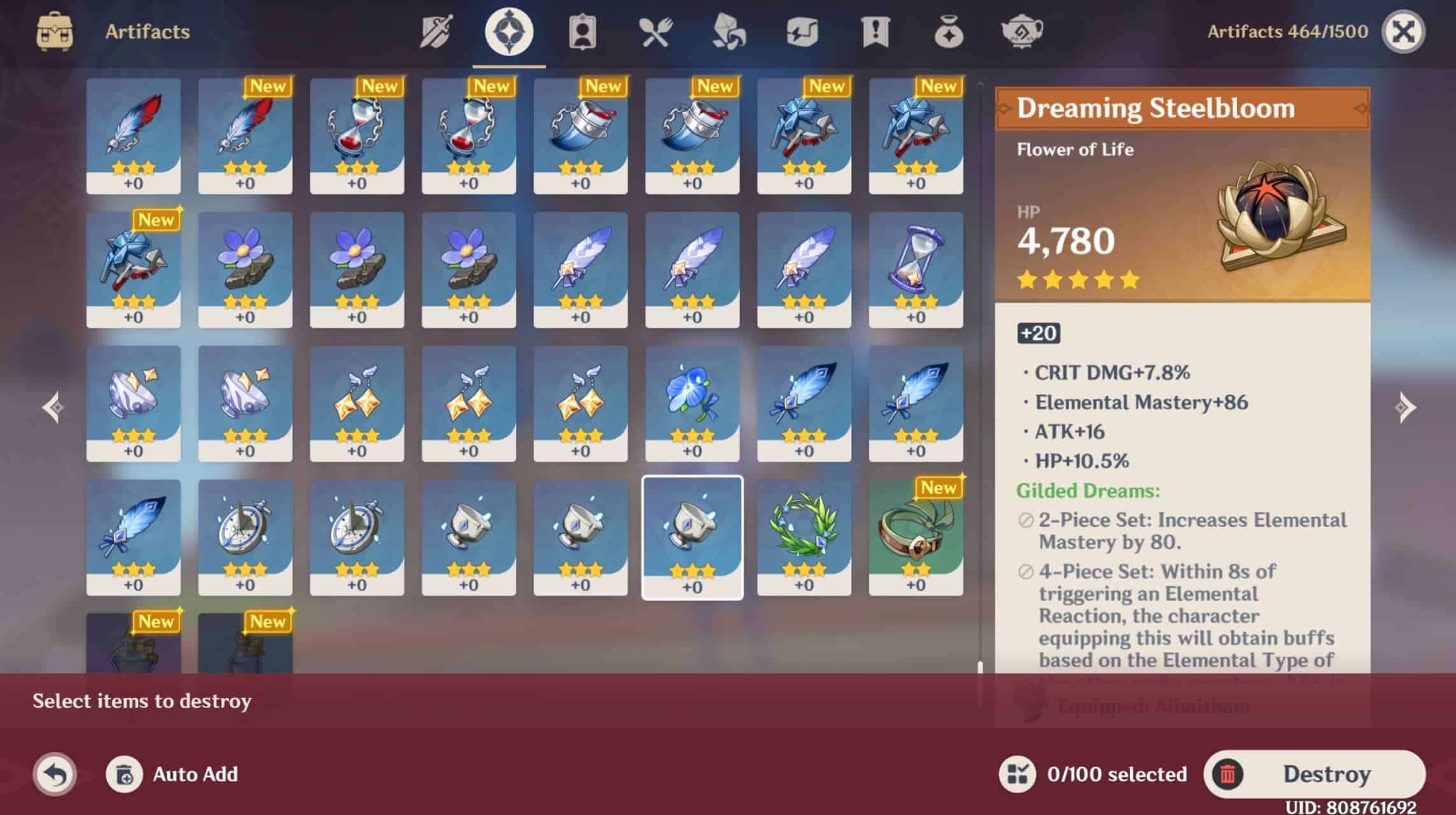 You can sacrifice some of your artifacts in exchange for Mora. You can open your inventory, click on the trash bin icon, and select the artifacts you want to destroy. You can select up to 100 artifacts and delete them at once. The higher the piece's rarity, the more the Mora will be. You can also tap on the Auto-add option to auto-select 1/2/3 star artifacts in the menu.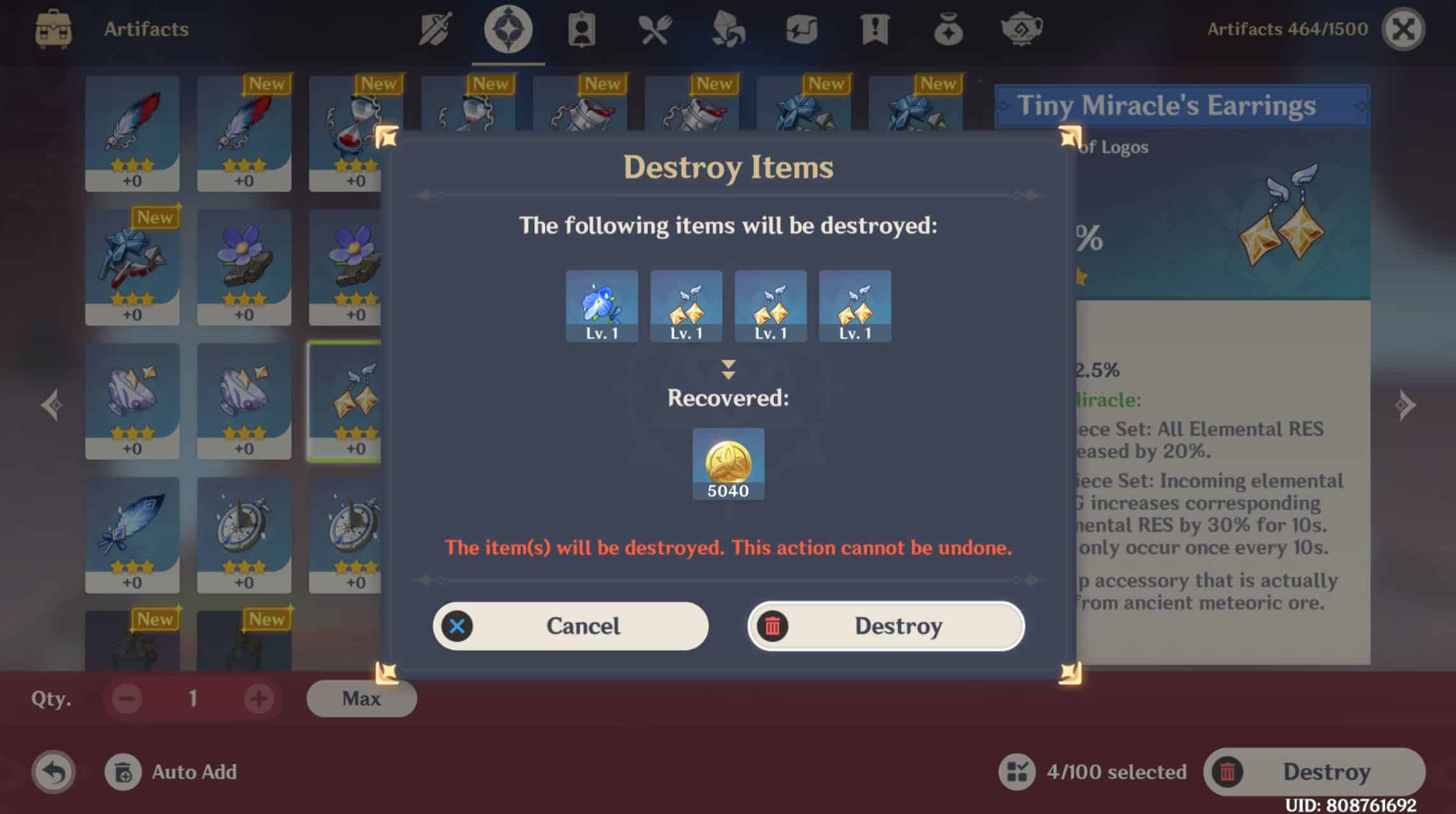 Though it may look like a lucrative choice initially, I won't recommend going this way. You can feed redundant artifacts to other good pieces and raise them to their maximum level. Artifacts are a core concept of the game; throughout your progress, you will obtain newer and better pieces. I don't advocate feeding 5-star pieces unless you have plenty of them in your inventory.
You get a guaranteed 5-star piece at Adventure rank 45 with every domain run. Until then, you should save your artifacts than deleting them from your inventory. Still, just for the sake of mentioning a source of Mora, I've listed this option. However, I would recommend staying away from this extreme measure.
Frequently Asked Questions
Question: How can I double the rewards from Ley Lines?
Answer: You can use condensed Resin to double the rewards. One condensed resin requires 40 Original resin at the crafting table. Once you complete the Ley line challenge, you can claim the rewards using condensed resin.
Question: Where should I avoid spending Mora?
Answer: Almost everything will require Mora at one point in the game. Still, you can avoid spending Mora on ingredients that are available in the overworld. I mean, you can slay Timmie's pigeons for some fowl. He would be angry, but anything goes for Mora, plus you can pay him frequent visits to rub salt on his wounds.
Question: Can you buy primogems with Mora?
Answer: Although Mora can buy almost everything in the game, unfortunately, it cannot buy primogems. Had this been the case, I would have maxed out constellations on all my characters in the game and refined every 5-star weapon.
None Disputes Its Value and Status
There's no doubt that the world of Teyvat runs on Mora. Playing as the Traveler, I cannot fathom how rich Ningguang would be. Described as someone whose wealth is unrivaled in the entirety of Tevyat, she can make dreams come true. Maybe the next time I visit her, I'll ask for a loan.
In a way, Mora originates from the Geo Archon himself, Morax. Our broke consultant at the Wangsheng funeral parlor, Zhongli, can be seen without any Mora on him all the time. Being the Geo Archon, and the very reason for Mora's existence, Zhongli is a prime example of someone who has detached himself from the materialistic world.
Money does matter, it can make your dreams come true, but it cannot bring peace. As long as you are content with what you have, your heart will be at peace. Things come and go by, and the material world is left behind. That is why you should focus on making memories you can cherish forever. Indeed Mora is important in the game, but you should enjoy the stunning moments and be content with what you have. 
That was it for the Genshin Impact Mora farming guide. Feel free to check out our other guides, and I hope to meet you soon.
Citation: Used Canva to create the infographic.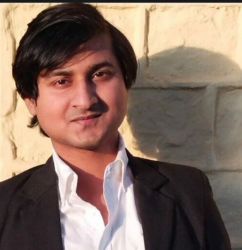 Latest posts by Himanshu Verkiya
(see all)