Once you start scouring for chests in Genshin Impact, you will receive elemental sigils of your respective region. Anemo, Geo, and Electro sigils representing their nations were introduced to be used in shops to exchange for Mora, ascension materials, and Traveler's constellations. To some extent, I depended on these free resources to supplement my character's growth. As a free-to-play player, I want to make the best use of the free resources I can get in the game to keep my progress in check.
With new updates, Genshin Impact introduced Offering systems that became a source of lucrative resources. I still remember hunting for Crimson agates in Dragonspine to raise my Frostbearing Tree's level to get its featured rewards. With such systems in place, the game encouraged players to grind in-game content and get better rewards. In the recent Sumeru update, I learned about the Tree of Dreams, an exclusive system in Vanarana that rewards players in exchange for Dendro sigils.
In this Genshin Impact Tree of Dreams guide, I will take you to the dream world of Vanarana, where we meet our Aranara friends and unlock this unique Offering system. Let's visit this serene place that will cleanse your soul, gain the wisdom of the forest and fill yourself with Sumeru's positive energy.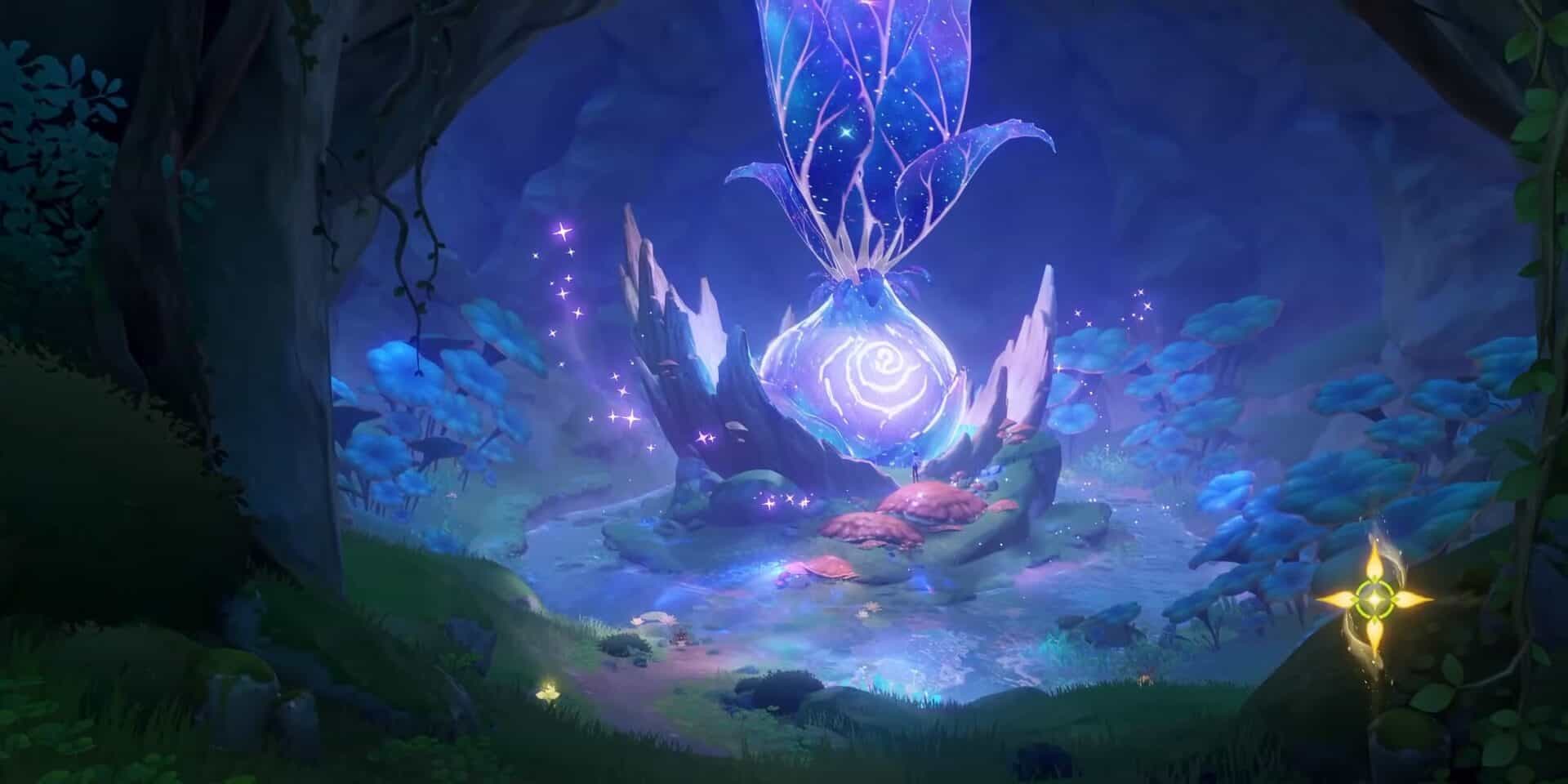 Unlocking the Tree of Dreams; Aranyaka World Quest Series
The Tree of Dreams can be unlocked in the middle of the Aranyaka world quest. You must follow through the quests, acquire the Vintage Lyre, and use it to enter Vanarana. Eventually, after completing some parts of the questline, you can access the Tree of Dreams. As easy as I make it sound, it is not. Trust me; I underestimated the Aranyaka world quest. The quest caught me off-guard because I didn't think that a world quest could be so long.
To this day, I'm doing Aranara-related challenges just because they take so much time and energy. However, unlocking the Tree of Dreams isn't a tedious task because it's a relatively straightforward part of the world quest. Let's review the prerequisite quests you must complete to access this Offering system.
Aranyaka: Part 1 – Woodland Encounter
The first part of the series features the following mandatory world quests that you need to complete:
Woodland Encounter
The Children of Vimara Village
Into the Woods
The Lost Child
Let's glance over quest highlights to get a gist of the plot:
The quest will trigger when you save an NPC named Rana near a road intersection outside the Gandharva Ville. Once I defeated the wild mushrooms attacking her, I had a brief introduction with her where we talked about her role as a Forest ranger and her view on Tighnari and Collei.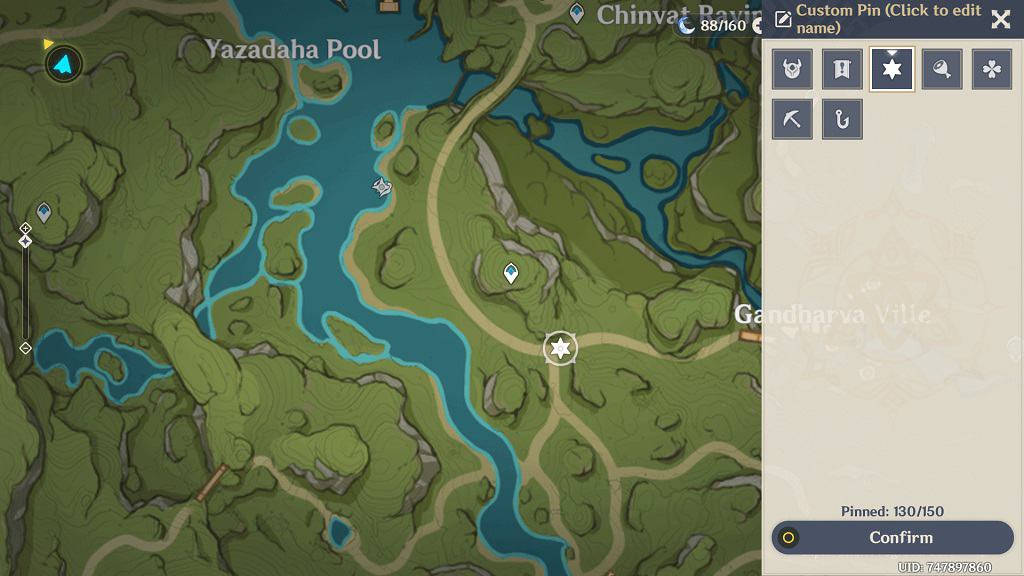 After accompanying her to the Vimara village, we get to know about missing children, who, when found, had no recollection of their memory. It was bizarre happening, and after talking to the villagers, the Traveler and Rana plan to investigate the issue at hand.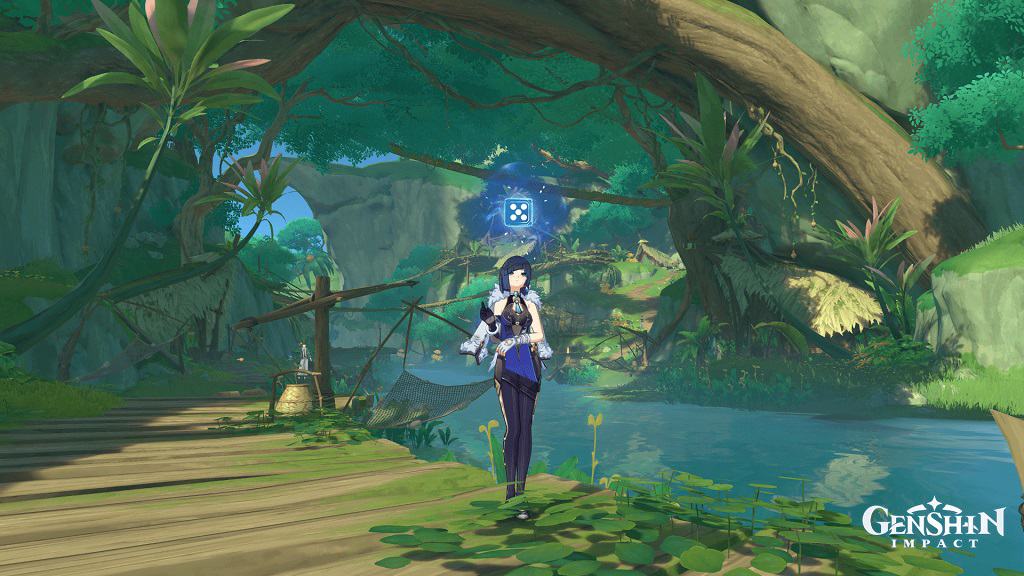 While venturing out into the wild for the investigation, Rana tells us about the effects Withering has on people. As a player, I'm somewhat of a fan of Withering zones because they put you in a tense position. You have the decay mechanism and are fighting for your life. Unfortunately, as Rana explores the area with us, she falls ill to the harmful effects of the Withering.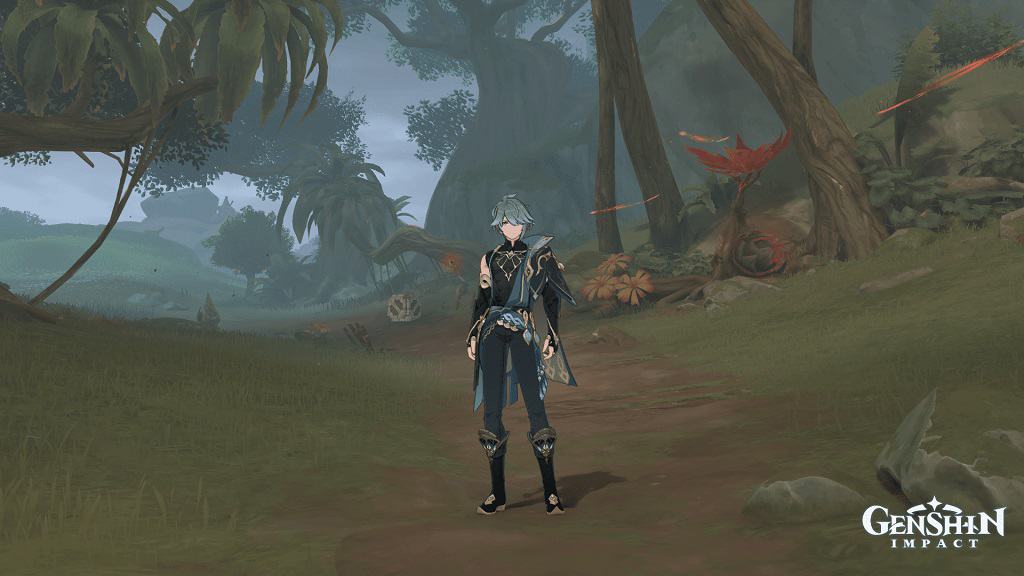 Though she accompanied us in many fights, it was sad to see her in a fragile state. Basically, our motive revolves around saving Rana. When we meet an Aranara, Arana, near Rana, who temporarily shields her, we get to know about a cure for her sickness. The Aranara shares the Rhythm of the Great Dream to help the Traveler to enter Vanarana, the Aranara's world.
Vintage Lyre, a New Gadget in the Inventory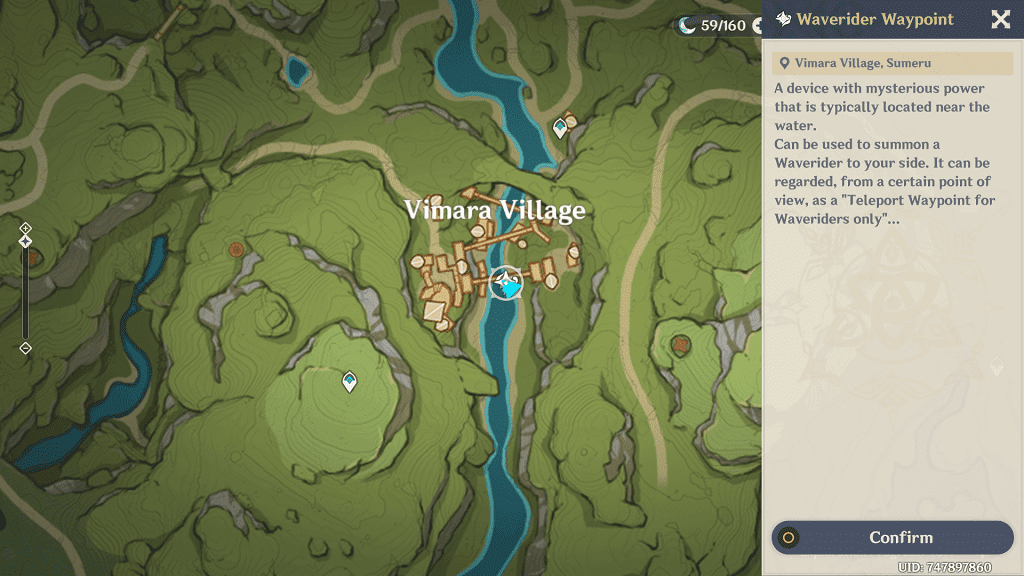 We do learn the melody at this point, but the Traveler and Paimon conclude to use an instrument than sing on their own. Now, to inquire about an instrument, we head back to the village and talk with the village chief, Amadhiah. It was quite generous of the Traveler not to let him know about Rana's illness to avoid sending the villagers into a panic mode.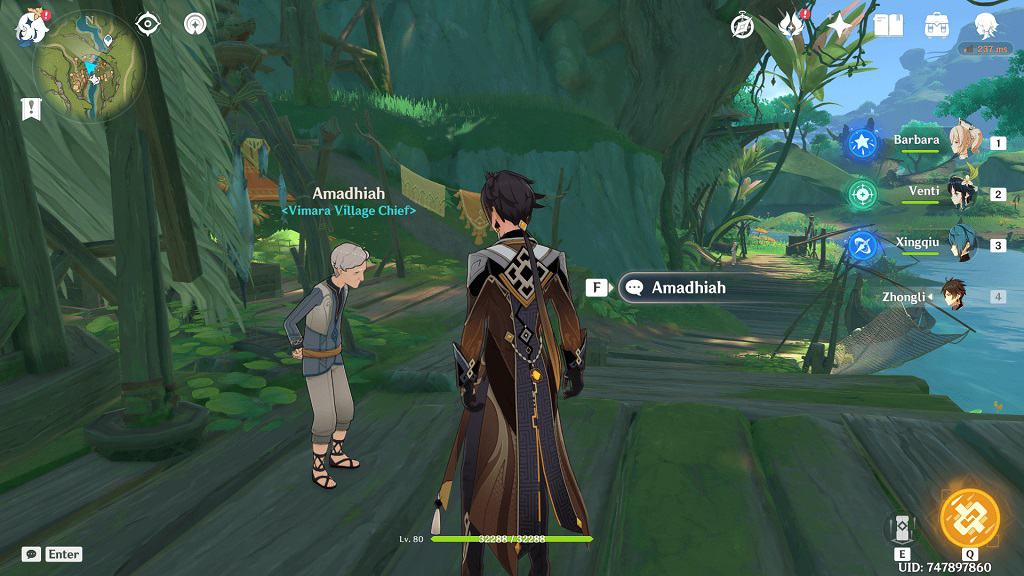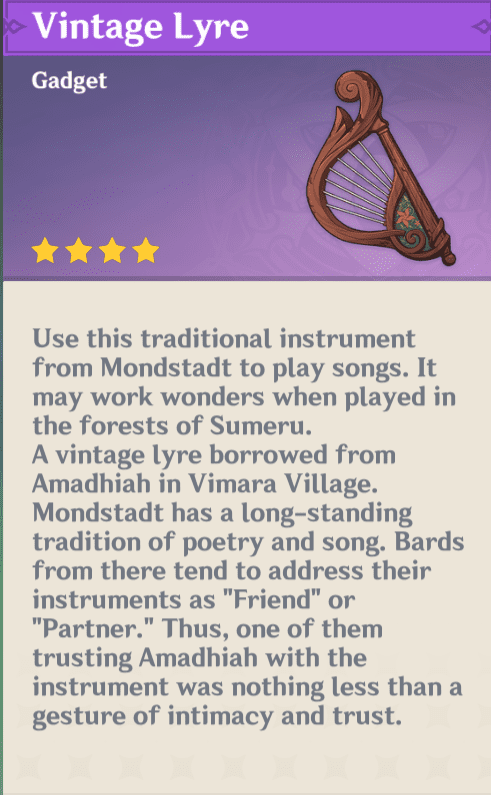 After you interact with Amadiah in Vimara village, you receive a Gadget, the Vintage Lyre. The Vintage Lyre can be used to play a variety of melodies. Don't try to use the Windsong Lyre because that's an event-exclusive Gadget, so don't think about equipping the other Lyre as I did. It will be a wasted effort. Once you get the Lyre, the first part ends, and the second part starts.
Aranyaka: Part 2 – Dream Nursery
In addition to previous quests, you need to complete these quests to unlock the Tree of Dreams:
The World of Aranara
The Tree of Dreams
Once the first part wraps up, we dive into the second one. Let's glimpse over the events of the second part.
After acquiring the Vintage Lyre, you can follow the quest marker to reach Vanarana. You can use the Rhythm of Great Dreams near Silapna, a unique phantasmal gate that can change Vanarana's appearance from the real world to the dream world and vice-versa.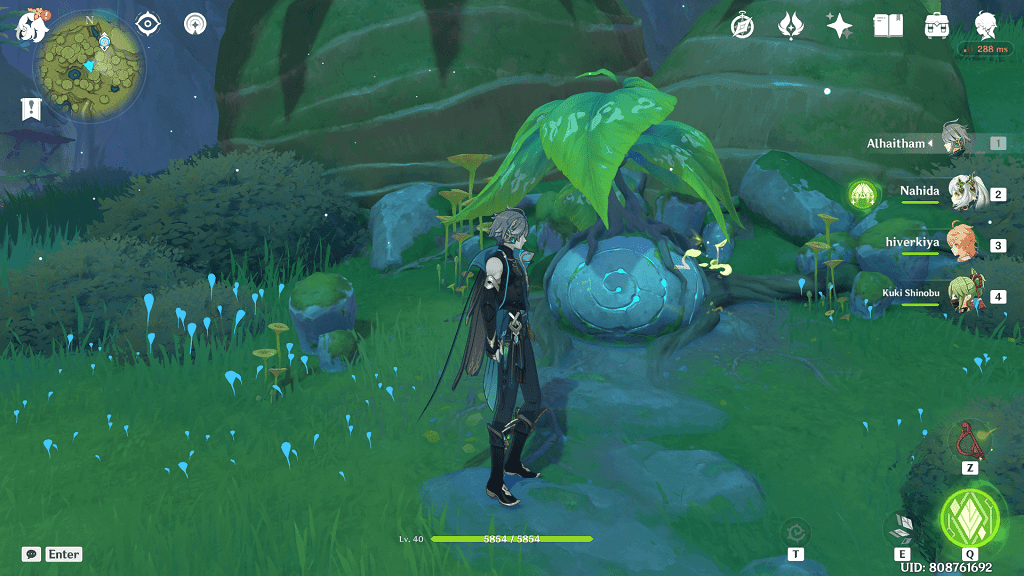 Once you complete the tasks given by the Aranara, you eventually gain their trust, and the village chief shares the process of healing Rana. Silapna might be my favorite type of gate in the entire game because of how unique its effect is. In a blink of an eye, the Aranara become visible, and you can interact with them.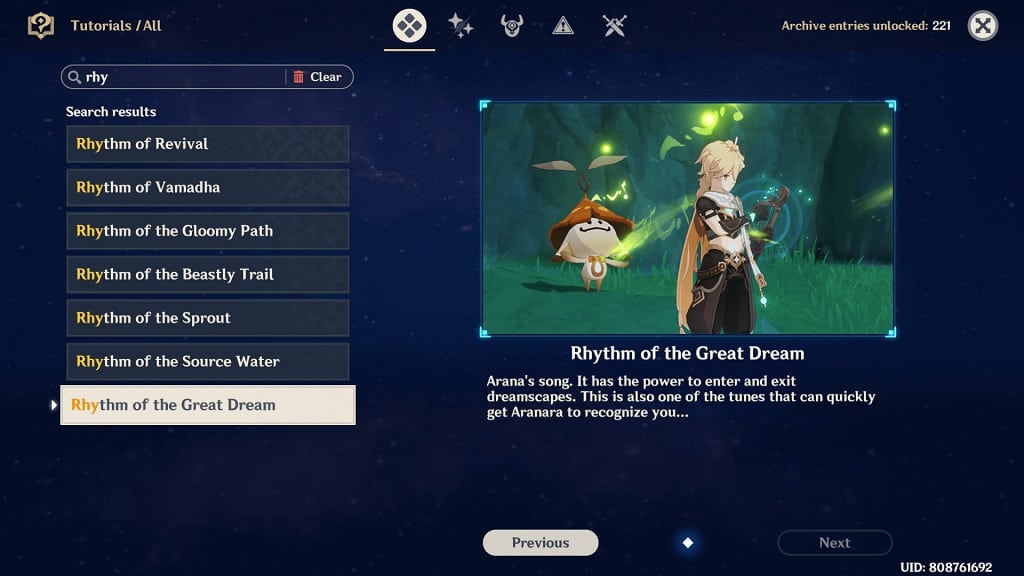 As we progress, we get to know about unique Rhythms and different mechanisms that are available in Vanarana. Once I finished the aforementioned world quests, a new world quest, Tree and Dreams, was unlocked. Unlike other quests, this quest didn't feature any dialogue and was basically a navigation quest.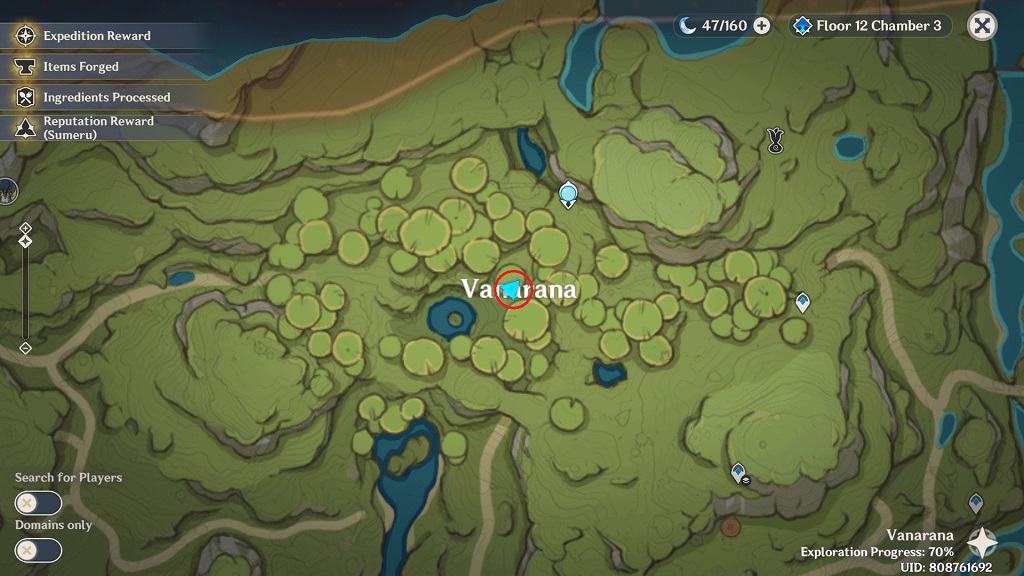 With the help of a Four-Leaf sigil, I arrived at the Tree of Dreams. As a player, you can use characters' elemental skills to travel. Sayu's rolling dash, Yelan's shadow dash, or Mona's alternate sprint are good enough to take you to the Tree's location. I love to use Four-Leaf sigils because they help to conserve stamina and reduce the time to travel from one place to another. Once I completed these quests, I was rewarded with some Adventure EXP, Mora, and primogems.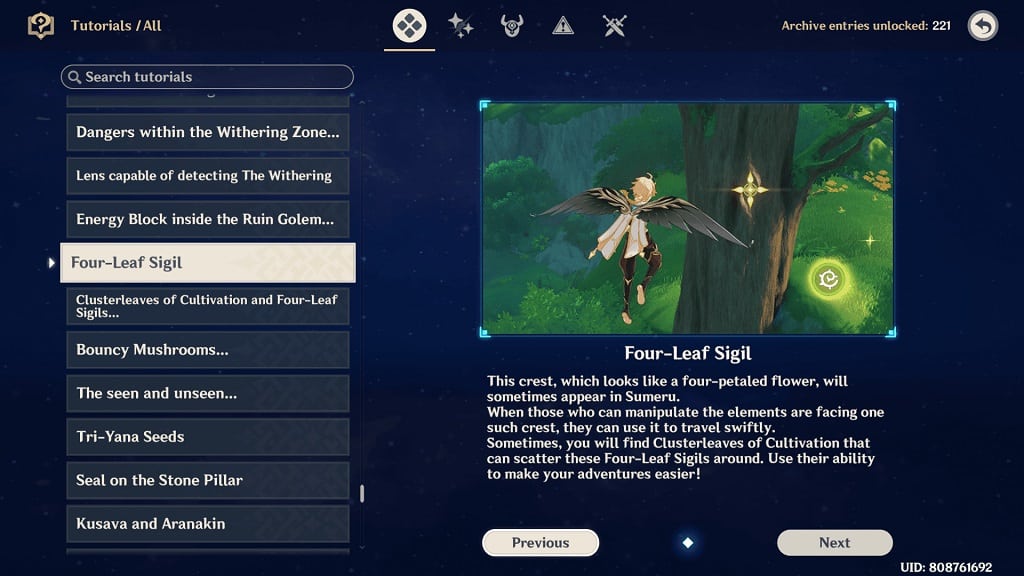 The Tree of Dreams tutorial splashed on the screen, and finally, I was ready to offer my precious Dendro sigils. In a nutshell, the whole quest experience was smooth, and I was able to easily access the Tree of Dreams.
A Dream World with a Magical Tree
The Tree of Dreams is an offering system implemented in the game that players can use to obtain rewards by offering Dendro sigils. You need to offer 35 Dendro sigils per level to obtain rewards. With each level featuring distinct rewards, all you need to do is to collect Dendro sigils from the overworld and offer them to the Tree.
Once you reach the Tree of dreams for the first time, an introduction will flash on your screen, suggesting you offer Dendro sigils to gain Vanarana's favor.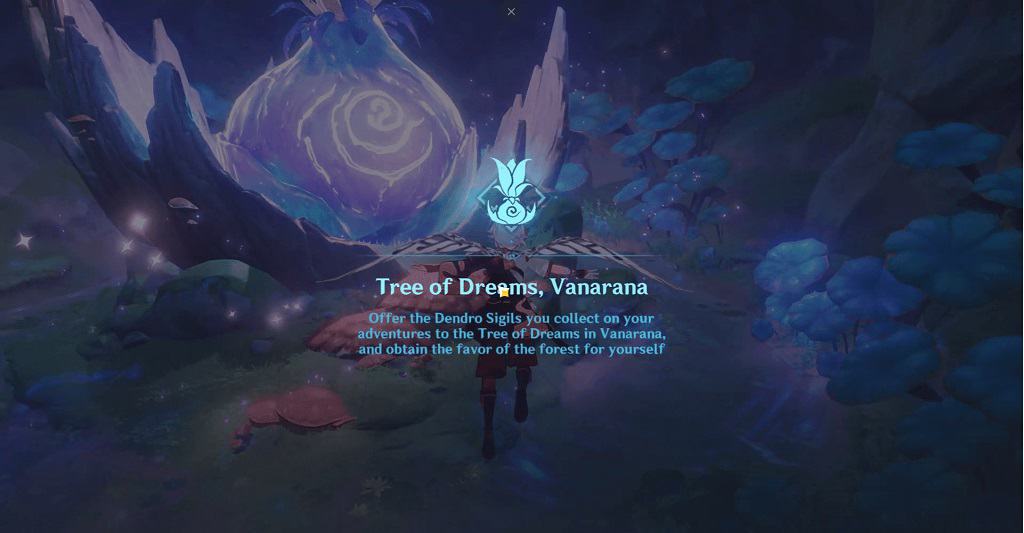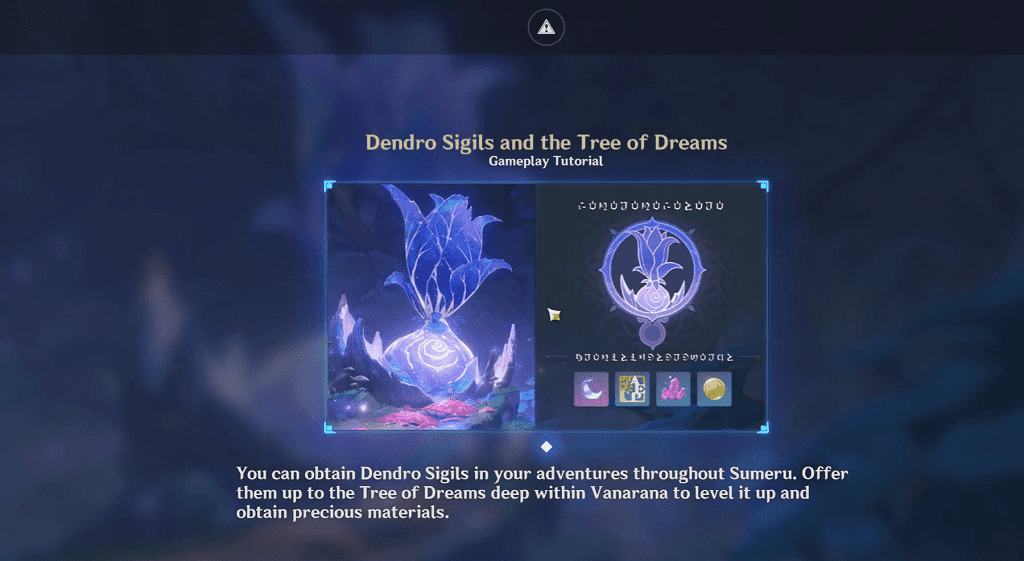 The Tree of dreams also has two unique states where its appearance changes depending on whether you are in the dream world or the real world. I'm a fan of the dream world state because of how beautiful the Tree's vibrant color scheme is. Soothing background music, adorable Aranaras, and the surroundings blend perfectly to give you a cozy experience.
You can use the Vintage Lyre if you want to switch between the worlds. You can play the Rhythm of the great dream near a Silapna to change the real world into a dream world and vice-versa. Once you do that, you will notice that the Tree of dream's appearance will change. Shortly after a loading screen, you will notice the change in the environment around you.
Vanarana's ecosystem is rather unique and reacts to stimuli in mystical ways. It's not similar to Sumeru, where you can change the time from the Paimon menu and swing the needles of a clock to nighttime. Throughout your exploration in Vanarana, you will come across various exploration objectives requiring you to interact with them in unique ways. I've been racking up unique Rhythms in the Aranyaka world quest series and using them near numerous in-game items.
Total Rewards from the Tree of Dreams
2,500,000 x Mora
9,600 x Adventure EXP
500 x Mystic Enhancement Ore
20 x Acquaint Fate
10 x Intertwined Fate
5 x Fragile Resin
3 x Dream Solvent
Dendro Sigils, Here I Come
Like every region, Sumeru has its sigils that you can use to raise the Tree of dreams' level in exchange for free rewards. All you need to do is to collect these sigils, visit Vanarana and offer them to the Tree of dreams. You can obtain Dendro sigils from the following sources:
The Vanarana Statue of the Seven
Once you collect enough Dendroculi, you can level up Sumeru's Statue of the seven. After increasing its level, you will receive Dendro sigils in return. I would suggest leveling up the Statue of seven to the maximum level to get keys to the Shrines of Depths and obtain decent rewards. I highly recommend following the official Genshin Impact interactive map to find Oculis. That way, you can avoid wasting time and bring your search to fruition.
Chest Rewards
Opening chests in regions award you with their respective sigils. The sigil count depends on the quality of a chest. Common chests may reward you with 1-3 sigils, whereas a Luxurious chest may grant you 5-10 sigils. Once you gain Dendro sigils, you can check their count in the precious items section in your inventory. Remember that some chests, like Remarkable chests, may not reward you with any sigils.
Remarkable quests contain furniture blueprints you can learn to craft in your Serenitea pot. You can obtain chests by completing challenges, escorting seelies, or solving puzzles in the overworld. I would also recommend paying attention to world quests, which feature exquisite and precious chests. Maybe you'll find luxurious chests in a world quest? The world of Teyvat is full of wonders, my friend.
One Time Domains
There are a few domains, like the Fragment of Childhood dreams or the Dark Valley, that you can complete in Sumeru. Usually, they will feature common enemies with a few mini-bosses that you can easily complete.
With a few puzzles to some levels, these domains provide a source of free Dendro sigils that you can obtain after completing them or opening a few chests in those domains. I recommend completing these domains, as you only need to grind through waves of enemies to obtain their featured rewards.
Frequently Asked Questions
Question: How can I find chests in the game?
Answer: You have two options. You can use a treasure compass to search for chests near you, or you can go to the official Genshin Impact interactive map and select chest types there. Once you do that, you will see a lot of chests appearing on the interactive map that you can use to hunt for chests. I prefer to use interactive maps as they allow me to keep track of the items I collect.
Question: What do you think about the Aranyaka world quest?
Answer: Some parts of the quest were plain boring, while others were interesting. A few times, I was stuck in some random puzzles, and it took quite a lot of time to solve them. Sometimes I got lost in random places but eventually found my way out. The Aranyaka world quest might be one of the game's biggest world quests, rivaling the Sacred Sakura cleansing ritual world quest. However, I would suggest taking out ample time to proceed through these quests.
Question: What do you think about the rewards from the Tree of dreams?
Answer: I would say they are good. Anything that the game gives you for free is welcome. I do get that; sometimes, the rewards aren't worth the grind at later stages when there's a scarcity of chests in the overworld. However, at the same time, you still have something to exchange for and feel rewarded once you offer those precious Dendro sigils.
The Forest Remembers
With a total of 50 levels, you would need a total of 1,750 Dendro sigils to max out the Tree of Dreams. A tough yet achievable goal. The best way to achieve this is to use your treasure compass to find chests in the nitty-gritty corners of Sumeru. Challenges, Domains, and puzzles are all there for you to grab, and you shouldn't waste a second grabbing them. I would also suggest experimenting around the world to get some hidden achievements.
You can either collect a bunch of Dendro sigils from jumping some levels or offer them immediately once you have collected 35 of them. The choice is yours. I'm impatient with Offering systems like the Frostbearing Tree in Dragonspine, Sacred Sakura near the grand Narukami shrine, and Vanarana's Favor in Sumeru region.
The moment I get enough sigils, I teleport to their location and offer them. If you want to know more about gadgets like the Vintage Lyre, head to our Gadgets guide. Some amazing Gadgets can ease your game experience and help you in exploration.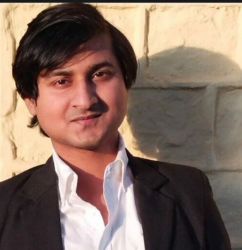 Latest posts by Himanshu Verkiya
(see all)