In any game, there's absolutely nothing worse than running out of inventory space just when you are about to pick up some shiny treasure or tasty treats.
In terms of Genshin Impact, I don't want to think about how many times I've run out of space in my artifact inventory and had to grit my teeth through leveling up a flop artifact just so I can claim more that will inevitably have zero crit stats.
If it's annoying in-game, think about how annoying it is to be unable to carry all of your stuff in real life. Sure, you could stuff your pockets full, but what better way to say no to running out of inventory space than with a backpack?
There are some super cute Genshin Impact-themed backpacks out there, and today I've rounded up some of the best Genshin Impact themed backpacks to share with you! Never again will your pockets be full with a trusty backpack!
The Backpack That Carries the Rest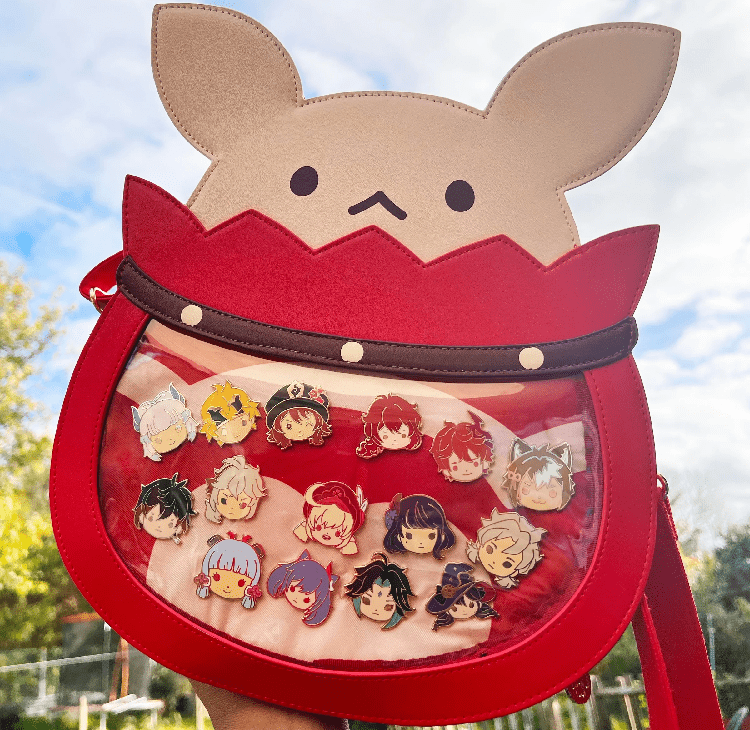 Of all of these backpacks, my favorite one is a little bit of an outlier. Though it is, unfortunately, only a limited edition bag (which arguably makes it even more elusive and impressive to own!), the Klee ITA bag from Cosmokii is by far the best backpack on this list.
Not only is it fashioned after one of the cutest characters in Genshin Impact, but it is also one of the best representations of Klee I could find. There were a lot of "Klee" backpacks on the market that was designed after the backpack Klee wears in-game, but the vast majority of them use cheap materials or are meant to be used only once or twice for cosplays.
This backpack, however, is designed with practicality in mind and isn't putting style over substance, making it the best of the best! 
Selection Criteria
The most important thing that makes a backpack a backpack is an ability to wear it on your back. So on this list, you will only find proper backpacks, no messenger or tote bags here! If you can't wear it comfortably on your back, then it's not a backpack!
It's also important that these backpacks are able to store enough inside them to make them worth having, especially if you're going to be taking them to school or work or on trips. So as long as there's enough space for a laptop or tablet, some books, and other bits and pieces, it's a great backpack!
These backpacks have to look good too. While being functional is a huge part of a good backpack, I also want it to represent Genshin Impact in a way that looks nice but also isn't so in your face that the backpacks become tacky.
With that aside, let's get into some of the best Genshin Impact Backpacks!
Genshin Impact emote backpack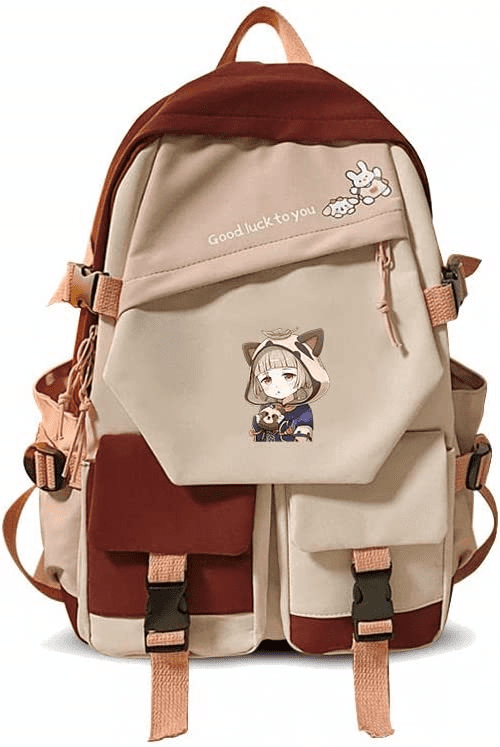 This is a super cute backpack with so many pockets and pouches that you'll never wish you had more places to put things.
There is, of course, the main bag section of the backpack, which is large enough to fit most laptops, two pockets on the back that are closed with a buckle to keep your items safe, additional zip pouches on the front and back of the backpack for smaller items like your phone as well as two pouches on either side to hold water bottles.
There is so much space that this backpack is perfect for students who have to carry around all of their books all day!
Although the ridiculous amount of storage places is amazing, this backpack also has an insane amount of customization, so you're bound to find one that fits your tastes. The main body of the bad is a beige color, but you can choose between green, red, grey, or black colored accents.
You can also choose to have Sayu, Venti, Klee, Kazuha, or Xiao sit front and center on your backpack, so there really is something for everyone.
Pros
This backpack has so many different pockets and storage places, so you'll be able to fit everything you'll ever need

There are plenty of customization options, so you can really make this backpack your own
Cons
I'm not a huge fan of the "good luck to you" message, but it still looks cute
Klee Genshin Impact Inspired Ita Bag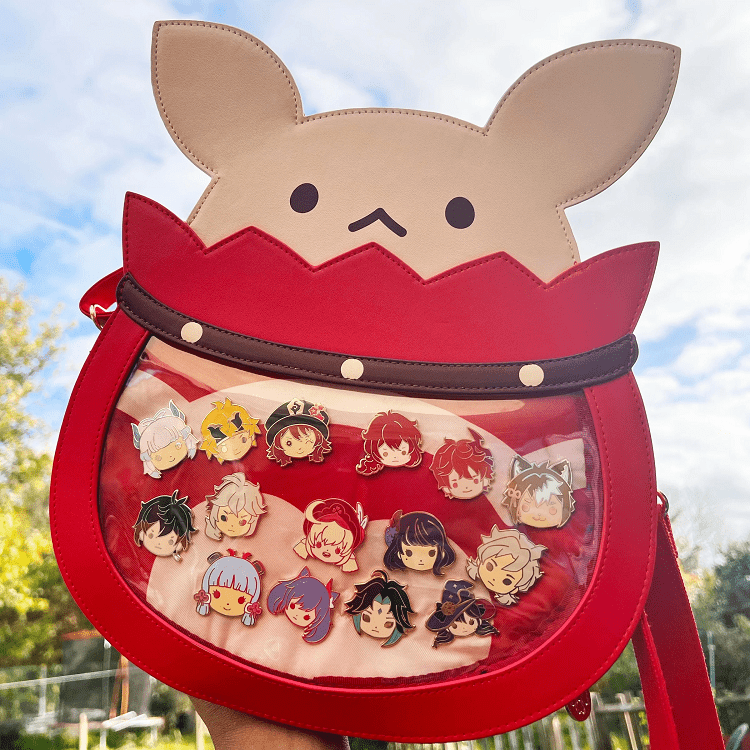 This backpack is definitely my favorite on this list. It has such a clean design based on Klee's best buddy Dodoco and has plenty of space for you to carry anything you need. I especially like the fact that you can convert this bag from a backpack to an over-the-shoulder long strap.
I know I said in the selection criteria that these bags had to be backpacks, but I said nothing about whether the bag had to stay as a backpack. I like to be able to customize my merch to an extent, and the ability to change the straps is a really nice and inclusive touch.
If the design and straps of this backpack weren't enough to tempt you, then maybe the zipped window pouch will. This pouch has two different patterned inserts that you can use to display stickers, badges, or anything else your heart desires.
I used to love putting pins on my schoolbag, but after losing a few too many pins, I decided to stop. This window pouch will keep any pin safe, and even if it does fall off, it will still be inside the pocket safe and sound.
The sheer functionality of this bag (as well as its adorable design) makes it my favorite on this list, and I know you'll love it too!
Pros
Customizable straps, either the classic backpack or an over-the-shoulder bag strap

Lots of pockets and pouches, including a window pouch for all you badge collectors out there

One of the cutest designs on this list, and although not exactly the same as Klee's bag in-game, I think this is a good compromise
Cons
Limited edition, so when it's gone, it's gone

I can only get the price to show in GBP, so Paypal may be necessary for overseas purchases
Genshin Impact Zhongli constellation Backpack by trendystall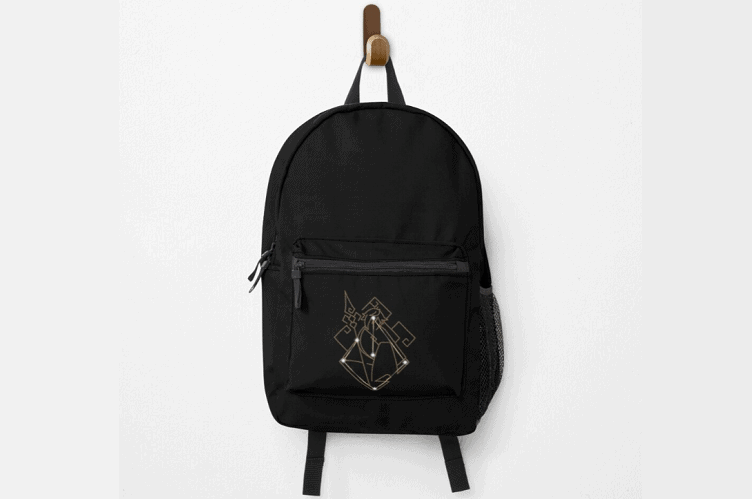 This backpack follows a more classic design with a large main backpack space, a smaller front pouch, and a mesh pouch for your water bottle on the side. Where this backpack really shines is the huge amount of design choices you can find.
I linked the Zhongli backpack because it's my favorite design, but you can find designs for Gorou, Yanfei, Razor, Xiao, Childe, and more.
You can also find some with the Genshin Impact logo on them, in different colors or with different constellation placements. There is a lot to choose from here, so you're bound to find a design you enjoy.
Pros
Plenty of different design choices, so you're bound to find one you love

You have the choice to have the Genshin Impact logo on the backpack, so if you prefer more subtle designs (like me!), you'll be catered for
Cons
Follows a more basic backpack design, so there aren't as many pockets as other backpacks on this list
Gouba ITA Backpack by Strawberry Milk Shop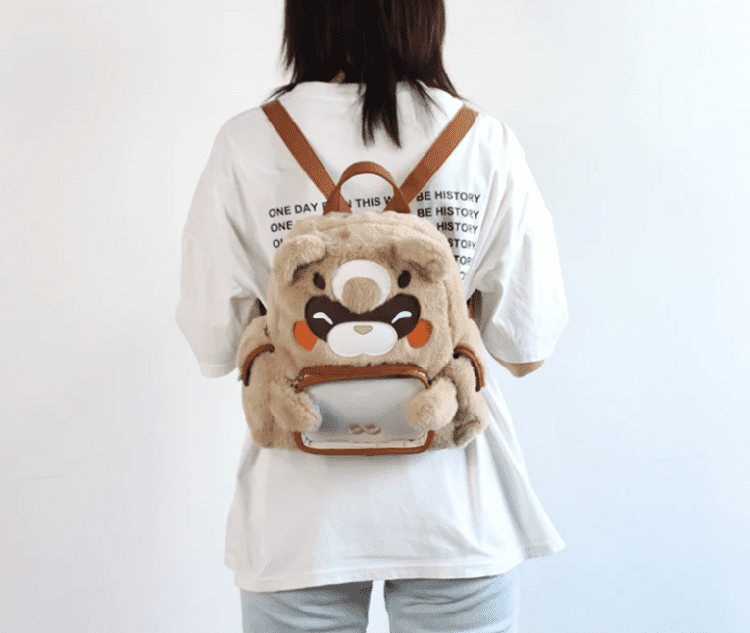 This backpack is for all of my Gourmet God lovers out there, and who can deny that this backpack isn't as cute as a button? This is a plush backpack featuring the likeness of Xianglings best buddy Gouba, and though it is pre-order only right now, this is the perfect backpack for any cutesy Genshin fan.
Like the Klee backpack, this Gouba backpack features a little front window pocket with changeable inserts so you can display your badges without fear of losing them.
If this backpack wasn't cute enough already, the designer gave Gouba some tiny little paws, and though they have no practical use, they are utterly adorable. With plenty of inside and outside pocket space to boot, this is an amazing Genshin Impact backpack that should definitely be on your radar. 
Pros
Lots of pocket space inside and out, plus a window pocket and clasps on the side pockets to keep your stuff secure

An absolutely adorable design, complete with little ears and paws to make Gouba look as cute and cuddly as possible 
Cons
This is a plush backpack, so, unfortunately, it won't hold up as well in the rain.  

This backpack is only open for pre-orders right now, which won't ship until February 2023
Genshin Impact HuTao Ghost Backpack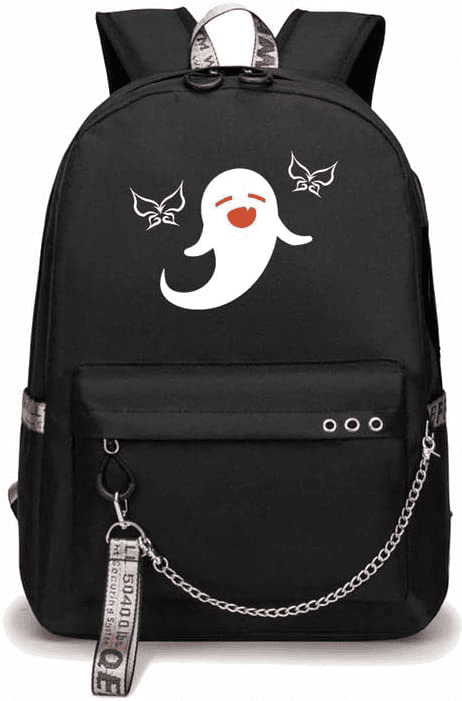 HuTao is an insanely popular character in Genshin Impact, so of course, she deserves to have a backpack or two in her likeness. This backpack features her little ghost companion as well as her signature butterflies. I love this design as it's subtle enough not to scream "Genshin Impact" but also recognizable enough to anyone familiar with the game.
This backpack is large enough to fit a laptop, so you'll be able to get your work or school supplies in with no issues, and it has enough space in the side pouches for a water bottle as well as a front zipper pocket for any other small items you need on you.
This backpack comes in five different colors, including two awesome-looking galaxy prints, so you can design this backpack to your tastes easily. There is also a chain securing the zipper of the front pouch to the side of the backpack, which you don't often see on any backpack, let alone on Genshin Impact merch. 
Pros
This backpack can hold a laptop, so there's lots of space for everything you need.

Though there are fewer color choices than some other backpacks on this list, the patterns you can choose from all look amazing 

The chain is a really unique touch that will make your backpack stand out
Cons
The drink pockets on the side look a little small, so you may have to squeeze in a larger water bottle

It would be nice to see some different character designs available
Genshin Impact Kazuha Backpack by Zirxecs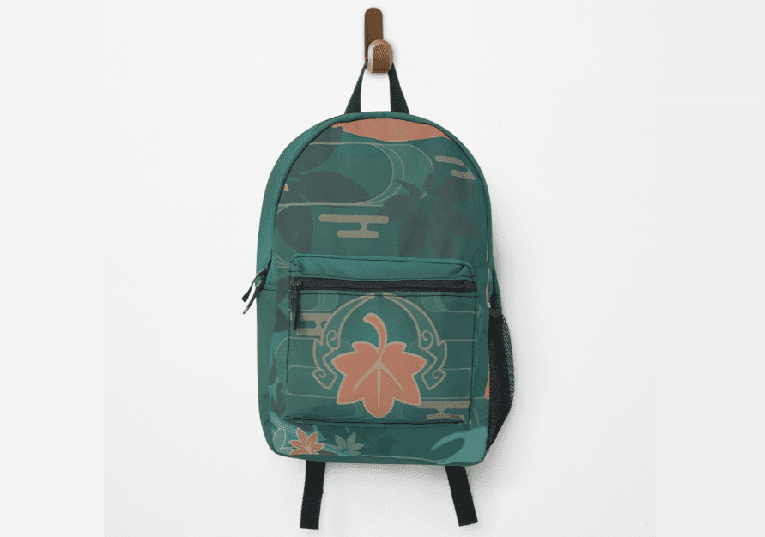 This Kazuha backpack has a wonderful, intricate design featuring Kazuhas maple leaf and the design patterns from the banner of his character you unlock when you get to friendship level ten with Kazuha. It's such a pretty design that you could honestly get away with giving it to a non-Genshin fan, and they'd still love it.
This is a standard backpack size and comes with padded straps and a couple of front pockets, so even though the backpack itself is pretty basic, the design is really the highlight of this one. 
Pros
Beautiful design that will please both Genshin fans and non-Genshin fans alike.

Enough space for a laptop, so though there aren't a lot of pockets, you can still carry what you need

It's nice to see character banner designs being used instead of just splash art and constellations 
Cons
Not a lot of pockets and pouches, which would have been nice to see
Genshin Impact Character Collage Bag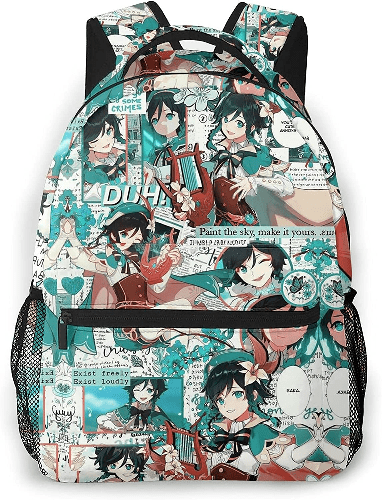 This backpack is a huge collage of Venti featuring images from in-game, the manga series, promotional art, memes, and some inspirational words and quotes. If this sounds like a really busy design, it's because it is, but I think it really works and makes for an eye-catching backpack.
This backpack is water resistant and, like many backpacks on this list, has enough room for a laptop, books, water bottles, and more. These features are great, but the design is what really makes this backpack stand out. 
If Venti isn't your style, then you have plenty of other characters to choose from, including Klee, Zhongli, Chonyun, Sucrose, Qiqi, and more, all with their own amazing collage design.
The only caveat to the collage style is the fact that where the pockets meet the main body of the backpack, the stitching can distort the image a little bit, which can make for some interesting faces where the pattern does not line up properly. 
Pros
The collage design really stands out from other designs, so it's perfect for any die-hard Genshin Impact fan.

There are plenty of different character collages to choose from, with some characters that don't often get represented in other merch.
Cons
The pattern hasn't been lined up very well where pockets have been stitched on, so the pattern does distort in some places.

This backpack may be a little bit too busy for some people's tastes. 
Genshin Impact Chibi Backpack and Keychain Combo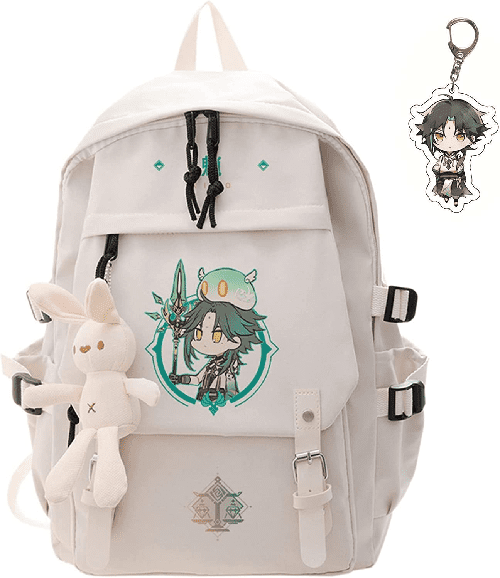 This backpack has a lot going for it. First and foremost, there's a super cute chibi design in the middle of the backpack, as well as the character's name and nation symbol which I think ties off the design in a really clean way.
There are also plenty of pockets, pouches, and buckles that will let you carry around anything you need. An interesting feature of this backpack is the plush bunny keychain that is featured in all of the promotional images.
Though not Genshin Impact-related, it's still super cute, and I'm sure you can remove it if you'd like to. There is also a keychain of the respective character (in this case, Itto) shown, so to get a keychain of a character you like to deck out your new backpack is an awesome feature. 
If a complimentary keychain wasn't enough for you, then maybe the sheer amount of characters you can choose from will be. You can choose from seventeen different Genshin Impact characters, all with their own adorable chibi design and keychain.
This backpack is fantastic for anyone who sways toward the cuter designs and being able to rep your favorite character is a major bonus.
Pros
Seventeen different Genshin Impact characters to choose from, all with a cute chibi design.

Complimentary keychain matching your backpack 
Cons
The bunny on the backpack isn't Genshin Impact-related, but it looks like it can be easily removed
Frequently Asked Questions 
Question: Are There any Official Genshin Impact Backpacks?
Answer: As far as I can tell, there are no official Genshin Impact backpacks available in the flagship store, so while there may be some official Genshin Impact backpacks out there, they are likely only limited to China.
This means that to us in the rest of the world, there are no "official" Genshin Impact backpacks.
Question: How Big does a Backpack Need to be to Hold a Laptop?
Answer: In general, most laptops are about 15 inches, so you'll need a backpack that is 15 inches across, which, thankfully, most of them are.
Question: Are the Window Pouched on the Klee and Gouba Backpack only for Pin Badges?
Answer: Of course not! Though they are designed with badge safety in mind, you can store whatever you'd like in those pockets. The window just makes it so everyone can see what you have in there!
Conclusion
There are a lot of poorly designed, cheaply made backpacks that you have to wade through to find any good Genshin Impact backpacks.
Still, I've brought you the best Genshin Impact backpacks out there, with plenty of space, amazing designs, and lots of customization to boot. That being said, if there's any backpack you go for on this list, make it the Klee Genshin Impact Inspired Ita Bag.
Its unique design, customizable straps, and a window pocket for displaying badges make it really stand out.
The fact that it's a limited edition bag makes it even more special, as you know you'll be an individual when you use it. Though all of these backpacks are amazing, the Klee Genshin Impact Inspired Ita Bag is definitely our top pick.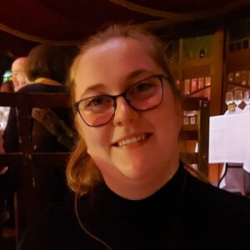 Latest posts by Bethany Gerrish
(see all)