Genshin Impact is an open-world RPG game featuring a beautiful vast world with different regions. Since the game launched, it's gained popularity in other countries and received renowned awards. With its wide variety of characters and various weapons, it requires you to invest time in building those characters.
Genshin Impact focuses a lot on farming materials, and even if you're investing in your characters or weapons, you need to collect different materials for that. I've been playing it ever since launch, and to this day, this game has so much to offer about other characters when it comes to weapons or builds.
Whenever a new character or weapon comes in, I hop to different Genshin social circles and discuss the best available team compositions and weapons with like-minded people.
Alright then, let's go over a summary of what I'll be covering in this Skyward Pride guide:
What is the Skyward Pride weapon?

How you can get it and the materials required to ascend it?

Which characters should use it?

Conclusion with a brief FAQ section
What is Skyward Pride?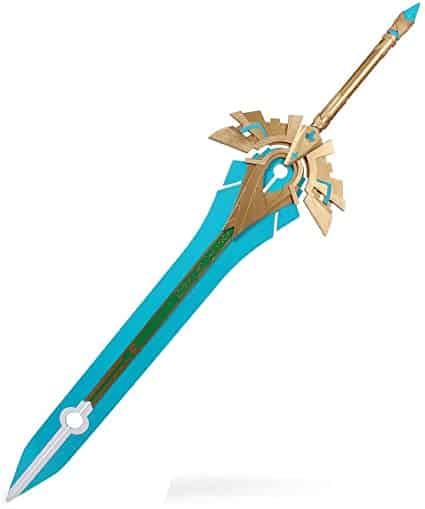 A claymore that symbolizes the pride of Dvalin soaring through the skies. When swung, it emits a deep hum as the full force of Dvalin's command of the sky, and the wind is unleashed. ~in-game description
Skyward pride is a 5-star claymore weapon that you can obtain from wishing. I've mentioned the level of a claymore with base attack for ease of understanding. Let's go over its details:
Base Attack : 48 (1) – 674 (90)
Secondary Stat – Energy Recharge – 8% to 36.8%
Passive: Sky-ripping Dragon Spine
Increases all DMG by 8%. After using an Elemental Burst, Normal or Charged Attack, on hit, creates a vacuum blade that does 80% of ATK as DMG to opponents along its path. Lasts for 20s or 8 vacuum blades.
Claymores look like enlarged versions of swords. Unlike one-handed swords, the claymore is wielded with both hands by characters.
Claymore has their benefits when you use them in-game. While farming for ores like crystal or white iron ores, you can easily break them and collect them. Claymores also help you cover a relatively large area for damage than swords and are suitable for doing a series of attacks.
Want to know more about Claymores in Genshin? Check out our complete Claymore Guide.
How Can You Get it, and Which Materials are Required?
As of writing this guide, In Genshin Impact 2.4, you can only obtain Skyward Pride through the wish system. It's permanently available in Wanderlust Invocation standard banner and weapon event wishes. You can get it from these banners before triggering the pity system if you're lucky enough.
You need the following to get Skyward pride to the highest ascension:
Mora: 225000
Boreal Wolf's: Milk tooth x5, Cracked tooth x14, Broken fang x14, Nostalgia x6
Dead leyline: Branch x23, Leaves x27, Sprout x41
Slime: Condensate x15, Secretions x23, Concentrate x27
Besides, you need around 900k Mora and 900+ mystic weapons enhancement ores to take your weapon from level 1 to level 90; yes, that's quite an amount of ores you need to max out your weapon. However, if you're free-to-play, I'd highly recommend you invest in this weapon as it'll go a long way.
Which Characters Use It?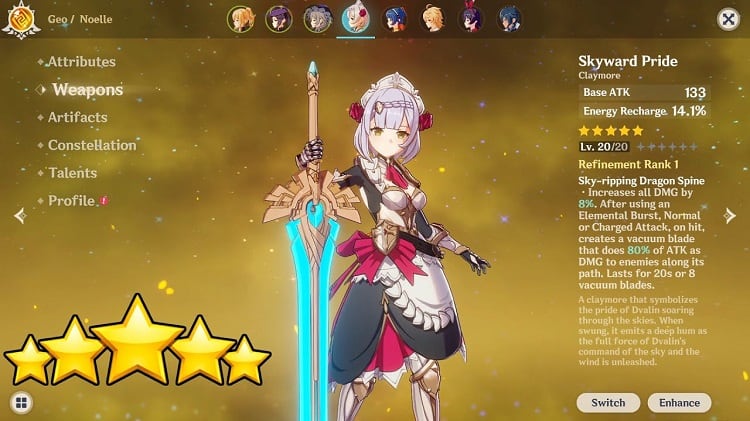 I want to clarify that I'd be giving out my remarks on how different characters can use this weapon. Although, if you're looking for optimized build recommendations and team compositions, you should check out character guides. 
As of writing this guide, Genshin Impact 2.4 has the following characters who can use Skyward Pride:
Xinyan – Pyro – 4 star
Diluc – Pyro – 5 star
Beidou – Electro – 4 star
Razor – Electro 5 star
Eula – Cryo – 5 star
Chongyun – Cryo – 4 star
Sayu – Anemo – 4 star
Arataki Itto – Geo – 5 star
Noelle – Geo – 4 star
The skyward Pride is suitable for characters like Beidou, who use a 4-piece emblem set and need energy recharge for more burst damage. Though, there are a lot of weapons that can outclass Skyward pride with refinements. However, if you're Free-to-play and looking for a weapon that gives you energy recharge and enables you to use character burst more often, you can pick Skyward pride.
Some people prefer to play certain characters as main DPS or supports. If you're looking to use this weapon on a character, you should select that character for the support role. Energy recharge stat weapon is good with 4-piece Severed fate of emblem artifact set. 
Skyward Pride boasting it as one of the highest base attack weapons, can help you clear mobs faster in the overworld. However, you'll need to take a more optimized approach to your team building when using this weapon on characters like Eula Razor or Xinyan, who prefer physical DMG playstyle.
So, I'd recommend you to use this weapon on characters who you'd like to put on support roles for abyss content. Or if you're someone like me who wants to spam burst and see cool animations on Diluc, you can put it on him and have his burst recharged back relatively fast.
Frequently Asked Questions
Let's discuss a few general questions which people might have after reading this guide.
Question: Are Weapons with Energy Recharge Stat Good?
Answer: Energy recharge is also called end-game stat. Why? Whenever you try to clear end game content like Spiral Abyss, it matters that your team characters get back their burst recharged before cooldown. That way, you'll be able to use their full potential and maintain a constant output of damage to enemies.
Most of the time, it happens that if you don't keep a proper rotation of your team characters, you might end up restarting a chamber. If you're a Free-to-play player aiming to clear the spiral abyss, then it matters that you also optimize your team comps and playstyle.
Question: How Good are Passives Like Movement Speed Buff we Get with Weapons?
Answer: I'd say they're good, depending on the situation. Suppose you're against cryo abyss mages or fighting a cryo domain. If you're affected by cryo, your stamina consumption rate increases.
In this situation, if you have a movement speed buff from your weapon's passive, then you'd be able to dodge an upcoming attack.
There's one weapon, "Skyward Blade", in Skyward weapon's series, which gives movement speed buff when the character uses its burst. I've been using it on my Jean, and with its energy recharge stat, my Jean can have 100% uptime with her burst. 
Question: Should I Refine a 5-star Weapon?
Answer: It depends on how much you're willing to spend on Genshin Impact. If you're someone who can afford to pull multiple refinements of weapons, then go for it. Refinements always give a boost to weapons and enhance their damage-dealing capabilities.
But, if you're a Free-to-play player or even a battle pass or welkin user, I won't recommend you to refine a 5-star weapon. It's better to have multiple copies of weapons and level them up separately. You can use them on different characters and benefit from their stat and passive effects.
Question: Do I Need 5-star Weapons to Clear Spiral Abyss?
Answer: I don't think you need 5-star weapons to clear end game content like Spiral abyss. Having a 5-star weapon in your inventory sure is an excellent boost to your character equipped with that weapon. However, you don't need to have 5-star weapons to clear challenging content.
That's doable with 4-star weapons as well. Moreover, you'll get multiple refinements of 4-star weapons through your wishes. When it comes to the spiral abyss, you can quickly clear it with suitable team compositions and 4-star weapons. Although, you'll need to invest in your characters properly for that.
Question: Is it Reasonable to Feed 3-star Weapons to 5-star as EXP Material?
Answer: Rather, I'd recommend you to have multiple refinements of 3-star weapons as well. You can obtain them quickly either from wishes or by exploring the overworld and opening chests.
Some 3-star weapons like Thrilling tales of Dragon Slayers and Harbringer of dawn are solid options for certain characters. 
Genshin Impact has an expansive roster of characters, and with more updates to come in the future, we can see more characters joining in. 
It's better to have refinements for 3-star weapons secured first, and then you can put them into 5-star weapons if you want to. Still, that won't be much EXP for your weapon, and you'll have to use weapon enhancement ores for levelling up your weapon.
Conclusion
I would say, unlike the general idea of some people, that you need offensive stats in weapons to consider them for the primary damage dealing role, some weapons are more suited for the support role. Skyward Pride is undoubtedly a good contender for a support weapon for characters. Moreover, if you're free-to-play, you would prefer to level up this weapon to equip it with a supporting character.
I used to play with many free weapons when I started this game and still do on my main account. Sometimes, I go to a friend's account to get more gist of 5-star weapon's performance. 
5-star weapons, whichever they are, are indeed an excellent boost to your character damage. If you have a 5-star weapon, you should invest in it. What matters is that you should be having fun while playing and worry about team comps and weapons when clearing end game content like Spiral Abyss.
If you're a casual player, most weapons can clear overworld monsters and help you progress through Adventure Ranks!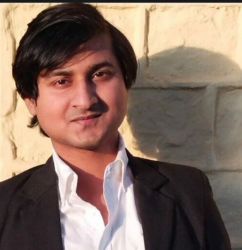 Latest posts by Himanshu Verkiya
(see all)