I'm sure everyone loves festivals. Exquisite sweets, colorful fireworks, hanging out with friends, and chit-chatting all night. There's no doubt that festivals brighten up dull calendar days and bring a breath of fresh air into our lives. We get to meet new people and catch up with old-timers.
I love to snap pictures wherever I go and save them to my personal collection. With Lantern rite coming up in Genshin, I'm all pumped up to visit the Liyue harbor to catch up with my in-game friends and play special mini-games.
The Lantern rite, one of Genshin Impact's flagship events, has brought brand new activities and features the Iridescence tour, Fontaine's prominent music festival.
However, this time, we don't start with the usual 'go to a place and initiate a quest' routine. Instead, while collecting some Nascent Bamboo shoots, we meet a young girl in the Bamboo forests of Qingce village.
We see Yaoyao rescuing a drowning man near a waterfall. Surprisingly enough, the drowning man turns out to be one of the main organizers of the Iridescence tour. With that, the Lantern rite chapter begins with our new friend, Yaoyao.
Getting featured as a brand new character during the Lantern rite, Yaoyao has barged in front of some beloved characters to state her claim as one of the cutest characters in the game. Joining the likes of Klee, Qiqi, and Sayu, Yaoyao is here to show off her polearm talents.
In this Genshin Impact YaoYao guide, let's acquaint ourselves with this lovely child blessed by the Adepti. I will discuss the best team compositions, artifacts, and weapons to help Yaoyao save others in their time of need.
One Who is Blessed by the Adepti, Yaoyao
We meet Yaoyao in the quest, A Thousand Miles for an Enigmatic Tune. While collecting Nascent Bamboo shoots, the Traveler sees Yaoyao diving into the water to save a visitor. Dvorak, a wanderer from Fontaine who's searching for an ethereal melody.
Yaoyao advises Dvorak to walk carefully near waterfalls as the surface could be slippery. She unpacks her bag and treats everyone to a scrumptious meal of Delicious Lotus Flower Crisps.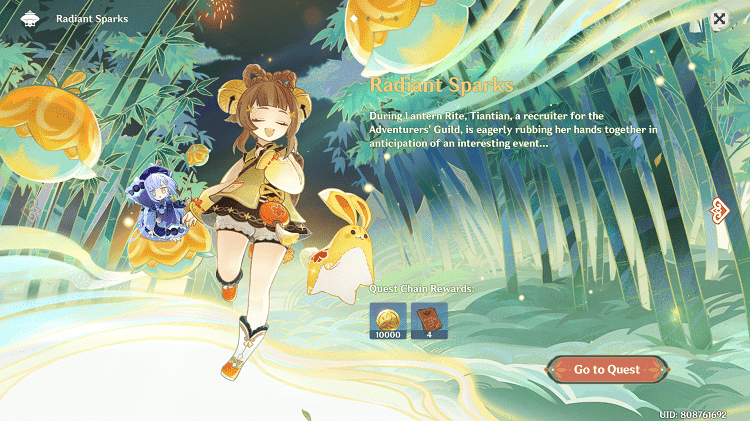 After a while, Dvorak introduces him as one of the main organizers of the Iridescence tour, one of the biggest music festivals in Fontaine. Dvorak has ventured out intending to introduce the tour to every nation and wants to organize music festivals in every nation.
Dvorak shares a story, The Lady Overlooking the Lake, where an unknown woman saved his drowning ancestor and heard an ethereal melody. Dvorak had found a lead in Liyue, and Yaoyao and the Traveler were intrigued to know more about it.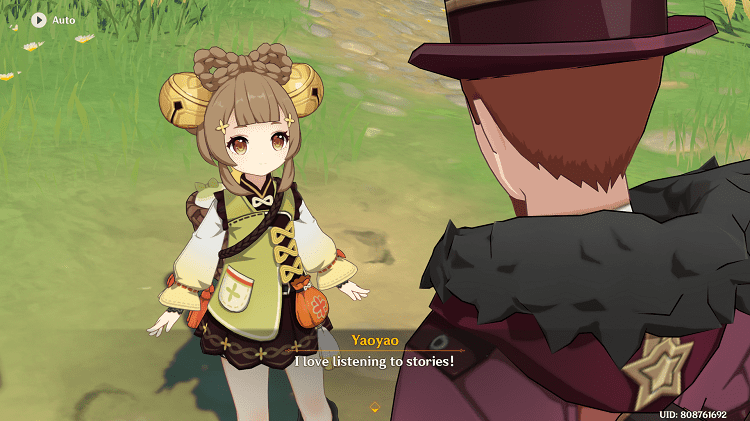 Yaoyao has a heart of gold. A child full of innocence, Yaoyao suggests Dvorak meet with the Qixing and Ganyu in case he's been scammed by anyone on his way to Liyue. We head to the Liyue Harbor, where the Traveler shows preparations for the Lantern rite to Dvorak.
We get to meet Xinyan! Though Dvorak doesn't have any plans for a Liyue music festival, Xinyan and Yaoyao assure him that it's achievable if they meet the Liyue Qixing and Ningguang.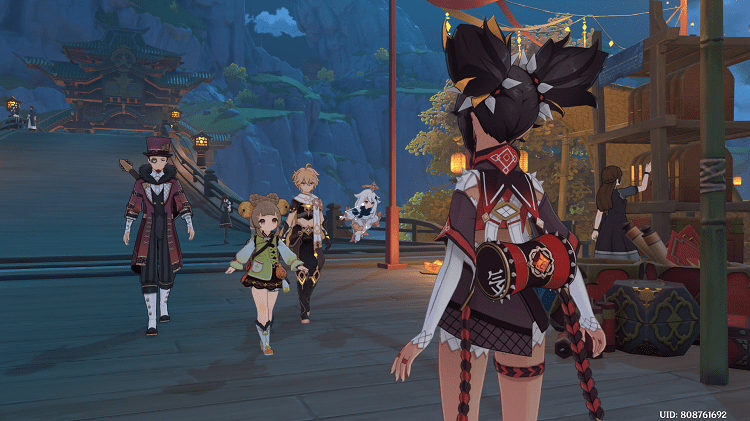 We run into Madame Ping, who loves the idea of a music festival, and meet Ganyu. The ethereal background music was soothing, and set the tone for Lantern rite.
Ganyu assures the party that she will appeal a proposal to have the Iridescence tour as the final festival activity. Yaoyao leaves as she worries about her parents. After 2 hours, Keqing brings good news of the proposal's acceptance by the Qixing.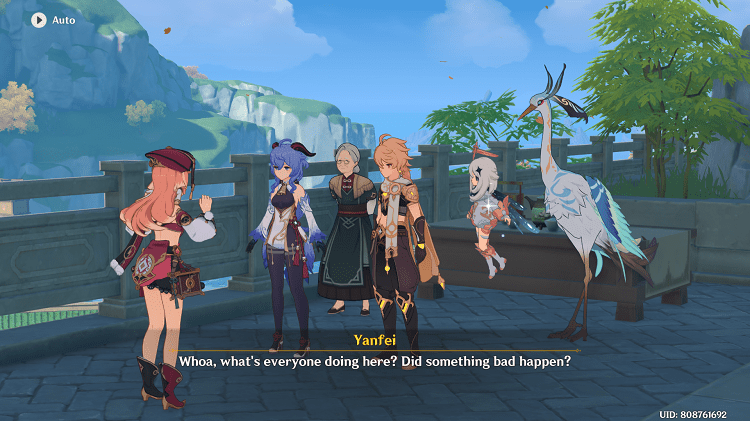 Evening time comes, and everyone unites to see Hu Tao and Xinyan's rap performance. Yaoyao is ecstatic to see fireworks and Xiao lanterns in the sky and runs back to Madame ping to express her feelings.
After a while, we get to meet all our friends at Xinyue Kiosk, where Hu Tao treats everyone to a lavish dinner, and the festival comes to an end.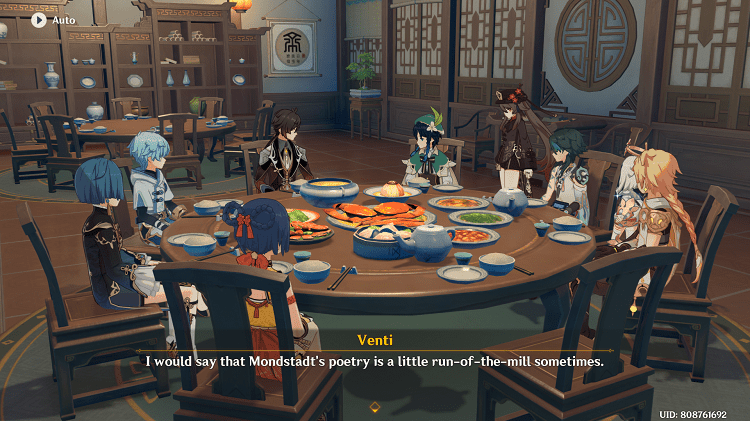 Ascension and Talent Level Up
Yaoyao's ascension stat, HP %, is an amazing attribute that helps to increase her maximum health. Yaoyao's abilities and constellations scale off her maximum health, and having an HP ascension stat enhances her abilities' potency.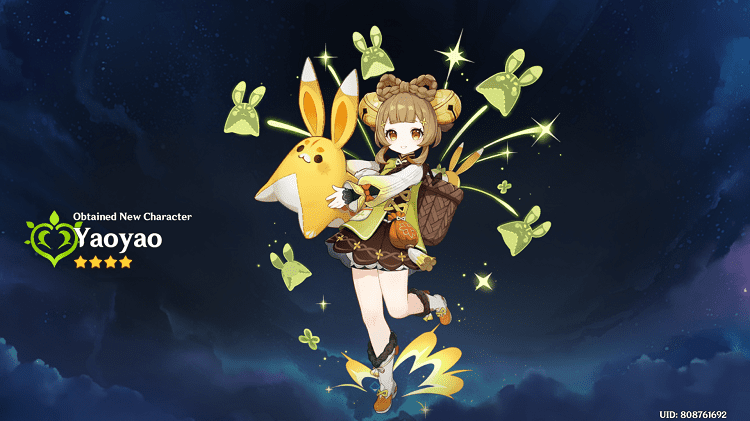 Here's a list of materials that you need to ascend Yaoyao to the maximum level: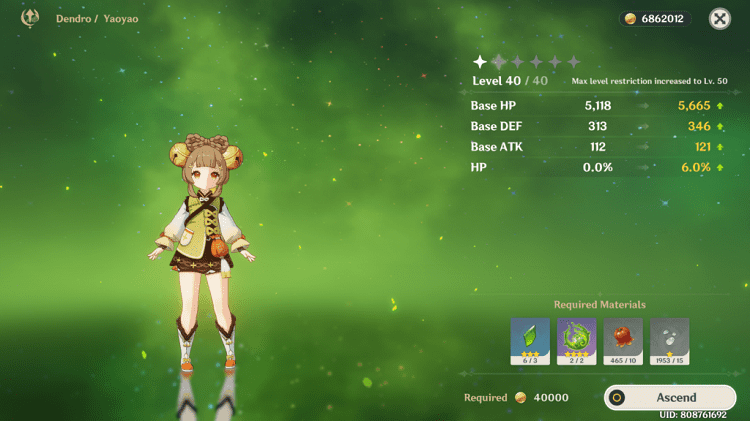 Mora x 420,000

Jueyun chili x 168

Quelled creeper x 46

Nagadus emerald sliver x 1

Nagadus emerald fragment x 9

Nagadus emerald chunk x 9

Nagadus emerald gemstone x 6

Slime condensate x 18

Slime secretions x 30

Slime concentrate x 36
Here's a list to level Yaoyao's single talent to the maximum: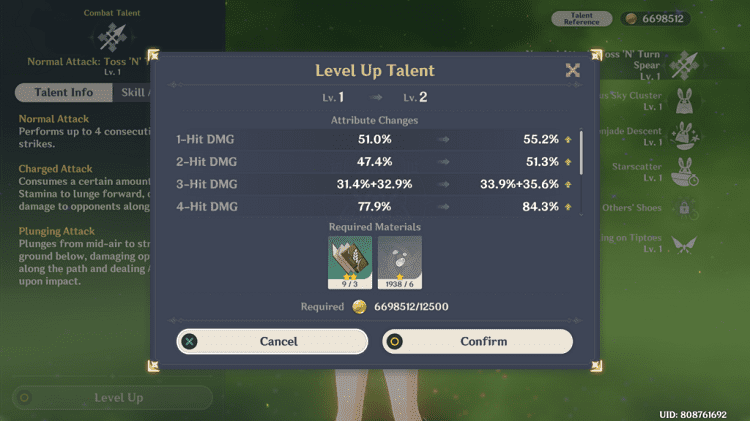 Mora x 1,652,500

Slime condensate x 6

Slime secretions x 22

Slime concentrate x 31

Daka's bell x 6

Crown of insight x 1

Teachings of diligence x 3

Guide to diligence x 21

Philosophies of diligence x 38
You can completely avoid leveling her normal attack talent, as it doesn't bring anything to the table. You should level up her elemental skill and burst to heal party members. The more you invest in her talents, the more potent her healing will be.
Combat Talents
Normal Attack: Toss ' N' Turn Spear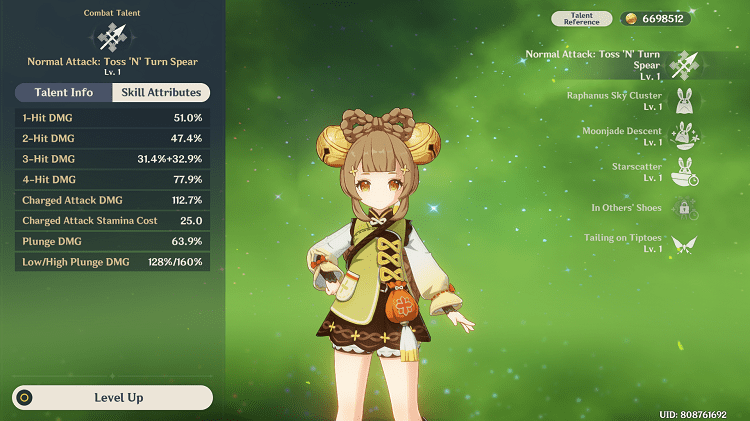 Normal attack: Yaoyao performs up to 4 strikes with her spear
Charged attack: After consuming a certain amount of stamina, Yaoyao charges with her polearm in a direction
Plunging attack: Yaoyao makes a plunge attack from mid-air to strike the ground below her
Yaoyao's normal talent features a generic polearm attack string that doesn't need to be invested in. Unless you want to build her as a Physical damage dealer, which I don't recommend, you should avoid leveling up this talent.
Elemental Skill: Raphanus Sky Cluster
Yaoyao uses a special device, Yuegui: Throwing mode, that can be used differently in a holding mode. You can aim the skill in holding mode.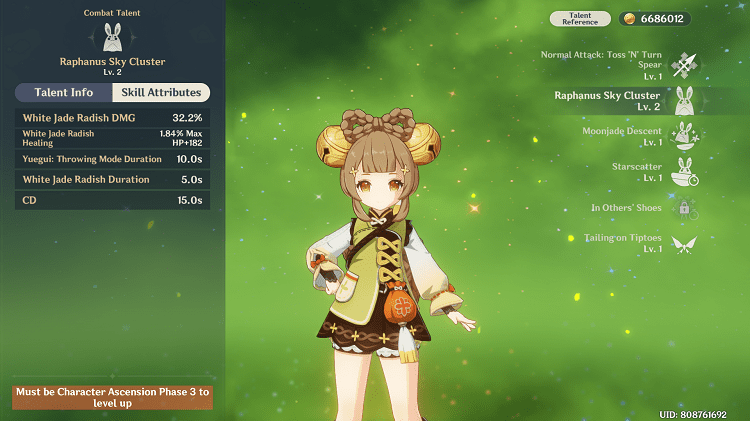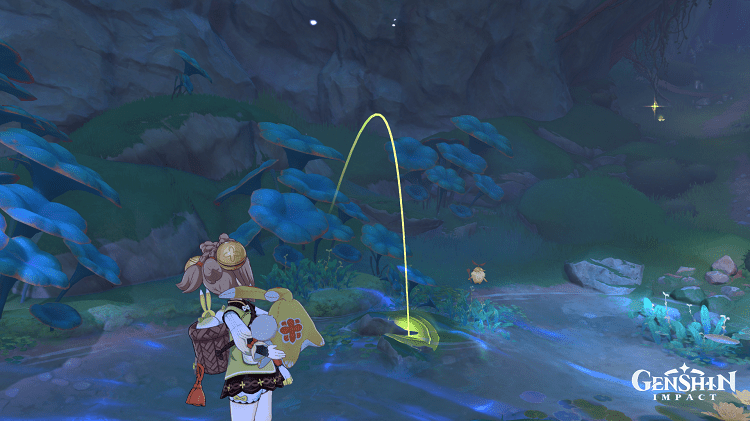 Yuegui: Throwing Mode
Yaoyao throws Jade radishes that explode on contact with characters or enemies to deal Dendro damage in a specific AoE. They also heal characters based on Yaoyao's maximum health.
Suppose a radish doesn't come in contact with a character or an enemy. In that case, it stays at a place and explodes after its duration expires. The throwing mode selects its targets based on the following conditions:
If all characters have more than 70 % health, then it will throw radishes at a nearby enemy.

If characters have 70 % or less health, then it will heal the character with the lowest health. With no enemies around, Yuegui will throw radishes at characters even if they have more than 70 % HP.
There can exist only two instances of Yuegui: Throwing mode at any one time.
You can hold the skill to pinpoint a location where you want to throw a radish. Just like Amber's Baron bunny, you can aim Yaoyao's rabbit. You can deploy the elemental skill on the battlefield for the Dendro application.
It increases her value in Dendro teams, where you need to trigger reactions consistently. However, the blast radius of radishes is quite small, and you are restricted to a small zone to attack enemies.
Elemental Burst: Moonjade Descent
Yuegui deals Dendro damage to nearby enemies by entering an Adeptal legacy state. The Adeptal legacy state has the following effects:
Yaoyao's Dendro resistance increases, and she obtains a 15 % movement speed bonus.

White Jade radishes' Dendro damage is counted as elemental burst damage, and explosions will heal all party members.

Yaoyao summons more " Yuegui: Jumping Mode" periodically. The skill features the same effects as her elemental skill, and three : Yuegui: Jumping Mode" can exist at a time.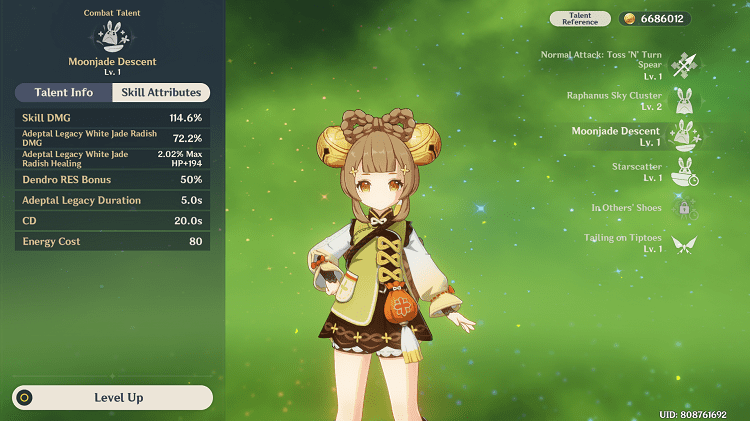 The Adeptal legacy state ends once Yaoyao goes off the field and all the remaining summons are cleared.
I was so disappointed when I found out that the Adeptal legacy state wasn't a persistent elemental burst. I love playing characters whose skills can be deployed on the field, allowing players to switch to a hypercarry or a main DPS character. However, this doesn't mean that her elemental burst is completely useless.
Genshin Impact has many characters, and some solely focus on certain reactions. This means Yaoyao's burst can still be used in some team compositions. In an abyss situation, where time is important, 5 seconds can decide the fate of flawlessly completing a chamber.
On top of that, you can use her elemental burst to heal all party members. With decent multipliers and HP scaling on the elemental burst, healing becomes a piece of cake with Yaoyao.
Increased Dendro resistance shields Yaoyao from incoming Bloom or Burgeon damage. With a minor boost in movement speed, you can easily position yourself on the battlefield and have three Yuegui on the ground.
Passive: Starscatter
Yaoyao throws White Jade radishes at nearby enemies when she sprints, jumps, or runs in her elemental burst's Adeptal legacy state. The cooldown to throw 1 White Jade radish is 0.6 seconds.
I don't think that you need to pay much attention to trigger this passive because, most of the time, you will be moving on the battlefield. Staying in one place can cost you an active character and leave you vulnerable to enemies' attacks.
I would suggest spriting for short distances as it may consume more stamina. You are better off with a stamina reserve to counter an unexpected attack or avoid an incoming jump attack.
Passive: In Others' Shoes
With a cooldown of 5 seconds, active characters within an area gain health every 1 second based on 0.8 % of Yaoyao maximum HP when a White Jade radish explodes.
The passive strengthens Yaoyao's Yuegui's healing effects. I love that her abilities and passives synergize with her HP ascension stat and imply building more HP on her.
Passive: Tailing on Tiptoes
Your characters won't startle wildlife like Crystalflies when Yaoyao is at the party.
It is similar to Sayu's passive, Yoohoo art: Silencer's secret, which allows players to easily sneak behind wildlife and living creatures and catch them without fighting.
Catching crystal flies will help you in the long run because you can craft condensed resin with their help. Crystal flies come in different elements and are available at various places on the map.
They are quite agile, and if you don't have a fast reaction, chances are, you won't be able to catch them. You can have a character like Yaoyao or Sayu catch these creatures and stack them up in your inventory for busy days.
Constellations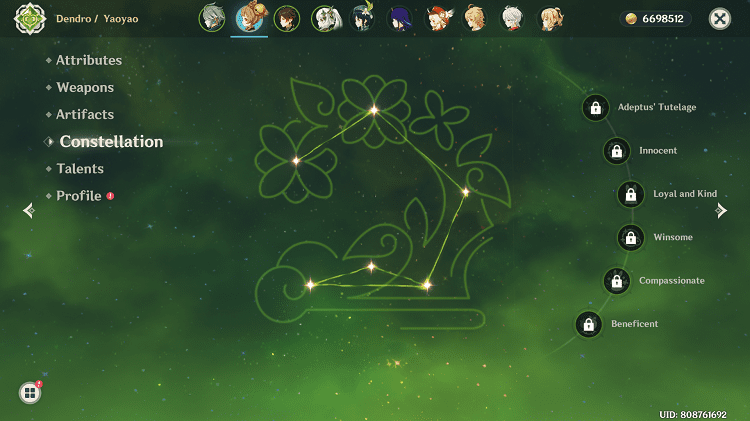 C1: Adeptus' Tutelage
Active characters' within the AoE of White Jade Radishes' explosion gain a 15 % Dendro damage bonus for 8 seconds and have 15 units of stamina restored. The cooldown for stamina restoration is 5 seconds.
An amazing constellation that increases on-field characters' dendro damage bonus and restores stamina. Characters who depend on Dendro-reactions like Alhaitham, Nahida, or Collei can benefit from this constellation.
For a character like Alhaitham, stamina restoration is an incredible perk, and you can use his charged attack to generate a Chisel-Light mirror.
C2: Innocent
Three units of energy are restored to Yaoyao when White Jade Radish explodes to deal damage to enemies in the Adeptal legacy state. The cooldown for energy restoration is 0.8 seconds.
A decent quality of life that refunds energy to Yaoyao in her elemental burst. Yaoyao's burst lasts 5 seconds, and factoring in the cooldown for this constellation adds another extra second.
This means, in total; you get a refund of 18 ( 6 * 3 ) units of flat energy to Yaoyao. I love constellations that reduce energy requirements on characters' elemental bursts, as most end-game focuses on efficiently utilizing elemental bursts.
C3: Loyal and Kind
The constellation increases Yaoyao's elemental skill, Raphanus Sky Cluster, by 3 levels with a max cap of 15.
The constellation enhances Yaoyao's elemental skill's healing capabilities.
C4: Winsome
After using the elemental skill or burst, Yaoyao's Elemental mastery scales off 0.3 % of her maximum health for 8 seconds. The maximum Elemental mastery gained this way is limited to 120 units.
You can easily build Yaoyao more than 30,000 HP in the game and equip weapons like a Black tassel on her that provides an HP secondary stat. Her ascension stat, HP %, also adds to her massive health pool and weaves in with this constellation to provide an elemental mastery bonus.
C5:Compassionate
The level of Yaoyao's elemental burst, Moonjade Descent, increases by 3 with a maximum level of 15.
A decent constellation that's effective in Bloom and Burgeon teams where your characters are prone to incoming Dendro damage. Yaoyao's increased Dendro resistance and healing can easily counter incoming damage.
C6: Beneficent
Yuegui: Throwing mode throws a Mega Radish for every 2 White Jade Radishes that have a larger area-of-effect than a standard radish and have the following effects on explosion:
The radish deals AoE Dendro damage based on 75 % of Yaoyao's attack.

Active character's health is restored based on 7.5% of Yaoyao's maximum health.
There can be a maximum of 2 Mega Radishes with every Yuegui: Throwing mode.
The constellation basically amplifies Yaoyao's healing capabilities. With a bigger area-of-effect and better area damage, Yaoyao can outclass some of the best healers in the game.
Artifacts
You can use artifact sets like Gilded dreams, The Exile, Instructor's, or 2-piece combinations to supplement your team with Yaoyao's abilities. The Exile and Instructor's are amazing 4-piece artifact sets that can help you in the early game phase. Gilded dreams can increase Yaoyao's damage.
However, I would suggest building her in a support-oriented role, as her abilities are focused on healing characters. Let's review a few notable mentions that can be used on Yaoyao to achieve outstanding results.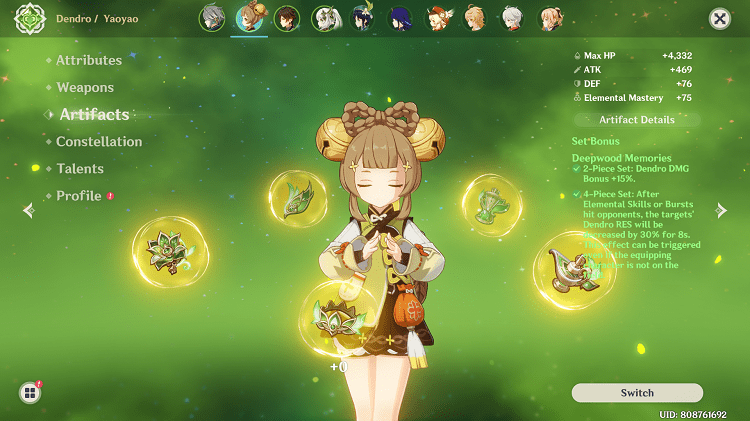 Deepwood Memories
The artifact set is a go-to choice for Dendro characters in general. You can equip this artifact set on Yaoyao or another supporting character in the team to shred enemies' Dendro resistance. The 2-piece set bonus grants a 15 % Dendro damage bonus.
In contrast, the 4-piece set enables skills to reduce enemies' Dendro resistance by 30 % for 8 seconds. The best thing about the artifact set is its ability to trigger an off-field character.
You can equip this artifact set on a character like Zhongli, Kokomi, Fischl, or Yae Miko and reduce enemies' Dendro RES even if they are not active on the battlefield.
Maiden Beloved
The artifact's 2-piece effect increases a character's healing effectiveness by 15 %, and the complete set increases all party members' incoming healing by 20 % for 10 seconds. You can use the artifact set on Yaoyao to enhance her healing output in teams where incoming damage can lead to the characters' death.
Bloom and Burgeon teams can deal Dendro damage to your characters and bring them to the verge of death. If you feel that your healing isn't enough, Maiden Beloved is a great option to equip on Yaoyao.
Tenacity of the Millelith
The set provides a 20 % health bonus with the 2-piece effect that blends in with Yaoyao's HP scaling skills. The complete set bonus increases nearby characters' attack percentage and shield strength.
The effect can be triggered with a cooldown of 0.5 seconds, even if the character is not on the field. You can use Yaoyao's kill to deploy Yuegui and switch to a main DPS character to benefit from its effects.
Artifact Attributes
For a general supporting role, Yaoyao can equip an ER % or HP % sands on her, an HP % goblet, and an HP % circlet. If you feel the healing output isn't enough, you can go with a healing bonus circlet. As for reaction-based teams, a complete elemental mastery build can be used.
However, you may lose out on potential energy recharge requirements for her. Regarding reactions like Spread, you can go with EM sand, Dendro damage bonus goblet, and a CRIT rate or CRIT damage circlet on Yaoyao.
Weapons
Yaoyao is a relatively simple character whose abilities scale off her maximum health and can fit in a supporting role in the team. Weapons with substats featuring energy recharge, elemental mastery, or HP % will be suitable for her.
I don't think you need to equip weapons with offensive attributes like ATK%, CRIT rate %, or CRIT damage %, as Yaoyao's key role is to heal characters and provide Dendro application.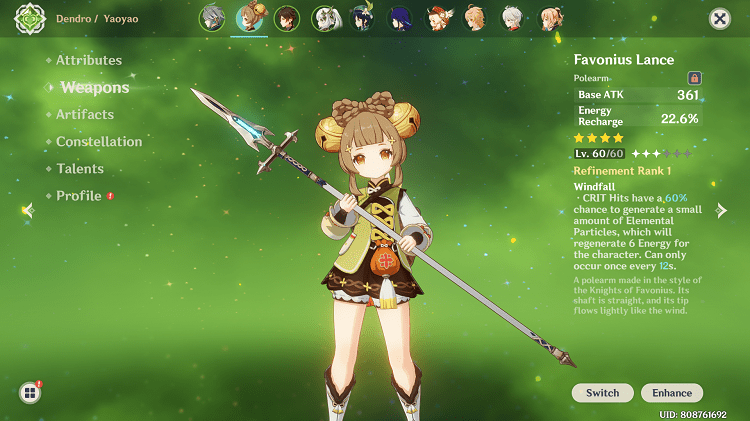 The following weapons are amazing on Yaoyao, and I would suggest going with either of them:
Skyward Spine (5-star) – ER %

Engulfing Lightning (5-star) – ER %

Favonius Lance (4-star) – ER %

Moonpiercer (4-star) – Elemental mastery

The Catch (4-star) – ER %

Prototype Starglitter (4-star) – ER%

Kitain Cross Spear (4-star) – Elemental mastery

Black Tassel (3-star) – HP %
Team Compositions
Mono Dendro: Yaoyao, Dendro Traveler, Collei, Flex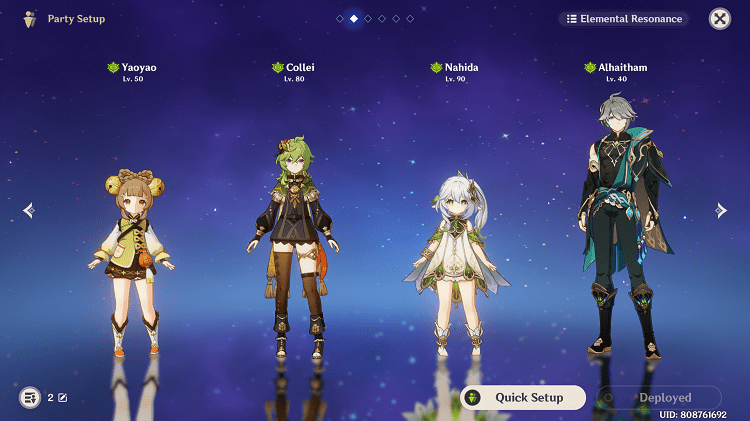 Mono Dendro teams focus on dealing Dendro damage to enemies. You can equip a character with the Deepwood memories artifact set and reduce enemies' Dendro resistance. You will obtain Collei while starting an archon quest in Sumeru and use her in a Mono Dendro team.
These teams are excellent in case you face enemies with Hydro aura. As for the last slot, you can have a character like Zhongli or Albedo for off-field damage and shield. Anemo, Geo, and Cryo elements don't have any significant reactions with the Dendro element, so you can easily use characters from those elements.
Bloom: Yaoyao, Hydro, Flex, Flex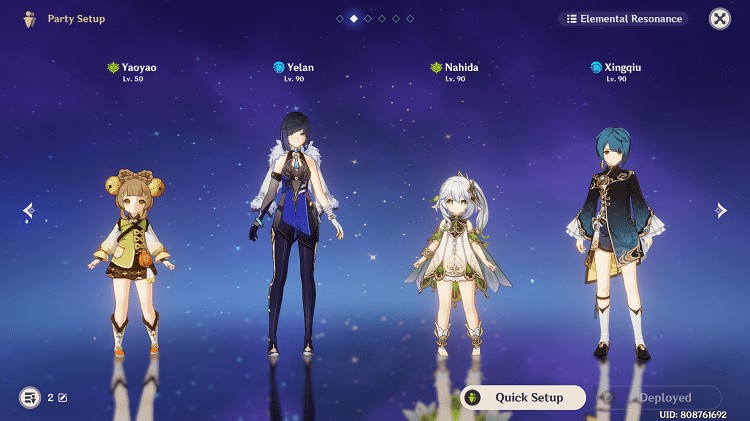 These teams focus on a reaction between Hydro and Dendro. With Yaoyao, a potential team with Nilou that focuses on Bloom reactions comes into the light. You can easily go with a double resonance setup with Hydro and Dendro.
Dendro characters like Alhaitham, Collei, Dendro Traveler, or Nahida can help you with enough Dendro applications. Even Tighnari isn't a bad Dendro character because you can easily maintain a good uptime on his 40-burst cost.
As for Hydro characters besides Nilou, you can have Xingqiu, Yelan, Ayato, Kokomi, or Barbara participate in Bloom reactions. You can use the Deepwood memories artifact set on Yaoyao or Kokomi and shred enemies' Dendro resistance for more Bloom damage.
Quicken ( Spread / Aggravate ): Yaoyao, Electro, Flex, Flex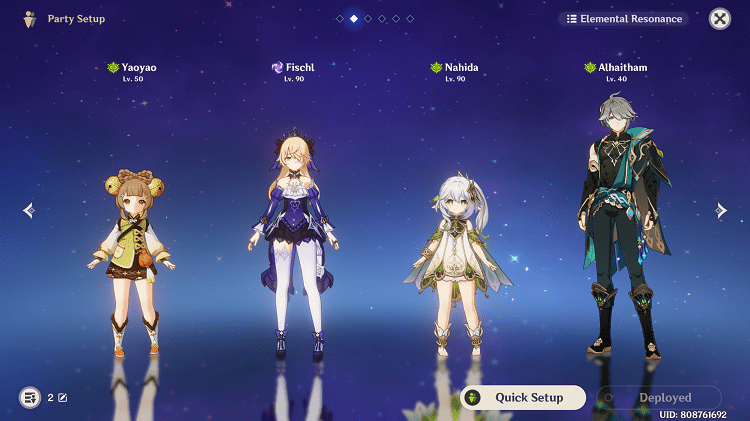 I recommend having Yaoyao as the sole Dendro character in a Quicken team. A Quicken reaction triggers when Dendro and Electro come in contact with each other. Dendro characters like Alhaitham, Nahida, or Tighnari can benefit from Yaoyao's elemental skill as on-field DPS characters.
You can equip the Deepwood memories artifact set on Yaoyao to shred Dendro resistance from enemies and increase the Spread damage by Dendro DPS characters. As for Electro characters, you can trigger an Aggravate reaction on an enemy with a Quicken aura to deal Electro damage.
Electro characters like Keqing, Raiden Shogun, Yae Miko, Kuki Shinobu, or Cyno can benefit from elemental resonance shred by an Anemo character in the team.
You can go with a double resonance setup with two characters from Electro and Dendro. Otherwise, you can add an Anemo character with the Viridescent venerer artifact set to shred Electro resistance.
Burgeon: Yaoyao, Pyro, Hydro, Flex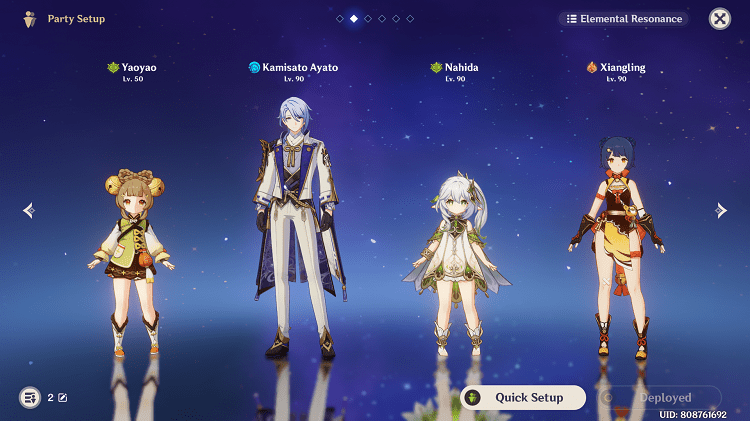 Burgeon can be an option for Yaoyao; however, you shouldn't use her as the sole Dendro character in the team. You need another Dendro character to take care of better Dendro applications like Nahida, Alhaitham, or Dendro Traveler.
If you are using Dendro Traveler, you must apply Hydro on the Lea-Lotus first, then use its effects to summon more Bloom cores. Once you apply Pyro on a Bloom seed, a Burgeon reaction will trigger to deal AoE Dendro damage.
Hydro characters like Kokomi, Xingqiu, Yelan, Barbara, Ayato, or Childe are amazing options for effective Hydro application on enemies. As for Pyro characters, I would suggest going with Xiangling, Yanfei, Thoma, or Yoimiya.
Any character that can help you with enough Pyro application would be suitable in this team composition. You must maintain effective heals on your characters; otherwise, incoming Burgeon damage will wipe them out.
Hyperbloom: Yaoyao, Electro, Flex, Flex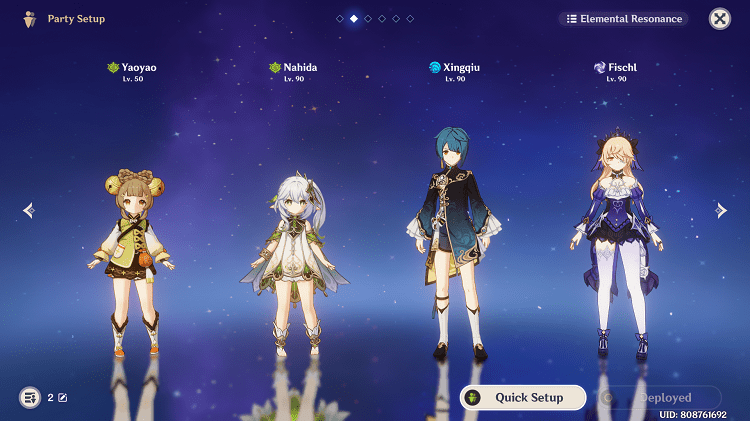 Hyperbloom teams focus on a reaction between Bloom cores and Electro element. You must need a character from each element: Electro, Hydro, and Dendro.
As for the last slot, depending on your requirements, you can add a character from these elements to activate an elemental resonance or go with protective canopy resonance, where all characters have unique elements.
Electro characters like Yae Miko, Raiden Shogun, Fischl, Kuki Shinobu, Beidou, or Lisa can provide you with enough off-field Electro applications.
Dendro characters like Alhaitham, Nahida, Tighnari, Dendro Traveler, or Collei can be used. You can supplement the team with good Hydro characters like Nilou, Kokomi, Xingqiu, Childe, Ayato, Yelan, or Barbara and trigger potent Hyperbloom reactions.
I would suggest going with a resonance setup unless you face an enemy like Golden wolflord, where you need a Geo character to break their shield.
Frequently Asked Questions
Question: Is Yaoyao a Good Healer?
Answer: Yaoyao is a good 4-star healer who can heal your entire team with her elemental burst. You can use her in most of the Dendro teams. You can deploy her elemental skill to heal your active character and switch to your main DPS character to churn out severe damage to enemies.
Question: Is Yaoyao a Free Character? Can I Get her as a Free-to-play Player?
Answer: Yaoyao is a 4-star Dendro character that you can obtain from the Lantern rite event. You must obtain the festive fever by completing events and sending her an invitation.
Yaoyao is featured alongside other 4-star characters, and if you already have them, you can get Yaoyao for free. I recently received her for free just by completing event-exclusive challenges.
Question: Which Weapon should I Use on Yaoyao?
Answer: You can use the Favonius lance on Yaoyao if you want to fulfill her energy recharge requirements and get your burst back faster. Another good option would be the Black tassel, a 3-star polearm with an HP substat.
Yaoyao's healing scales with her maximum health and equipping her with the Black tassel will yield outstanding results.
A Young, Sincere, and Generous Disciple
Yaoyao made an incredible first impression, bursting onto the scene and immediately earning her a place on one of my Dendro-friendly teams! Despite being young and fragile, she jumped into the water to save Dvorak without hesitation and treated him to an appetizing meal.
We see how she sees others as her older siblings and refers to Ganyu as a big sister. Advising Ganyu to take plenty of rest, Yaoyao gives her a pack of sweet flower seeds and the medicine Ganyu asked for.
I loved how Yaoyao cared for Ganyu and even gave her some Qingxin leaves for tea. It felt like a younger responsible sister was talking to a disorganized older sister.
Paimon being Paimon, asks Yaoyao for some free treats, and Yaoyao assures her to treat her the next time they meet. I'm sure Paimon will get some slime dishes because that's what she likes.
Funny enough, Yaoyao asks Ganyu not to chew tea leaves. I can smell cocogoat memes coming up in the future. Wishing everyone for the Lantern rite, Yaoyao leaves for her home.
The time's come to wrap up the guide, and I hope to meet you in another one. Oh, wait. Happy Lantern Rite!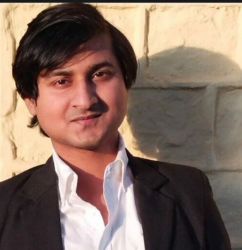 Latest posts by Himanshu Verkiya
(see all)