Candace is the Guardian of Aaru Village, and she is a force to be reckoned with should someone move towards Aaru Village with any hostile intentions. As a direct descendent of King Deshret, Candace has a few canonical powers yet to be shown in-game; however, her reputation precedes her.
She was appointed as the Guardian of Aaru Village when she turned eight years old; since then, she has not wavered from her duties and instead worked harder to earn the respect of her peers and village. Welcome to a Genshin Impact Candace Guide.
A Summary of Candace
Below is a minor breakdown of Candace, and beyond that, we will be looking at the more serious aspects of her builds and so on.
Title: Candace
Nationality: Citizen of Sumeru City
Rarity: 4-star
Weapon Type: Polearm
Vision: Hydro
Constellation: Sagitta Scutum
Specialty Dish: Utmost Care
Birthday: May 3rd
Ranking and Ascension Details
Ranking
Candace is a character from Sumeru, and she rose in popularity among the Genshin Impact fans with her strong presence and role in the Teyvat community.
Candace has great Hydro application via her Elemental Skill and Elemental Burst; further, for a short time after using her Elemental Burst, the on-field character will experience Hydro infused normal attacks.
This perk is great for Bloom, Hyperbloom, and Burgeon teams because the constant Hydro application allows a higher rate of Dendro Core production. If players do not have Kokomi, Mona, or Tartaglia, I would recommend using Candace as the team's Hydro applicator.
However, although she may seem like a perfect fit for any Dendro team comp, Candace does have a fair share of Energy Recharge issues since her energy particle generation is not too great. It is not a significant issue if players use battery characters such as Fischl, Raiden Shogun, or Xingqui.
| | | | | |
| --- | --- | --- | --- | --- |
|   | Main DPS | Sub DPS | Support | Exploration |
| Ranking | B | B | A | A |
Ascension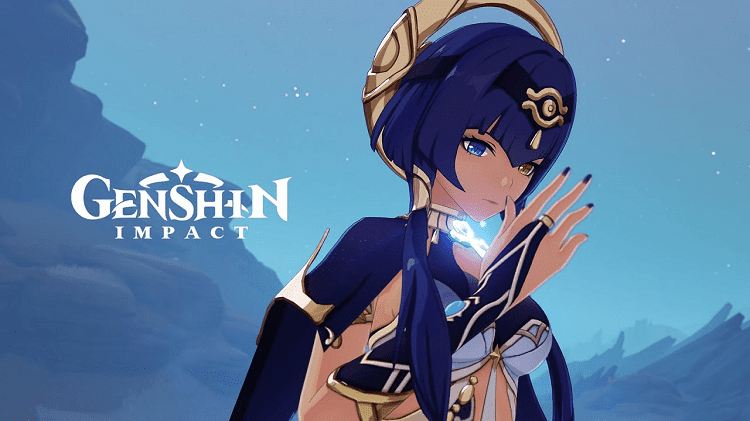 All of Candace's ascension material can be found in the Sumeru desert area, except the Varunada Lazurite stones, which can be collected in different ways. I would recommend setting up a farming route that links the Eremites and the Henna Berry because players usually encounter more than one Eremite in the vicinity of the Henna Berries.
Additionally, players can find Scarabs along the way. This would be an advantage if players are collecting for Cyno, but I would recommend collecting scarabs because other upcoming characters may also use them.
Henna Berry –  Players can find this item scattered across the desert area in Sumeru; this item is difficult to locate, so players should rely on the official Genshin Impact interactive map.
Light Guiding Tetrahedron – Players can collect this after defeating the Algorithm of Semi-Intransient Matrix of Overseer Network
Varunada Lazurite Sliver/ Fragment/ Chunk/ Gemstone – This can be collected after defeating Hydro normal bosses or Hydro Trounce domain bosses (only Tartaglia so far); players can also convert these (slivers, fragments, chunks, gemstones) from other elemental stones by using the dust of Azoth (purchased in Paimon's Bargain Shop).
Eremite drops – Candace uses Eremite material drops, and these Eremites can be found all over Sumeru in different areas. Luckily, the Eremites spawn in clusters, so farming and collecting their loot is relatively easy.
Talents
Candace has a good set of talents that complement both her and the team. Additionally, she has a passive talent that is great for exploration since it reduces stamina consumption when climbing, similar to Xiao.
I believe the focus should be directed towards her Elemental Burst from all of her talents since the team bonuses come from this. Therefore, her talent priorities should be;
Sacred Rite: Wagtail's Tide > Sacred Rite: Heron's Sanctum >= Gleaming Spear: Guardian Stance
However, this entirely depends on whether she will be used as a Main DPS or Support character; therefore, if she is built to be a Main DPS character, I would recommend leveling up all three of her talents together. But if she is built to be a Support character, then the above-mentioned talent priorities are much better.
In-game representation
Name
Description
Gleaming Spear: Guardian Stance
Normal attack: Candace attacks the opponent(s) with four consecutive strikes from her spear

Charged attack: After consuming a small amount of stamina, Candace lunges forward, dealing damage to the opponent(s)

Plunge attack: As with other polearm users, Candace follows the same path of dealing AoE damage

Sacred Rite: Heron's Sanctum
Tap: She moves forward; this deals damage and applies Hydro to the enemies

Hold: Candace will use her shield to block damage; this scales off her maximum HP. After the Elemental Skill ends, Candace will finish charging her attack, unleashing Hydro damage via a leaping strike.

Sacred Rite: Wagtail's Tide
After dealing AoE Hydro damage, the on-field character will experience Hydro infused normal attacks. This Hydro infusion only applies to Sword, Claymore, and Polearm users.
Aegis of Crossed Arrows
While Candace's Elemental Skill is held, the charging phase will end immediately if an attack hits her.
Celestial Dome of Sand
For characters experiencing the Hydro infusion via Candace's Elemental Burst, the damage dealt will increase by 0.5% off every 1,000 points of health.

For example, at a max health of 30,000, the damage bonus would be 15%.

To Dawn's First Light
When Candace is in the active party, the team's climbing stamina consumption is decreased by 20%.
In order to obtain a triple-crowned Candace, players will need the following items;
Mora – 4957500
Crown of Insight – 3
Teachings of Admonition – 9
Guide of Admonition – 63
Philosophies of Admonition – 114
Faded Red Satin – 18
Trimmed Red Silk – 66
Rich Red Brocade – 93
Tears of the Calamitous God -18
Constellations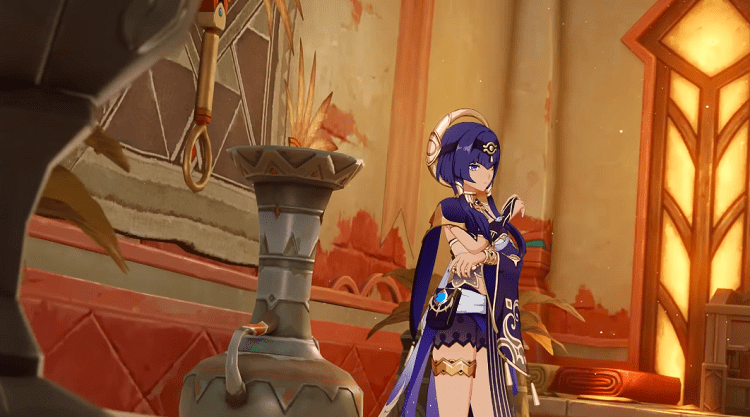 Candace is still relatively new to Genshin Impact; however, when more Dendro characters are added, her team comps and widespread use will increase. As for now, players can work exceptionally well with C1 Candace; however, I would highly recommend C6 Candace.
Since her C6 will provide additional AoE Hydro damage, players can enhance their team's damage output, which would come in handy in the Spiral Abyss.
If players want to use Candace as a Main DPS character, I recommend getting her to C3 or C5. If players want to use Candace as a Support character, I recommend getting her to C6 because, at this constellation, Candace will be an integral part of the team's overall damage.
In-game representation
Name
Description
Returning Heiress of the Scarlet Sands

The duration of the Hydro infusion after using

Candace's Elemental Burst will increase by 3s.
Moon-Piercing Brilliance
Candace will experience a 20% increase in her maximum HP for 15s when her Elemental Skill hits an opponent.
Hunter's Supplication
The Elemental Burst will experience an increase of 3 levels. The maximum level is 15.
Sentinel Oath
The cooldown of Candace's Elemental Skill after holding will be shortened to the same cooldown duration of her Elemental Skill after tapping.
Heterochromatic Gaze
The Elemental Skill will experience an increase of 3 levels. The maximum level is 15.
The Overflow
When other members of the team are experiencing the Hydro infusion brought on by Candace's Elemental Burst, a wave of Hydro damage is dealt. This new wave of damage is counted as Elemental Burst damage, and the damage dealt scales off 15% of Candace's maximum HP. This buff will not apply to Candace.
Weapons: 4-Star Weapons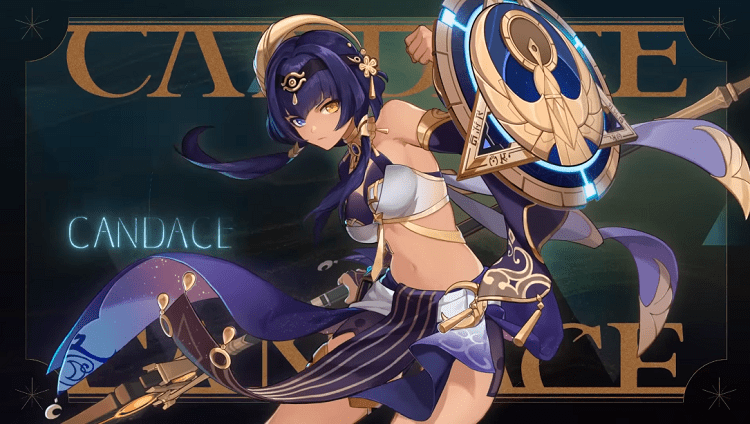 The Catch
The Catch, in my opinion, is the best four-star weapon for Candace. Not only does the weapon help sort out Candace's Energy Recharge issues, but it also increases the Elemental Burst damage as well. This is especially great at C6 since she will be doing additional Elemental Burst damage via the Hydro waves.
(Obtained by exchanging fish at the Inazuma Fishing Association)
Favonius Lance
Favonius Lance is another excellent four-star option due to the Energy Recharge substat and the additional energy particle generation via Crit hits. I believe players would have high refinements of this weapon since it is a relatively common four-star weapon in the wishing pool because the energy particle generation increases at higher refinements.
(Obtained through Gacha)
Deathmatch
Deathmatch is a weapon best suited for a Main DPS build Candace rather than a Support build Candace. The Crit Rate substat and the ATK and DEF increase are perfect for her when she has to be the team's primary damage dealer.
Unfortunately, I would not recommend this weapon for players because to obtain it, and they would have to spend actual money. Many benefits come with purchasing the battlepass, but for pure free to play players, this weapon is out of bounds.
(Obtained by purchasing the battle pass, the weapon is unlocked at battlepass level 30)
Blackcliff Polearm
Blackcliff Polearm is a great option, and it is free to play friendly while providing a high Crit Damage increase. The additional ATK buffs that can be stacked (maximum three stacks) after defeating enemies go a long way when it comes to dealing significant damage. This weapon is suitable for a Main DPS Candace build.
The only drawback for this weapon would be that three enemies must be defeated to obtain all three stacks of the buff, and the second drawback would be the cost of the weapon (24 Masterless Starglitter).
That being said, this weapon is one of my favorite weapons in Genshin Impact, purely due to the volume of damage that can be dealt with the right build.
(Obtained by purchasing at Paimon's Bargain Shop)
Black Tassel
Black Tassel might be the second most free to play friendly weapon on this list since three-star weapons are relatively common in Genhsin Impact. By AR 45-50, most players might have multiple R5 Black Tassels, which would benefit almost every polearm user that scales off HP.
This weapon is for a Support build, Candace, so I recommend using a battery character alongside her to help balance the energy particle generation.
(Obtained through Gacha)
5-Star Weapons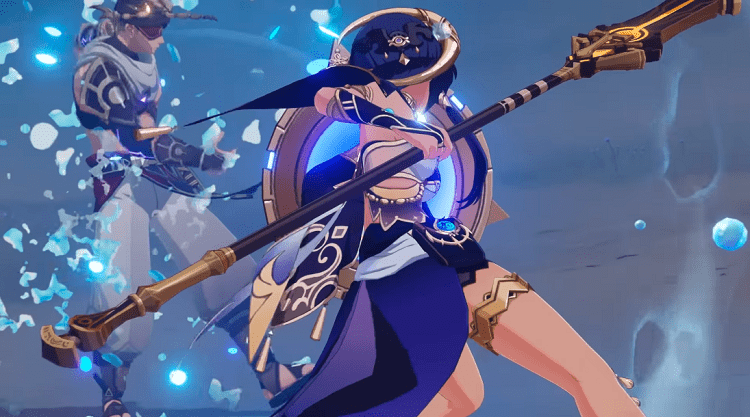 Staff of Homa
Staff of Homa is perfect for a Main DPS Candace, and the substat is Crit Damage which is ideal because it will help solve any Crit Damage deficiencies while allowing players to focus more on Crit Rate for the artifacts.
The weapons passive is perfect, too, since it increases her HP by 20% and then provides an ATK bonus scaling off 0.8% of her maximum HP. I would highly recommend this weapon for a Main DPS Candace, although some players might have better options for Staff Homa, such as Xiao, Hu Tao, and Raiden Shogun.
(Obtained through Gacha)
Primordial Jade Winged Spear
Primordial Jade Winged Spear is another near-perfect option for Main DPS Candace; although there are no bonuses for her HP, this weapon provides a high ATK buff that will help Candace deal a significant amount of damage.
However, I would recommend using Staff of Homa over the Primordial Jade Winged Spear since every box is ticked with Staff of Homa.
(Obtained through Gacha)
Staff of the Scarlet Sands
Staff of the Scarlet Sands is a good option, but I feel the weapon's passive would not be fully utilized. The substat is Crit Rate, and once again, this is a viable option for a Main DPS Candace.
However, the weapon's passive scales off the character's Elemental Mastery, which would be an issue since Candace's Main DPS builds are more focussed on her HP and ATK stats. I would say that this weapon would be better used as a placeholder than a first-choice weapon; after all, players can still use better four-star options that are more compatible.
Unless players are planning to build Candace for reaction teams, and if so, a high Elemental Mastery Candace would be perfect for Bloom, Burgeon, Hyperbloom, and Vapourize team comps.
(Obtained through Gacha)
Engulfing Lightning
Engulfing Lightning is a great weapon choice for a Support Candace due to the Energy Recharge substat, which will definitely solve her energy particle generation needs. Additionally, the ATK buff that comes with this weapon is genuinely mind-blowing because, at high Energy Recharge levels, a maximum of 80% ATK bonus could be obtained.
Not only will this weapon help Candace, but via her Elemental Burst Hydro infusion, she can be an even more significant asset to the team with the high ATK output.
(Obtained through Gacha)
Skyward Spine
Skyward Spine is another option for a Support Candace, primarily due to the Energy Recharge substat. The Vacuum created by the Skyward Spine is not a bad effect, although it does not contribute towards any specific buff for Candace's kit.
Overall, I would say that this is the least recommended weapon from the five-star options because, aside from the Energy Recharge, the weapon passive is wasted on an incompatible character.
(Obtained through Gacha)
Artifacts: Recommended Artifacts and How to Use Them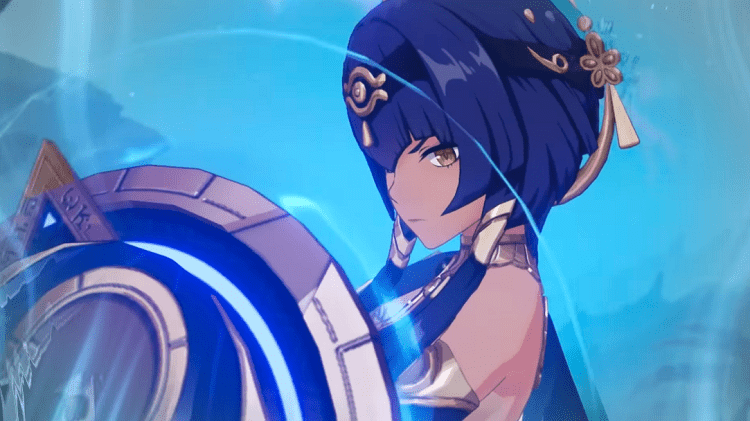 Main DPS Build Candace
Heart of Depth
Heart of Depth is an excellent artifact for any Hydro Main DPS unit, and for Candace, the artifact four-piece bonus works very well since her Elemental Skill has a relatively short cooldown. The four-piece bonus increases the character's normal and charged attack ATK by 30% for 15s after an Elemental Skill is used.
The two-piece bonus is a 15% Hydro DMG increase, which also works in favor of Candace. With these buffs, players should use the Elemental Skill first, then the Elemental Burst; this way, the normal attacks have a buffed Hydro infusion normal and charged attack.
Tenacity of the Millelith Two-Piece and Heart of Depth Two-Piece
This combination does not yield any four-piece set bonuses, but players can quickly increase Candace's overall damage via the increased HP and Hydro DMG bonus. The two-piece Tenacity of the Millelith artifact provides a 20% increase in the character's maximum HP, and the two-Piece Heart of Depth artifact will give a 15% Hydro DMG bonus.
Since most of Candace's buffs come from her maximum HP, using Tenacity of the Millelith would provide players with a much higher HP, resulting in high damage volumes.
Support Build Candace
Noblesse Oblige
Noblesse Oblige is the holy grail of artifacts for Support characters since their Elemental Burst damage is increased by 20%.
Then the team's ATK is increased by 20% for 12s after using the Elemental Burst as the four-piece bonus. Since C6 Candace deals additional AoE Hydro damage via her Elemental Burst Hydro infusion, the extra ATK bonus can also be used here.
Emblem of Severed Fate
Emblem of Severed Fate is a close second behind Noblesse Oblige in terms of usefulness. This is because it provides Energy Recharge bonuses rather than Elemental Burst bonuses, which is still not an issue. Energy Recharge is a significant factor in the energy particle generation rate, which is why this artifact is necessary for team comps.
By giving Candace this artifact set, players can see a two-piece bonus of 20% Energy Recharge increase and a four-piece set bonus which gives increased Elemental Burst damage based on the 25% of the character's Energy Recharge.
Tenacity of the Millelith Two-Piece and Noblesse Oblige Two-Piece
Once again, we are looking at a combination of artifact two-piece set bonuses which will mesh together to provide players with a vital alternative to the four-piece set bonuses. This combination will see a 20% increase in Elemental Burst damage and a 20% increase in HP as well.
Once again, the increased HP would be great since Candace needs high volumes of HP to apply buffs significant enough to benefit the team. As always, the additional damage from the Elemental Burst will not hurt anyone besides the enemies.
Tenacity of the Millelith Two-Piece and Emblem of Severed Fate Two-Piece
This two-piece artifact combination is another great alternative, and it would also help players in more ways than one because getting a perfect four-piece set from the Emblem of Severed Fate set is quite difficult due to RNG.
However, using a two-piece of each artifact set allows players the best of both worlds by giving players a 20% increase in Energy Recharge and a 20% increase in HP. The Energy Recharge increase will benefit Candace in two ways; her own Energy Recharge issues will be subdued, and she will be generating more energy particles for the team as well.
Main Artifact Stat and Complimentary Substats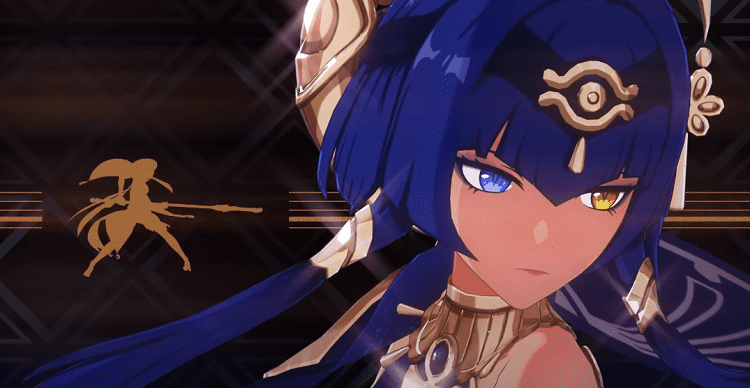 Players must select artifact substats carefully, depending on which stat is lacking. When it comes to Candace, players need to remember that most of her damage buffs scale off her maximum HP; however, this is not a valid reason to neglect her other stats.
In my opinion, Energy Recharge would be her second most crucial stat after HP, and this is because Candace has a lower energy particle generation rate.
The perfect Support character build would include; high HP and high Energy Recharge.
The perfect Main DPS character build would include; high HP and a 1:2 or 2:3 Crit Rate to Crit Damage ratio.
 
Flower of Life
Plume of Death
Sands of Eon
Goblet of Eonothem
Circlet of Logos
Main Stat
HP
ATK
HP%/Energy Recharge
HP%/Hydro DMG bonus
HP%/ Crit Rate/ DMG
Substats
HP%

Crit Rate/ DMG

Energy Recharge

HP%

Crit Rate/ DMG

Energy Recharge

Crit Rate/ DMG

HP% or Energy Recharge

Elemental Mastery

Crit Rate/ DMG

HP% or Energy Recharge

Elemental Mastery

HP% or

 

Crit Rate/ DMG

Energy Recharge

Elemental Mastery

Reason
HP is this artifact's permanent main stat.
ATK is this artifact's permanent main stat.
Players must look at Candace's attributes and use the stat, which requires building.
I would recommend going for an HP% artifact since most of her damage scales off her maximum HP.
If players are going for a Main DPS build, I would only recommend Crit Rate/ DMG.
Team Comps: Free to Play
Candace Main DPS Team
Main DPS – Candace, Weapon – 

The Catch

Sub DPS – Kaeya, Weapon – Harbinger of Dawn
Support – Noelle, Weapon – Whiteblind
Healer – Barbara, Weapon – Prototype Amber
In this team comp, we will see Candace leading the charge, and the rest of the team will support her in more ways than one. Candace and Kaeya could have great synergy if the timing is correct.
After using Candace's Elemental Burst, players can switch to Kaeya and then deal Cryo attacks; this sequence of attacks will result in Freeze reactions. Players can run both characters' Elemental Bursts simultaneously to pull off constant Freeze reactions, with Barbara being a vital part of the Hydro application process.
Noelle will play a very reserved role in this team comp because she will only provide shields and healing whenever she is on-field. Additionally, this team has Hydro Resonance, which works for Candace's benefit by providing the team with an increase of 25% maximum HP.
Candace Support Team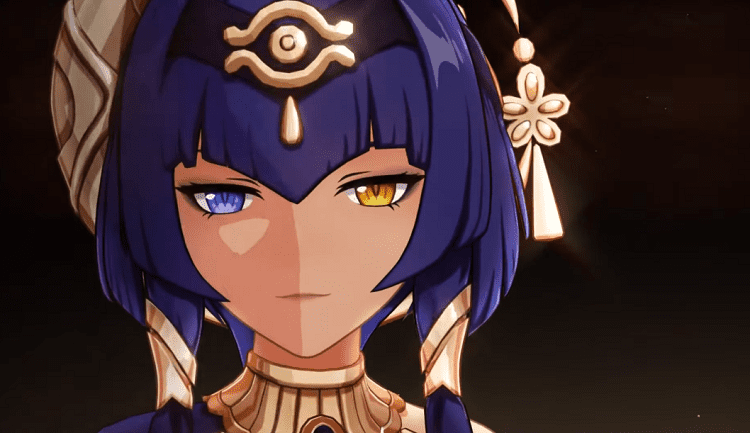 Main DPS – Kaeya, Weapon – Harbinger of Dawn
Sub DPS – Xiangling, Weapon – Crescent Pike
Support – Candace, Weapon – The Catch
Healer – Barbara, Weapon –Prototype Amber
This team is a reaction based team; since we have Cryo as the focal point of damage, the reactions will be either Melt, Freeze, or Melt. Kaeya would act as the Cryo applier and the base for the reactions; Xiangling will provide Pyro via her attacks and an additional ATK buff via Guoba.
Candace will be playing a slightly Sub DPS role in this team comp because she would also be on-field dealing damage. Players need to have a high Energy Recharge for this team since both Candace and Xiangling have Energy Recharge issues.
However, players should not worry; there are ways to overcome these mini hurdles; with the correct rotations, the energy particle generation can be managed since Kaeya is excellent at this. Once again, Hydro resonance will play a huge role.
Best Team Comp
Candace Main DPS Team
Main DPS – Candace, Weapon – Staff of Homa
Sub DPS – 

Nahida, 

Weapon – A Thousand Floating Dreams
Support – Beidou, Weapon – Makhaira Aquamarine
Healer – Kokomi, Weapon – Everlasting Moonglow
With Candace as the Main DPS, this team will revolve around quick swaps and constant Hydro application. Candace will be one of the two Hydro applicators in this team comp, and she will need support from Nahida and Beidou to carry out reaction based damage.
Nahida is an exceptional talent at applying Dendro, as expected from the Dendro Archon; she will be the key component tying this team together.
Players should use Nahida's Elemental Skill to apply Dendro to all the enemies in the area, and then players can swap to either Candace or Kokomi to apply Hydro; this will result in the creation of Dendro Cores. After the Dendro Cores have been made, players can swap to Beidou and apply Electro to carry out the Hyperbloom reactions.
Kokomi can heal the team and apply Hydro; however, her Hydro application is restricted to one particular area; therefore, players must lure the enemies to the area where her Elemental Skill is placed. This team will also have Hydro resonance and experience higher levels of HP, which both Candace and Kokomi will genuinely appreciate.
Candace Support Team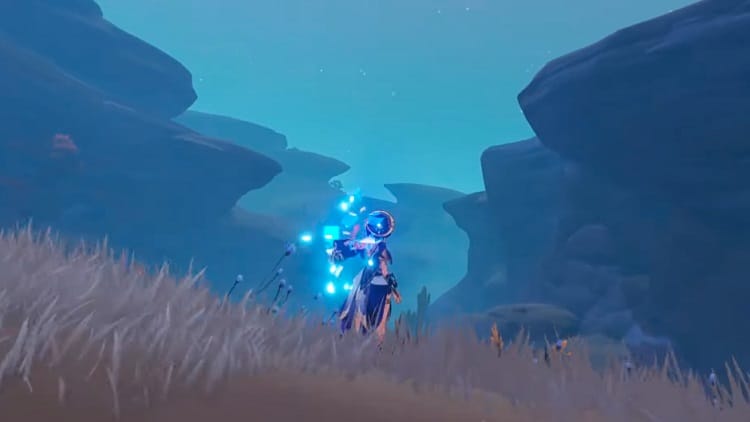 Main DPS – Nilou, Weapon – Key of Khaj-Nisut
Sub DPS – Nahida, Weapon – A Thousand Floating Dreams
Support – Candace, Weapon – The Catch
Healer – Bennett, Weapon – Mistsplitter Reforged
In my opinion, Nilou is the best character for Bloom reactions, and this is due to the fact that her kit is catered toward Bloom reactions. She has fantastic synergy with Nahida; with these two on the team, players can expect to produce a really high number of Dendro Cores.
Candace comes into the team to act as another Hydro applier and a character that can apply additional damage via her Elemental Burst. She can easily slot in to deal Hydro damage while acting as a Sub DPS up to a certain extent, although she would primarily be playing a Support role.
Players can use Bennett to heal the team, provide another ATK buff, and, most importantly, he will be the trigger for Burgeon via his Pyro application.
This team also has Hydro resonance since this benefits every character except for Nahida. Bennett can use the additional HP to heal more, and Nilou and Candace will use the higher volumes of HP to deal higher volumes of damage.
Mistakes to Avoid
Candace is not a complicated character to use; however, players should keep a few points on their minds when assembling her teams and overall build/ role.
Players tend to ignore her Energy Recharge needs and often entirely focus on building her based on HP, this is alright. Still, I would recommend paying attention to her energy particle generation because the largest part of her contribution to the team comes via her Elemental Burst.
Her buffs are not significant game-changers for every team comp; therefore, players need to think twice about which type of team their version of Candace would fit into best.
Since she has elemental infusions as a part of her contributions to the team, players need to select team comps that can actually use this aspect of her kit. For example, characters such as Hu Tao, Tartaglia, and Xiao will have little to no benefit from Candace's elemental infusion, and as a result, the team slot will be wasted.
How to Obtain Candace?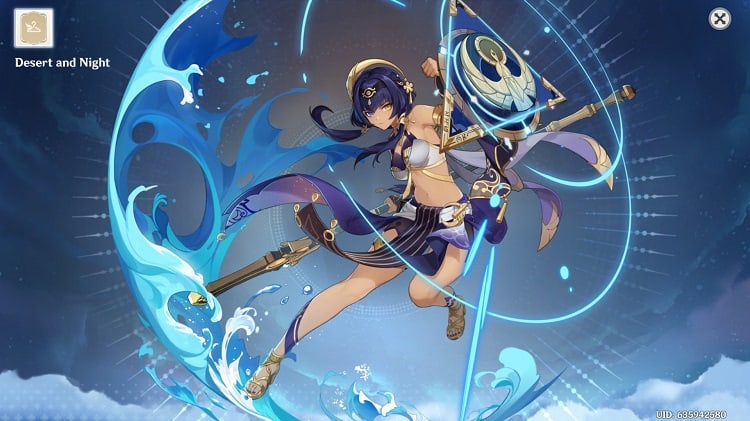 The wish system – Candace can be obtained via the wish system, and she will be available on every banner as a potential four-star character. However, players have a significantly higher chance of obtaining her on banners where her rate is up.
FAQs
Question: Can Candace Heal?
Answer: No, Candace cannot heal. Although she is a character that scales off HP, the bonuses go toward her ATK.
Question: Can Candace See or Predict the Future?
Answer: As a descendant of King Deshret, Candace is said to have the power to summon a giant sandstorm, and her left eye has the ability to see the future as well. However, non of this was explored in the game yet, meaning we could have a potential quest about Candace and her abilities.
Question: Is Candace Heterochromatic?
Answer: Yes, Candace is the first Heterochromatic character in Genshin Impact.
Conclusion
Candace is a great character, in my opinion, although I would have loved to see a lot more of her shield used in her gameplay. I expected her to be a shielding unit, but I am pretty satisfied with her Elemental Skill because it has a similar mechanic to that of Beidou.
I am a huge fan of Candace's lore, and I would love to see more of her abilities, past, or even the history of Aaru village in the upcoming versions. I believe that with the introduction of stronger Dendro characters, Candace would be a more vital part of teams moving forward.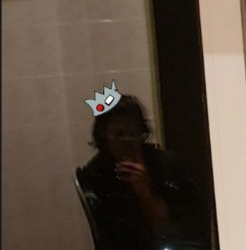 Latest posts by Rashen Perera
(see all)