As with any popular game released in the last decade, fan culture is a huge part of the overall health of a game. Genshin Impact soared to intense popularity in its two years of being, and with that comes some incredible fan creations like Genshin Impact merch, cosplay, and of course, fan art.
In many ways, fanart is the cornerstone of every fandom. Being accessible for both seasoned artists and beginners alike, making fanart a great way for anyone to show their appreciation for a franchise they love. Though anyone can pick up a paintbrush and make art, few can expertly capture the beauty and nuances that Genshin Impact shows to its fans.
That's why I've rounded up some of the best Genshin Impact fanart for you to feast your eyes upon, so take a break from staring at the in-game screen, and get ready for some serious eye candy.
Get that one framed!
Though all of the fan art on this list is fantastic in its own right, the one piece that really stood out to me is the Kamisato Ayato Fan Art Contest Submission by SaikoMakesArt. It is so incredibly detailed whilst still maintaining a unique style that I'm not surprised the artist decided to enter it into a competition.
I love how suave and cool Ayato looks and the water effect on his sword pictured during his elemental burst is the icing on the cake. All of this and the addition of progress images make this fan art stand out as the best of the best.
The Base Sketch
Let's get this one out of the way straight out the gate, there will be no NSFW or questionable fan art here. Yes, I know that most of us have been either in the Genshin Impact fandom or just online long enough to have seen some interesting things, but if you wouldn't show these pieces of fan art to your grandma, they won't be showing up here.
Despite how amazing their art may be, there will be no official art from Hoyoverse on this list, because that would totally negate the point of it being fan art. Fan art is by fans, for fans, and that is how it will stay!
I know that everyone likes to imagine themselves in the worlds of content they like, but unfortunately, I will only be including the official Genshin Impact characters.
Whether it's playable characters, NPCs, or Genshin Impact creatures, they're all up for grabs here, just no original characters.
Into The Art Gallery
After waiting and waiting for many long months, YaoYao is finally on the horizon. What better way to celebrate YaoYao and the upcoming year of the Rabbit than by having YaoYao and Amber in the same place both with their bunny rabbit pals in tow?
This fan art by NycNouu is so wholesome, and their clean style does a great job of showing off how cute YaoYao and her rabbit friend are.
I also like how the background suggests that Amber came all the way to Liyue to say hi to YaoYao, I can imagine that after hearing about a fellow bunny summoner Amber couldn't resist the trip to meet them!
Pros
I love how this fan art puts two characters together for their love of bunnies

The style here is very clean and I really like the bold lines
Cons
Amber's facial proportions look a little off to me

I would have liked to have seen them attend the Lantern Rite Festival together as opposed to walking through a more generic Liyue background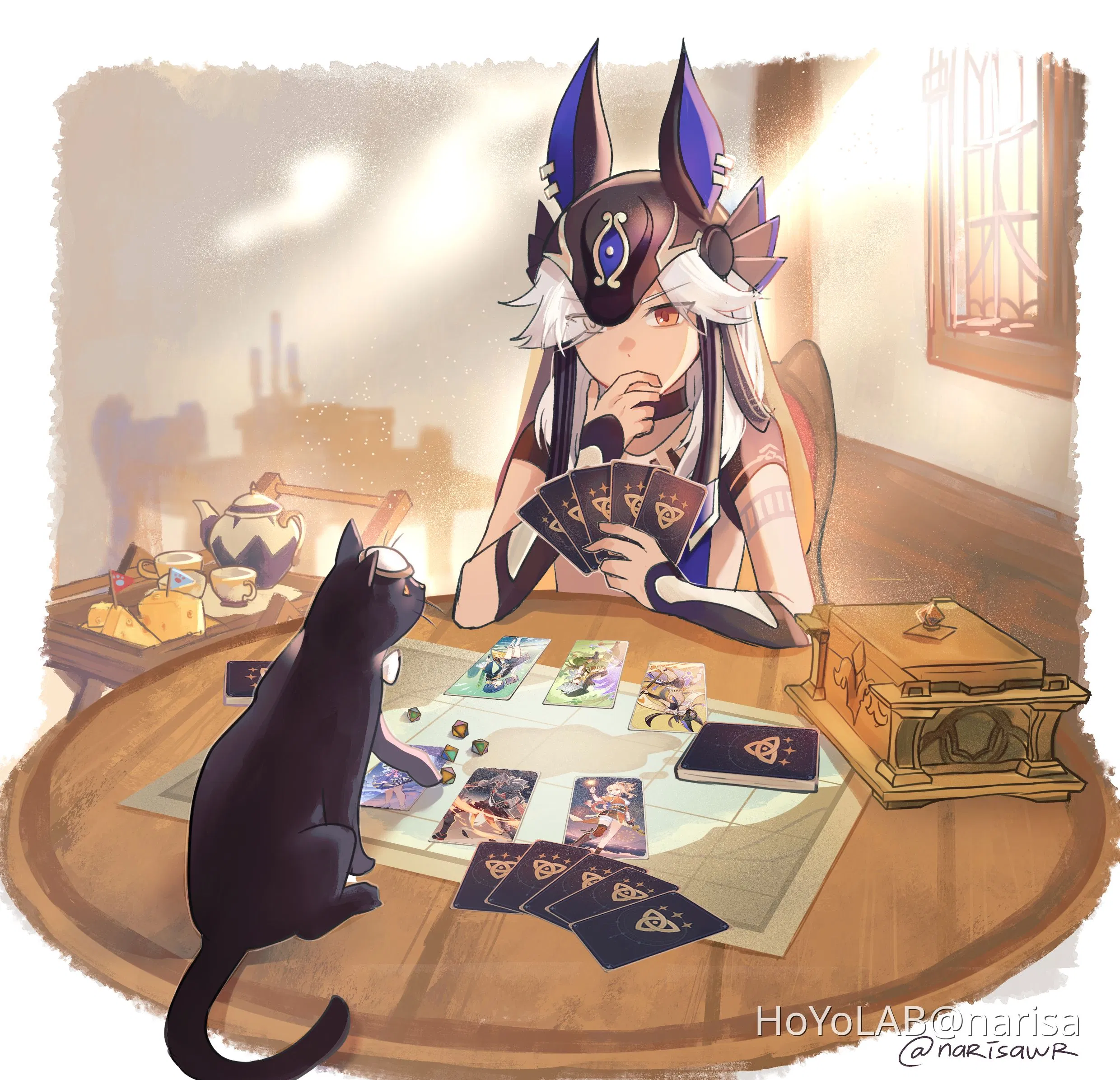 It's fairly well known that Cyno is a huge nerd, and as is par for the course with us nerds, the likelihood that we will be interested in one of the many trading card games out there is high.
Cyno's poison of choice is of course the Genius Invokation trading card game recently introduced to Genshin Impact.
In this adorable fanart by Narisawr, we can see Cyno facing off against Prince, no doubt increasing his player level to take on some tougher opponents.
I love how cute and detailed this artwork is (clock the in-game card artwork!) and the fact that I can genuinely see Cyno doing something like this really takes the cake.
Pros
Lore accurate as we know Cyno loves the Genius Invokation TCG

Adorable art style

Very close attention has been paid to the finer details here and it shows
Cons
I would have loved to have seen this formatted to a phone background-size

Personally, I would have preferred there be no white border, but it doesn't take away from the art overall
This lineup of the current Archons in Genshin Impact is a poster I would love to have on my wall. This fan art by BitesizedBeso perfectly captures the personality of the Archons whilst still having them look as powerful as they should look.
I also love how glowy the elemental skills are as it adds some nice depth to the fan art. The background is a little simple here, but it really works in separating the Archons without drawing attention from them.
Pros
The different personalities of all of the Archons are captured here perfectly

I really enjoy the glowy parts of the Archon's elemental skills
Cons
The background is simple which may be a drawback for some

Venti and the Raiden Shoguns' legs get cut off. While this is good for the shape of the fan art it can look a little strange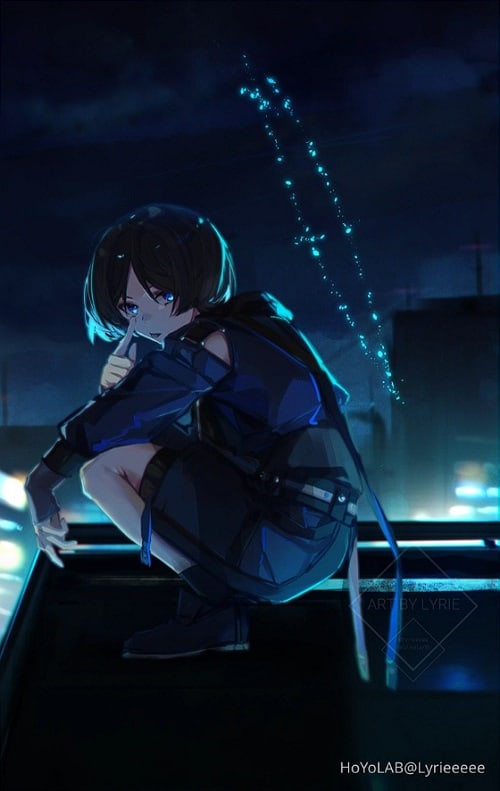 Everyone loves seeing new skin ideas and concepts for their favorite Genshin Impact characters, and Lyrieeeee does an amazing job of showing us what a sleek, futuristic skin could look like on the Wanderer.
I love the idea of Genshin characters in Techwear, and I love how different this outfit makes Scaramouche look without changing too much of his signature cheeky character, now we just need to see his techwear hat to complete the look!
Pros
An amazing take on a futuristic tech outfit for the Wanderer

I love how glowy the effects are here
Cons
The Wanderers hat is so iconic its a shame we don't get to see it redesigned here
Even though this fan art is a doodle and is fairly messy, I think this captures the essence of Yoimiya perfectly. She looks beautiful and fun and the messy lines just add to that.
I can just imagine the breathtaking fireworks display taking place behind Yoimiya as she smiles and winks at you.
I think the only way this fan art could be improved is by adding a firework-filled background, but considering this is just a quick doodle, the quality really shows off the skill of the artist.
Pros
I really love the messy sketchy lines

The fan art really captures the fun-loving personality of Yoimya just in her facial expression
Cons
Some people would say that this sketch is unfinished due to the sketchy lines

The addition of a background would really help this piece take flight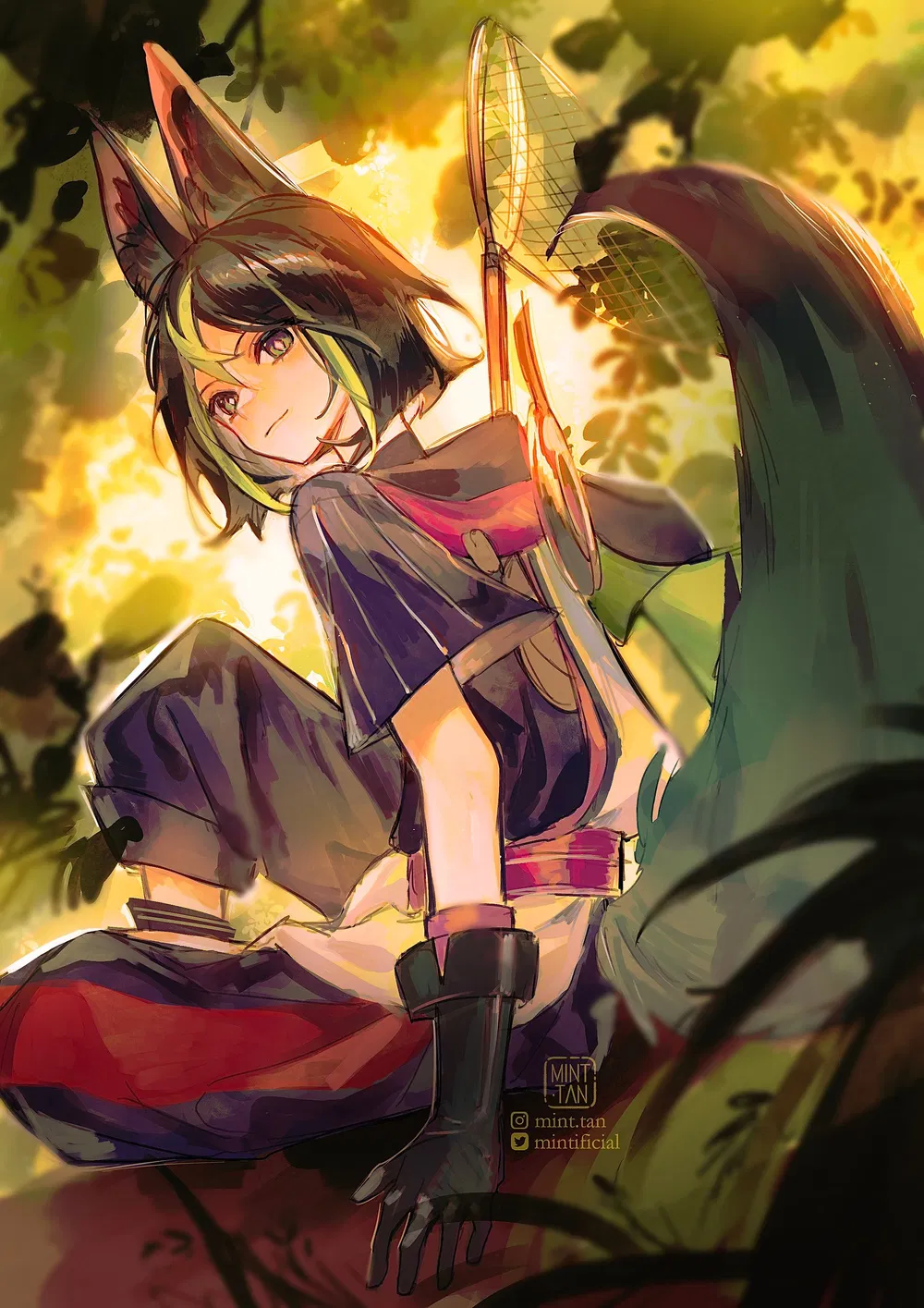 Tighnari has quickly become one of my favorite characters in Genshin Impact. It's hard not to love him, especially when he gives us ten crystalflies on his birthday. In this fan art, we see Tighnari in the forest with a net in hand, presumably the one he used to catch crystalflies for us.
I love the lighting and textures in this artwork and how soft it makes Tighnari look without making him too cutesy. As another bonus, this artwork is set on a portrait canvas, so if you wanted to carry this awesome Tighnari fan art with you as your phone background, it is perfectly formatted to do so.
Pros
Dynamic lighting and textures give off an awesome effect in this fan art

This is the perfect format to turn into a phone background

I like the addition of the net, it's small but adds a lot of detail
Cons
Parts of Tighnari's tail and leg get cut off which is a shame

A landscape format would be nice to have for us desktop users
Many fans enjoy the speculation that Kaeya is the lost prince of Khaenriah, and although nothing is confirmed yet, it's still really fun to see the fandoms ideas on what a fully-fledged Khaenriah skin might look like for Kaeya.
SundaeJack does an amazing job of showing us what this could look like, giving us an incredible skin idea as well as showing us the more serious side of Kaeya.
All too often Mondstadts Cavalry Captain is shown as a flirty drunkard at the Angel's Share, and though there's nothing wrong with this, it's nice to see his serious side shown more in fan art.
I love the colors and dark tones of this fan art, and I would love it if one day this idea came to fruition.
Pros
It is refreshing to see Kaeya's serious side when he's usually portrayed as a bit of a playboy by the fandom

I love how this leans into the lost prince of Khaenriah theory
Cons
Unfortunately, this design is purely based on fan speculation, so we'll have to wait a while to see if any of this could become canon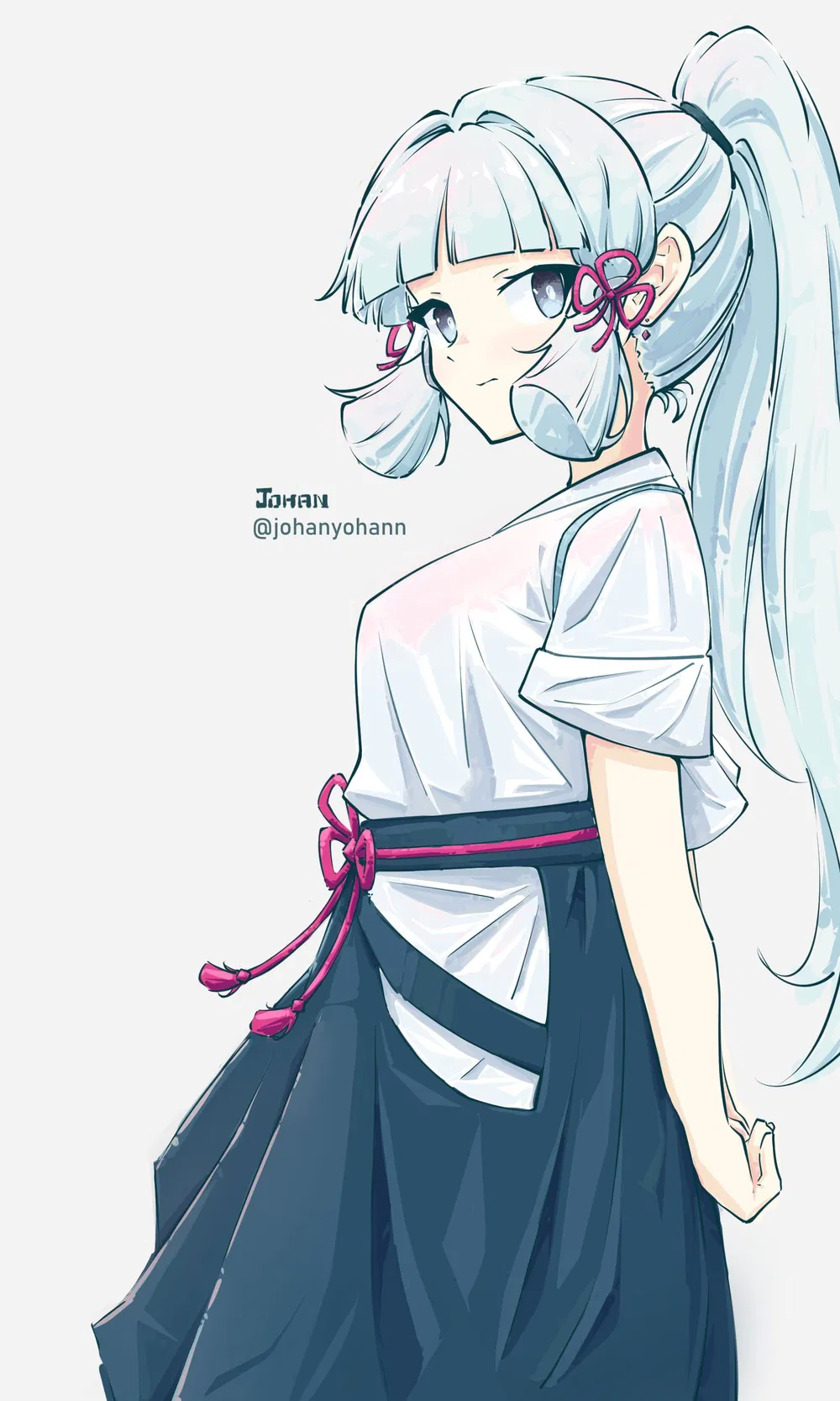 More often than not, Kamisato Ayaka is the golden standard of elegance and beauty in Genshin Impact terms, so it's not often we get to see her in a more dressed-down, casual outfit.
Thankfully, Johanyohann is here to give us an idea of what that might look like, and it looks damn good. I love how simple yet adorable Ayaka's outfit is, and the texture and style of her hair look really nice in this fan art.
The only drawback I have for this fan art is that the background is a little plain, though the real draw here is Ayaka. I'm also a little confused by the random pink lighting, but again, I don't think this takes away from the overall feel of the fan art.
Pros
It is so nice to see Ayaka in a casual dress style

I really like how her hair looks here
Cons
The background is very bare bones when compared to the rest of the artwork

The strange pink lighting is a little odd, but ultimately does work with the rest of the piece
Nilou is definitely one of the more elegant characters introduced to Genshin Impact, and this fan art does an incredible job is showing that elegance. The way everything flows together in this piece is incredible, and the detail in Nilou's face and vision make them look almost real.
I love the realism in this fan art all the way down to the blurred background ensuring that Nilou is front and center. The overall detail and skill in this fan art are truly phenomenal, and it is certainly doing Nilou justice.
Pros
The detail in this fan art is insane

I love how Nilou's vision looks like a real gemstone
Cons
The realistic fact is borderline uncanny valley, which can be a little offputting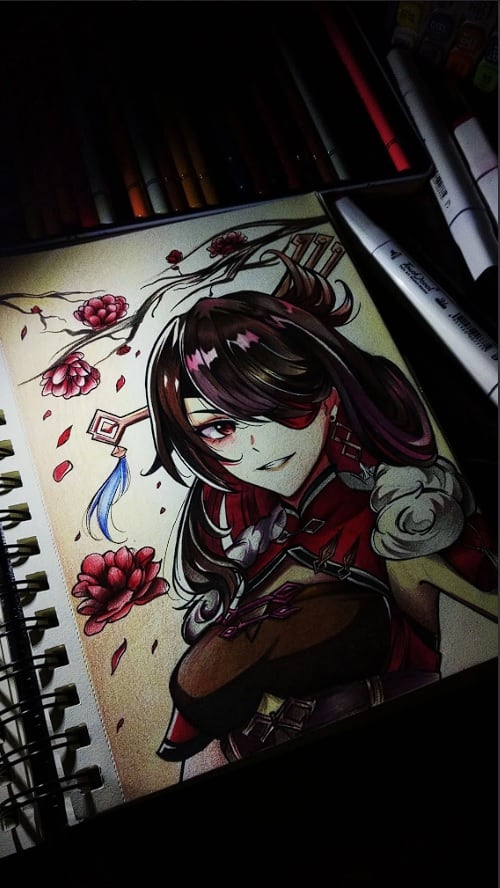 It's very easy to get used to seeing only digital art, especially in online fandoms where it seems to be the standard. That's why for me it's so refreshing to see some more traditional art using markers and paints over the digital canvas from time to time.
This Beidou fan art by Reiki Kun Arts is incredible, and a strong reminder of how talented traditional artists are. This fan art is a really faithful rendition of everyone's favorite pirate captain Beidou, whilst still showing off the artist's unique style.
Even though the background here is on the simple side, it's so beautiful that it really works with the rest of the piece to create a wonderful completed artwork. I also love that Reiki Kun Arts provided a step-by-step of their process.
Pros
It's very refreshing to see a traditional art piece when a huge chunk of fan art is digital

I really like the inclusion of progress pictures as it shows the skill taken to get to the final fan art
Cons
The filters and lighting in the picture of the artwork may mean we're not getting the full effect

As the fan art isn't digital, it means it cannot be used as a phone or desktop background without having the artist's desk in the background
Kamisato Ayato is a cool, collected, and powerful man, and this fan art by SaikoMakesArt shows this off effortlessly. We see Ayato during his elemental burst animation, and the amount of detail put into it is mind-blowing.
From the fireworks in the background to the hydro flowers a sakura blooms, it's no surprise that this particular piece of fanart was entered into the Kamisato Ayato Fanart contest run by HoYolab.
I especially love how Ayatos sword looks here, the way it's swirling into a hydro vortex looks amazing and all the tiny water droplets around it show how much attention to detail and care was put into this fan art.
Plus. for the really committed, you can see progression pictures in the Twitter replies below the original fanart.
Pros
Incredibly detailed fanart without sacrificing the artist's style for the sake of realism

Ayato's sword is a real highlight here
Cons
As it is a landscape canvas this fanart may not make the best phone background

I think the water details in the elemental burst can distract away from Ayato a little
FAQs
Question: Where is the best place to find Genshin Impact fan art?
Answer: Hoyolab and Twitter are some of the best places to find Genshin Impact fanart, and although you can find more fan art on other platforms, these two are by far the best. Just be warned, you are far more likely to come across more non-family-friendly art on Twitter than you are Hoyolab, so just be careful when browsing!
Question: Can I make Genshin Impact fan art?
Answer: Yes you can! Anyone can pick up some pens (or an art program) and begin making Genshin Impact fan art. Whether you've been drawing for years or hours, everyone is allowed to make fan art, even if it's just for themselves to enjoy.
Question: Can I sell any fan art I make?
Answer: Yes! Any fan art that you have made yourself, you can sell. Hoyoverse has allowed any fan to make and sell their own Genshin Impact products as long as they are not mass-producing hundreds of units.
That being said, you still have to make sure you are selling your own art if it's fan art you're selling. If you take any old images off of google images you may be stealing from another artist, which is still subject to copyright laws!
Back to the Drawing Board
There are a lot of incredibly talented artists out there in the Genshin Impact fandom. Despite this, I've rounded up some of the best and most varied artists for you to enjoy. Even though all of the artists on this list are producing top-tier fan art and are all more than deserving of praise, the real standout is SaikoMakesArt's Kamisato Ayato art contest submission.
The consistent attention to detail and engaging art style really makes this piece stand out, and all of the small details coming together make the fan art stand out as some of the best Genshin Impact fan art you can find.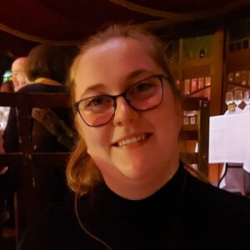 Latest posts by Bethany Gerrish
(see all)