Genshin Impact is an open-world RPG game that features a variety of in-game weapons. In the game, you'll come across weapons that may come in handy in certain situations. Now, players want to equip the best weapons and spend hours researching them. Though weapons are an exciting part of this game, you shouldn't forget another part of the game—farming.
Yes! Genshin Impact requires players to farm in-game materials, whether for weapons or characters. So, make sure to pay attention to farming overworld materials too. Coming to the topic, I'll be going over Favonius Sword in this guide and discussing its details.
In this Prototype Animus Guide, I'll discuss its in-depth details, ascension material, and usable characters. I'll give my remarks on how you can use this weapon on different Genshin characters. If you're a beginner and want to know about the Favonius sword, this guide is for you!
Here's a disclaimer that I'll refer to Prototype Animus as Prototype Archaic. Hoyoverse changed the weapon name after Genshin Impact 1.2 version, so we should focus on the latest one.
Prototype Archaic: Details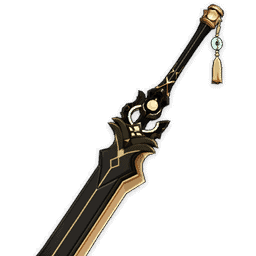 Prototype Archaic aka Prototype Animus is an ancient greatsword discovered in the Blackcliff Forge. Swinging with an immense force that one feels could even cut through reality itself.
Now, that's some badass description. Prototype Archaic is one of the first 4-star weapons you'll get. You can craft this weapon at a blacksmith shop if you have a Northlander Claymore Billet. Trust me, if you're a beginner, keep this weapon close to your heart. Prototype Archaic is a weapon that will go a long way and even help you in end-game content.
Now you may be wondering how to craft this weapon? Which materials do you need to craft, and how much? Worry not; let's go over them below.
Forging Requirements

FORGING RECIPE
(Time required = 10 seconds, Mora = 500)
Northlander Claymore Billet = 1
Crystal Chunk = 50
White Iron Chunk = 50
Weapon Details:
Passive ability description:

 On a hit, Normal or Charged attacks have a 50% chance to deal an extra 240% ATK DMG to opponents within a small AOE. This effect occurs once every 15s.
Let's go over weapon passive a bit. First of all, the area damage will count as a physical damage bonus. So, don't expect an elemental damage blast of 240% attack. But there's an advantage that you don't have to worry about proc on passive. While attacking, you'll pretty much trigger the passive. So, I can say that RNG isn't too bad here.
Weapon Stat Progression
STAT PROGRESSION
Weapon Level
Base ATK
ATK ( % Increase)
1
44
6
20
119
10.6
40
226
15.5
60
361
20.3
80
497
25.1
90
565
27.6
You can see in the table above, which lists crucial weapon levels. Weapon's base attack and its secondary stat increase as you level it up. So, leveling up weapons is vital when it comes to damage output. The better the weapon level, the better the damage. Simple, isn't it? 
Refinement Stat Progression
STAT PROGRESSION
Refinement Level
Additional Damage ( % Increase )
1
240
2
300
3
360
4
420
5
480
Alright, so if you have extra prototypes, you can go with refinements. Well, I should say you're pretty lucky if you have prototypes because they're so rare to drop. 
When we refine a weapon, its passive gets an overall boost. Most of the time, the passive's stats increase by a certain percentage, making it stronger. The weapon's look changes and makes it look vibrant from its former look.
If you're someone who pays attention to even minor detail, then you're in a ride for it in Genshin. 
Ascension Material
ASCENSION MATERIAL REQUIRED
Grain of Aerosiderite = 3
Fragile Bone Shard = 15
Damaged Mask = 10
Piece of Aerosiderite = 9
Sturdy Bone Shard = 18
Stained Mask = 15
Bit of Aerosiderite = 9
Fossilized Bone Shard = 27
 Ominous Mask = 18
Chunk of Aerosiderite = 4
Total Mora Required for Ascension = 150,000
I've put the ascension materials you need for Favonius Sword above. And yes, if you don't have enough of them, you have to make a detour from your usual route. But don't worry, they're easy to collect.
If you're worried about higher rarity material, go to the crafting table instead. The drop rate for higher rarity material is low, so I recommend crafting the material and saving your time.
Wait, that's not all. You also need around 600 mystic enhancement ores and 700+k mora to level up a 4-star weapon. The maximum weapon level is 90, and these are ores and mora you need for EXP. Take it slow, and level up.
I say save some of your resources and, if necessary, use them. Unless you focus on Spiral Abyss, you don't need to take much stress. Overworld content is easy, and you can efficiently complete quests!
Characters Using Archaic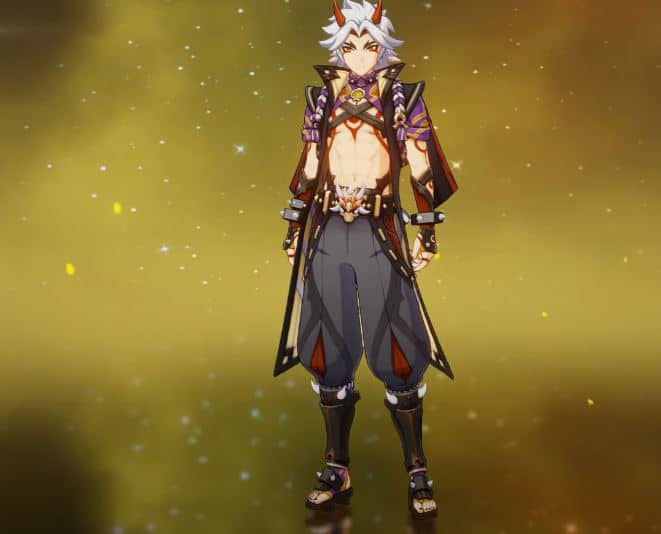 Researching on characters, weapons, and builds is the most exciting part of this game. I still spend so many hours reading about characters and their weapons and never felt bored about it.
Coming to Prototype Archaic, you may have some doubts about whether you should use this weapon or not. I'll be giving some remarks from my end, which will help you decide and have comfortable gameplay.
Before diving in, I'd like to make a few things clear. I won't be going to weapon's comparison here and will focus on whether Archaic is a suitable option. It will make things simple to explain, and I'll focus on a single refinement for this weapon.
As of writing this guide, Genshin Impact 2.4 has the following claymore characters:
Arataki Itto: Itto is a 5-star geo claymore character whose abilities scale off DEF. DEF is a significant part of his abilities, and he can output serious Geo damage in his burst. So, going by this logic, ATK% wouldn't affect him as DEF% would do. So, you're better off using a weapon that gives DEF% as a secondary stat. Also, his ascension stat is CRIT rate, so you can get a decent amount of CRIT damage in his build to balance CRIT ratios.4-star weapon alternatives: Whiteblind, Serpent Spine, Blackcliff Slasher
Beidou: I call her badass beidou; I mean, she's badass, isn't she? Alright, coming to the point, she is a 4-star claymore character who shines in an off-field damage role. Beidou's abilities focus on electro element, and her kit can benefit from ATK%. Prototype archaic can be a good option to balance her energy recharge requirements.4-star weapon alternatives: Serpent Spine, Sacrificial Greatsword, Favonius Greatsword
Chongyun: Young exorcist who loves popsicles; Chongyun is a 4-star cryo claymore user. He's excellent in cryo application, and characters in the skill area give cryo infusion on regular attacks. If you're looking to break Herald's annoying shields, Chongyun is your savior. Prototype Archaic is a decent choice for him because of its ATK% secondary stat.4-star weapon alternatives: Sacrificial Greatsword, Favonius Greatsword, Serpent Spine
Diluc: Batman of Mondstadt, that's what I call him. Diluc is a 5-star pyro claymore user who acts as a primary damage dealer. His skill has three charges and burst to summons a phoenix. Trust me; his burst animation is super cool.Archaic is a good option for him if you're looking to enhance his damage. ATK% will increase his overall attack, boosting his overall damage potential.4-star weapon alternatives: Serpent Spine, Blackcliff Slasher, Rainslasher
Eula: EULA, ah this autocorrect of mine. Eula, now it's good. She's a 5-star cryo claymore user specializing in dealing with Physical damage. Her burst can wreck some serious damage in an area, and enemies vanish in a blink. Her burst is quite something when her Lightfall sword explodes.Prototype archaic is usable on her, but it's instead coping with it. Better use a claymore whose secondary stat is CRIT rate or Physical Damage bonus.4-star weapon alternatives: Serpent Spine, Luxurious Sealord, Snow-Tombed Starsilver
Noelle: Noelle is guaranteed to be on your roster if you've wished on Beginner's banner. She's a 4-star geo claymore character, and if not all, but most players have her. She's good at healing your party member's which depends on RNG.But, Archaic won't be a suitable option because her abilities depend on DEF%. Sweeping time, her burst also depends on her DEF, which increases her overall ATK, so if you're a Noelle main, craft that lovely White blind.4-star weapon alternatives: Serpent Spine, Whiteblind, Favonius Greatsword
Razor: Wolf boy from Wolvendom. Razor was one of my first characters, and he carried me a lot in the early game. You can say he's more like Eula's brother but electro. Though Razor isn't insane as Eula is, he shines in his role.Razor is a 4-star electro claymore character specializing in dealing with Physical damage. Despite having electro, he's good at dealing with Physical damage. All thanks to Razor's Physical DMG bonus ascension stat. Prototype Archaic is a good choice for him, and extra ATK% will benefit his overall damage.4-star weapon alternatives: Serpent Spine, Lithic Blade, Snow-Tombed Starsilver
Xinyan: Xinyan is a 4-star pyro claymore character whose abilities scale off DEF. Yeah, despite her ascension stat being ATK%, her abilities are instead focused on DEF%. Genshin indeed has a weird ascension stat and ability relation.Xinyan's skill depends on her DEF% and her burst; Riff Revolution deals pyro damage. I'd say you should use a Physical Damage Bonus weapon or a CRIT rate weapon if you're a Xinyan main. For shielding, you should focus on having DEF% on the weapon.4-star weapon alternatives: Serpent Spine, Snow-Tombed Starsilver, Whiteblind
Sayu: Sayu likes sleeping, so do I. I mean, come on, who doesn't like sleeping. She is a 4-star anemo claymore user who specializes in healing team members. Her healing scales off with Elemental Mastery and ATK. So, you can equip Archaic on her but make sure to balance her energy recharge requirements. Sayu has a high burst cost, so it's better to have some energy recharge substats in artifacts.4-star weapon alternatives: Rainslasher, Favonius Greatsword, Sacrificial Greatsword
Now, I agree that all of these characters can have different playstyles. You can put them in any role you want and still clear most in-game content. These are just remarks from my end, keeping in mind how I approach my character building. 
I'll also advise you to experiment with your teams and choose the best one for your needs. That way, you'll learn more about characters and team compositions.
FAQs: Prototype Archaic
Now, you may have some questions in your mind. Let's go over a few common one's 
Question: Should I refine Prototype Archaic?
Answer: It depends on RNG how many billets you'll get from weekly bosses. I know everything is RNG-based when it comes to this game. But, you can only pray that you get blessed by the RNG god and get better drops. I'll say you don't refine it yet unless you have other craftable claymore weapons. I believe in the quality than the quantity motto. So, having more weapons means more flexibility in gameplay.
Sometimes, the billets don't even drop at all, even if you complete every weekly boss. So, yeah, prototypes are even rarer than characters themselves. Don't forge prototypes unless you know that you'll be using that craftable weapon.
Question: Should I take this weapon to level 90?
Answer: Let's go over what we consider the most in a weapon: secondary stat and passive. Going by this logic, ATK% in Prototype Archaic is a stat used on almost every claymore character. The only exceptions would be Noelle, Xinyan, and Itto, whose abilities scale off DEF. However, you can even use this weapon on them; yeah, it'll be coping up but doable.
Coming to question! Yes, you should invest in this weapon because it's one of the best 4-star weapons you'll get in the early game. Trust me, till this day, I use this weapon on some characters, and so far, it's holding good.
Question: I only have one claymore billet. Should I craft white blind or Prototype Archaic?
Answer: You know, if you have this question, you're on the right track. Remember, the secondary stat is super duper important when it comes to weapons. Secondary stat will affect how much boost your specific stats will get and enhance the character's damage potential. Prototype Archaic features ATK% and Whiteblind features DEF% secondary stat.
If you have one billet, go for Prototype archaic. If you're in the early game, Whiteblind is tempting. But besides her, it's not much use on other claymore characters. Prototype Archaic will give you flexibility, and you'll have a versatile gameplay option.
Closing Remarks
I know it can be confusing sometimes to choose the best weapon. But it boils down to how you want to use that weapon in team composition. As for Prototype Archaic, I say it's an overall decent weapon in claymore weapon class. Why so? Because it has a passive, which most claymore characters can use. Investing in this weapon won't fail you and will become a go-to choice for new claymore characters.
Characters like Noelle, Itto, and Xinyan may not use Archaic in some team compositions. But still, you can use this weapon on them if you don't have other 4-star claymores. So, go for flexible weapon choice and be stress-free.
I wish you luck on your Genshin journey and have good pulls in the future! Enjoy the game.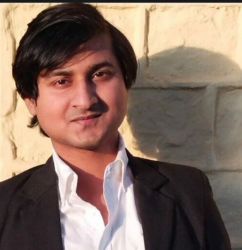 Latest posts by Himanshu Verkiya
(see all)