Genshin Impact is available on almost all major platforms like PS4, PS5, Windows, Android, and iOS. Except for Nintendo Switch and Xbox, the game has a solid player base across the platforms mentioned above.
Like any other game, Genshin Impact's experience may vary according to the platform. While some people prefer to stick to the PC, others play the game on all the available devices they have.
In October 2020, I was at Grandma's when I first heard about the game. I wasn't particularly interested in the game because I was already playing an MMORPG title, Dragon Raja. Maybe Genshin Impact was just another open-world game, and I pre-registered for the game.
I opened the Google play store and scrolled through the game's page, where I saw a video of Aether roaming in the wild, attacking some slimes. The game launched, and I downloaded it with my potato internet.
After several hours, the game was downloaded, and I finally completed the installation. I booted up the game, and if my memory serves right, I played it for 10 hours in a single stretch. Genshin Impact had blown my mind.
Though my mobile was outdated, the game operated smoothly. I continued the game on mobile for 2-3 months until I got a decent laptop.
Let's be real; only some are financially sound enough to buy a PlayStation to play Genshin Impact. With no release on other consoles like Nintendo Switch, the only remaining options for players are Smartphones or PCs.
Though these platforms have high-end machines, plenty of budget devices exist. Confused about which platform to play the game on?
 You've come to the right place for the answer. In this Genshin Impact Mobile vs PC guide, I will discuss both platforms' pros and cons and help you choose the best platform for your needs.
Game Requirements, Devices, and Platforms
Before I present the most notable differences between the game on these platforms, let's review the minimum requirements required for a smooth gaming experience.
Apple Store – iOS
 Windows
Android

Minimum Requirements

iPhone – Requires iOS 9.0 or later

iPad – Requires iPadOS 9.0 or later

iPod touch – Requires iOS 9.0 or later

Storage – 15 to 30 GB

 

Minimum Requirements

Processor – Intel Core i5 equivalent or higher

Memory – 8 GB RAM

GPU – Nvidia GeForce GT 1030 or higher

DirectX version – Version 11

Storage – 50+ GB

Minimum Requirements

Processor – Arm v8a 64-bit model or high

Memory – 3 GB or above

OS – Android 7.0 or better

Storage – 15 to 30 GB

Recommended Requirements

Operating System – Windows 7 Service Pack 1 64-bit, Windows 8.1 64-bit, or Windows 10 64-bit

Processor – Intel Core i7 equivalent or higher

Memory – 16 GB RAM

GPU – Nvidia GeForce GTX 1060 or higher

DirectX version – Version 11

Storage – 50+ GB

Recommended Requirements

CPU – Kirin 810, Qualcomm Snapdragon 845, and above

Memory – 4 GB or above

OS – Android 8.1 or above

Storage – 15 to 30 GB
Fortunately, I have access to all the above-listed platforms and have been playing Genshin Impact on them. I have an Asus gaming laptop with Nvidia Geforce GTX 1650 Ti, a Samsung Galaxy Series Android, and an iPhone 13 Max Pro to play the game on maximum settings. 
Let's go through the important differences these platforms have with each other while playing Genshin Impact.
Main Differences Between Genshin Impact Mobile vs PC
The main differences between Genshin Impact Mobile vs PC are:
Aiming mode is better on the PC with the help of a mouse, whereas on mobile, you have to rely on on-screen buttons to aim properly. You can turn on haptic feedback and Gyro-assist aiming mode on mobile for better accuracy or purchase a mobile controller. I've seen my friends using them to play PUBG, and the results were astonishing. However, I still don't think that's enough to beat a mouse's fine-grain control.
The loading time on a PC is less than that of a smartphone. Unless you have a really good smartphone, you will likely be stuck on the loading screen for quite some time. Whereas, that's rarely the case with a PC because of expandable memory, virtual memory features, and optimized access to system resources.
Sometimes a phone setting like an auto-rotate feature can interrupt gaming sessions. Even if you don't mean to flip the screen, the feature can turn the screen upside down with a shake of a hand. That problem isn't on the PC unless you tweak the settings yourself. There were times the game turned upside down, and I accidentally made a wrong gesture. Full-screen displays sense gestures, and sometimes doing a wrong one can close the app. This a prime example of a quality-of-life change turning into a problem for the user.
Ping is important for a game like Genshin Impact, as everything is saved on the cloud servers. It's better to close the background services to have a better ping. This is easy on a PC because you have access to the Task manager, where you can nitpick services to terminate. As for a smartphone, unless you go in an app's settings, you can't really stop it. As someone who usually plays on 300+ ping, I can assure you that a higher ping or latency can easily cost you an Abyss chamber.
Whichever device you play on, it will run into heating issues if put under extreme stress. PCs have dedicated cooling systems, cabinets, and thermal designs that assist in efficient cooling. However, smartphones, on the other hand, don't have many options because of their compact architecture. That's why PCs, in general, will have better performance than smartphones.
To me, the screen size matters. My eyes start to itch if I focus on a small screen for a long time. Computer vision syndrome, as medical experts call it, is a serious problem that should be paid attention to. I prefer a laptop screen to a smartphone one. You can see all the fine details that, otherwise, wouldn't be visible on a smaller screen.
Actions like collecting drops are easier on a smartphone than on a PC. With on long press on the on-screen buttons, you can easily grab all the items. I've lost count of the times I've pressed the F button. Luckily, the letter's imprint is still on the laptop's keys.
With powerful graphic cards out in the market, PCs can push the visuals to their limits to give you a seamless breath-taking experience. On mobiles, you risk the app crashing, facing unusual frame drops, or jittery gameplay. PCs are the obvious choice for immaculate visuals.
While PCs are a powerhouse of performance, they aren't portable enough. You can't dismantle the PC and take it with you to a place. That's where smartphones win the race with their compact build. You can play the game wherever you want to and carry them in your pocket.
There are high-end devices for both of these categories. However, they cost a fortune, which might not be suitable for budget gamers. Hence, a generalized comparison is better in this scenario.
The Powerhouse of Raw Performance
Pushing the Limits
PCs are extremely customizable. You can add extra RAM, have another SSD, upgrade your GPU, equip your cabinet with liquid cooling, and have access to all the customizations in the world. With so much flexibility on the PC, you can easily tune your system or even overclock your GPU to achieve more performance.
Eventually, that will decrease your GPU's lifespan, so exercise caution before you install the MSI afterburner to overclock your graphics card.
Even though my laptop fans run over 5500+ RPM with the game, there haven't been any loading issues. Sometimes, with such high RPM on laptop fans, I imagine my laptop floating like a helicopter.
Genshin Impact loads smoothly into the memory, and I can easily roam the area without worrying about any random crash. With multitasking being easier on the PC, I open the Genshin Impact Official Interactive map in a browse window and collect items in the game at the same time.
As long as you maintain your PC, there won't be any performance issues. I periodically clean my laptop every six months and ensure everything is optimized.
As for Aesthetics, you can buy Genshin Impact-themed keyboards, mouse pads, cabinets, and accessories that match your gaming setup. Plenty of Genshin Impact-themed accessories are available to purchase on the internet.
Trying Their Best
With smartphones, you must hope for backward compatibility support if the game rolls out new feature updates. I wouldn't advise jailbreaking an iPhone, but you can easily root an Android to gain superuser access and overclock it.
Now, it's just me showing off my tech knowledge, but I seriously don't advocate any of these steps. This is purely educational content right here, my friend.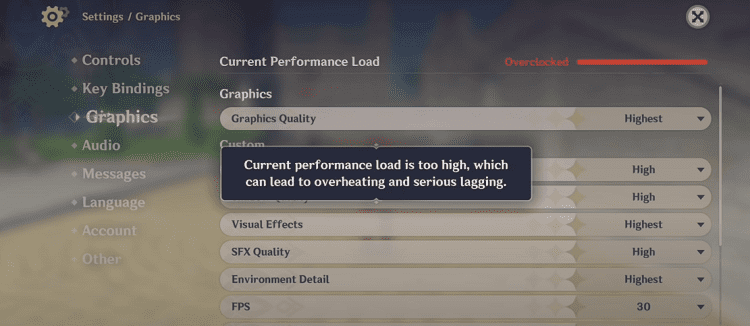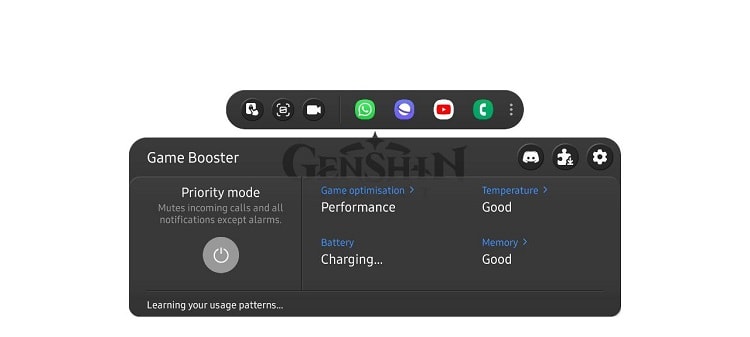 If you have a smartphone, chances are, you will not be able to upgrade its hardware at all. I've not encountered smartphones whose hardware can be upgraded, or even if there are solutions, they might be complicated. Nokia's been in the news about launching smartphones with repair kits for a while.
They might launch an upgradable kit in the future, but that's purely speculative. Still, performance issues will always exist while playing Genshin Impact on a smartphone. Years-long loading time, RAM issues, unusual app crashes, and laggy gameplay is something you'll come across.
There are high-end smartphones available in the market, like the Samsung Galaxy Ultra series, Asus ROG phones, iPhones, etc. Still, you can easily get a mid-tier gaming laptop with the same budget.
If you are in the middle of the game, open a notification, and switch back to the game, it will fall back to the loading screen and interrupt your session.
Captivating Visuals for an Immersive Experience
The Immersion is Real
The Photo mode is something on the PC. Hesitant at first, I tweaked the graphics to the maximum possible settings and never looked back. I can see reflections in the water, stunning details on plants, and experience dynamic shadows cast by objects.
If you stand near an illuminated object in the game, you can lower the bloom to adjust the lighting and click crystal-clear pictures. I used to participate in Genshin Impact content creation contests.
Occasionally, I would call my friends for a co-op and click pictures with their elemental skills in the background. One of your friends can click the camera at the precise moment to capture the characters' animation effects. Keqing's burst, Ganyu's Ice Lotus, and Klee's menacing pose, our ideas had no bounds.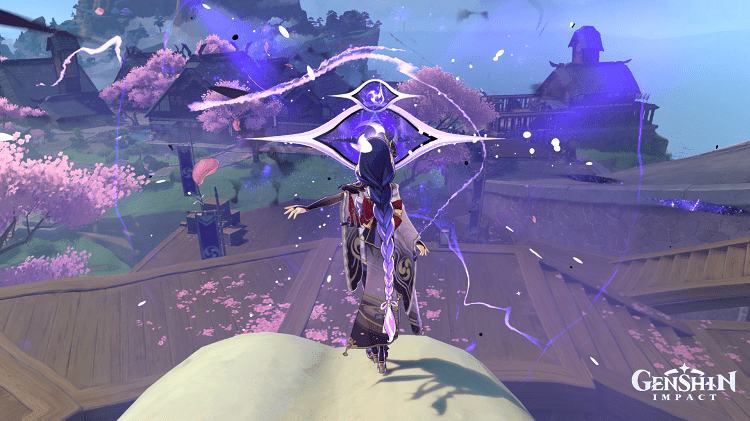 It wasn't until Raiden Shogun was launched in the game people noticed that Archons' hairs glowed on using their skills. You can zoom in to see minuscule transitions on certain weapons like Skyward Blade. Jean, Diluc, and Kaeya, the characters' skills are noticeable and have special FX effects when they hit enemies.
The world feels alive on the PC. With your mouse's wheel, you can zoom in on the characters and admire their idle animations. Dialogues are an important aspect of the game. Subtitles are easy to see, and you can click on the screen to move to the next dialogue screen.
Limited Experience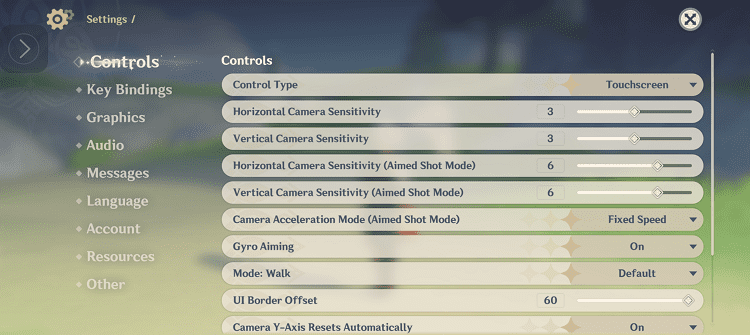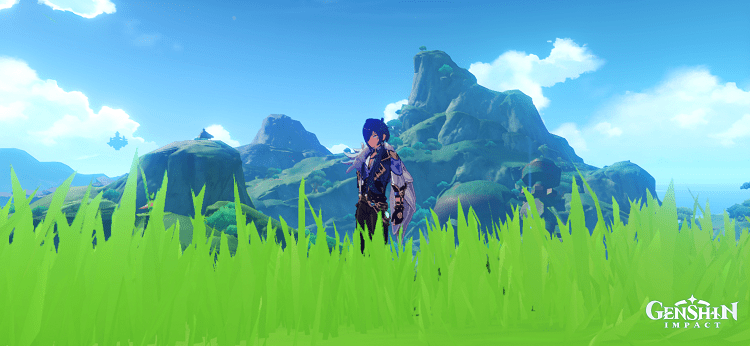 There's not enough foliage, and the grass is barely visible. A flat green land, that's how Teyvat's landscape looks on the phone. Characters' pixelated outlines, water bodies without reflection, and animations for the namesake pretty much sum up the game on a smartphone.
I Want Everything
A Spacious Playground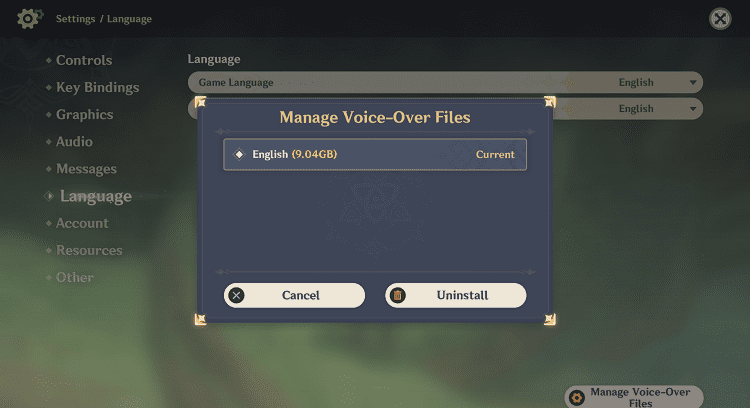 Genshin Impact has consumed 54.2 GB of space on my SSD without screenshots, extra voice packs, or downloaded resources. Once you download more voice packs and take a lot of pictures, the file size will start to grow.
I know friends who prefer to listen to the Japanese voice packs because their favorite voice actors or actresses have voiced those characters. Even I used to change to the Japanese voice pack to hear Bennett's "Bouken da Bouken!" voice line, but I chose to save some space.
Textures, models, and other assets size are of better quality on a PC, and that's why players have a surreal gaming experience, which eventually adds up to the space occupied by the game.
The game's launcher has a pre-install function allowing players to download the game before the new update drops in. With such space on your disk, you can easily play the game minutes after the new update goes live.
Making Some Room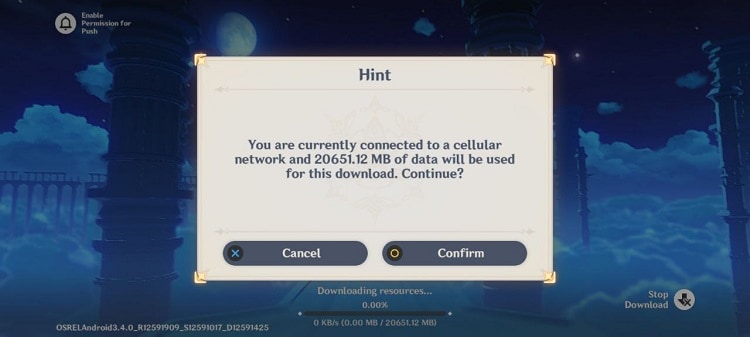 Obviously, the size of assets will be less on a smartphone because of storage constraints. Usually, when you download a game, the package is unzipped on the device to initiate the installation.
Ultimately, that's a precaution to re-initiate the installation process if an unexpected action or error disrupts it. Usually, the game consumes around 20-30 GB of space on a smartphone.
It requires you to download the whole package before beginning the installation process, which can lead to storage issues for other apps. Even I had to uninstall some important apps to play Genshin Impact on my smartphone and optimize the space to save the game's data.
Critical Hits, Headshots and Final Blows
Fine-Grained Control
When it comes to climbing, I can easily shift the view and glide in a certain direction. I can quickly change my character's direction to perform a 180-degree turn.
With a mouse, you can achieve the pixel-perfect aim and map your keys to different actions. Specialized gaming mice are available in the market with 9-10 buttons.
I often use a gaming mouse to play games and haven't faced any problems so far. Be it Genshin Impact or any other game, the keyboard-mouse combination rocks.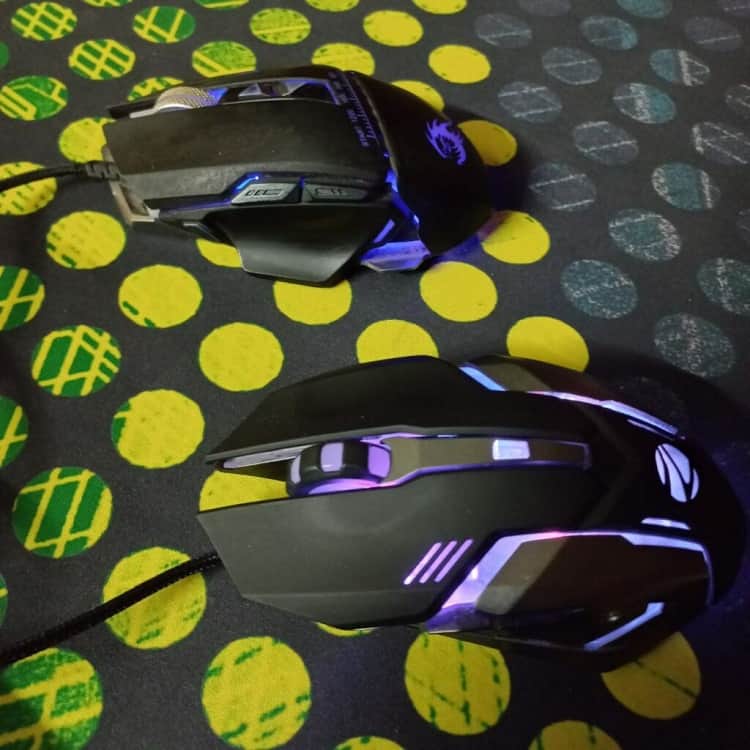 For example, take a character like Ganyu, who relies on her charged shots to deal damage to enemies. You have to reposition yourself on the battlefield and attack enemies simultaneously.
You can easily relax the left-click button and press it in an instant. If you open the settings, you'll find important key binding options to trigger certain actions in a flash. I don't think you'll have any problem shooting a Ruin guard's eye with a mouse.
There are characters like Venti whose elemental burst needs to be fired toward enemies, and a mouse can definitely help in aiming in a certain direction.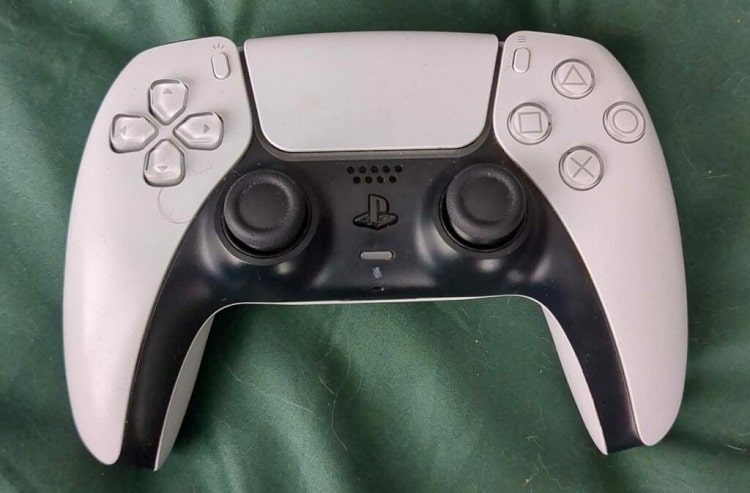 Rather than pinching the screen on a smartphone to change your field of view, you can use your mouse wheel to zoom into a character, which isn't easy on a smartphone. Controls become more important when it comes to reactions.
Do you want to apply an element? Switch to a character, use their skill, and switch back to your DPS character. Fast combinations aren't Smartphones' forte.
Inefficient Actions
On-screen buttons on a player's screen make it tricky to have fine-grained control. It's not that everyone's hands are of the same size, so sometimes if your fingers are big, you may accidentally tap the elemental burst button.
Aiming with Bow characters is a nightmare, especially when you have to make normal attacks. Fischl mains planning to build her as a Physical damage dealer will find it very difficult to use her normal attacks on their smartphones.
On top of that, Digital buttons don't have adequate customization like games like PUBG or Mobile Legends have.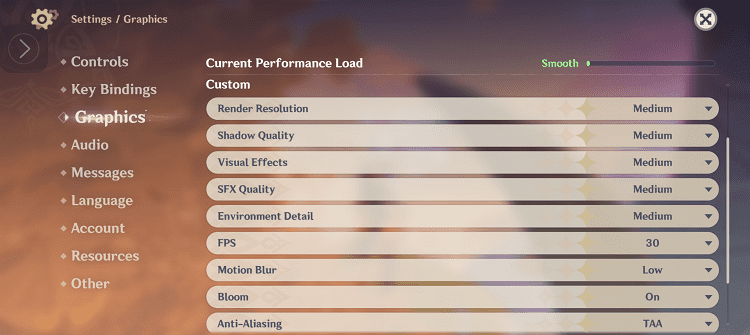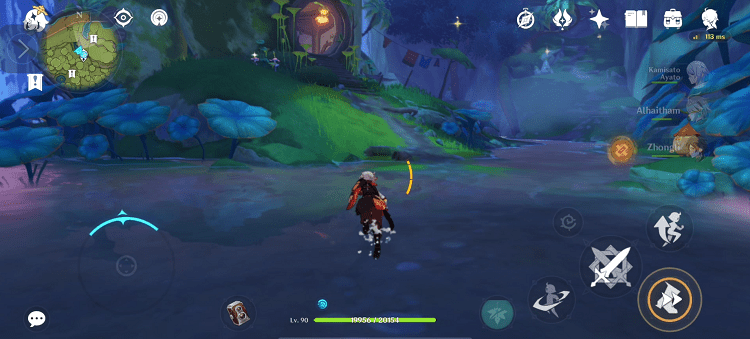 I could easily change the size of certain buttons and place them anywhere on the screen. With no such flexibility in Genshin Impact, I could accidentally press the elemental burst or attack buttons while gliding in the air.
At times the movement is quite tricky, and once again, the characters can't smoothly execute complex movement tactics like running on ropes or cutting through tight corners. I cannot suddenly snap the character to perform a 180-degree turn.
However, not everything is a mess on mobile. I could easily switch my characters and use their elemental bursts with a single tap, which would have required a few actions on the PC. With just a few taps, you can the team's structure and get back into the action.
On-screen buttons' placement might not be the best, but they get the job done. You can open the wish screen, inventory, character menu, and events menu with just a tap. Whereas on the PC, you have to click on the icons or map them to a key. Hold the screen, and voila! Everything's in your bag.
Is It Portable Enough?
A Massive Monolith
Though desktop computers harness the raw
power of technology, they aren't the best picks for portability. You can still play the game on a laptop but will likely run into overheating issues.
Modern processors are efficient, but there's a limit to which they can push. If you don't have good ventilation, the operating system will throttle the processor to keep the CPU temperature in check. I don't have a high-end gaming laptop with excellent thermal cooling, so I rely on a cooling pad for efficient ventilation.
Playing the game in summer is tedious when the loo blows outside the house, and even ACs can't cool the room for long. Having lived in areas with over 45 degrees celsius temperature, I can confirm how painful it is to play on the laptop in those days. Portability is an issue that PC struggles with.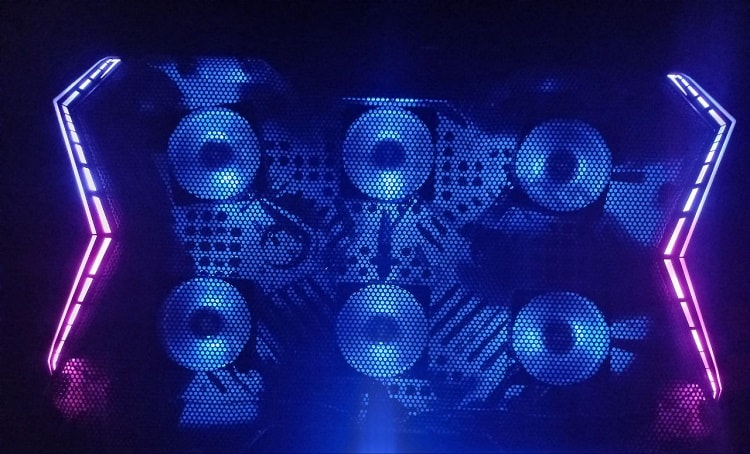 Sleek, Compact, and Light
To an extent, the same is true with smartphones, but they don't consume as much space as PCs. Heating issues are there, but portability is where they take the win. You can have a small power bank, find a secluded place, and play the game there.
I don't have to find the right spot to set up my laptop because I could finish the resin on my phone. Smartphones consume less power, so you don't have to worry about backup power running out. UPS are available for PCs but don't last long and periodically make an annoying beep noise.
Showing Yourself to the World
Streaming, Recording, and Content Creation; Perfect for Multitasking
I'm a frequent user of Nvidia's GeForce Experience overlay. I can easily capture the images, record the gameplay or tweak the game's appearance with the widget.
The same is the case with the Xbox Gamebar, which helps a player access a multitude of options. Easy access to widgets like these makes PCs desirable for playing Genshin Impact.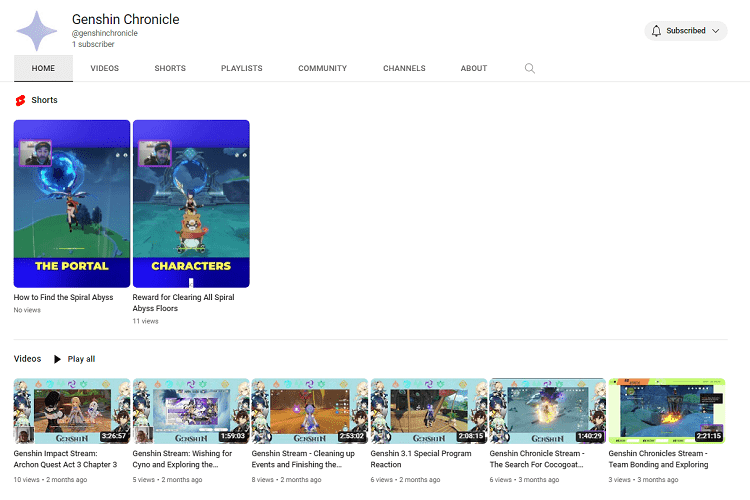 Personal Computers are amazing at multitasking. JT Hussey, one of our team members, is an enthusiastic streamer who hosts weekly streams on his favorite Indie games and Genshin Impact.
You can join me on JT's streams to see how the streaming works and enjoy a fun session. Being a content creator is tough, so PCs give you an edge in streaming and recording the gameplay. Fire up your Streamlabs OBS, select your screen, and start streaming and interacting with your community.
Check out my interview with an Indian Genshin Impact content creator and learn how a professional gaming setup looks. If you don't know, we also have Genshinchronicle channels on Twitch and Youtube. Feel free to drop by sometime.
Not So Smooth
I vividly remember using a Gamebar feature on a Xiaomi device back in the day; however, that strained my mobile's performance, and I had to suspend the feature to continue the game.
There aren't many widgets available to smartphone players, and they lack multitasking features. Smartphones can reserve some space for other apps and keep them open in the background.
Still, they don't have access to a second screen, which can easily be connected to a PC with an HDMI cable. There will be memory issues, and chances are, the game might crash or will hamper your streaming.
Multiplayer, Let's Join In
Having Fun Together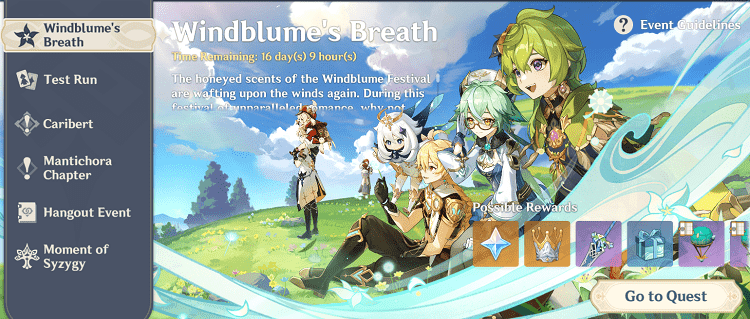 Every patch, there are events in which you can participate with your friends. Co-op domains and challenges, being the majority, give you a fulfilling experience.
Take Theatre mechanics, where you must do multiple actions simultaneously and watch the entire field. The field of view is vast, and you can spot your teammates or instruct them on the chat.
With one keystroke, I can open the conversation on a PC and call my teammates. I can glance through many emojis and send the ones I like. You can immediately teleport to a domain without a lag.
Someone's Missing
Chatting is terrible on a smartphone. You have to tap in the corner of the screen, and if you are on a full-screen display, you might get thrown to the home screen with one wrong gesture.
Your view is limited, and the teammates aren't easier to spot while gliding. As a PC player, it's not the smoothest experience when I'm in a co-op with a player on a smartphone. Even the Spiral abyss is a pain to complete on a smartphone, as you might experience unusual lags and glitches.
Microtransactions
Risky?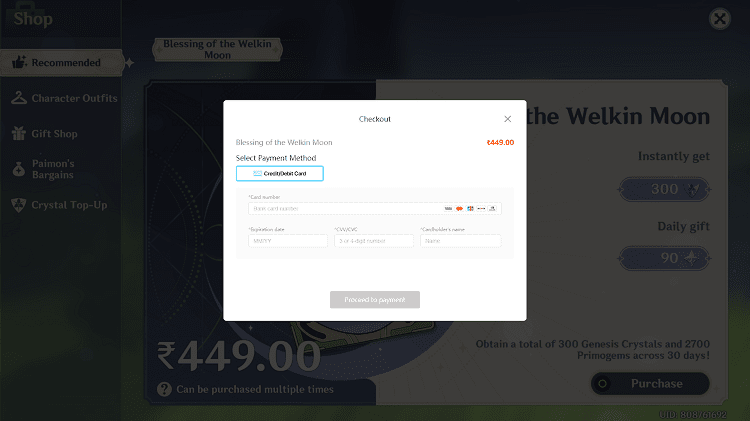 Sometimes I had to buy a welkin pass and hesitated to put my card details. There might be an unknown keylogger in the system that could steal my credentials.
I couldn't bring myself to trust the security and thus preferred to use a smartphone. If you don't have any choice, I suggest limiting the amount you can pay in an online transaction.
Security
If I ever had to make a microtransaction, I prefer to use Google Play Store or iOS payment applications. Payments are seamless, and the account reflects the top-ups in seconds.
I don't advocate overspending on the game, but one welkin or battle pass won't hurt your wallet. I bought the battle pass to get the Serpent Spine claymore, though I no longer use it.
Notifications
Missing In Action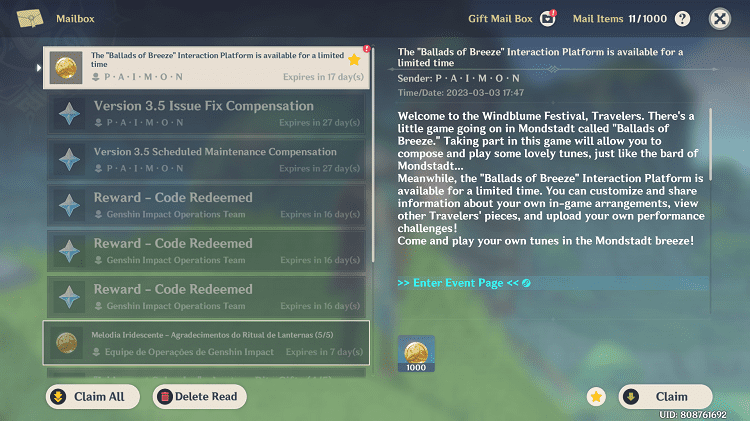 Genshin Impact frequently sends patch details, event updates, and version updates via e-mail. Often people don't check their e-mails unless it's urgent.
You won't know what will be coming unless you open the game. Some events are time-gated, and you might miss that event if you don't receive a notification on time.
Snappy
You can install Hoyolab to keep track of your Original Resin. Smartphones have a win here because of their app's features. You can open the game anytime, grab rewards, log in to web events, or interact with the community on Hoyolab.
Which is Better? Final Verdict
Winner: PC
When it comes to a surreal gaming experience, the PC wins by a margin. You can tweak your system, install multiple apps, stream, chat, and flawlessly perform multitask operations without hassle.
Mobile gaming has picked up the pace. However, PC gaming enables the players to experience the game on a larger screen and utilize the hardware at the maximum capacity. There are high-end smartphones capable of running AAA titles without a budge.
Still, with that budget, you are better off with a decent gaming laptop. I suggest you insure your device and extend its warranty to benefit from cheap servicing and repairs in the future. Electronic items are fragile, so they should be handled with care.
Frequently Asked Questions
Question: What Changes will Improve the Gaming Experience on Smartphones for Genshin Impact?
Answer: Genshin Impact should have a provision to download the content. Newcomers aren't able to experience the event-exclusive areas and miss out on important lore crumbs. If I can download the content, I can easily manage the space on my smartphone and remove an event-exclusive area once I've finished exploring.
Question: What is the Benefit of Playing Genshin Impact on Smartphones and PCs?
Answer: You can play on both devices and sync your progress simultaneously. Even if you have a PS4 or PS5, you can sync your progress on all the devices and enjoy the benefit of the cross-save feature.
However, you cannot switch between servers in the game without starting the game from the beginning. I hate to say it, but you'll have to begin your career in a new server from zero.
Question: I'm a New Player. Should I Start Genshin Impact on PC or a Smartphone?
Answer: You can flawlessly make transactions on both devices, but once you buy a battle pass from a smartphone, you cannot do the same on your PC.
The game restricts you from purchasing from the device you first registered to play the game and limits you from getting a battle pass. I started my Genshin career on a smartphone, and now I cannot buy the battle pass.
Genshin Impact on Android, iOS, or PC?
Even if you don't have a good gaming PC to play Genshin Impact, you don't have to lose heart. I got a decent laptop after 10 years. You'll be surprised that I still have my old laptop in a pristine state.
Back in the day, I used to play games in the lowest possible settings, but it never really bothered me. My friends were with me, they used to help me in games, and the only thing that mattered to me was a good match.
We used to play multiplayer games, and sometimes, I lent my smartphone to other friends. I firmly believe in good karma. If your friend doesn't have a good device to play Genshin Impact, lending them yours won't hurt you.
I think whichever device you have the most access to is the best to play Genshin Impact. You can choose to play with a PC, smartphone, or PS. There's no need to strain yourself financially to play the game.
Lower the settings, enjoy the story and cherish lovely moments with your friends. I highly recommend starting your Genshin journey on a PC if you can play the game on these platforms. The experience will be far better than other platforms, and you can enjoy optimal gaming performance.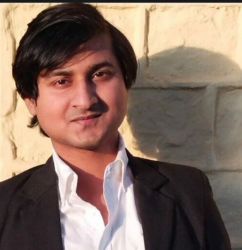 Latest posts by Himanshu Verkiya
(see all)