Genshin Impact is a game that came out of the blocks fast, and as time has gone on, the game has only grown in scale and wonder. There is so much that can be praised about this amazing franchise. You could praise the incredible visuals that blend a cartoonish, cel-shaded artistic direction with that of a realistic open world based loosely on real-world locales. Then you have the gameplay that is rich, varied and will keep players hooked for hundreds of hours. I should know; I'm one of them.
Plus, the game boasts great character design, voice acting, and continued support from the developers with regular patches, updates, and events. Then add in the elation that comes with wishing and pulling a five-star character, and you have an experience that is damn near unmissable for Gacha and RPG fans alike. However, there is one aspect of this game that is sublime but tends to fly under the radar, and that is the OST.
Through this game's run, MiHoYo has introduced us to entire regions, each with its own rich backstory, culture, and a litany of interesting residents. However, with each new area, there is usually a new OST that will serve as the perfect accompaniment for The Traveler as they fight, explore, and delve deeper into Teyvat.
It doesn't matter what activity you find yourself doing. Whether you are cooking a meal, playing Windtrace, gliding high above the mountains, or battling a fearsome foe, Genshin always has a backing track that will enhance the overall experience. 
So with that in mind, I thought it was only right to shine a light on the OST for this game. However, today I will be taking it one step further. Today, I will be ranking all of the best OSTs within the world of Genshin.
It's going to be a struggle, as it will be like choosing which one of my babies gets to go to college. However, for the benefit of you, the GC readers, I will endure. So join me as we count down the best tracks within the Genshin Impact OST.
This is Genshin Chronicle's Genshin Impact Best OST Ranked List! Enjoy! 
Selection Criteria
Now you may be thinking, how the hell are you going to choose between all of those options and still remain objective? Well, if it was purely down to my preference, I reckon I would annoy the vast majority of you.
So instead, here are the criteria that we will run with to ensure this list appeals to the masses: 
Tracks will be ranked in order of listens on Spotify

All tracks listed must be official and included in Genshin Impact

Any tracks not on Spotify will not be considered 

To avoid a complete recency bias, only three tracks per OST
Okay, headphones on, people; it's time to lose ourselves in some instrumental bliss. Let's go! 
Best Tracks of The Wind and Star Traveler
#3 – A Sweet Smile 
Spotify Listens

: 6,220,480

Can Be Heard When

: Dialogue with Amber
We all love Amber as a character, right? Not so much as a playable character, but more for her tenacious attitude, unbreakable spirit, and her determination to uphold the good name of Mondstadt.
It can all seem a little serious when carrying out the duties of an Outrider. However, A Sweet Smile shows her fun-loving and caring side in musical form. A great little tune. 
#2 – Genshin Impact Main Theme 
Spotify Listens

: 6,413,594

Can Be Heard When

: On the Login Screen
If you so much as booted up Genshin, you will have heard this track. So even you guys out there who couldn't stand waiting for the initial file download will appreciate this one.
While I much prefer Aria's Dream (the vocal alternative), this is a great track, and one that you will hear every time you play Genshin. 
#1 – Lone

Sojourner
Spotify Listens

: 8,107,932

Can Be Heard When

: At The Dawn Winery at night
Ah, The Dawn Winery, Diluc's flagship enterprise. It's a great place to hang out, complete dailies, pick Philanemo Mushrooms, and if you go there at night, you'll get to hear this little number.
This track captures the sleepy vibes of the Dawn Winery at night, with Anemo Crystalflies lighting your way forward. It's a calming string assortment that tops the ranking for The Wind and Star Traveler.
Best Tracks of Jade Moon Upon A Sea of Clouds
#3 – Liyue
Spotify Listens

: 4,175,881

Can Be Heard When

: Completing Light Upon The Sea
This was a track that was initially featured as part of the first-ever Lantern Rite event, but now serves as the main overture for Liyue. This is a great introduction to the OST for Liyue that makes use of a flurry of Oriental instruments and themes throughout.
All the while creating a sense of wonderment and intrigue, and with the use of this bouncy, swelling tune, urges the player to explore this new and exciting region. 
#2 – Maiden's Longing
Spotify Listens

: 4,326,283

Can Be Heard When

: In Sea of Clouds
This is a calm and serene track that will play throughout a number of different locations within the Sea of Clouds region. So whether you are over in the Guyun Stone Forest, or climbing up Mt Tianheng, you might hear this soothing melody.
This is a top-tier exploration track, and for me, if I'm gliding through the air when I hear this track, it hits even harder. 
#1 – 

Clear Sky Over Liyue
Spotify Listens

: 4,349,189

Can Be Heard When

: In Liyue Harbor
Speaking of calm and serene tracks, Clear Sky over Liyue is about as soothing and tranquil as they come. This track reminds me of Max LL's work on the Spiritfarer OST, but as it plays on, you hear Oriental woodwind instruments kick in, and this ensures this track exists in its own right as a stellar representation of slow-paced life in Liyue. 
Best Tracks of A Shimmering Voyage
#3 – Wrath of Monoceros Caeli
Spotify Listens

: 1,954,144

Can Be Heard When

: Completing Trounce Domain, Enter The Golden House
Trounce Domains are some of the most challenging battles that the player will encounter within the world of Genshin. Or, at the very least, they are a damn sight harder than things like Domains of Blessing, Forgery, and Mastery, that's for sure.
So it's only fitting that these domains have some badass music to spur the player on and defeat all that stand before them.
The Wrath of Monoceros Caeli is exactly that. It bursts into life with heavy drum beats and only gets more intense and dramatic from there. This is what boss battle music should be!
#2 – Rage Beneath The Mountains
Spotify Listens

: 2,576,795

Can Be Heard When

: Completing Trounce Domain, Enter The Golden House (phase 3)
If you thought Wrath of Monoceros Caeli was powerful, then just wait until you push onto phase three of this domain, because this is when Rage Beneath the Mountains swells, providing a new brand of intensity, complete with a brass band and harmonious backing vocals, before giving way to a full choir and electric guitar riffs. A fitting closer to a phenomenal battle. 
#1 – Lovers
'
Oath
Spotify Listens

: 13,619,664

Can Be Heard When

: An Animated Cut Scene in Wangshu
For those interested in the numbers, this is the second most listened-to song in the Genshin catalog, and from the moment you hit play, you can hear why. This song is linked closely to Xiao and the Wangshu Inn, as the top of the Inn is a common hangout spot for lovers, hence the name.
It's a song that makes you look retrospectively, and picture that one person in your heart that you hold dearest. A little mushy, I know, but that's the truth. It's a powerful track. 
Best Tracks From City of Winds and Idylls
#3 – Twilight Serenity
Spotify Listens

: 2,714,880

Can Be Heard When

: On the Login Screen (at Dawn or Dusk)
If you happen to be a night owl, or an early bird, you might be more familiar with this track when you log in to Genshin. Think of this as the more sleepy, tranquil opening to your Genshin session.
The opening is much more relaxed, and then the familiar riff kicks in, accompanied by a certain twinkling noise that effectively says without speaking, 'ah, you're here for a late-night farming session; we will keep the noise down.'
It's my preferred login track, but then I'm biased because I'm a night owl myself. However, the listening figures tell me I'm not alone. 
#2 -Tender Strength
Spotify Listens

: 4,728,454

Can Be Heard When

: Various Dialogue Cutscenes
This is a track that most players will be quite familiar with, as this will play as a default dialogue track. So if there is no special track made for that particular character or moment, then chances are that you're listening to Tender Strength.
It's a track that tends to be used for dialogue that takes place in peaceful moments, like a chat inside the walls of Mondstadt, a story moment at The Symbol of Mondstadt's Hero, or on a trip to Springvale. It's a perfect accompaniment for any meaningful exchange between characters. 
#1 – Before Dawn, At The Winery
Spotify Listens

: 5,181,067

Can Be Heard When

: At The Dawn Winery (at Dawn)
The Dawn Winery, if the name is anything to go by, shows its truest beauty as the sun rises, and if you are a fan of this track, then you will likely agree. It's a track that reminds me of other games where to enter into a tavern within a medieval setting.
It's almost as if Venti is there beside you playing his Lyre, urging the sun to rise into the sky. It's a perfect way to start the day in Mondstadt. 
Best Tracks From Realm of Tranquil Eternity
#3 – Lingering Blossom
Spotify Listens

: 1,791,460

Can Be Heard When

: In Inazuma City (Silken Courtyard)
Despite Inazuma being a pretty inhospitable place, with all the lighting storms and, at the time of arrival, a maniacal leader obsessed with eternity, the soundtrack that will accompany you around this region is anything but.
It's a series of inviting tunes that all have a Japanese theme, and Lingering Blossom is one of many subline tracks. This one is perfect for those moments of downtime spent in Inazuma City. It's not all Lighting and fog in Inazuma, you know. 
#2 – Streets of Elegance
Spotify Listens

: 2,121,975

Can Be Heard When

: In Inazuma City
If you want something that is even more inherently Japanese when wandering through Inazuma City, then Streets of Elegance is the track fo you. I can't quite explain why, but this is a track that is best suited for when you are hitting the market stalls in Inazuma, sampling the local cuisine, and maybe trying out the Dango Milk you have heard so much about. 
#1 – Inazuma
Spotify Listens

: 2,478,172

Can Be Heard When

: In Inazuma (Overture)
This track will welcome you to the land of Inazuma. When the storm clouds clear, and you see Ritou Island on the horizon, you'll hear this track kick in, and boy, what a way to arrive. It's a beautiful concert arrangement that had plenty of nods to Japanese Theatre, culture, and the rich musical history of the region. While it isn't my favorite overture, it's a fitting one for this mysterious land steeped in culture and tradition. 
Best Tracks From Vortex of Legends
#3 – Fragile Fantasy
Spotify Listens

: 3,165,144

Can Be Heard When

: Exploring Dragonspine
it's ironic that Dragonspine is one of the most horrible, inhospitable areas in all of Genshin. An Area where, if you stand away from the warmth of a fire, you die. Yet, the soundtrack for this area is beautiful.
It really leans into the whole Winter Wonderland vibe, and Fragile Fantasy is a prime example of that. Can't you just picture listening to this as you look out at Teyvat from the top of the Skyfrost Nail? I don't need to imagine, I lived it, and it's magical. 
#2 -Snow-Buried Tales
Spotify Listens

: 4,057,119

Can Be Heard When

: Exploring Dragonspine
Snow Buried tales is probably my favorite of the Dragonspine tracks, and it's because it makes this cold and terrifying place seem so tranquil and filled with wonder. Which it is, but it's not without hardship that you will get to witness the wonders of the mountain.
This track serves as the Overture for Dragonspine and lulls players into a false sense of security. What do you mean I can't one-shot all the enemies here? What do you mean I need to find a fire to survive? The music tells me I'm safe. I may have been this naive, but it was nice while it lasted. 
#1 – Moonlike Smile
Spotify Listens

: 5,916,480

Can Be Heard When

: Exploring Dragonspine
Moonlike Smile, much like Fragile Fantasy, is a track that captures the majesty of the mountain, and provides a serene backing track for those moments when you do find a fire in the hellscape of Dragonspine, and just take a moment to catch your breath; watch the snow fall, and gaze at the aurora in the night sky.
Then before you know it, a Frostarm Lawachurl whacks you in the back of the head. It may have a peaceful soundtrack, but Dragonspine has no chill. 
Best Tracks From The Stellar Moments
#3 – A Letter From Ajax
Spotify Listens

: 6,375,849

Can Be Heard When

: Playing Child's Trial/Demo – A Letter to Snezhnaya
If you happen to be a Fatui sympathizer, then chances are you might like this track. A Letter from Ajax is a track that belongs to Childe/Tartaglia, and if you ever try him out, you'll hear this track blasting.
It begins with a very calm piano riff, not unlike Lena Raine's work on Celeste, but before you know it, you'll hear the song burst into life, and just like that, you are picturing yourself in an intense anime battle with the world's most nefarious villain.
It represents Childe's good nature, but equally showcases that he is still a Fatui Harbinger, and not to be trifled with. 
#2 – Qilin's Prance
Spotify Listens

: 9,131,806

Can Be Heard When

: Playing Ganyu's Trial/Demo – Radiant Dreams
This is probably my favorite track on this list; in a nutshell, an absolute bop. As the kids would say, this slaps. I can't say that I resonated too much with Ganyu's character, but despite that, I love her for being the reason this track exists.
It's another track that starts soft, with some oriental woodwind and chimes, but before long, this is backed up with a fast-paced beat. Only to fade out, before reviving with a flurry of sound that will have you headbanging unconsciously. It's inevitable; just roll with it. 
#1 – Rex Incognito
Spotify Listens

: 20,183,574

Can Be Heard When

: When playing Zhongli's Trail/demo – The Listener 
For those who put a lot of stock in the numbers, this is Genshin's most listened-to track at the time of writing. This track serves as Zhongli (or Rex Lapis) theme, and it's a genuine incredible piece of musical craftsmanship.
This track has all the markings of a theme steeped in Chinese heritage, but still manages to take that meandering theme and have it come alive in the second half.
It's a perfect theme to represent Zhongli. A man of culture, a man who is calm on the surface, but equally, a god capable of destroying anything in his path, if the need arose.  
Best Tracks From Forest of Jnana and Vidya
#3 – For Riddles, For Wonders
Spotify Listens

: 487,579

Can Be Heard When

: In Sumeru City (Daytime)
Then lastly, we travel to Sumeru, where we are greeted with an OST that is steeped in Middle Eastern and South Asian culture. So naturally, there's going to be plenty of Sitar thrown into these tracks, and that is very much present in For Riddles, For Wonders.
This track is one of a few that will play when you enter Sumeru City, and of these, this is the one that transports me to a bustling marketplace in Morocco. The sun is beating down, and the smell of fragrant spice is in the air. Beautiful. 
#2 – Sumeru
Spotify Listens

: 592,974

Can Be Heard When

: Exploring the Sumeru Region (Concert arrangement)
When you first enter the region of Sumeru through the chasm, you are immediately met with a sea of vegetation, an endless portrait of green, and a thick jungle of wonder.
The Sumeru concert arrangement captures this feeling of mystery and intrigue perfectly, beginning softly with flutes and harps, before bringing in the violins for a swell that represents the magic and fanatical aspects of this land, dominated by a thirst for wisdom and knowledge.
Then by the second half, you feel as though Jafar might be on your tail as the theme turns to one more fitting for the Deserts of Sumeru. It's a brilliant overture, and one that marries the themes of a divided region very well indeed. 
#1 – Hustle and Bustle of Ormos
Spotify Listens

: 1,459,654

Can Be Heard When

: In Port Ormos (daytime)
Then last, but certainly not least on our list, we have Hustle and Bustle of Ormos, a Port Ormos theme that is much more bouncy than practically anything on this.
Its blend of , Sitar, Saz, and Bansuri is masterful, and that recurring riff throughout is damn catchy. By far the best tune in the Sumeru region's OST. I will die on that hill. 
My Honorable Mentions
Now, I know I promised I wasn't going to let subjectivity rule the list, and I've kept my promise, so now it's time to let my opinion be known and list some of my favorite tracks that sadly weren't popular enough to make it onto the main list above, check them out below! 
Let's Go, Crimson Knight

Moonlit Knight In Sumeru

Winding River

Another Hopeful Tomorrow 

Symphony of Boreal Wind

Mesmerizing Waves

Bard's Adventure

Nimble as Lightning 
FAQ Section 
Question: What Is The Most Popular Track?
Answer: Based purely on Spotify statistics, Rex Incognito is by far and away the most popular Gnehsin track, with over twenty million plays. Then in second place with about thirteen million plays is A Lover's Oath, and in third place, you have Qilin's Prance falling just shy of ten million. 
Question: What Region Has The Best Soundtrack?
Answer: Objectively, I would have to say that it's very close between Liyue and Mondstadt, with Mondstadt probably edging it, in my opinion. Then followed by Sumeru, and then Inazuma comes in last place in my book. However, this will largely be dictated by where you have spent the most time within the game. I don't think any region will tear me away from Mondstadt; I love it there. 
Question: How Many Songs are There in Genshin Impact?
Answer: While most games are happy with anywhere from 20-100 tracks to make up their complete OST, Genshin goes above and beyond to cater to the music lovers within its player base. In Genshin Impact, there are a grand total of 640 tracks, and this will only continue to rise with new updates and the upcoming Fontaine region. 
A Serene Symphony
When it comes to OSTs within video games, I am one of the few out there that will find these tracks on my Spotify Wrapped at the end of the year, pipping more traditionally popular artists to a coveted spot. Well, I can see Genshin Impact's OST being a major player in that regard for years to come.
The blend of serene, calming tracks that remind me of Studio Ghibli movies, all the way to the other end of the scale where things ramp up for an epic battle track come together to create one of the most terrific playlists you'll ever happen to curate.
The Genshin OST is part of what makes each session, each event, and each quest so special, and I, for one, can't wait to see what tracks the region of Fontaine has to offer. Until then, thank you for reading Genshin Chronicles. Take care!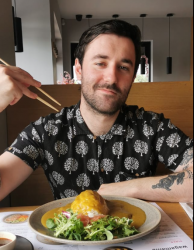 Latest posts by Callum Marshall
(see all)